We always love a classic backyard Southern wedding! And this one by Charleston wedding photographer AVA MOORE - whilst not strictly a backyard wedding - has all the elements that we love. Held at GADSDEN HOUSE in Charleston, Chloe & Sam love to host and are very family focused so they aimed to infuse a homely and welcoming feeling into their day. Working with wedding planner AMANDA REED WEDDINGS they wanted their wedding to feel like a beautiful Sunday night dinner with friends and family so long dinner tables and mis-matched patterns were the order of the day. "We wanted it to feel like we went into our house and grabbed a bunch of coordinating tablecloths and vases filled with flowers from the garden to host our guests—the end result was perfection! It really did feel like a large-scale Sunday night dinner at my parents' house!"
WHY DID YOU CHOOSE THIS LOCATION? We wanted to keep our wedding intimate, relaxed, and fun. We decided early on to keep our guest list to less than fifty guests, but still wanted our wedding location somewhere easily accessible since all of our guests would be traveling. Then came the discussion about having good wedding food! Sam and I both knew that a top priority for our wedding would be ensuring our guests (and us!) had full stomachs when we left our reception. My brother Caleb has lived in Charleston for years, and with the city's amazing culinary scene and easy-going, picturesque Southern charm we knew Charleston was exactly the location we needed to celebrate a fun wedding weekend with our guests!
HOW DID YOU MEET? Sam and I met on Match.com! Sam was moving from Dallas, Texas, to Fayetteville, Arkansas, at the time and was hoping to meet someone, and I was just giving the app a trial run the week we matched! I was the first girl Sam talked to in Arkansas, and he was the only guy I ended up talking to at all on the app! With my schedule as a prosecuting attorney and Sam's schedule being in college football, we both don't think we would have met otherwise. Luckily, we both got to delete our profiles pretty quickly!
TELL US ABOUT YOUR PROPOSAL: I knew that Chloe wouldn't want a proposal in the middle of a ton of people or that involved a lot outside of the two of us. I also knew that I needed to get our dog Maisie there in some way. I was visiting my family in Ohio and was scheduled to fly back home to Arkansas into XNA, the regional airport there. Chloe would always drop me off and pick me up from the airport when I traveled, and XNA was the first place that I knew I loved her. I decided to propose to Chloe when she picked me up from my trip that morning. Plus, I had talked with her parents ahead of time to coordinate a brunch at their house after I proposed with our friends to celebrate. Chloe thought that she was picking me up from the airport and driving us to her parent's house to grab lunch with them and let the dogs play. I got down on one knee outside of baggage claim with our dog Maisie looking over my shoulder in the backseat of the car and asked Chloe to marry me. Afterwards we drove to her parents' house and surprised her with a brunch with our friends! She swears she had no idea that anything was going on!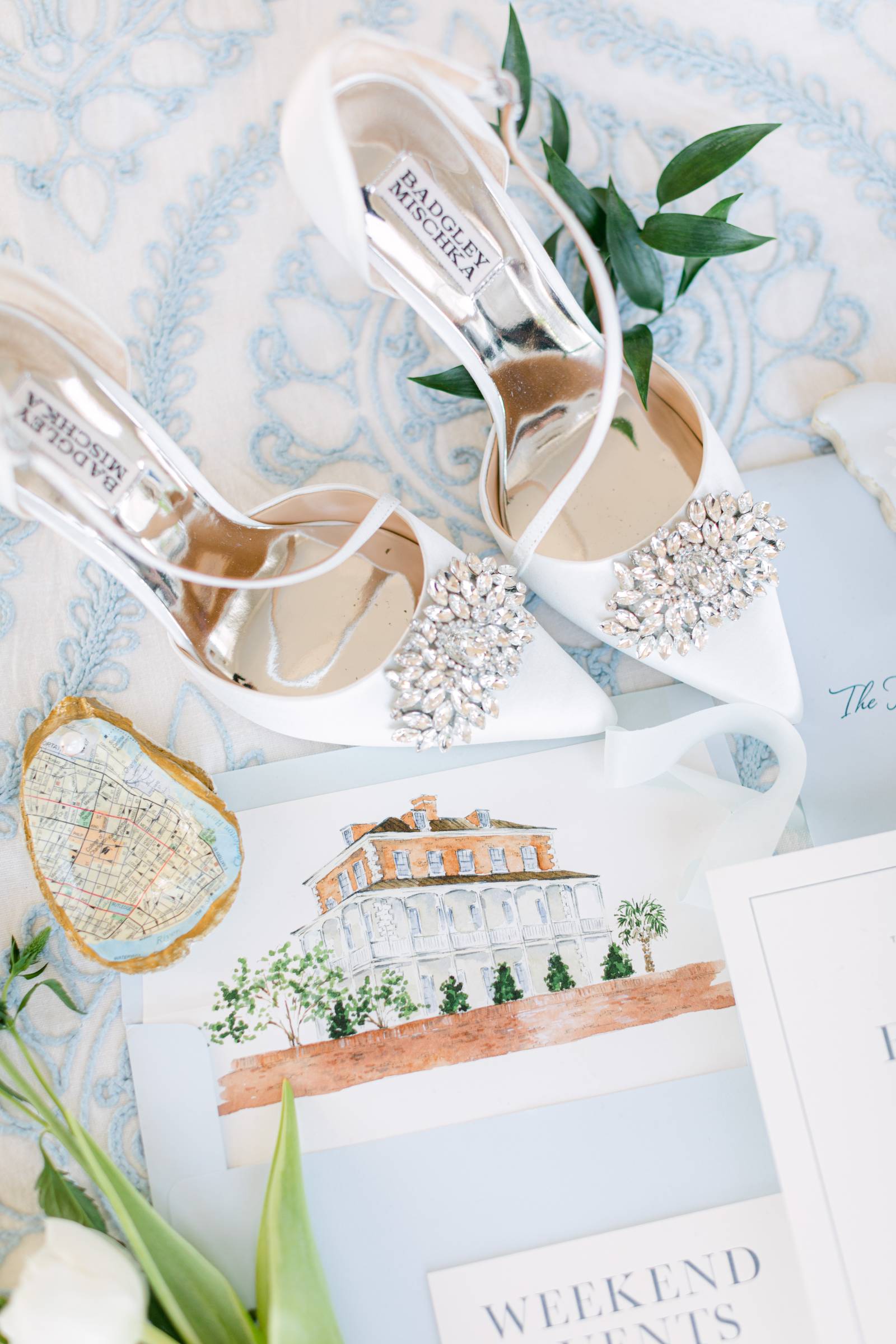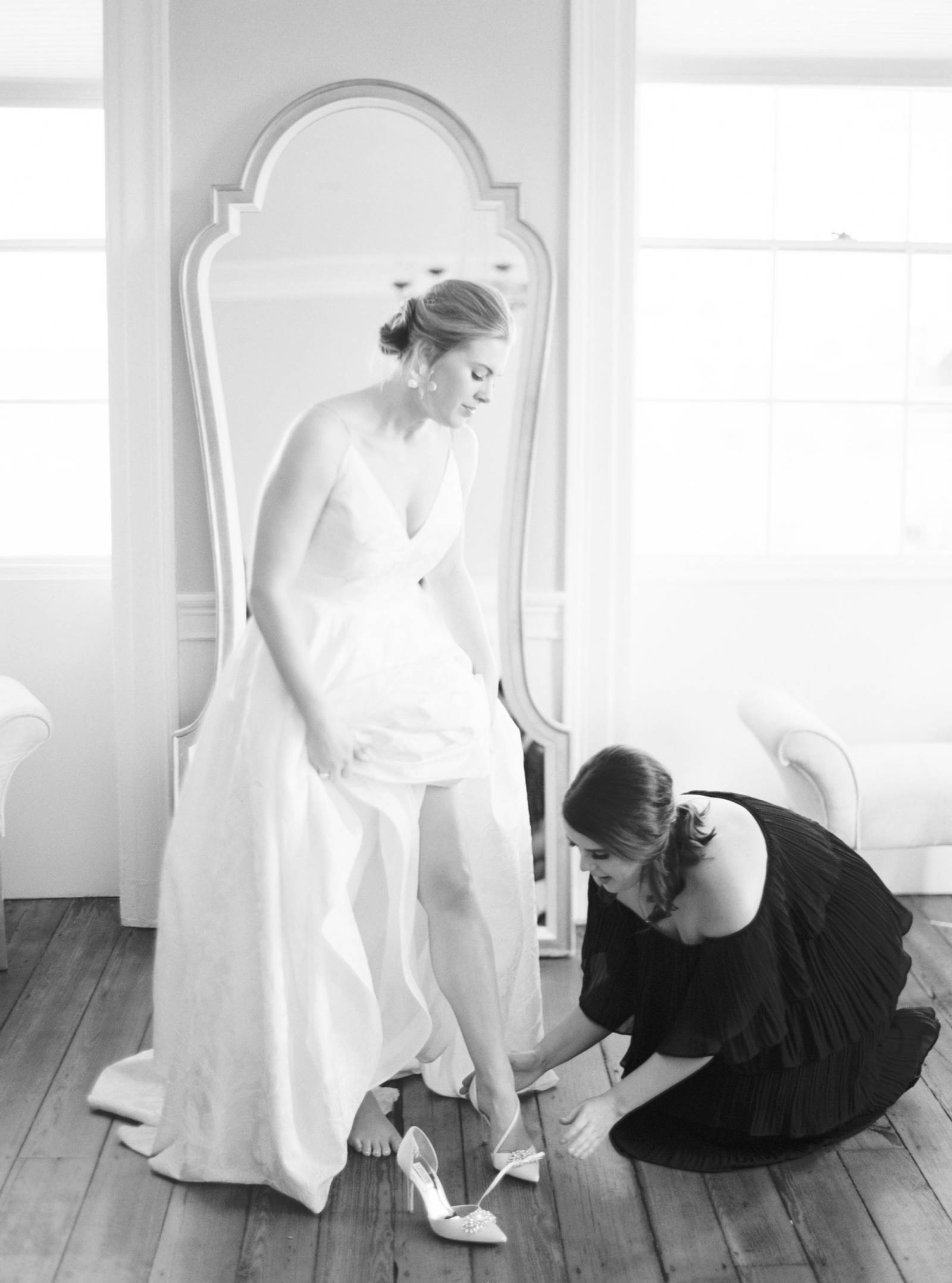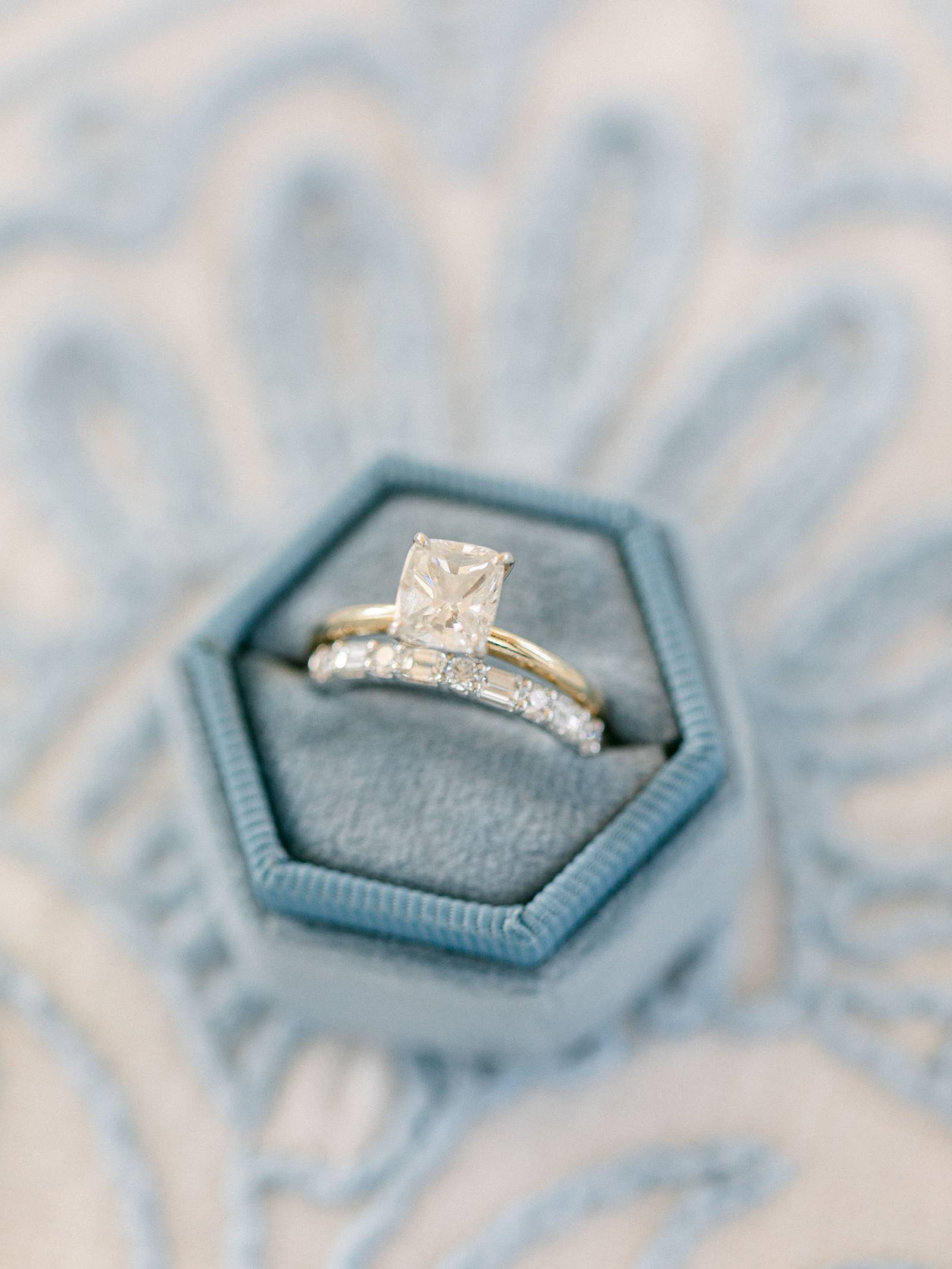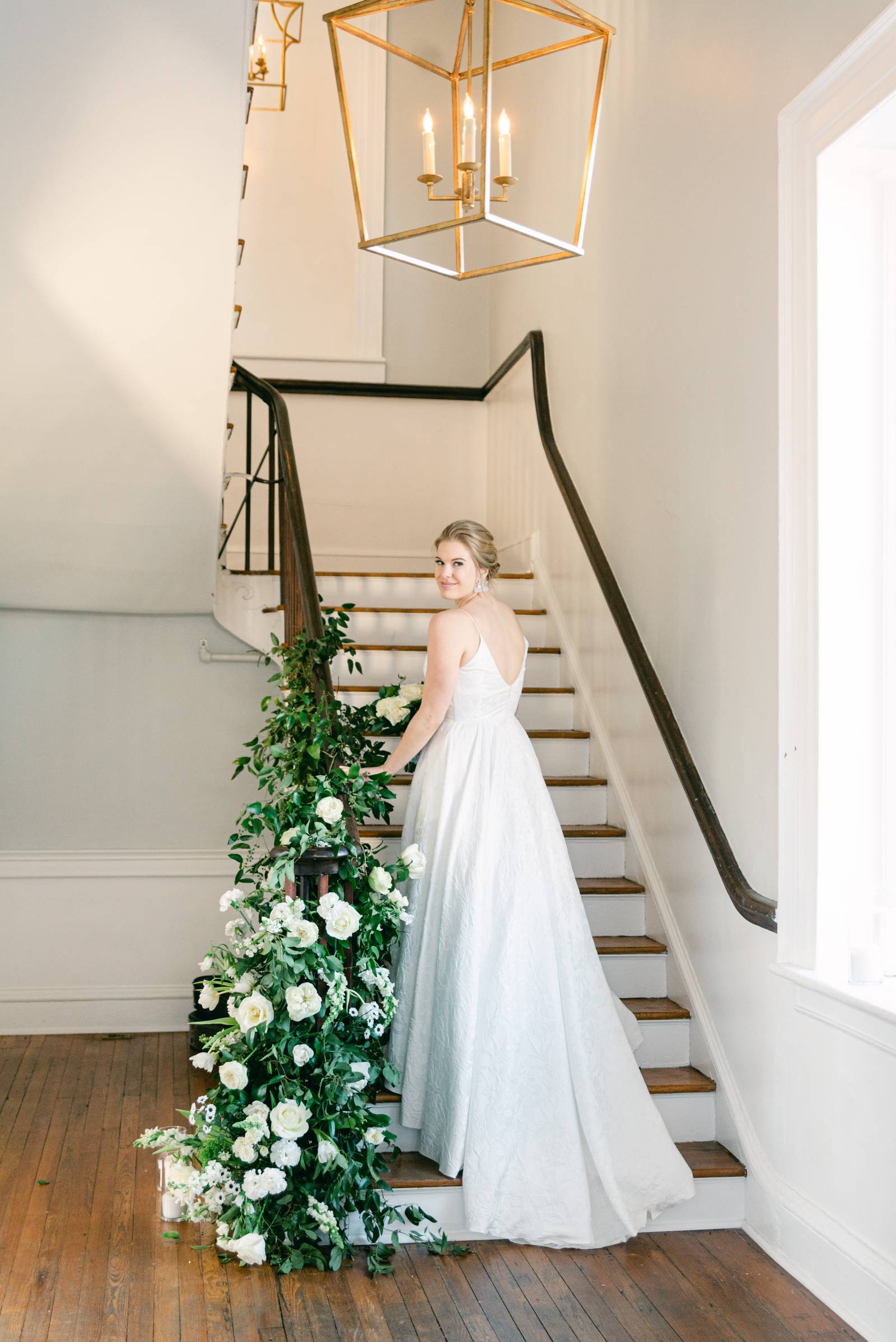 TELL US ABOUT FINDING YOUR WEDDING DRESS/ATTIRE: I have loved Joon Bridal in Fayetteville, Arkansas, ever since they first opened up! I loved that the dresses they sought out for their clients were a mixture of modern, clean silhouettes, filled with classic and unique details. I wanted to keep the search for my dress very low-key and stress-free so I knew Beth and Shayley at Joon along with my mom, Julie, and my dad, Jeff, would be the perfect team to help! I knew I wanted to find something modern but still timeless and went into my appointment ready to try pretty much anything! I mean who really knows what kind of wedding dress will actually be perfect on them? Shayley helped me pick a variety of dresses and after trying the first gown on I had a small tickle in my brain telling me it was my dress—not wanting to be the cliché I tried on everything with all different details and silhouettes, but at the end of the day the first wedding dress I ever tried on was my dress! Every time I tried on my gown I was happy I went with my gut and didn't try to fall in love with anything other than a dress that was exactly my style.
DID YOU HAVE ANY DIY ELEMENTS? We wanted to make sure our personality was included in our wedding details while still incorporating Southern and family traditions. The custom Charleston cookies my mom's friend Mona Cochran made for our guests were beautiful! The little cookie boxes made the perfect accent to our table-scapes. We also wanted to make our wedding dinner feel like it would at our home with our friends and family, so we found cloth napkins in different patterns and had them monogrammed with our initials. Now when we bring the napkins out at home for dinner it is such a sweet reminder of our night with everyone.
DESCRIBE YOUR WEDDING FLOWERS: Effortless. Allison at MODERN FLORAL was able to create the exact feeling we wanted at our wedding through her amazing florals. The goal was to make our guests feel like they were celebrating with us in our own backyard, so we wanted to keep the details very classic but still filled with that modern, clean edge that made everyone feel comfortable. Our flowers were the perfect way to convey that feeling, so we had our tables filled with different sized vases and arrangements which helped keep dinner feeling relaxed. I still can't believe we said our vows under that gorgeous floral arch Allison created! Since we were coming from out of town, we also loved that after our wedding Allison took our bouquets and arrangements to a local retirement home for residents to enjoy.
FAVOURITE DETAIL OF THE DAY: Chloe: I LOVED our rickshaw "get-away car" from Charleston Rickshaw! We stayed at the Hotel Bennett for our wedding night so zipping around downtown Charleston after our wedding in the rickshaw was the perfect end to our night.
Sam: I really enjoyed going with my groomsmen to Haberdash Groom's Lounge before the wedding. It was a great way to relax before the wedding and spend time with guys I don't get to spend a lot of time with because of my work schedule. We all had such a great time getting ready for the wedding together there because they had anything and everything a group of guys could want when they're hanging out together. We had arcade games, video games, cigars, television, a full bar, and food. Plus, they took away a ton of stress by steaming our shirt and tuxes driving us to the venue. It was definitely a detail about our day that I look back on and am thankful we included in planning.
WHAT ADVICE WOULD YOU GIVE OUT TO A COUPLE PLANNING THEIR WEDDING? Remember the reason you're having a wedding in the first place. It was so important to us that our marriage didn't get overshadowed by our wedding—with all the external noise surrounding engagements, planning, and the actual day it can be easy to focus on everything else and forget that you get to make that commitment to each other. At the end of the day being able to celebrate at our wedding was everything we could have imagined but keeping the focus on celebrating our relationship, even during the stressful or mundane moments, has meant so much more for our marriage.
MOST MEMORABLE MOMENT? Chloe: Seeing Sam for the first time in my wedding dress will always have a permanent spot in my memory. We did a "first look" before our ceremony so we could take a moment to just enjoy seeing each other. I am so glad we got the chance to be together and collect our thoughts before the ceremony. Sam is my best friend, so I definitely needed him in order to feel like myself the rest of the night and not feel so weird walking down the aisle in front of everyone!
Sam: Dancing with Chloe at the wedding. I'm not a good dancer but in that moment, I didn't even care how I looked. I just wanted to be with my wife and it was so memorable because of how much I was in that moment with just Chloe. We picked out the song "Grow Old With You" from the movie the Wedding Singer because it made us smile and sounded like something we would make up together.
WHAT ASPECT OF THE WEDDING WAS THE MOST IMPORTANT TO YOU BOTH? Our faith with Jesus Christ and keeping the focus on why we were getting married was the most important aspect of our wedding to us both. As long as we kept those two things in the forefront the rest of the wedding came together exactly the way we both wanted—it also didn't hurt having an amazing team of planners, vendors, family, and friends supporting us!
ANY OTHER DETAILS THAT HELP TELL THE STORY OF YOUR DAY? We still love what we did for our rehearsal dinner! Sam and I really enjoy laughing and spending time with our friends and family, so when it came time to plan something for our rehearsal dinner we didn't want to do anything too stuffy. After going to an improv show at Theatre 99 while visiting my brother Caleb we knew our guests would have a blast at one of their shows! After some light hors d'oeuvres and drinks at Blind Tiger Pub all our guests took in an improv show with us at Theatre 99! It was the perfect way to relax the night before the wedding day and spend time with everyone who traveled to celebrate!
Digging up the bourbon Sam and I buried a month before for good luck was so much fun! I had read about the tradition of burying the bourbon while we were planning and after telling Sam about it we knew we had to have a little fun and try it! We were able to bury at bottle at the Gadsden House a month before our wedding when we went to get our marriage license and dig it up the day of our wedding and toast with our friends. Turns out the "Southern myth" did the trick! We had perfect weather!
We had to include a little nod to our mini-bernedoodle Maisie in our wedding! Shindig Paperie helped us customise our barware and bar with her silhouette that said, "Cheers from Maisie". It was so fun to have her as the "unofficial bartender" and greet our guests just like she would at home!
Sam and I enjoy spending one-on-one time together with our families, so having the cake cutting just be him and I along with my parents Jeff and Julie, and his parents, Steve and Kathy, while our guests started dancing was such a nice moment together during our wedding reception. After we cut the cake it was so special to toast with the same champagne glasses that Sam's parents toasted with on their wedding day!
We found our ceremony band while walking around 2nd Sunday on King Street! During a trip to Charleston with our wedding planner Amanda Reed we stumbled on the V-Tones playing on the sidewalk. After commenting that it would be so fun to have them greet our guests with their Vaudeville-era music Amanda walked right up to the duo and got their information! They were such a hit with our guests and really added to the ambiance of our wedding. Just another reason we loved working with Amanda Reed too!
When thinking about our exit at the end of the night I knew I wanted to do something different. Sam and I usually shy away from being the centre of attention so designing an exit that still felt authentic to us was important. Luckily Sam's career in college football offered the perfect inspiration! Watching fans at college football games gave me the idea for a break-away banner and custom foam fingers for our guests to cheer us on during our grand exit. The whole thing was fun and felt like us!
TELL US A LITTLE ABOUT YOUR HONEYMOON: At the time we planned our wedding we knew that because of our work schedules and college football gearing up after we got married that we would have to wait on our honeymoon. Obviously neither of us anticipated a global pandemic shortly after our nuptials though! On top of the pandemic, shortly after our wedding Sam received a job offer to work for the Clemson Tigers and we made the decision to relocate from Arkansas to South Carolina too! After a celebrating a year and a half of marriage we finally were able to take a honeymoon/one-year anniversary trip to Key Largo, Florida, in June 2021. The Bungalows Key Largo offered the perfect place to relax, recharge, and reflect over our first year of marriage. After a year of change and unique challenges it was fun to be able to celebrate our wedding as newlyweds again!
IS THERE ANYTHING YOU WOULD CHANGE OR DO DIFFERENTLY? We would do absolutely nothing different! We were blessed to have our wedding right before the pandemic reached the U.S. and looking back we are so happy we kept our wedding small before it was necessary for safety! Our goal was to be surrounded by family and the closest friends we consider family and we definitely achieved that. We didn't know it at the time, but our wedding was the last time for close to a year that we would be able to really celebrate and spend time with a lot of our family and friends. Moving to Clemson, South Carolina, and having to be separated from everyone due to the pandemic right after our wedding made the time we spent with our guests that weekend even more special.
Thank you to Charleston wedding photographer AVA MOORE for sharing this beautiful wedding with us today! Her passion is capturing how you FEEL on your wedding day... and of course she does that in an artistic way and in beautiful light. "With my camera, I will soak up all the excitement, love, and joy that you express toward each other on your wedding day. This is also true of other precious moments that you spend with your family and friends. I document, what I think is, your heritage. Photographs are essentially heirlooms!" You can check out more of her work in our vendor collective here and you should also see this Chic Garden party wedding at a grand & historic Charleston home.