Simple & elegant was the mantra that gorgeous bride Molly ran with during the planning process. She tells us, "I really wanted everyone to feel that magical, romantic feeling that the venue made us feel when we first visited." Charleston wedding photographer AVA MOORE captured their day which took place at the enchanting GOVERNOR THOMAS BENNETT HOUSE in Charleston, South Carolina. "As soon as Mike and I walked in we were in LOVE. Everything from the historical touches, to the beautiful, lush, gardens in the backyard and the piazza that overlooks it all was breathtaking. I knew Mike clearly liked it when he started planning where the tent would go. I loved that they had a huge bridal suite and man cave for us all to get ready there. I got to watch the day come together from the upstairs window, which was really special."
HOW DID YOU MEET? My two best friends and Mikes brother introduced us! They all went to school at Loyola Maryland in Baltimore, which is right down the road from where I grew up. We were all out as a group one night over the summer, and as soon as I saw Mike I asked my friend to introduce me to the cute guy at the bar. He bought me a drink and we talked the entire night. We all hung out non-stop that summer and the rest was history!
TELL US ABOUT YOUR PROPOSAL: I had just walked in the door after a really long day and I noticed Mike had just showered and was dressed nicely, instead of the comfy sweats we usually put on. We were planning on grabbing a causal bite to eat for dinner, but Mike asked me if I wanted to have a drink on the back deck before leaving. The back deck at our old townhouse was my all time favorite place to relax. One second I was chatting about my day and sipping my glass of wine and the next he was on one knee in front of me asking if I would spend the rest of my life with him. It was the best surprise ever! What made it even more special was that it was just the two of us and our dog, Holland.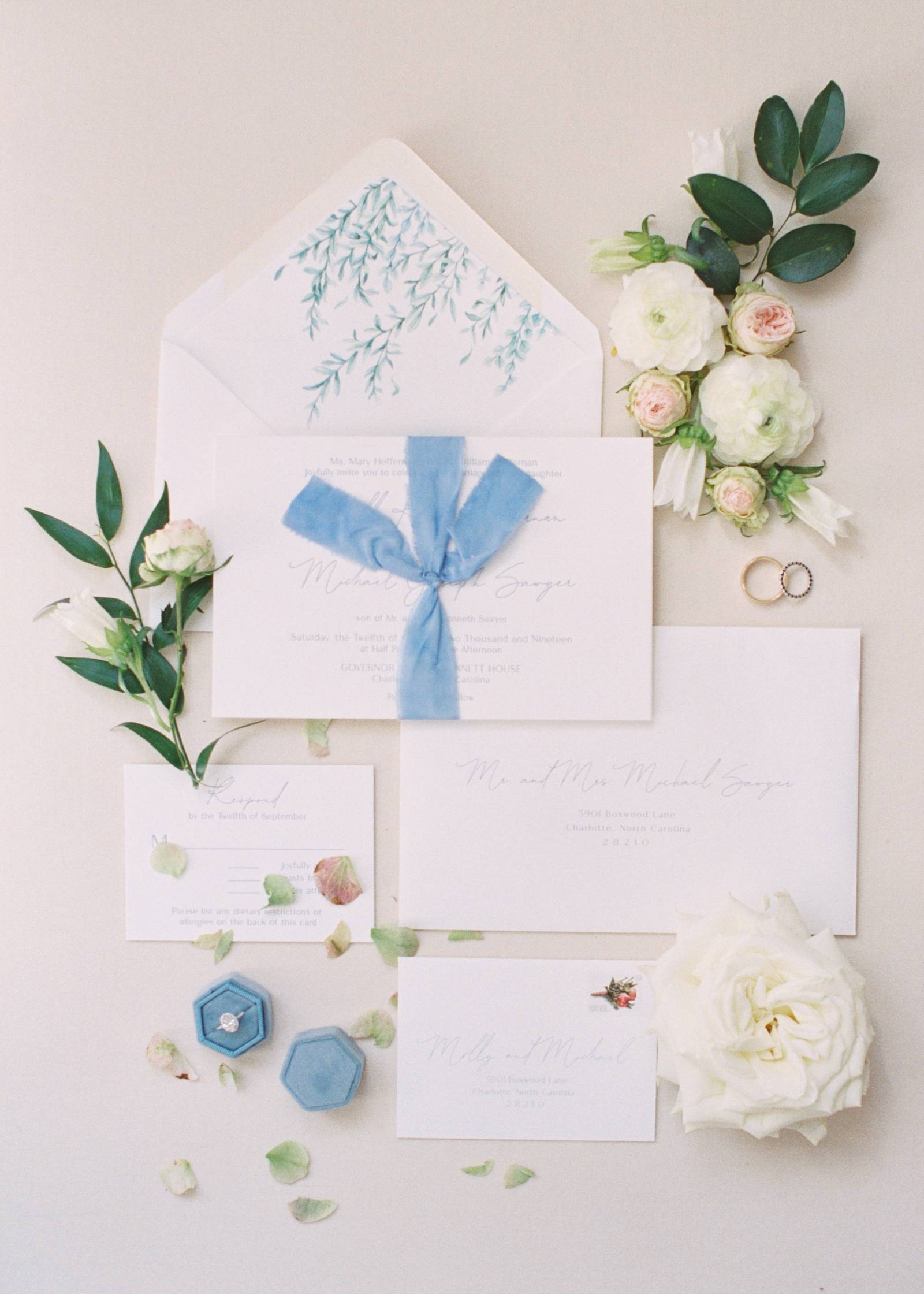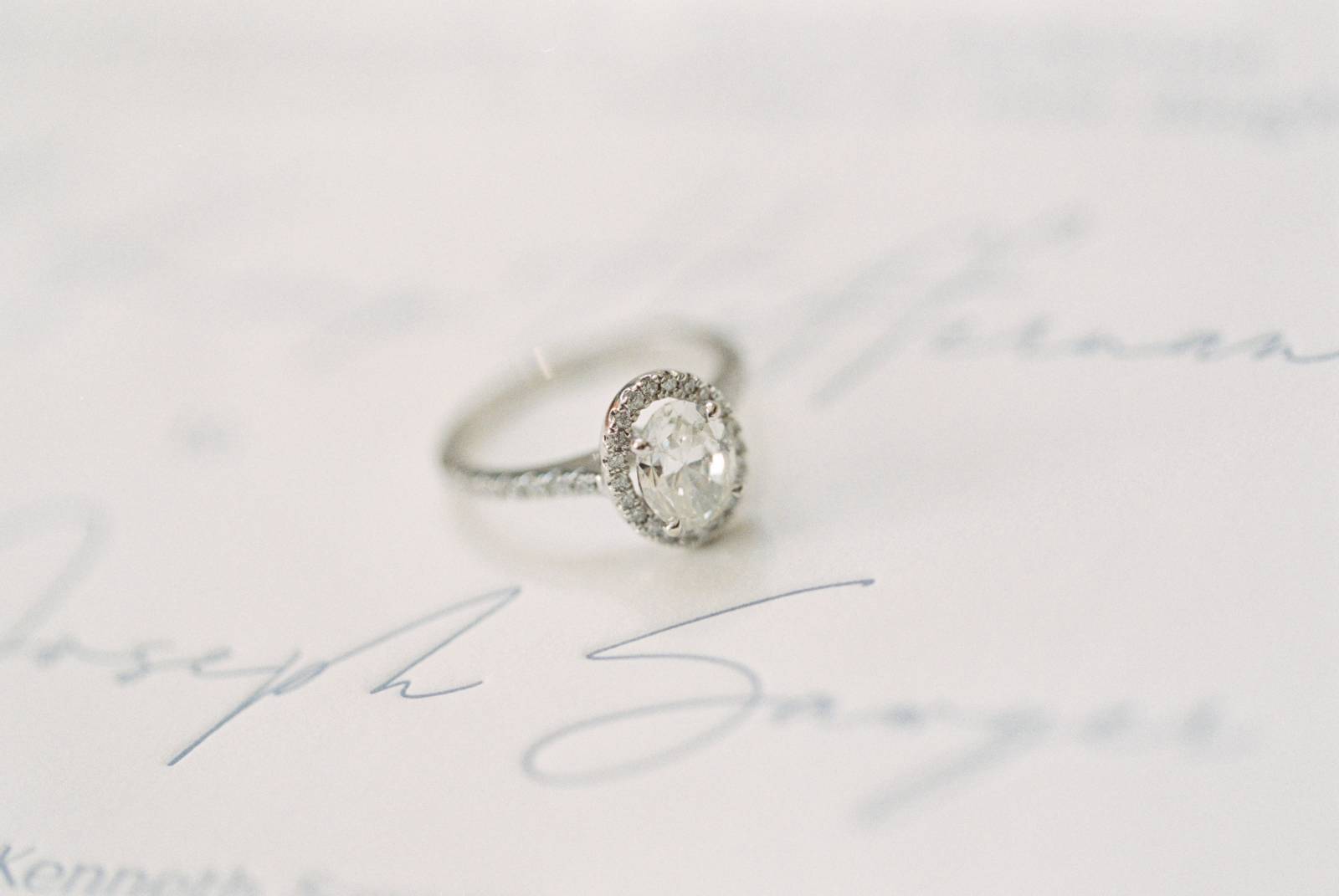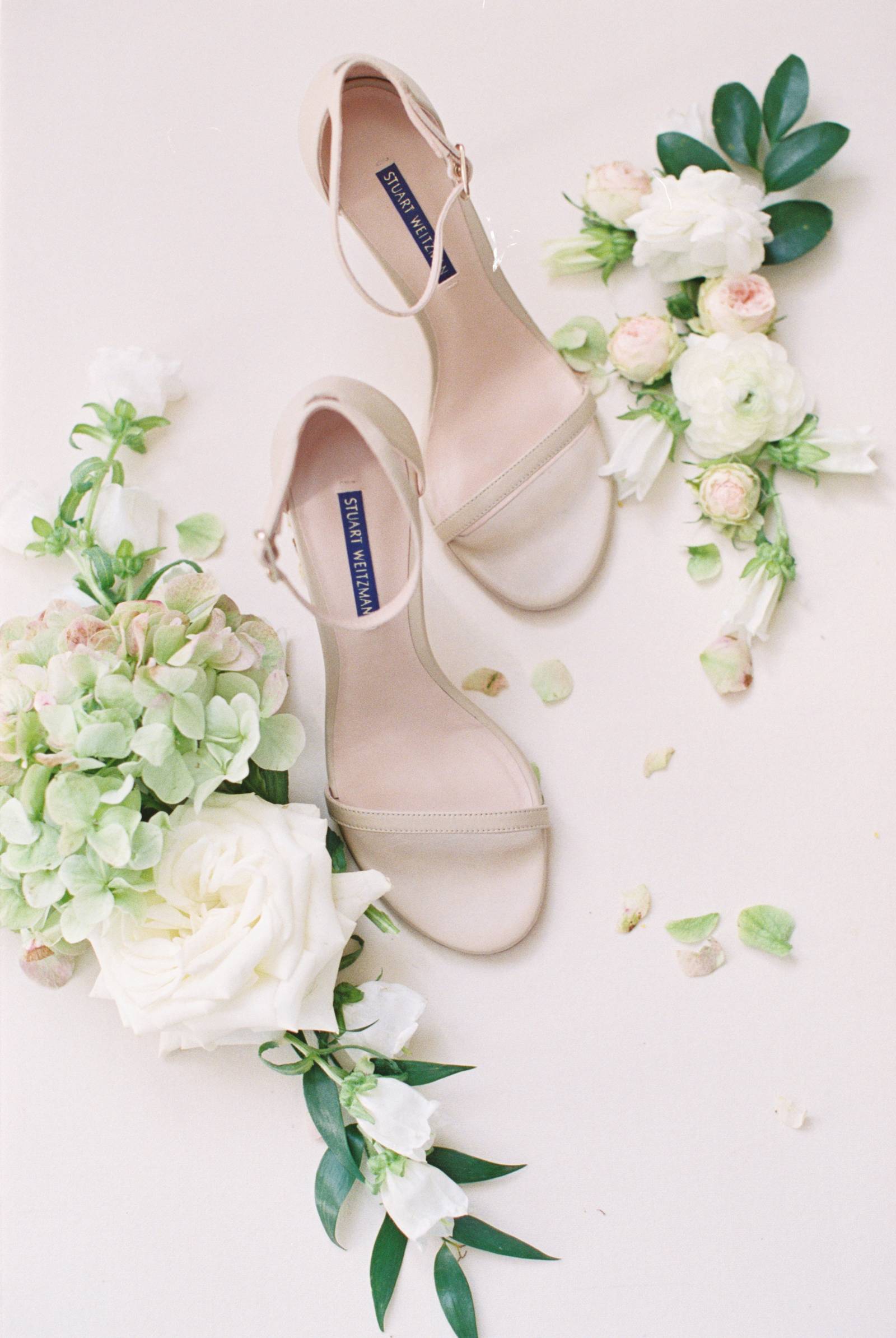 TELL US ABOUT FINDING YOUR WEDDING DRESS: I went Garnish Boutique in Baltimore with my mom and maids of honor! I had so much fun trying on a lot of different styles to see what I liked, but as soon as I put on the Legends Romona Keveza dress I truly felt like a bride! It had a really pretty lace bodice that I fell in love with. I wanted to think about it and went to one other boutique in Charlotte to try on some more dresses, but nothing compared to how I felt in the Legends Romona Keveza dress!
DESCRIBE YOUR WEDDING FLOWERS: Our florist, Christina with Darling Dogwood was amazing! We really wanted to enhance the already luscious gardens and grounds, so she used lots of greenery, cream roses, cafe au lait and white dahlias, antique green hydrangeas, and beautiful mercy glass and garden pots for the natural, realistic garden feel. She created an amazing hedge wall in front of our band and suspended greenery with lights over the dance floor, which really gave it that garden party chic vibe I was going for.

FAVOURITE DETAIL OF THE DAY: How do I pick just one?! Although out of my control, the one detail that I couldn't have asked to go better was the weather. It was hands down the most PERFECT day. It was in the low 80's with no humidity and the sun was shining so bright!
WHAT ADVICE WOULD YOU GIVE OUT TO A COUPLE PLANNING THEIR WEDDING? Hire a wedding planner! It is soo worth it. Lauren, with Kelley Event + Design, was our life saver! She kept us on track throughout the whole planning process. We were truly blown away by her attention to detail.
MOST MEMORABLE MOMENT? So hard to pick one! The first one that comes to mind is right before the ceremony I had a moment to myself while I was waiting for my dad to meet me upstairs in the house. I peeked out the windows overlooking the ceremony and got to take everything in. My heart was so full at that moment. I couldn't wait to get outside to marry my best friend in front of all the people we love. The second one is when Mike and I were introduced at the reception as Mr & Mrs. Michael Sawyer! Hearing it out loud for the first time was so exciting and made it so real.
TELL US A LITTLE ABOUT YOUR HONEYMOON: We left for our honeymoon two days after the wedding! We wanted a quick flight and to just be able to relax on the beach for a week straight, so we chose to honeymoon in the Bahamas! We spent A LOT of time laying in the sun and had so many delicious meals. It was an incredible way to relax and enjoy quality time with each other as husband and wife.
IS THERE ANYTHING YOU WOULD CHANGE OR DO DIFFERENTLY? Don't worry so much about all the little details. In the end, all that mattered was that everyone we love was together to celebrate with us. It is the one day of your life you get to experience that, so make sure you cherish every second!
Thank you to Charleston wedding photographer AVA MOORE for sharing this truly beautiful Southern wedding with us today! Her passion is capturing how you FEEL on your wedding day... and of course she does that in an artistic way and in beautiful light. "With my camera, I will soak up all the excitement, love, and joy that you express toward each other on your wedding day. This is also true of other precious moments that you spend with your family and friends. I document, what I think is, your heritage. Photographs are essentially heirlooms!" You can check out more of her work in our vendor collective here and you should also see this Timeless & romantic southern wedding at Magnolia Plantation.