For Susan and Ben, the third time really was a charm! With the original wedding date at the height of the pandemic, they rescheduled their wedding not once but twice, at completely different venues, with a different guest list and theme! Susan and Ben navigated through it all graciously through all the changes and unknowns, while keeping their wedding true to themselves - intimate and romantic. Captured by Washington DC wedding photographer FEATHER & FAWN PHOTOGRAPHY their wedding was eventually held right at the cusp of when the world was just starting to open up again. The couple tell us, "Many, if not all, of our loved ones and guests were attending our wedding as the first event outside of home in a long time. In many ways (symbolically), everything was blooming again, and the season of spring and the air of hope could not be more fitting. The garden theme of new blooms also holds significance to us in our own growth as well, in all our nine years together but also our growth especially through the last year. It is also meaningful for our ever-flowering walk of faith with God - now as one unit, so we chose for our style and theme to be an enchanted garden. Making the arch for our ceremony by hand together was also a fun memory for both of us!"
WHY DID YOU CHOOSE THIS LOCATION? We were in love with WOODEND for all of its lush greens - it is such a wonderful backdrop as a bountiful garden! We were also struck by what Woodend stands for as a nature sanctuary in educating and promoting the value of conservation with adults and children. It is also an absolutely beautiful environment where we had the options to use the outdoor grounds for pictures and also hold our intimate ceremony and reception under the tented terrace of the mansion. Beatriz at Woodend is also amazing, and we could not have asked for a more kind and helpful site manager. It will always be a special place in our hearts!
HOW DID YOU MEET? We are college sweethearts! Both Political Science majors as undergraduates at George Washington University, we spent a lot of time together in the same classes and study groups with friends. There were many study nights where Ben liked to show off his speed-reading skills, share his ideas for group papers we had to write together, and play with my hair, among his other goofy ways. Then, in our junior year, Ben decided he wanted to take our friendship to a new level.
TELL US ABOUT YOUR PROPOSAL: It was a cold December night, 3 days before Christmas and Ben planned a nice evening in Old Town, Alexandria (VA) where we had our first date! I thought we were just there to walk down memory lane, but after some time, I was very confused as to what Ben was doing-- we must have circled around the big Christmas tree in Market Square at least 10 times (I found out later that this was initially where Ben wanted to propose! He was stalling for people to go away, but it was just too crowded and distracting so he went with Plan B). We walked up the hill to the George Washington Masonic Temple lit up at night, where it was just the two of us with the quiet, intimate environment that Ben had pictured. Once I realised that he was down on his knee, I wanted to have my own Leslie Knope moment (the proposal scene from Parks and Recreation) to pause and take it all in so that I could remember every aspect of that special moment before giving my response... only to look down and see Ben give a small cough, which he then proceeded with "can you hurry up and answer me please, my knee is hurting"-- Ben just couldn't stand the suspense and right there and then, I found him extra lovable with his puppy eyes looking up at me (he was quite anxious, which is very unlike his usual confident self), so with my heart filled to the brim with joy and excitement, I gave my big "YES" to us spending the rest of our lives together!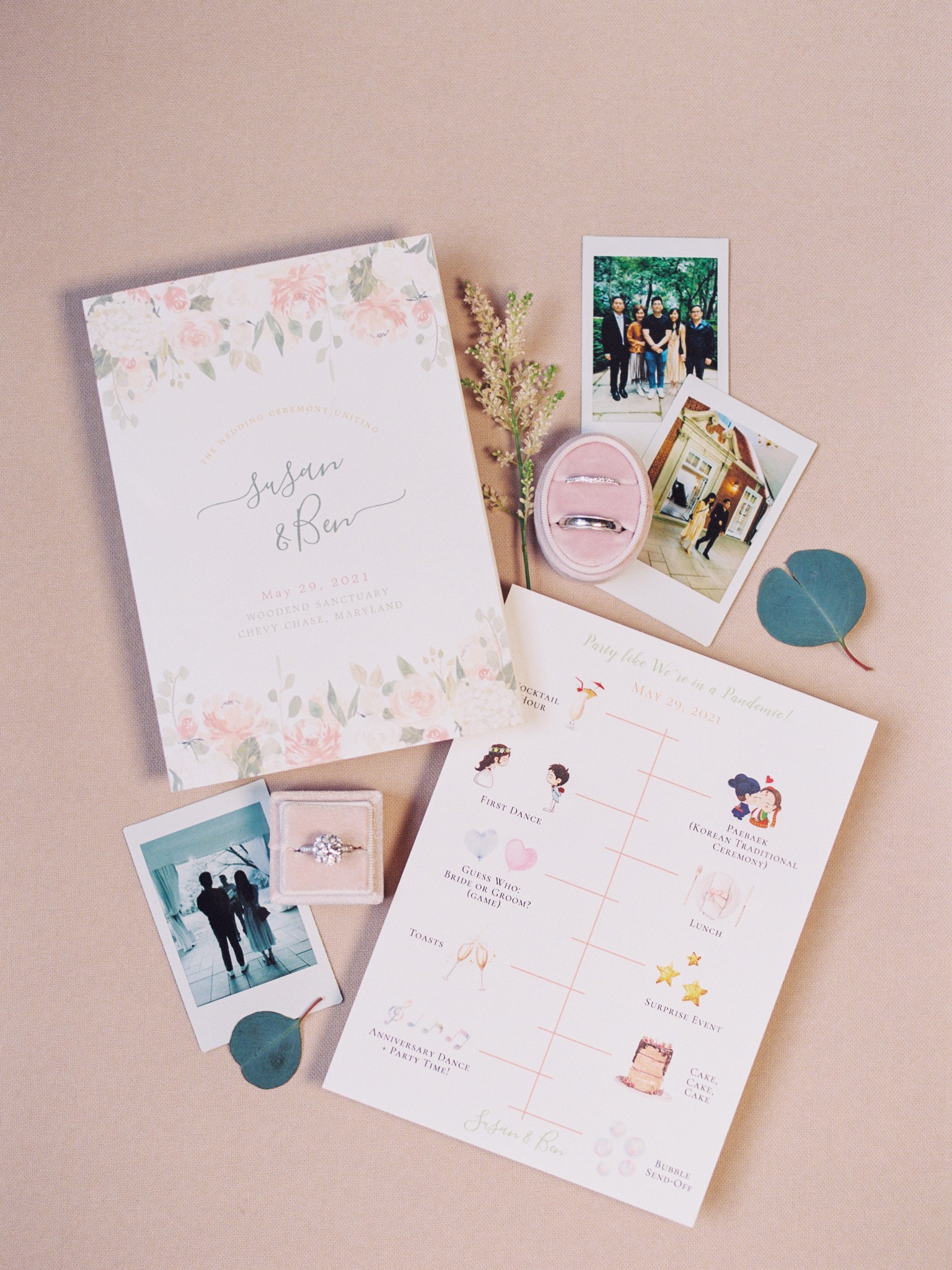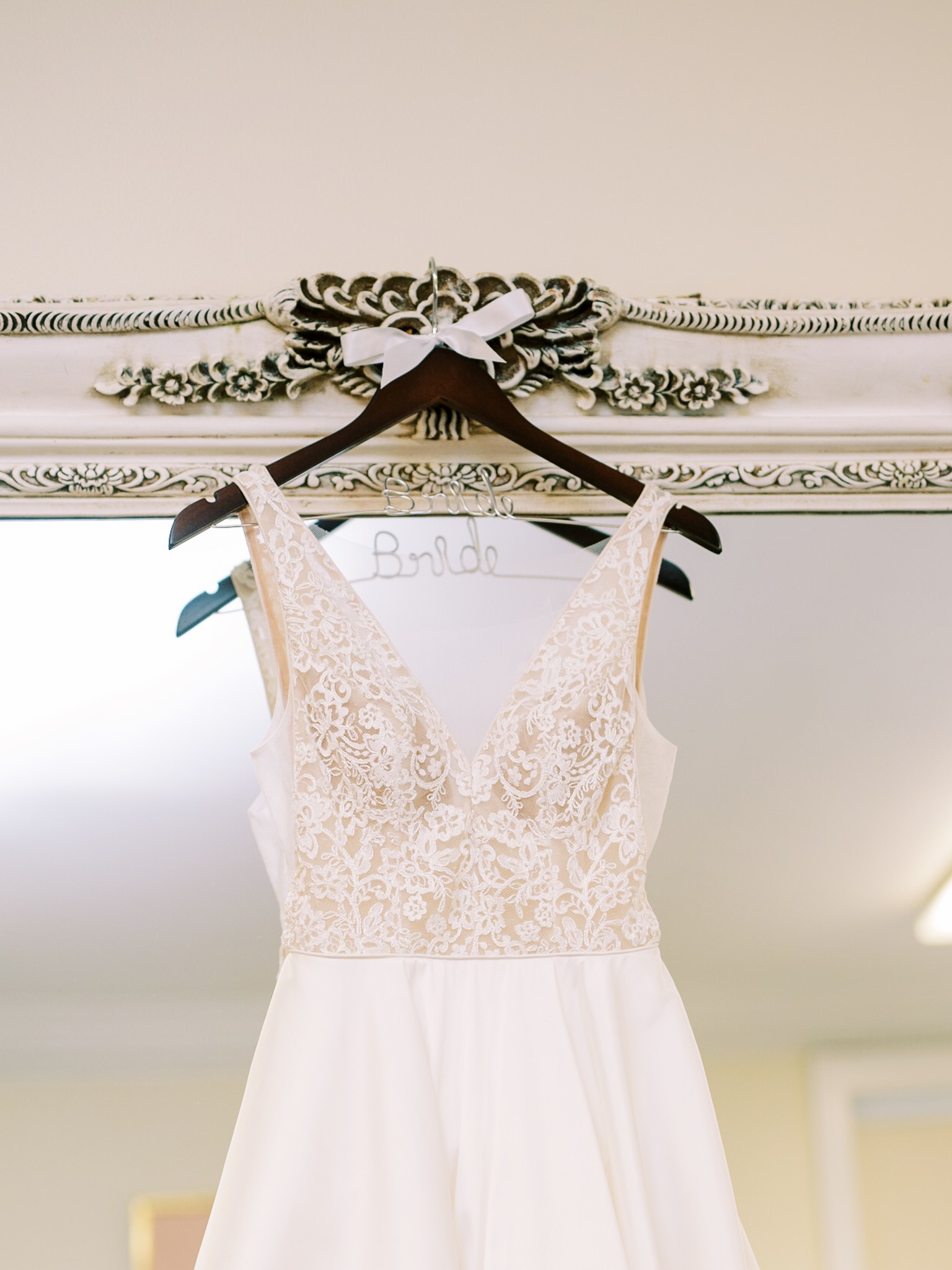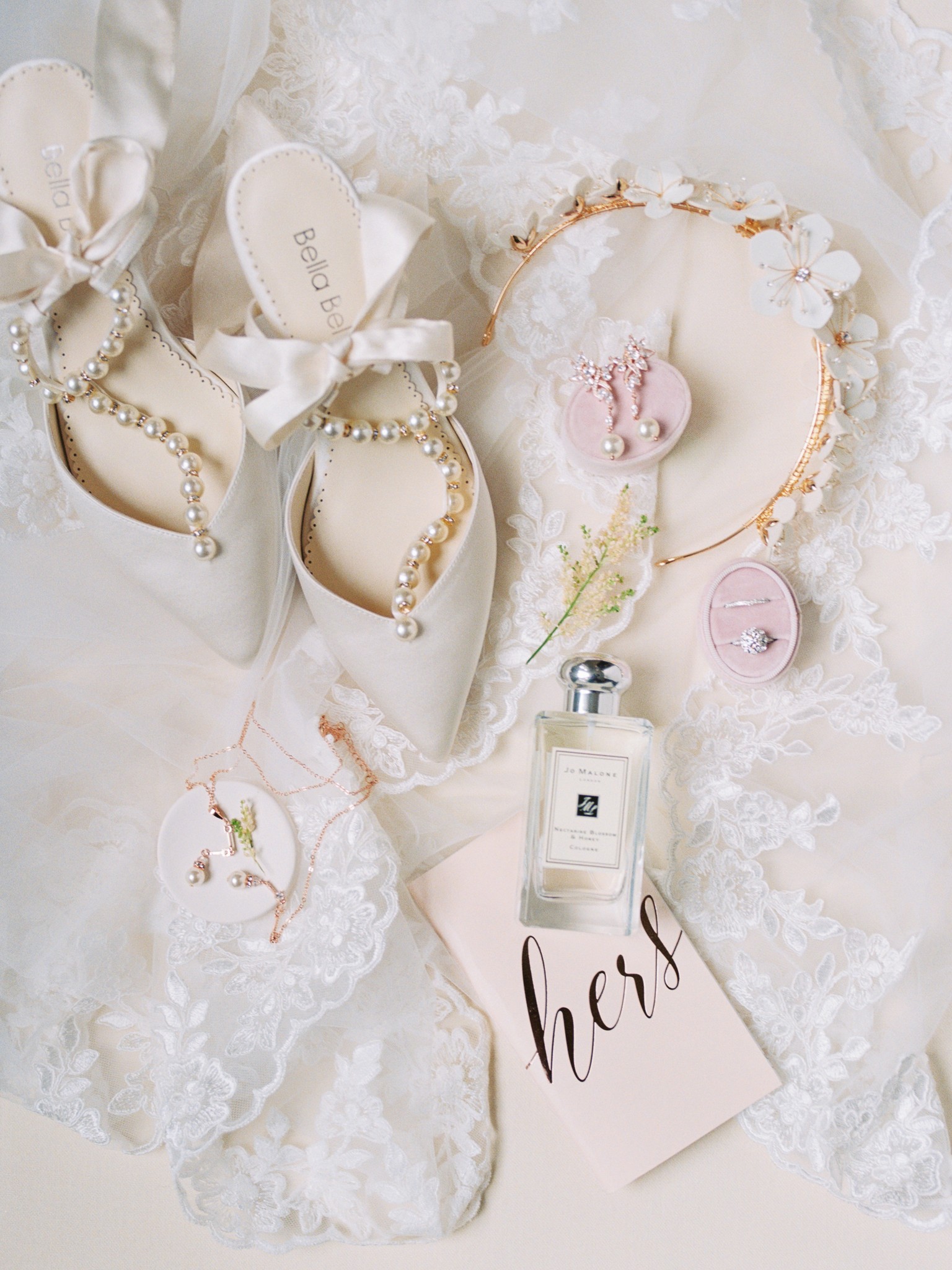 TELL US ABOUT FINDING YOUR WEDDING DRESS/ATTIRE: I was both excited but also overwhelmed with trying on different dresses, and ultimately, my dad helped me pick the perfect ceremony gown! This was very meaningful to me, as I have a very close relationship with my dad, and as we practiced walking down the aisle together, I very much looked forward to that moment wearing the gown that he helped me choose. I also very much loved my pearl-adorned Lucia heels from Bella Belle, which were not only gorgeous to look at but oh-so-comfortable! My ceremony look was brought all together with a handmade chapel length mantilla veil in ivory with floral embroidery edging that complemented the floral design on my Jenny Yoo gown as well.
My reception look reflected the whimsical enchanted garden theme with an ivory and gold floral headpiece, a softly layered chiffon A-line dress, and a custom-made bridal cape with floral applique scattered towards the hem. Our First Dance was definitely a big highlight for our wedding, and this look for me, as well as Ben in his tux, made our dance flow more beautifully than we imagined throughout our practices together!
I chose to wear this separate reception attire because I knew it would be wise not to risk tripping/falling in my ceremony gown throughout the day, and I'm so glad I did!
DID YOU HAVE ANY DIY ELEMENTS? We put together our floral ceremony arch, place cards with personalised calligraphy for each guest, as well as a seating chart with pictures of our guests for all the memories we've shared together.
DESCRIBE YOUR WEDDING FLOWERS: We included many spring blooms such as peonies and a blend of quicksand, Sahara, and Juliet garden roses, ranunculus, and astilbe in shades of light blush, ivory, and champagne. They were all accented with beautiful and fragrant greenery including spiral eucalyptus, myrtle, and Italian ruscus. Our flowers, hair and makeup, and the Paebaek Korean Traditional Ceremony, were all done by Michelle's Weddings (Michelle and her mother), and every aspect was done beautifully with loving touches every step of the way! They truly went above and beyond, from putting together our floral arrangements and bridal bouquet, retouching my makeup, ensuring that I looked my best with shimmer body lotion before I put on my gown, to guiding us through the Korean Traditional Ceremony— our day was flawless with huge thanks to both Michelle and her mother!
FAVOURITE DETAIL OF THE DAY: We chose a handmade wooden mountain board with our names and wedding date on it for our guests to sign— in reading through them the next day after our wedding, it reminded us of just how loved and blessed we are by our family and friends, and it made for a lasting keepsake with loving messages and wishes from everyone! We also didn't realise how impactful scents can be, and the fragrances of the Jo Malone Nectarine Blossom & Honey that I wore, along with the Maison Margiela Replica Sailing Day that Ben wore bring us back to fond moments of that day!
WHAT ADVICE WOULD YOU GIVE OUT TO A COUPLE PLANNING THEIR WEDDING? Our best advice for soon-to-be-wed couples is to trust and place faith in God, that He will provide! As hard as it may be at times during the planning, the day of is worth every second— despite difficulties set by the pandemic, personal challenges, and many decisions that had to be made, our wedding day was filled with love and joy in every way!
MOST MEMORABLE MOMENT? We have many memorable moments to remember our wedding day by, and our First Dance is definitely at the top! We loved sharing our choreographed dance to Frank Sinatra's "Fly Me to the Moon" with our guests. Second to climbing, ballroom dancing is the next favourite thing that we learned to do and enjoyed together. This well-loved song will always bring back wonderful memories for us! Another memorable moment was our Korean Traditional Ceremony, Paebaek, where we both shared a jujube Lady and the Tramp style—we thought it was artificial but to our sweet surprise *pun intended* it was a real one that tasted very yummy! We also loved the touching speeches and toasts by our loving family and friends, as well as the anniversary dance that celebrated the love of those around us! Ben's parents were the last to remain standing, and we will always remember that to be such a sweet moment—both their dance as well as the words of advice they shared with us. We also loved the surprise First Look that I planned with our friends Eric and Steve—needless to say, Ben was very surprised to turn around and be embraced in a big bro hug!
WHAT ASPECT OF THE WEDDING WAS THE MOST IMPORTANT TO YOU BOTH? This was a long overdue celebration for us and our only wish was for it to be a safe and meaningful time together with our closest loved ones. Thankfully, we were blessed with that and more on our wedding day! We were also gifted with a usb that had loving video messages from all of our other guests who were not able to join us that day—we were truly blanketed with so much love from those around us near and far!
ANY OTHER DETAILS THAT HELP TELL THE STORY OF YOUR DAY? We loved the intimate aspect of our wedding and it was that much more special with everyone's love and support. Our day was a loving reminder of the wonderful community we are blessed to be a part of, and we were embraced with so much encouragement and warmth that set us for a wonderful marriage ahead. We are especially thankful for our Pastor Matt Yi and his wife, Stephanie Yi, for pouring so much of their love and care for us not only on the day of, but also in the many days prior leading to that day. I couldn't help but be overcome with so many emotions as I was reading my vows to Ben, and Pastor Matt jumped to the rescue with tissues! Following our ceremony and reception, we wrapped our day with a fun last set of portraits that we took outside by the Portico of Woodend Sanctuary with our photographer, Angel (Feather and Fawn), and her assistant Wendy. Ben and I were both very giddy from all the excitement of our day and those playful pictures we took towards the end were so much fun with Angel and Wendy! Our photos taken by Angel were absolutely stunning with the soft and romantic lighting and we are so thankful for all of the special moments of our day that she captured for us (even when we held hands under our sweetheart table)!
TELL US A LITTLE ABOUT YOUR HONEYMOON: While our original honeymoon plans in Spain got cancelled, we adjusted our plans for a mini-moon in Lake Tahoe and had a blast! Being an active couple, we did everything from hiking Mount Tallac to paddle boarding, jet skiing, and parasailing (all three of those for the first time)! One of our closest friends worried that we weren't relaxing as much as we should with these activities, but we enjoyed every moment that we spent together in these days that followed our wedding!
IS THERE ANYTHING YOU WOULD CHANGE OR DO DIFFERENTLY? We are very blessed to be able to say that we truly loved every element of our day, but if we really had to pinpoint one area that we would rather have had be different, it would be (in Ben's words): "No COVID-19"!
A huge thank you to Washington DC wedding photographer FEATHER & FAWN PHOTOGRAPHY for sharing this beautiful wedding with us. Owner Angel loves capturing moments of love and joy, especially on a wedding day. "Wedding photography is so dear to my heart because I love seeing families and friends get together to celebrate the couple as they embark on a new journey together as newlyweds, to turn a new chapter of their lives together with love, and to vow a lifelong commitment to each other in front of their loved ones." Head over to her portfolio to see more.