Sam wanted her wedding to Michael to feel elegant but still be comfortable for her guests. Much of her inspiration included imagery from the English countryside. When they created their vision and design direction with JENN ROBIRDS EVENTS they wanted to utilise colours and florals that you might see on a stroll in your wellies whilst at a cottage in the England countryside. Held at CAVALLO POINT in Sausalito, every element was consciously curated with the couple in mind. From tying in their adorable dog Goose to all the details, to highlighting the venue in the table numbers and escort display (hello Golden Gate Bridge!) to making sure the party felt just right to them. JENN says, "We made conscious decisions during our planning time with them to ensure the final result was the perfect mix of their personalities." The day was perfectly captured by Northern California wedding photographers THE GANEYS who are incredible at ensuring all the small details as well as the special moments are documented.
HOW DID YOU MEET? Despite attending the same college and having many mutual friends, we never met during our time at school. There was even a time when we attended the same dinner when Mike was in NYC for work, but we were seated at opposite ends of the table. We just kept missing each other. However, in 2017, our friend Lily was getting married and we were both part of the wedding. We quickly hit it off and spent the wedding weekend getting to know each other and dancing the night away. We dated long-distance for a few months before Michael moved to NY, and we eventually both moved to the bay area in 2019.
TELL US ABOUT YOUR ENGAGEMENT? Mike and I love to hike and explore the natural beauty in California. In June 2020, we went for a backpacking trip - hiking from Mammoth Mountain to Yosemite Valley over five days. As we approached Yosemite, we hiked through Tuolumne - the most picturesque backdrop with mountains and alpine lakes - and Mike proposed.
HOW DID YOU MAKE A DECISION ABOUT YOUR VENUE? We visited CAVALLO POINT shortly after getting engaged and knew it was the perfect place to get married. That view of the Golden Gate Bridge is so special and is an element we wanted incorporated into our wedding. I love that we were able to share our new home with so many friends from across the country. While we live in San Francisco (just 15 minutes away), Cavallo feels worlds away and is a favourite retreat for us..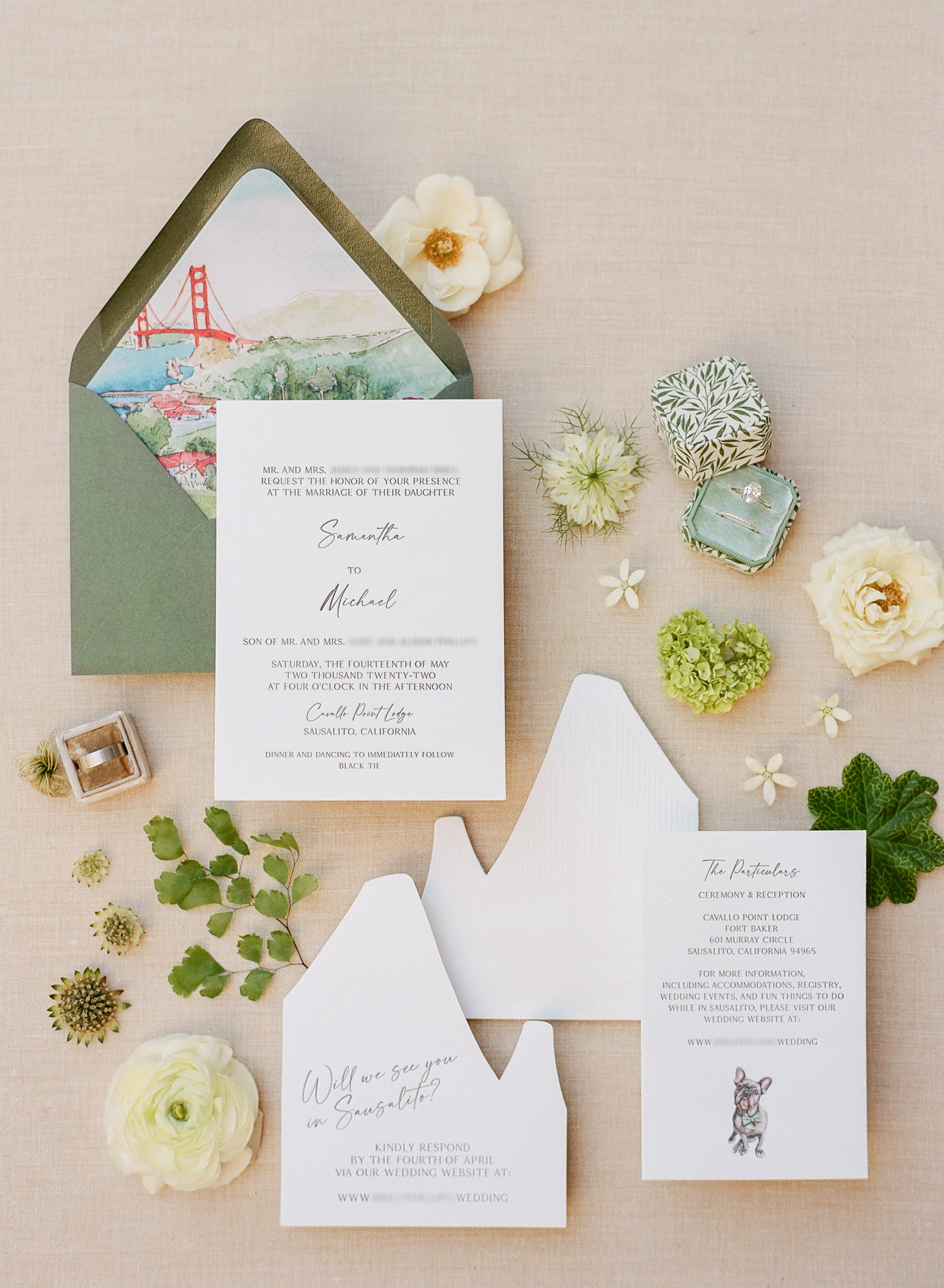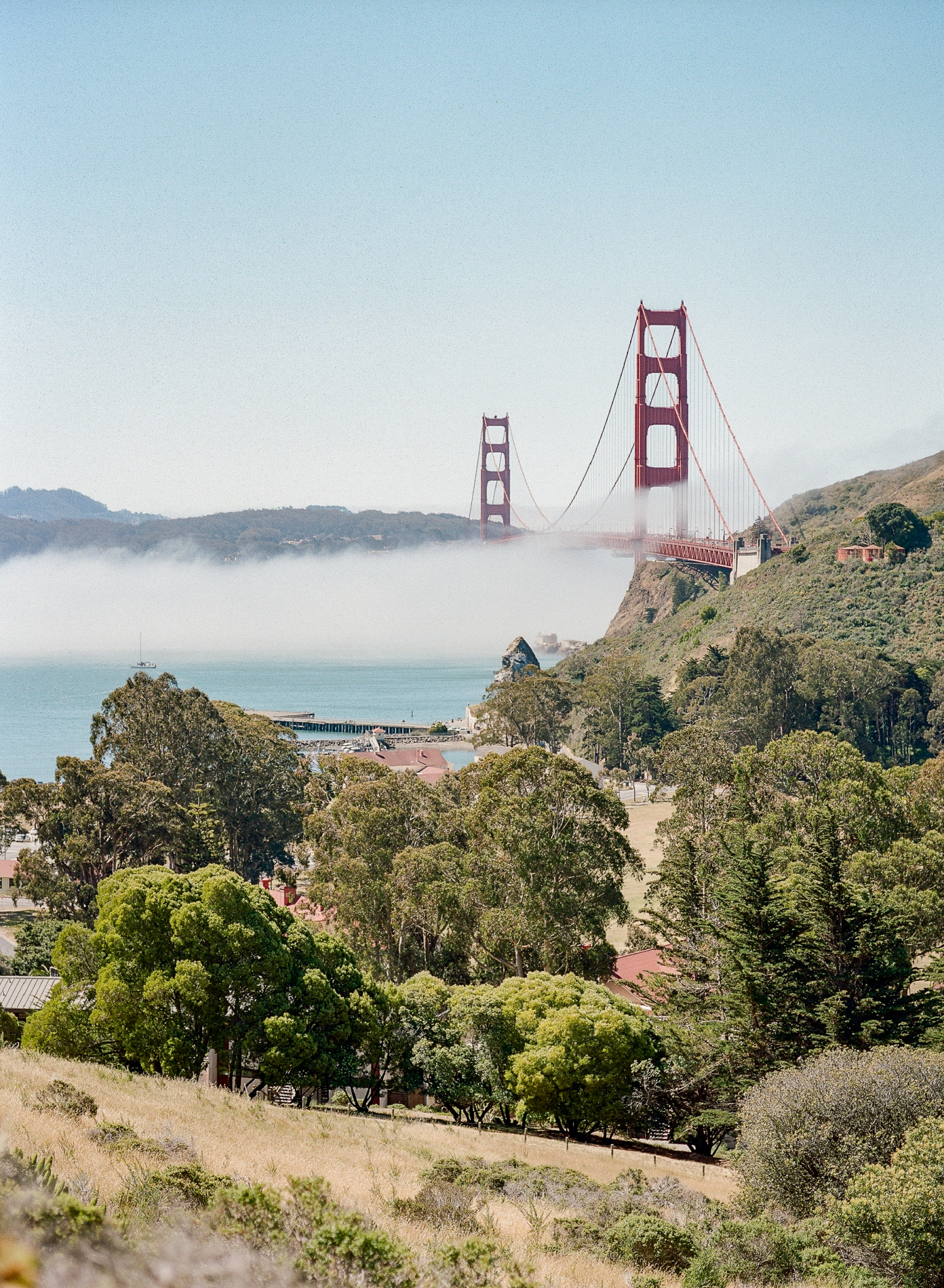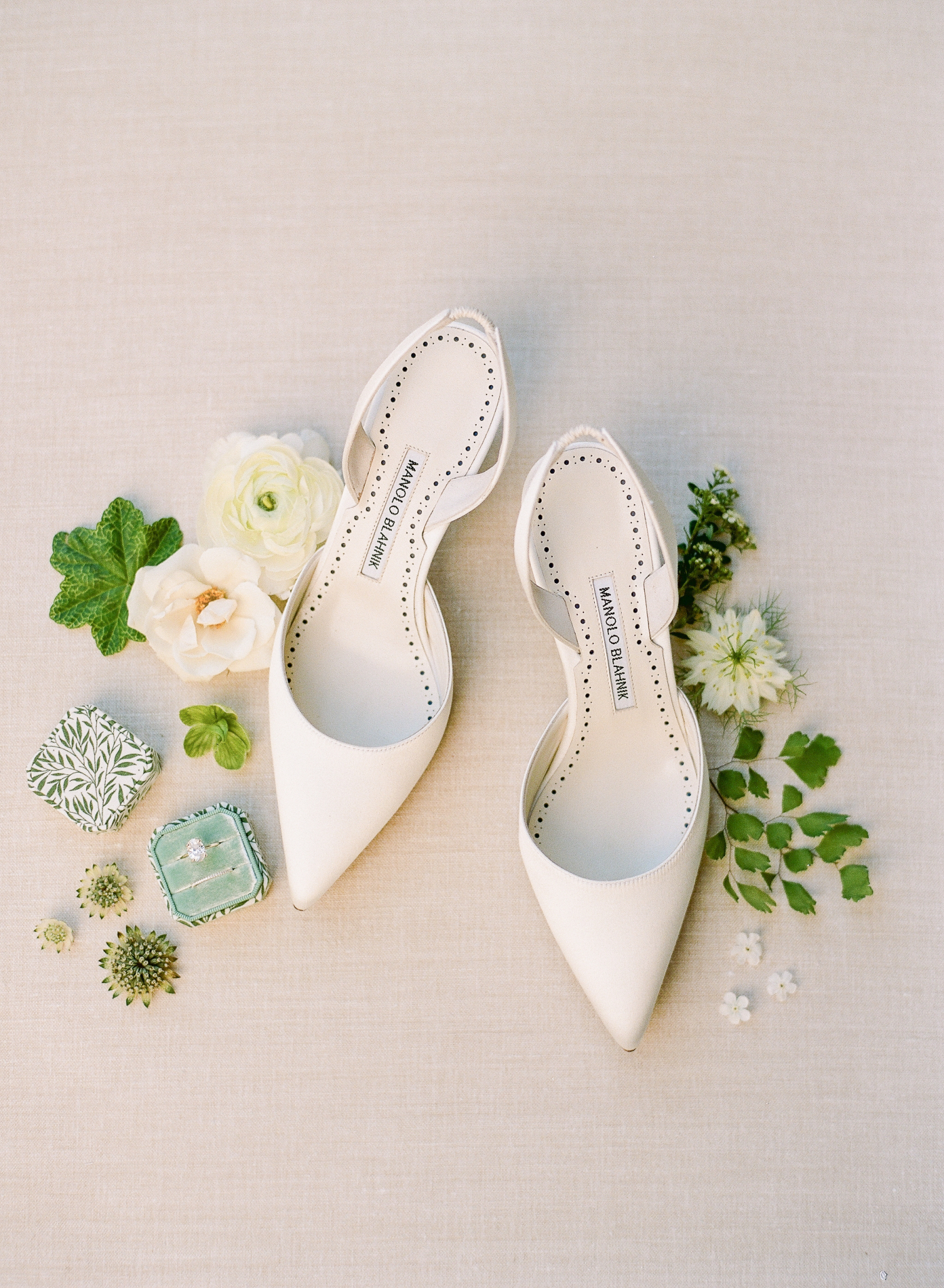 WHAT WAS THE STYLE OF YOUR WEDDING? JENN ROBIRDS shares "There was no true "theme" for the wedding day. Rather we took inspiration from the settings to create a wedding that felt like it belonged in the space. We embraced the historic houses the couple loved so much and of course made sure to tie in the Golden Gate Bridge to the details wherever we could! We kept the colour palette neutral with lots of ivories, creams and whites - we wanted to keep our floor length linen selections consistent with our airy sailcloth tent. We wanted to let the burnt red roof lines of the historic buildings pop in the surrounding views. Taking cues from our floral design, we added in layers of green - from a deep fern velvet napkin to light and airy sage shades."
Benches felt apropos to a country setting featuring chunky knit blankets to keep guests warm. A completely lined floral aisle with dainty blooms and fern style greens greeted guests as they met for the ceremony on the sunken lawn at Cavallo. Sam didn't want anything overhead for the arbor and we landed on a half-moon shape
Slub table linens from La Tavola were the perfect neutral base layer on our dining tables. We selected a regal velvet fern napkin and placed it atop a more casual wicker placemat to create another fun juxtaposition in luxury and simplistic details. The bride opted out of china on the setting for the plated meal again to ensure the overall feel was not over the top formal. Wooden handle flatware from Theoni collection felt refined but still approachable. Our booklet menus by Valley Press Co. featured a wicker letterpress detail and were enclosed with engraved wooden chips from Shimmer and Stain. Keeping the text off of the menu presentation kept our place setting design from feeling too busy. The show stopping moment was the floral runners created by Macy at the Posh Posey. Dainty white blooms appeared to be growing out of our tables, complete with a moss base as another countryside nod. The breeze picked up in the evening and the flowers danced as the candles flickered while guests dined. The setting was truly magical- and every bit of what the bride had imagined in her head.
WAS YOUR PET PRESENT? Yes! Our French Bulldog, Goose, was a big part of our wedding! Not only was he featured in the invitation suite (on the details card), but he got to walk down the aisle and be present for (most of) the ceremony. He started getting a little vocal about half way through the ceremony, so he made his way to cocktail hour a little early. We are so happy that he was able to be there for us and mingle with guests during cocktail hour.
TELL US ABOUT FINDING YOUR DRESS & WEDDING DAY ATTIRE? I tried on so many different dresses and actually came close to choosing a very different one (it was blue!), but as soon as I put this one on my parents and I all knew that it was the perfect one. I went to a lot of different dress shops because I didn't know what kind of dress I wanted and wanted to be sure I had the chance to try on a lot of different styles. I saved OSCAR DE LA RENTA for my last stop because I suspected that might be where I would find my dress. My dad and mom both accompanied me to the boutique and were there when I tried my wedding dress on for the first time. We all knew immediately it was the one. I'm an only child and we're all very close so this was such a special and intimate family moment. I wore Manolo Blahnik white satin pointed toe pumps with a sling back. My parents gifted me Mikimoto pearl earrings for the wedding that were a beautiful warm shade of gold.
TELL US ABOUT YOUR FLORALS? I carried a petite posy created exclusively of lily of the valley and omphalodes. I wanted a delicate bouquet to balance my floral patterned dress. My maid of honoUr carried a similarly petite posy bouquet with all white florals composed of lily of the valley, omphalodes, tweedia, pieris japonica, and sweetpea. We weren't expecting Mike to wear a boutonniere, but our talented florist made him one that he wore for our portraits before the ceremony. It was made of lily of the valley to match my bouquet.
DID YOU HAVE A FIRST LOOK? We shared a first look, because we wanted to enjoy the majority of our cocktail hour with our guests. We are so glad we did! We shared our first look in a private nook of the venue that was set away from hotel guests and where the reception was being set up so we could enjoy this moment all to ourselves. The first look was so special, and was actually one of the only opportunities for us to have a quiet moment alone on the wedding day. It was the moment where everything felt ready, and all of the anticipation of the wedding turned to joy.
WHO WALKED YOU DOWN THE AISLE? My dad walked me down the aisle. I'm an only child and my dad and I are very close, so this was an extremely emotional moment for both of us. We walked down the aisle to Somewhere Over the Rainbow by Israel Kamakawiwo'ole, a nod to summers spent as a family in Hawaii while I was growing up.
DID YOU WRITE YOUR OWN VOWS? We did exchange our own personal vows. One element that was particularly special, is that our friend Lily, was the officiant for our ceremony. We officially met and hit it off at Lily's wedding five years earlier, so it was so special for this moment to come full circle as she pronounced us husband and wife!
WHAT ARE YOUR FAVOURITE MEMORIES FROM YOUR WEDDING DAY? As distracting as he was at times, having Goose involved in the wedding was so much fun. We wanted to make sure our ceremony didn't feel overly formal or stuffy, and Goose definitely delivered that for us. He had such a great time meeting everyone, and was so tired on Sunday morning that we had to carry him to the car!
Also all of our guests mixed together much more naturally than we could have expected. We saw coworkers talking all night with our childhood friends, college friends taking pictures with our SF friends, and some pretty creative dancing from both sides of the family.
I spent most of the night on the dance floor but one of my favourite parts of the evening was dancing to an old Backstreet Boys song with my dad while my mom looked on laughing.
IF YOU COULD OFFER ONE PIECE OF WISDOM TO COUPLES AMIDST THE PLANNING PROCESS WHAT WOULD IT BE? Try to plan an event that reflects who you are as a couple, and don't get too caught up in what a wedding usually looks like. Some traditions are great (do a first look!), and others just weren't important to us (like having a cake).
A big thank you to Northern California wedding photographers THE GANEYS for sharing this stunning wedding with us today. As a husband and wife team, Emily & Thomas are driven by capturing real moments and documenting love stories in an organic way. "Some of the favourite aspects of our job are hearing unique stories, meeting amazing people and capturing love that can move mountains. We seek out couples whose weddings embody these ideas. We're inspired by authenticity and adventure, and as your photographers we'll rejoice in celebrated moments and tear up during emotional ones." You can see more of their work in the MAGNOLIA ROUGE VENDOR GUIDE and you might also want to check out this Stunning French inspired wedding at Bear Flag Farm.Stunning French inspired wedding at Bear Flag Farm