It was the venue itself - THE CONTENTED SOLE - that provided the biggest inspiration for Mimi & Stephan's wedding. It allowed the beautiful Maine coast to be their 270-degree backdrop behind the restaurant and wharf. Planted beach grass, ferns and driftwood brought this aesthetic inside. The couple hoped to share their love of Maine and of America's natural history, at a celebration that felt more like a big, raucous dinner party, rather than a staged wedding reception. JAMIE MERCURIO PHOTOGRAPHY was alongside them to capture all the fun!
Mimi and Stephan's relationship began in Maine when they were teenagers, so they returned to Maine for their wedding weekend, and were joined by family and friends from across the country and the world. Mimi's sister, a painter based in Rome, Italy hand-designed many elements of their day including their beautiful invitation suite and table signage. Mimi's flowers were simple yet elegant, with burgundies and pinks, and her bridesmaids holding a single large dahlia. Their first look took place on large cliffs overlooking the ocean. Mimi, barefoot with the wind whipping her veil made her way out to Stephan who was, of course, floored by her beauty!
Their photographer JAMIE shares with us, "Mimi & Stephan tied the knot in a beautiful colonial meetinghouse built in 1775 in Pemaquid, Maine. After an intimate ceremony performed by Stephan's father, they were serenaded by family and friends. Their reception was held at a seaside restaurant called the Contented Sole. Toasts harkened equal parts laughter and tears, and then the guests feasted on what can only be referred to as a gourmet Mexican-inspired dinner of local fish tacos with fresh guacamole and delicious veggies. Through it all, Mimi and Stephan never took their eyes off each other. Their love is special and rare, and I can't wait to see all that they do together in life!"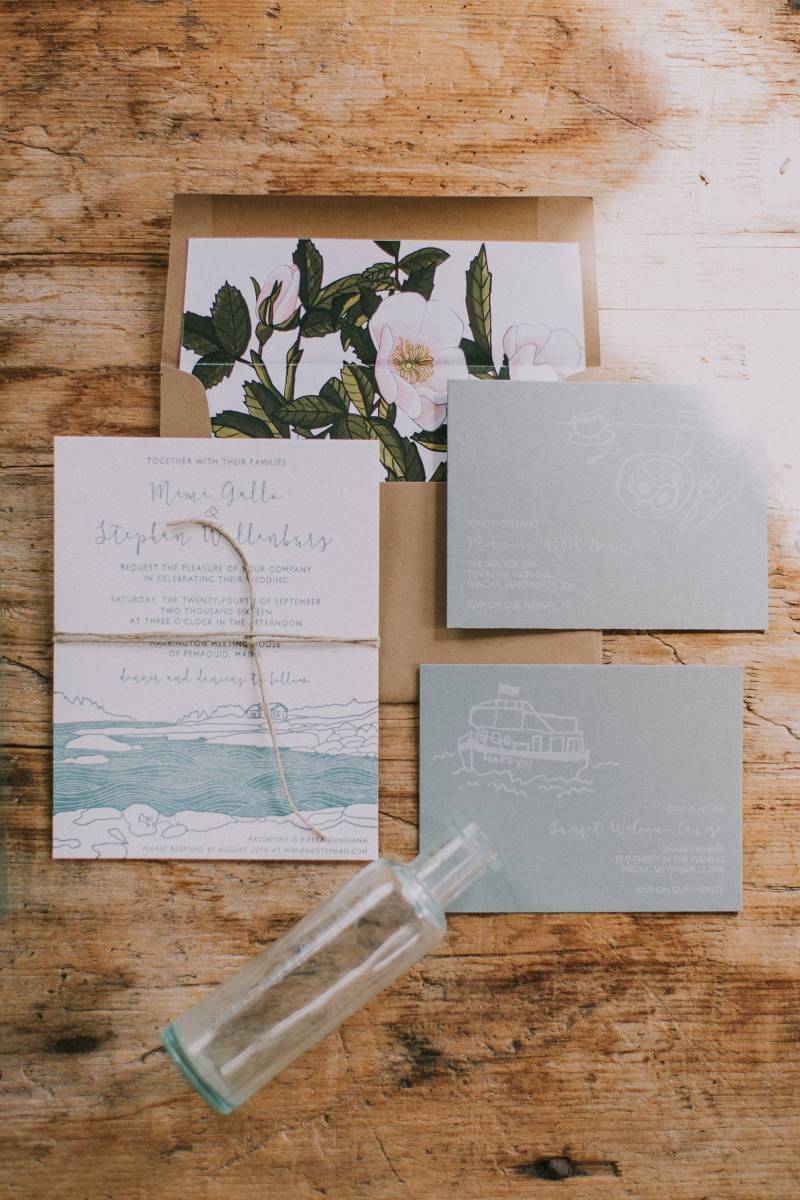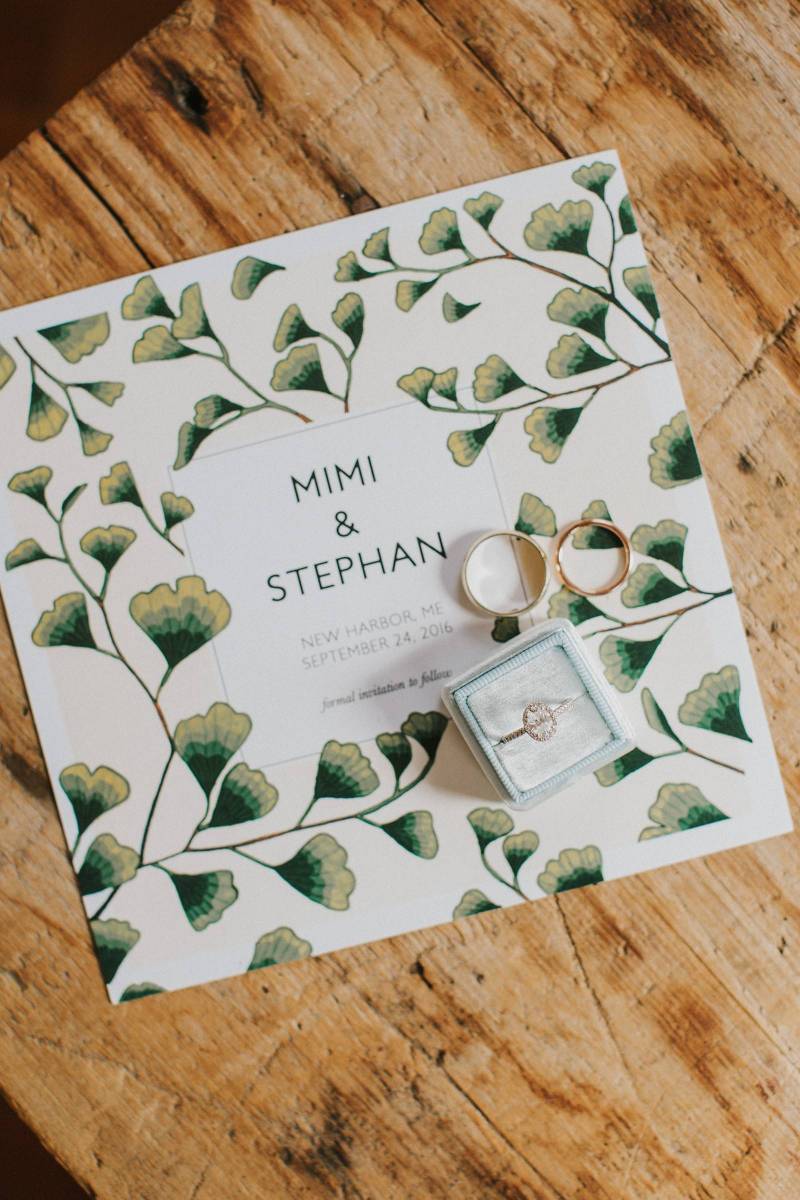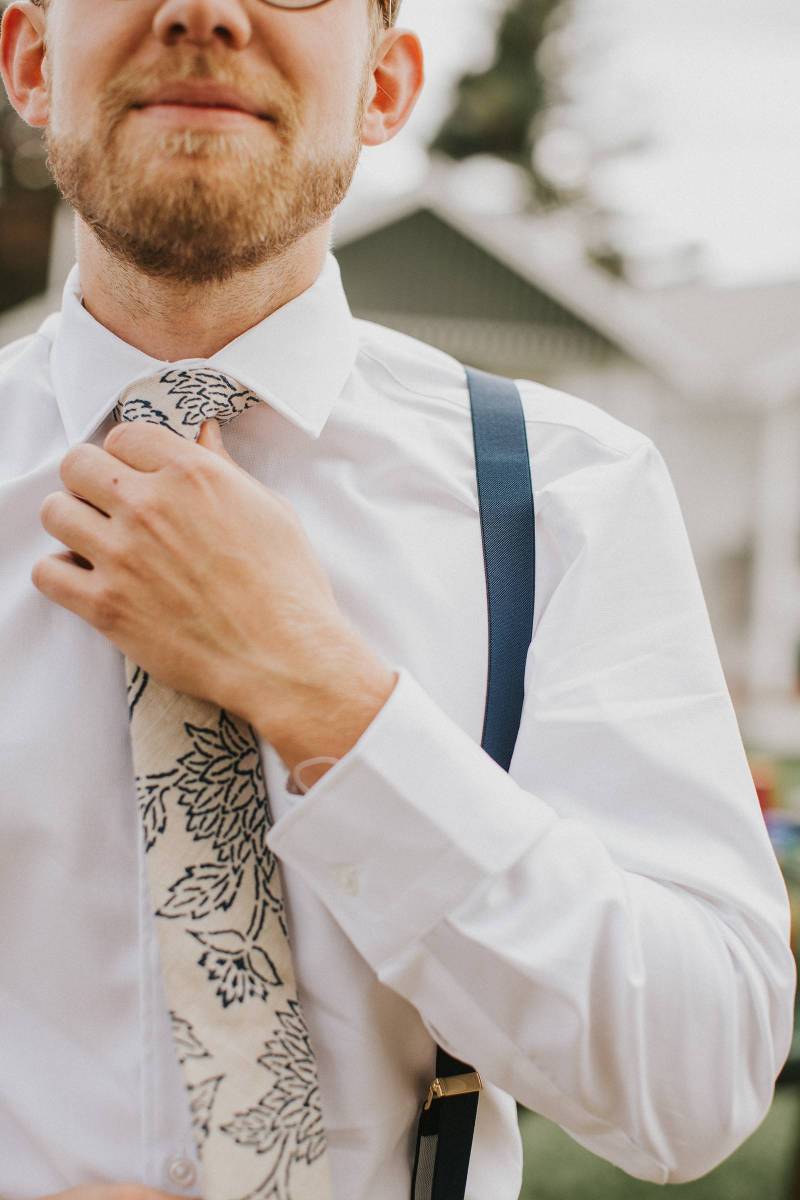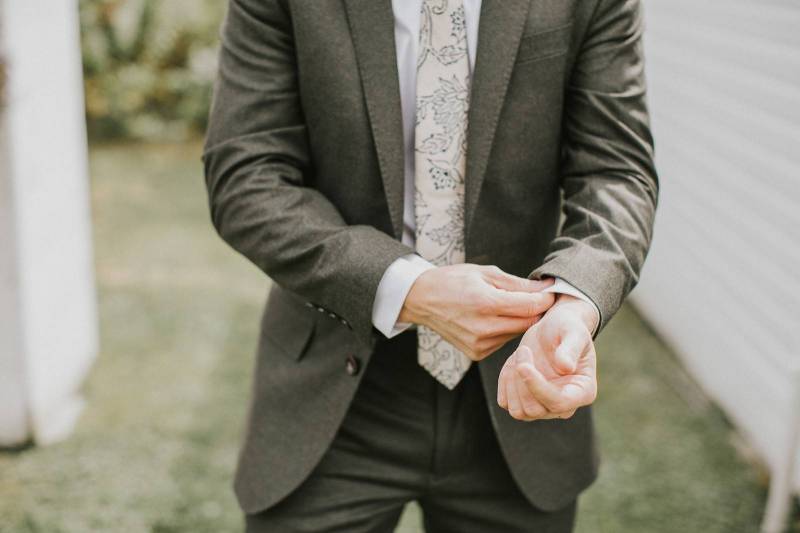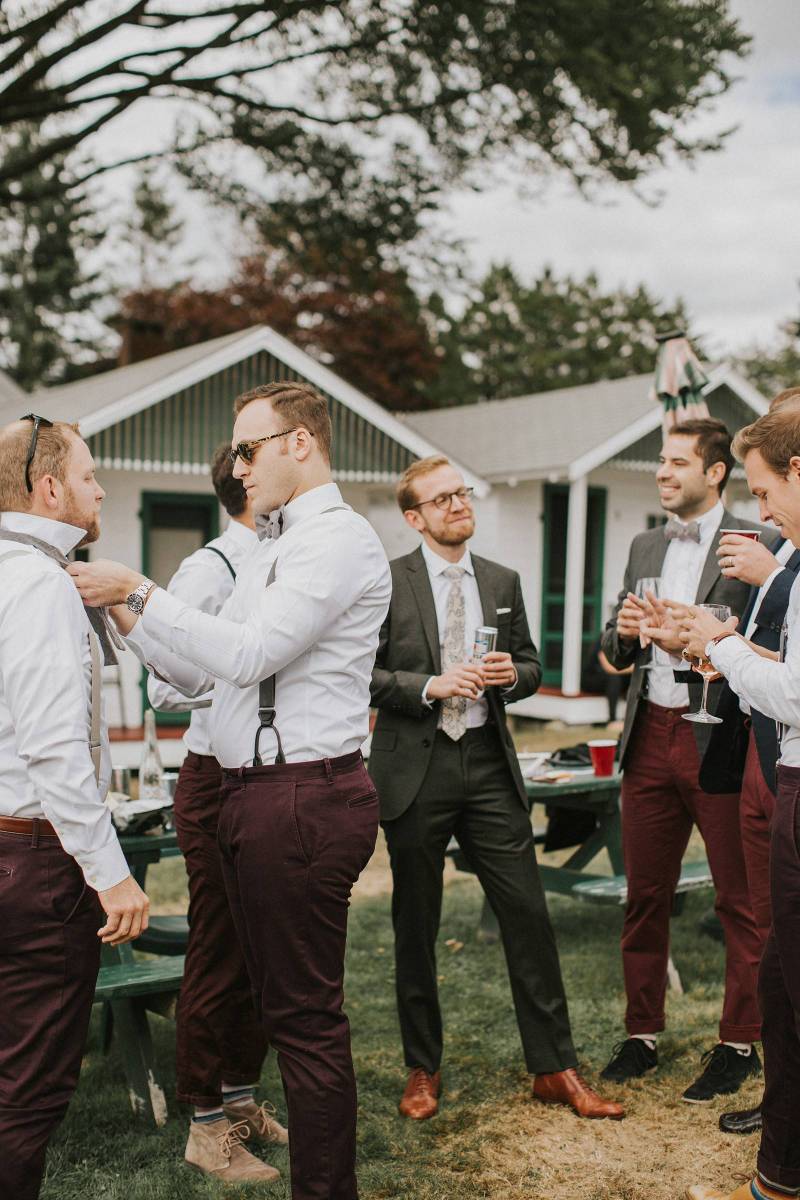 HOW DID YOU MEET? Stephan and I met our junior year of high school when we both enrolled in the Maine Coast Semester at the Chewonki Foundation - a program dedicated to sustainable living and rigorous academics that emphasise the ecology and literature of the Maine Coast. I remember thinking that first night, "If I were to date someone here, it'd be him." We flirted on science field trips, while studying, and cooking meals, eventually starting to date the summer after the semester ended. We grew up together and learned about love together - never thinking that the very spot where I first tried to impress him with my knowledge of tide pools would be the site of our wedding day first-look more than 12 years later.
TELL US ABOUT YOUR PROPOSAL: Monhegan Island has always been a special place for us and it was on an evening hike over the island cliffs that Stephan asked if I'd marry him. It was misty and grey and quiet - everything I love about being in Maine with him.
TELL US ABOUT FINDING YOUR WEDDING DRESS: Leanne Marshall's reverence for fabric and textures, was a perfect fit for me - I ended up combining a more structured top with the slightest, perfect scoop neck and soft lace, with a more flowing and fun skirt from another dress. I got the support I needed from my best friends along the way (I'm the shut-down and give up kind of shopper), especially when they ventured into Manhattan from Brooklyn in last year's blizzard when I made my final decision, even knowing the MTA was shutting down later that day. We had beers with our brunch afterwards, cozy in a hotel bar down the block as everywhere else was closed.
ANY DIY ELEMENTS? The ladies of Mimi's family are ludicrously talented and we have them to thank for a lot of our wedding design. Alina and Adriana, Mimi's sister and cousin respectively, created the much of the wedding imagery. Alina created all the print and stationary - she and Mimi spent many early mornings and late nights face-timing across a 6-hour time difference to design the website, Save-the-Date, invitation, ceremony program, menu, and table signs. Adri sketched many of the illustrations found on the website, as well as the surprising us with chalkboard likenesses of our beloved greyhounds at the reception. Susan - Mimi's mom provided several potted plantings and floral design elements, while Karol - Stephan's mom made homemade cookies for outside the reception. In truth, as there was no planner or stylist involved in the wedding, essentially everything was, in a way, a DIY element. Pulling it together depended entirely on the help, guidance, and talent of a whole lot of people we love and depend on very much.
DESCRIBE YOUR WEDDING FLOWERS: We started off with the inspiration of creating a garden or greenhouse inside. This came from our love of getting outside together, as well as a fondness for the incredible gardens each of our mothers have cultivated throughout our lives. As such, greens made up the bulk of our design, including ferns, grasses, herbs, and succulents. Having potted local plants rather than solely cut flowers gave us the chance to keep a lot of our flora and minimise our environmental footprint. Our floral designer, Leslie, was so amazingly fun to work with! Leslie couldn't have been more generous, creative, or professionally pragmatic - sticking within our budget and finding a way to translate my rough ideas into a true aesthetic. She and her sweet baby boy even hunted the beach that summer for driftwood for our tables, showing at every turn a commitment to my need to bring the true Maine coast indoors. What materialised was a vision that was at once lush and gorgeous but also relaxed and unassuming - I couldn't have loved it more!
FAVOURITE DETAIL OF THE DAY: I think my favourite detail was seeing how our wedding party's mix-and-matched outfits came together. We gave guidance and color requests but the magic was in how each person looked like themselves - we loved to see their styles and personalities come through.
WHAT ADVICE WOULD YOU GIVE OUT TO A COUPLE PLANNING THEIR WEDDING? Just try to keep it simple - if you find yourself chuckling at the need to decide on an inane detail do one of two things: 1. Forget about that detail, it's likely not important, or 2. Don't stress about it and just do what feels right, or the first thing to pop into your head. The day is going to whip right by you - make sure the big decisions you make are going to fill you with happiness in each of those swift moments. For me it was seeing Stephan in a perfect suit that he loved (and the boy does not often love clothes), having a big, rowdy, gaggle of best friends as our wedding party, Kacey Musgraves and Elvis singing us through the evening, and key lime pie.
MOST MEMORABLE MOMENT? We can't over-emphasize how special our first-look was for us. We are so lucky that we got to share that moment in a place that feels like ours, and where we'll return with our family for years to come. It's hard to describe the feeling of asking the man you'll marry in a few short moments to turn around. At once it's this absurdly meaningful moment, as well as completely ordinary - just two people greeting each other on a familiar rock. One just happens to be in the prettiest dress she'll ever wear, and he the smartest suit, and their loved ones are affectionately watching from a nearby dune, while the sea winds tug at everyone's hems. It also doesn't hurt when the bridesmaids are 100% game to toss their shoes aside and traipse barefoot on the rocky shore of Maine in September with the groomsmen playing Beyoncé and dancing continuously - it doesn't get more perfect than that. Also - little known fact - I jogged across the room and put out a small fire with the water from the glasses on the table at one point in the evening. Otherwise, the night was quite civilized.
ANY OTHER DETAILS THAT HELP TELL THE STORY OF YOUR DAY? Every part of our wedding day was wholly ours, with each detail being a reflection of our values and ourselves. Our tables were named after our favourite National Parks with the Badlands featured as the head table. Our wedding day also fell on National Public Lands Day. Our love for the National Parks is sentimental because we've made so many incredible memories there, but it is also bigger than ourselves. As Wallace Stegner said, the decision to protect these lands and form the National Park Service reflects our country at its best, rather than at it's worst. We hope seeing the park graphics at each table reminded our guests that as much as we all need parks to visit, the parks need all of us to continue to value and protect them.
IS THERE ANYTHING YOU WOULD CHANGE OR DO DIFFERENTLY? While I wouldn't actually change anything from that day - if we could have found a non-hectic way to include our greyhounds for a short time it would have really felt like the whole family was there. Also, Stephan and I could really have used some time off after the wedding weekend. I went back to work as an emergency room veterinarian and Stephan returned to full time work as well as an MBA program the Monday after our wedding. While we both like to be productive and busy, in this case we would have loved to have some quiet time at home to bask in our happiness a little while longer.