Pink. Sure - we've all seen it a wedding before. It's actually the most commonly used hue in a wedding day colour palette. But. What if we amplified it? That was the goal of Charleston wedding photographers THE HAPPY BLOOM for this inspiration shoot at the gorgeous HOTEL BENNETT in Charleston, South Carolina which was planned by HALEY KELLY EVENTS. They tell us, "We challenged ourselves on how many places we could introduce or implement blush, magenta and rose. Starting off with a pink convertible filled with a spectrum of pink florals was clearly the right choice! Real couple Anna & Matt zipped around town in the adorable pink ride ending with an over the top floral installation by TUPELO HONEY FLOWER SHOP.
From the florist: "For the Pink Dreams inspired shoot I really wanted to bring in a lot of contrast and texture with the flowers with lots of variety in both the shades of pink and the types of flowers I used. I opted for several different tones of pink with pops of coral-orange and peach poppies for interest. Haley and I had talked about using Bougainvillea but unfortunately it would be pretty much impossible to get in February but I wanted that same look of airy pops of colour coming out of the arrangements and the bouquet so I opted for lots of sweet peas in two different shades and I was able to find preserved bougainvillea to incorporate into the design. Even though we were using a lot of colour I think we still wanted it to look modern and have an ethereal look. The sweet peas and bougainvillea helped keep that light, airy feel and provide movement. For the bouquet and centerpiece, I was influenced a lot by Tulipina who is an amazing, iconic Floral Designer who uses vibrant, bold colours in her designs. The rooftop of Hotel Bennett reminded me of a conservatory and so I wanted to bring in the cloche floral arrangement for the tabletop with the moss to add to that Conservatory/Greenhouse feel and wanted to carry it throughout the design using it in the ceremony pieces and the car installation. I think the moss helped keep that ethereal feel but with lots of texture. I was also inspired by Ikebana design with the cloche and the two small arrangements on the table using flower frogs and a minimalist design in contrast to the over the top centerpiece. The floral design for this shoot was a play on texture and different floral design styles married together with a vibrant pink colour palette."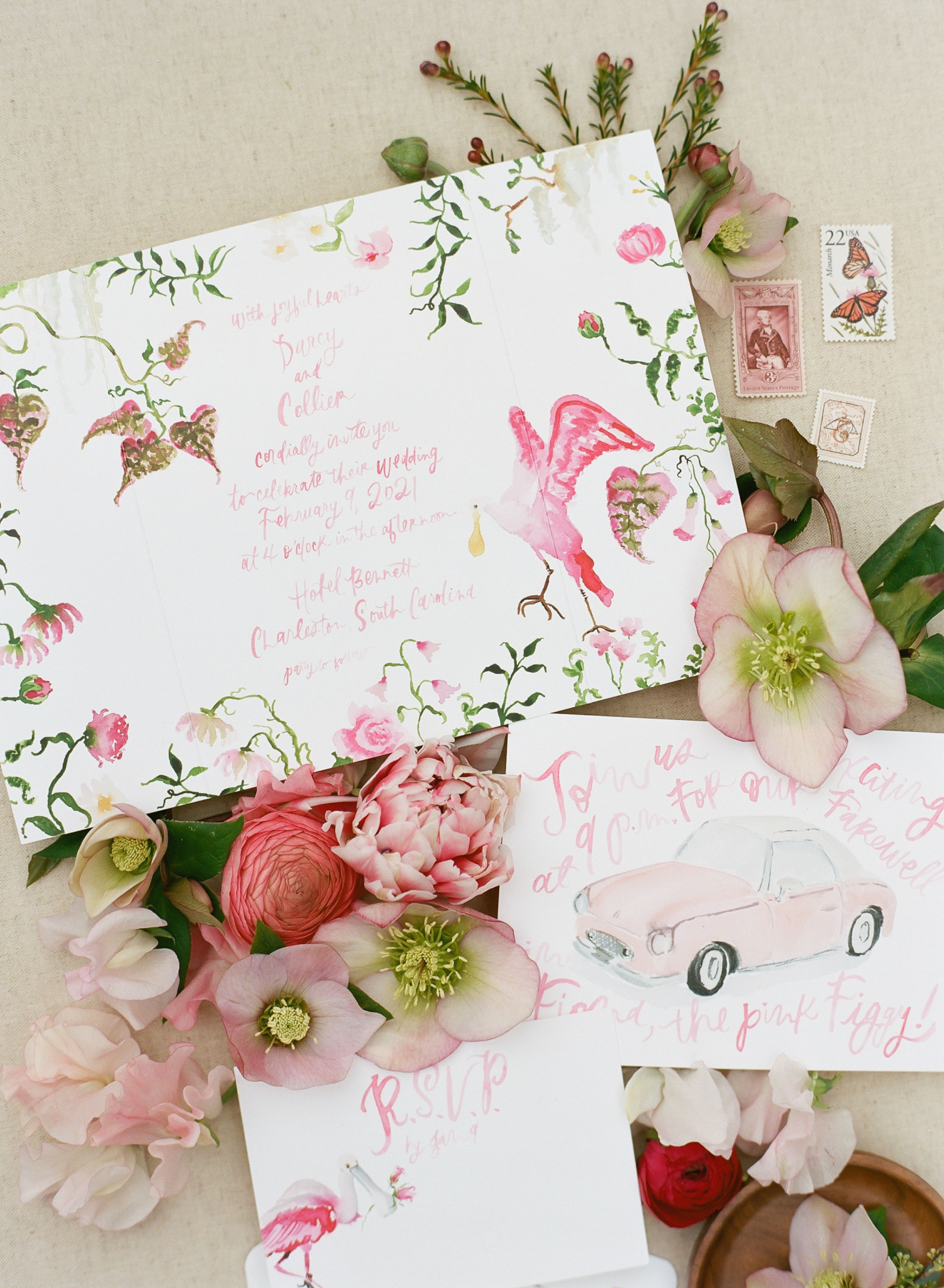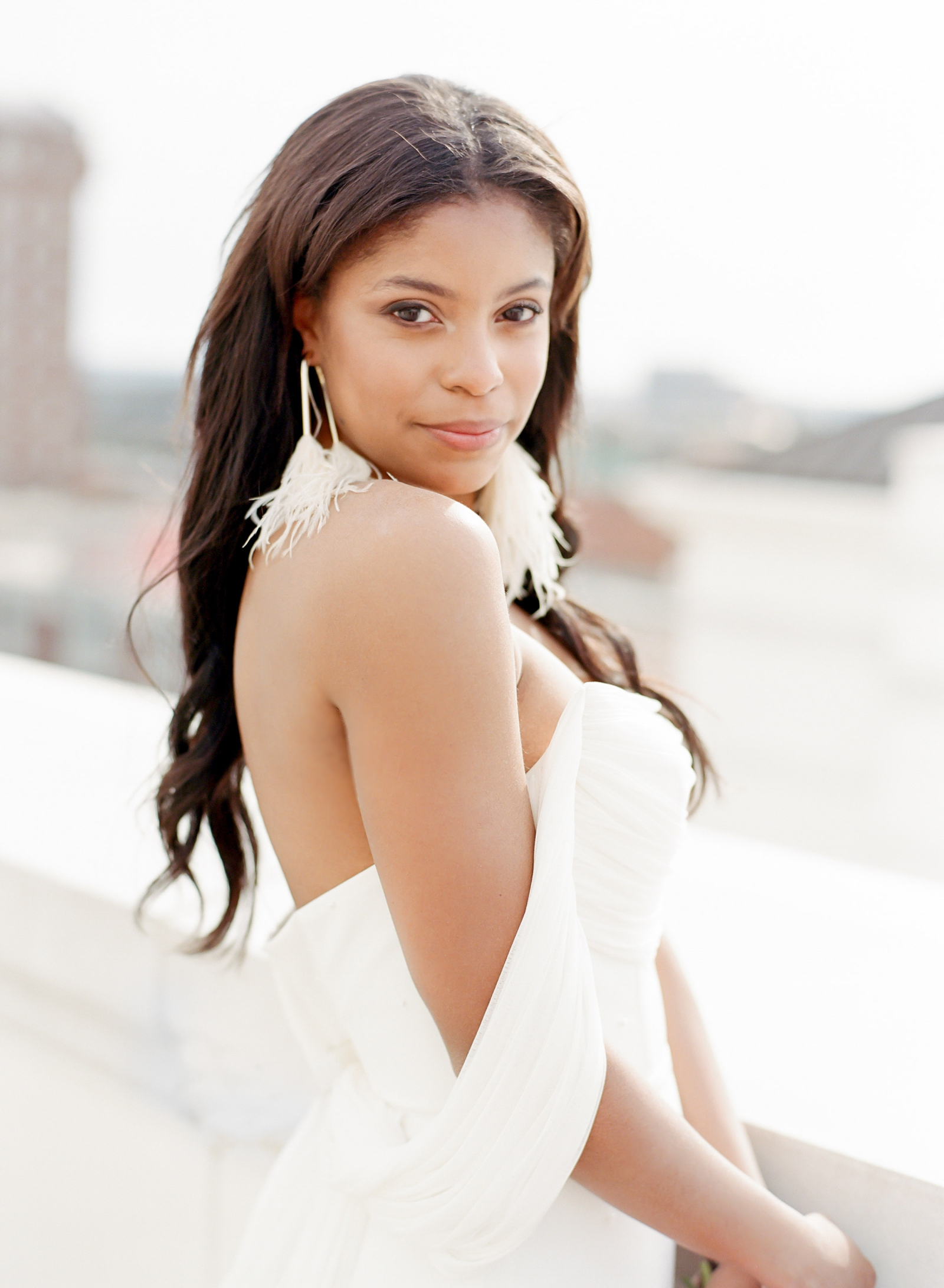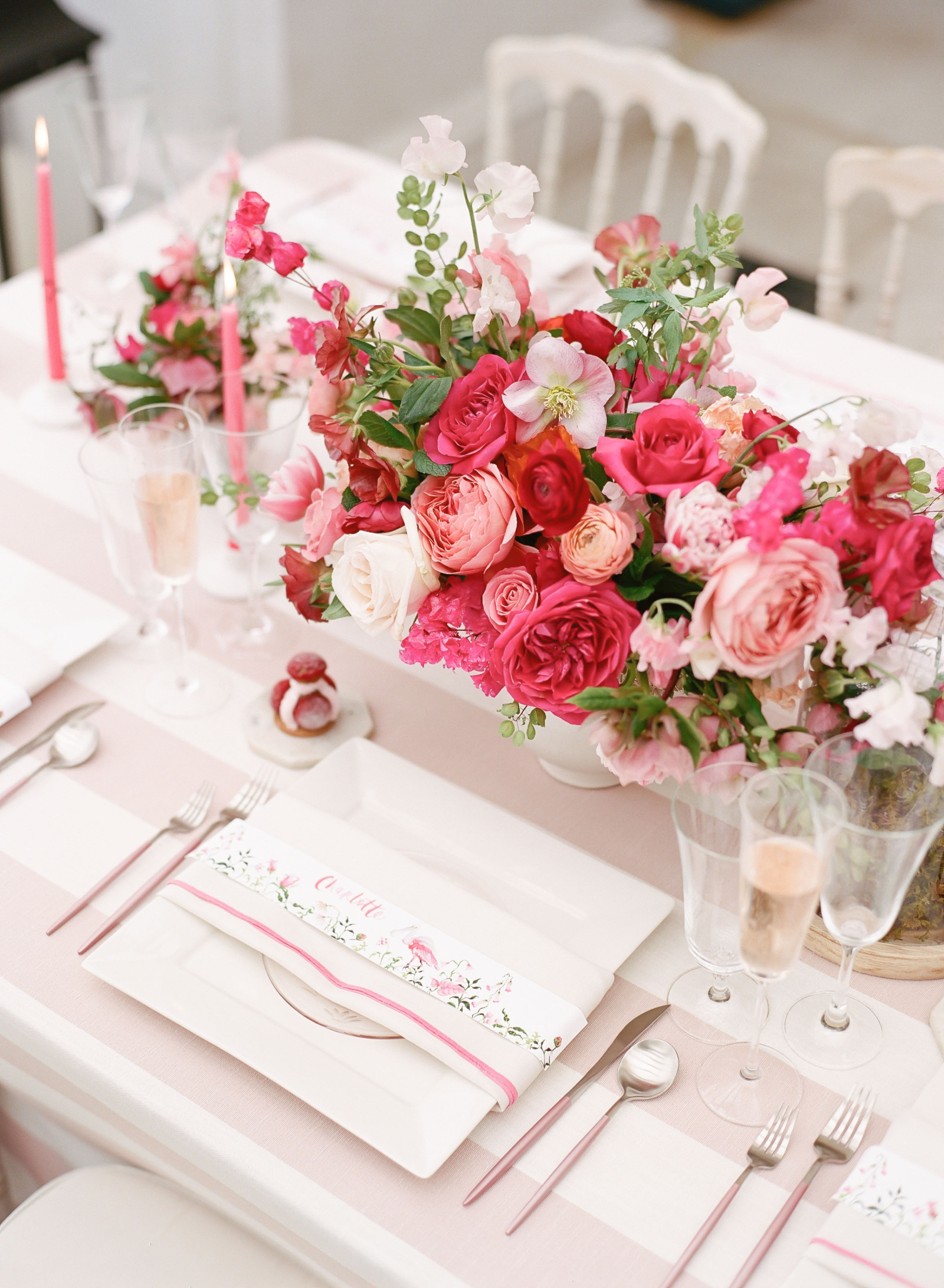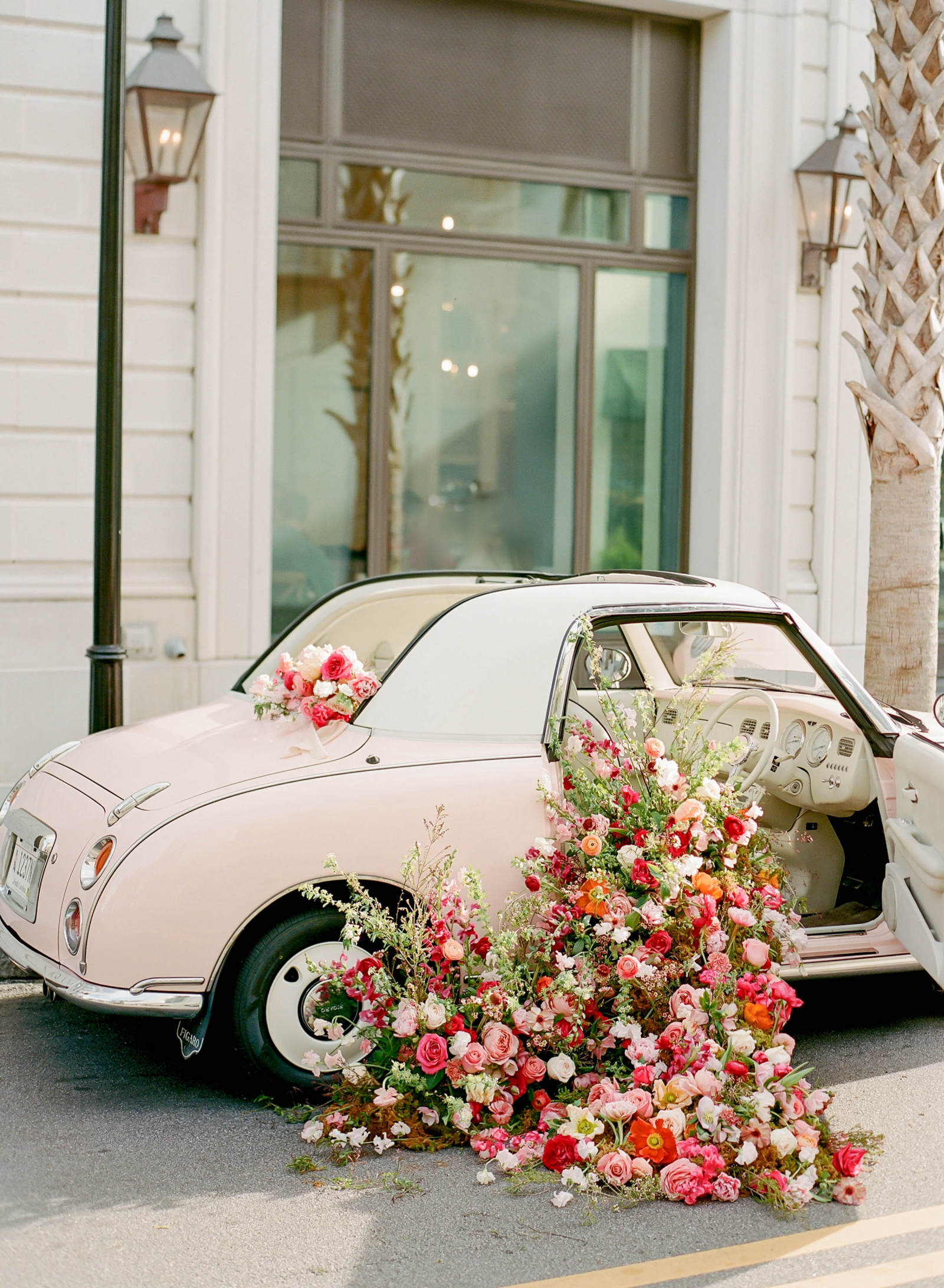 From the planner, Haley Kelly: "When Justin reached out to me and the subject of the email was "PINK DREAMS" I was immediately sold, no matter what he was talking about. You see, almost my whole adult (ish) life I hosted a pink party for my birthday. Every guest wears pink, there are cocktails in shades of pink, pink flowers, pink balloons - you name it, it was pink. We held a brainstorming session and we were both drawn to multiple layers of pink and clean lines and white space which you naturally get at Hotel Bennett. First and foremost, THE PINK FIGGY was brought on board - we knew this would be the perfect backdrop for a car for our couple. We went back and forth on whether or not to go all in and do a mauve coloured suit and at the last minute we went for it - and truly I think it tied everything together. We wanted to be sure we went over the top with floral and we sent a few inspiration photos to Tupelo Honey and the bougainvillea was a main inspiration. From a colour standpoint and the impact it makes with an all white backdrop we knew it would be perfect. At the end of the shoot, we had planned a "flower spill" with the Pink Figgy. To be honest, we didn't know exactly what this would look like - would it be in the back of the car, did we want photos with the couple or just the car? But what transpired while we were upstairs taking photos with the couple was magical. I have always been inspired by Lewis Miller and his flower flashes and this was a come full circle moment for me to see that we created just that but in the streets of Charleston!"
A big thank you to Charleston wedding photographers THE HAPPY BLOOM for sharing this beautiful Valentines inspiration with us. Husband and wife team Justin & Amanda specialise in fine art wedding photography with a Southern heartbeat. All of the soft dreamy film goodness - with a small Charleston twist. They focus on images that put emotion and happiness at the forefront. "We want to capture you in your happiest, natural moments from beginning to end! Our goal is to photograph a wedding with authentic intention and genuine emotion." You can see more of their work in their portfolio here.