With the bride being part Mexican and the groom part Italian, Anne Frances & Michael sought out a neutral location for their wedding - where it was less about their respective families, but more about the two of them. Working with wedding planner LA FABRIQUE A REVES they came across LA BASTIDE DE MARIE - an elegant country house in the heart of Provence - which was even more beautiful in person than they could've anticipated. Gravitating towards a wedding style that felt down-to-earth yet magical, the decor was fresh with blue and white hydrangeas throughout. Auckland wedding videographers BUBBLEROCK - who also operate out of France, captured the most beautiful moments of their day.
HOW DID YOU MEET? We met at a Dave Matthews Band concert when we were teenagers. We just struck up a conversation on the lawn and soon after spent the whole night sitting outside the concert venue chatting on a bench. Some of the friends we were with at the concert actually were at our wedding a decade later.
TELL US ABOUT YOUR PROPOSAL: Mike organised a fall trip to Taxco, Guerrero, my mom's hometown in Mexico and where I partially grew up as a young girl. He'd always wanted to go so it seemed like a normal trip, and he invited my mom to join us. The first or second day we were there, we went all around the historic cobblestoned city as I told stories about my childhood along the way. Just after our tour of the the town's main church, the Santa Prisca, we were walking around a nearby jewellery store when I said I needed to desperately go to the bathroom. My mom was telling me not to go (about which I initially got very upset because I thought she was saying not to use the bathroom because she feared the bathrooms were dirty, and I was especially mortified she would imply that in front of the jewellers - little did I know it had nothing to do with that), so I insisted on going and as I walked over, I noticed a window that I used to look out of with my dad when I was younger. I was completely fixated trying to find our old apartment in the cityscape to show Mike, when all of the sudden Mike came up next to me. I explained I was looking for our old apartment when he grabbed both of my hands and said three sentences: "I love you very much. I want to spend the rest of my life with you. Will you marry me?" as he began to kneel. To say I was blown away would be the understatement of my life... it couldn't have been a more perfectly meaningful place to me. My mom was there, he asked me where my dad and I used to spend time together, and his parents helped him pick out the ring so I felt the moment was shared with both our sets of parents, which was extra special to me. I will never be able to explain how elated I felt that he asked me to marry him and that it was in such a special place - I am eternally grateful to have experienced the purest form of joy and happiness in those moments.
TELL US ABOUT FINDING YOUR WEDDING DRESS: My REEM ACRA wedding dress was the third wedding dress I tried on at my favourite bridal boutique The White Dress in Corona Del Mar, California. I felt it perfectly epitomised me - the lace detail was unique, sexy without being too revealing and reminded me of my Spanish heritage, and the bottom's beautiful silk gazar was just the right amount structure to balance the delicacy of its top. I knew I loved the dress, but I thought it couldn't have been that easy. So, I went with my mom to about ten other shops over the course of a few days, tried on probably another 40 gowns, and ultimately came back the next week for my beautiful REEM ACRA dress.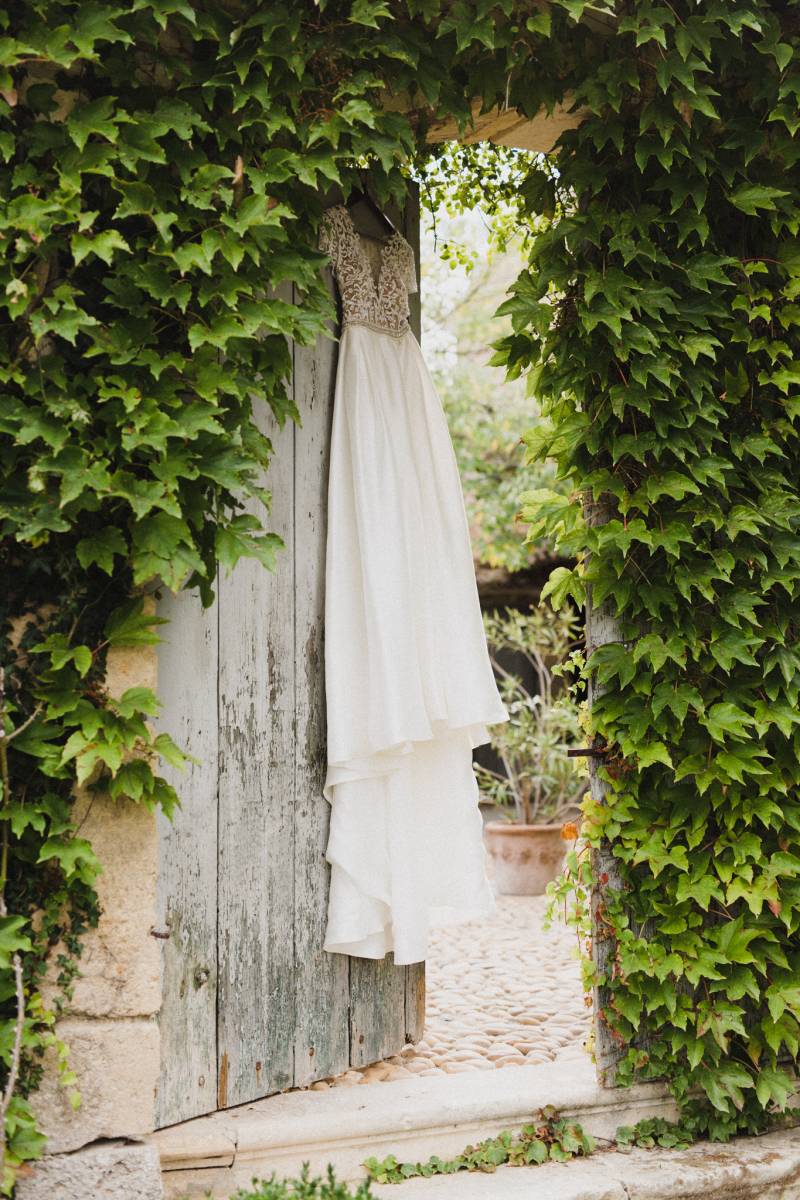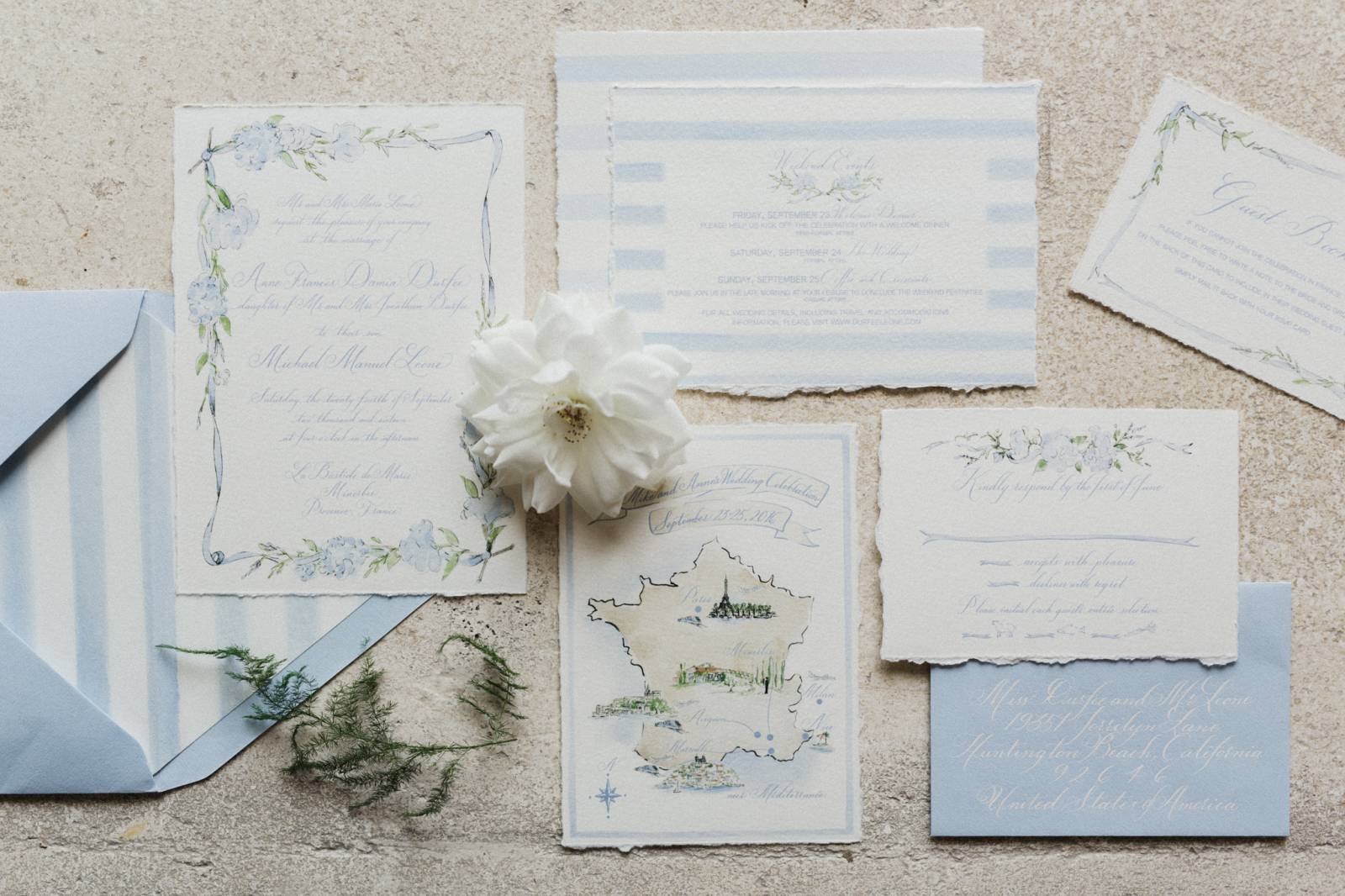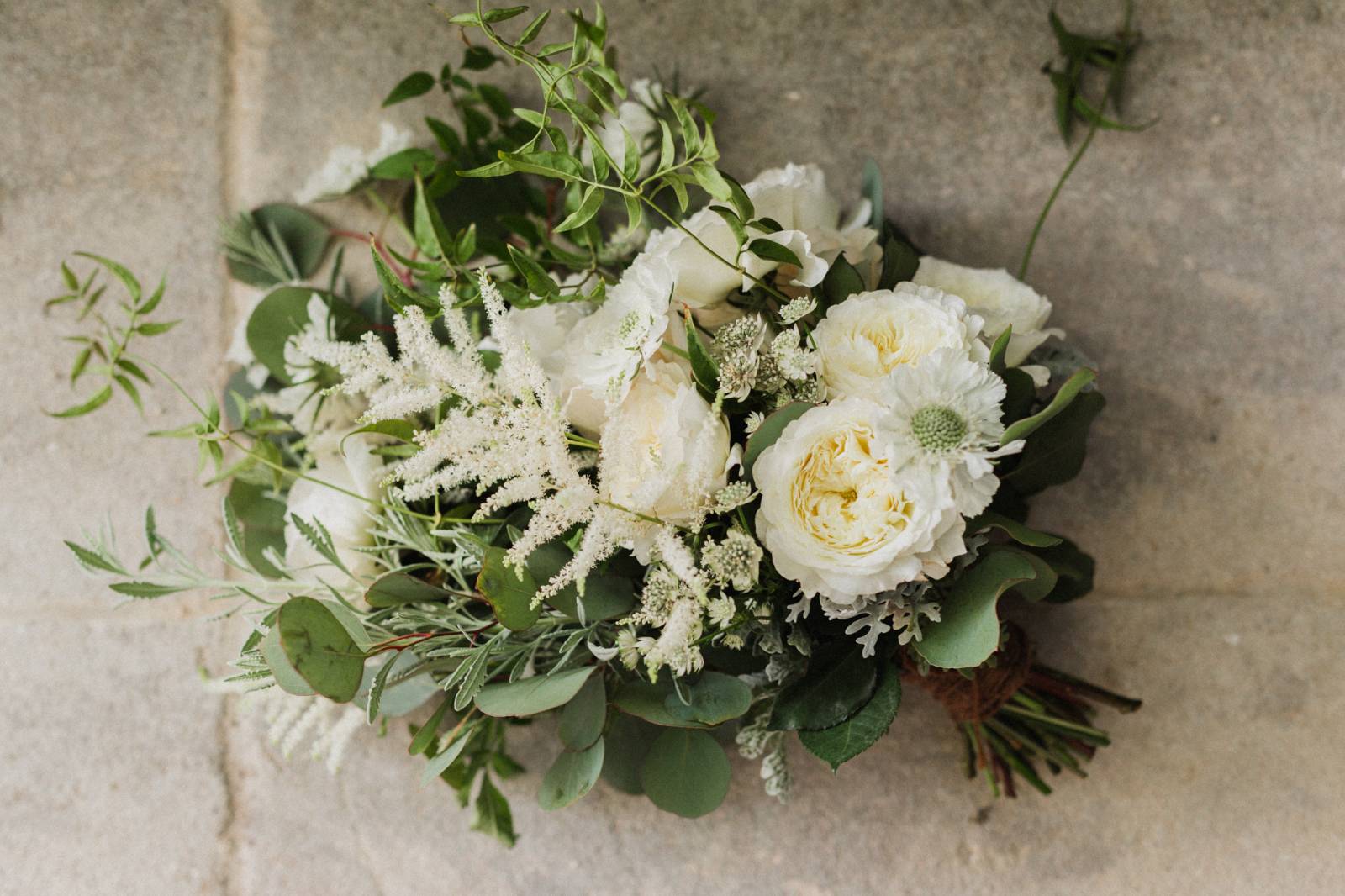 DESCRIBE YOUR WEDDING FLOWERS: They were beautifully designed by our florist, who incorporated all types of white flowers with greenery. Our centerpieces were majestic - almost like beautiful flowing trees over the tables but without getting in the way of seeing across the table. They were just perfect.
FAVOURITE DETAIL OF THE DAY: There are too many to count but if we had to pick, I think we'd both say that the intimacy and aura that our wedding had was quite magical. We like to describe it as having a snowglobe effect, where the feeling of our wedding is captured in a little bubble that you can only know if you were there and fondly remember when you peer inside the memories you have of it. The memories sort of dance within this bubble somewhere in your mind's space and to our videographers' credit, they captured as best as anyone possibly could what it felt like to be there that weekend, and that night.
WHAT ADVICE WOULD YOU GIVE OUT TO A COUPLE PLANNING THEIR WEDDING? It's your party, plan it the way you want and enjoy it for what it becomes.
MOST MEMORABLE MOMENT? The ceremony among the Provencal sunset - being up there getting married by our friend Jake surrounded by all our family and friends. The ceremony was beautiful with quite a few unplanned hiccups (my mom walked in between the two of us on her way back to her seat, we kissed mid ceremony, someone forgot to come up to the microphone, etc.) that had everyone laughing, which was essentially very "us".
ANY OTHER DETAILS THAT HELP TELL THE STORY OF YOUR DAY? It was a very chill but elegant wedding. The whole room was lit with candles, which was exceptionally beautiful and romantic. All of Mike's male cousins and brothers were his groomsmen. Anne Frances chose to wear these Gucci white shoes that had studs and snakes on them, which no one could see but of which she knew. Anne's dad gave an emotional father of the bride speech that had the room in tears while Mike's brothers' speeches had the room cracking up of laughter. The 5 course dinner took 4 hours to get through as everyone just sat and ate and drank all relaxed. Almost all of the wedding guests stayed on the La Bastide property which made it very easy to keep the party going until breakfast. After the DJ ended, Mike and I headed to our villa and spent a moment on a little stone table overlooking the Provencal hills catching up on how beautiful our wedding was, ending the night chatting outside of the party, under the stars just like we did at that concert when we were kids.
TELL US A LITTLE ABOUT YOUR HONEYMOON: We spent a few days in Paris after our wedding but were planning an actual honeymoon to Asia the following spring. That was postponed when we found I was pregnant a month later.
Thank you to Auckland wedding videographers BUBBLEROCK for sharing this beautiful South of France wedding with us. With a passion for life, for people and for capturing beautiful moments, BUBBLEROCK operate both out of New Zealand and France, and bonus - can not only photograph your day but film it as well. You'll also want to check out this Relaxed beach wedding on the Greek Isle of Serifos.