Inspired by the movie Pride & Prejudice, Anna & Cole held a completely outdoor event (to ensure it was 'covid safe') which saw them surrounded by blooming flowers and incorporating lots of draping and crystal chandeliers. Their venue THE CLIFTON already had beautiful gardens but their florist TOURTERELLE FLORAL enhanced them further and created a secret garden look which was beautifully captured by Charlottesville wedding photographer ASHLEY COX. The couple chose to do a first look during which was an emotional occasion given they read their vows.

Planned by KIM NEWTON WEDDINGS, the couple tell us, "It was important for us to be able to have our guests stay the weekend with us onsite. Charlottesville has become a favorite weekend trip of ours to get out and enjoy the scenery. THE CLIFTON was absolutely beautiful and the perfect place to host a weekend wedding getaway for us and our guests. Its proximity to beautiful wineries, hikes, and historical sites gave our guests and us plenty of activities to enjoy along with our wedding day celebration."

HOW DID YOU MEET? We met in the 6th grade, when we had math class and sat right next to each other. For many years we were just classmates, but then became friends, and finally began dating our senior year of high school.

TELL US ABOUT YOUR PROPOSAL: Our proposal was at Pippin Hill Farm & Vineyards. The day was planned to be a "date-trip" to Charlottesville, but turned into a surprise party with our family and closest friends waiting close by with champagne and hugs. He got down on one knee in between the vines and it was a moment we will not forget.

TELL US ABOUT FINDING YOUR WEDDING DRESS: i did some research on different designers that i found myself attracted to. This search led me to Caryn's in Georgetown, DC. My beautiful ballgown dress by Monique Lhuillier was the last dress for me to try on. It was a winner with its gorgeous lace detailing and horsehair skirt. Its corset bodice and large skirt made me feel like i could be back with the characters in Jane Austen's famous book and movie. My second dress was not planned. On a trip to Caryn's for my ballgown pickup my mother and i toyed with idea of a reception gown. Having such a large first gown and wanting to dance the night away carefree with my guests led me to browse the store and ultimately fall in love with the dreamy Galia Lahav deep v-neck with whimsical strap details fitted gown.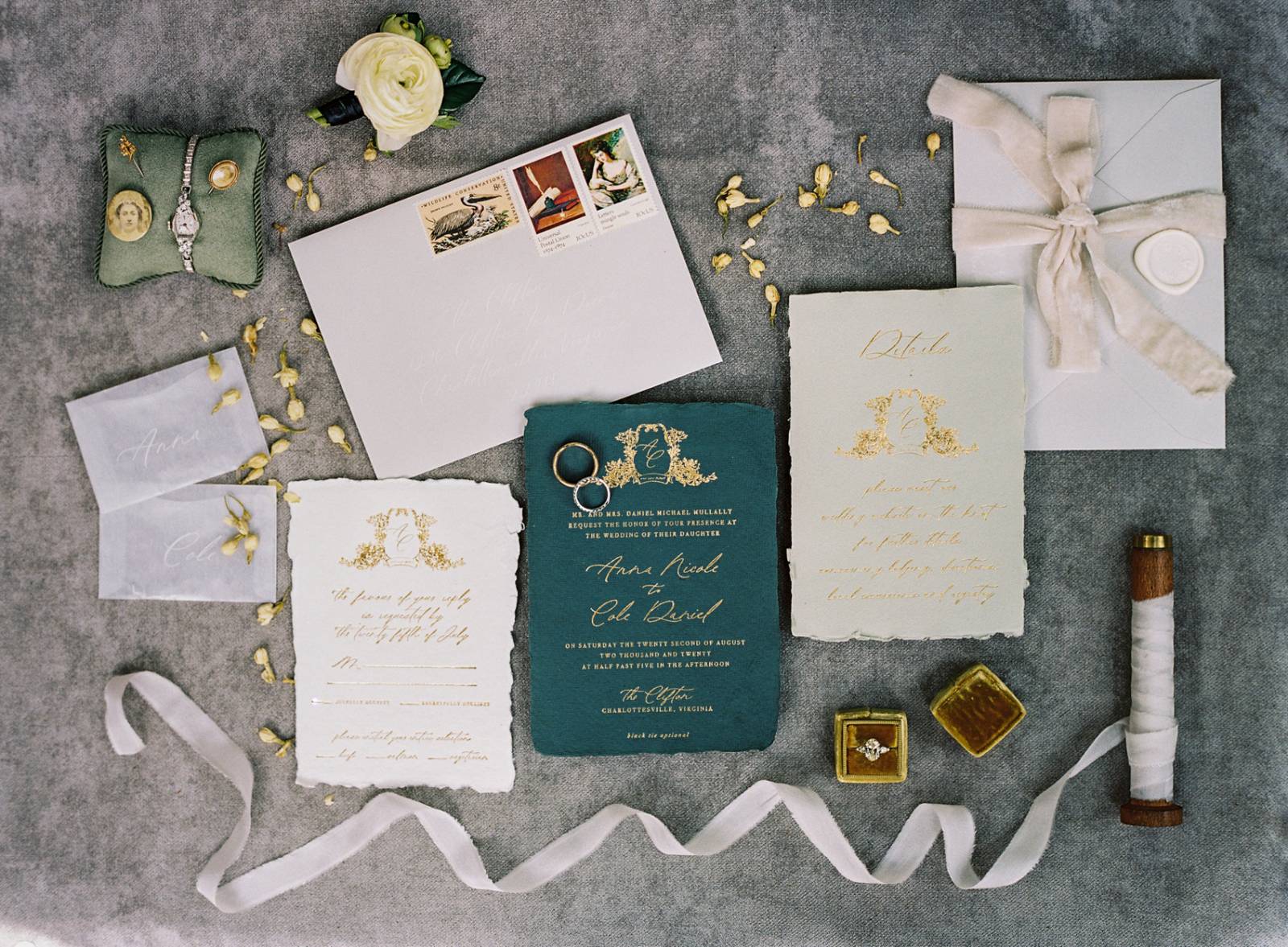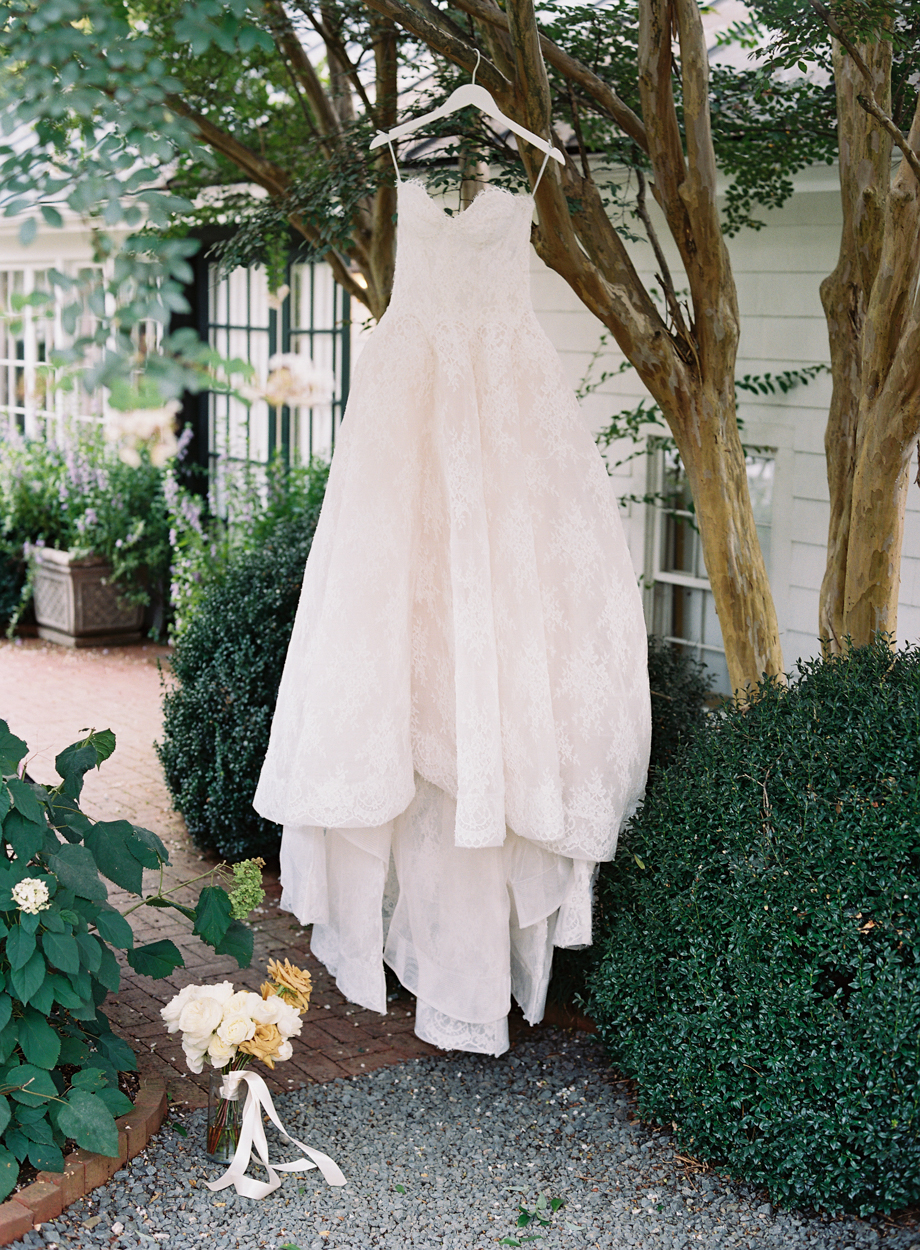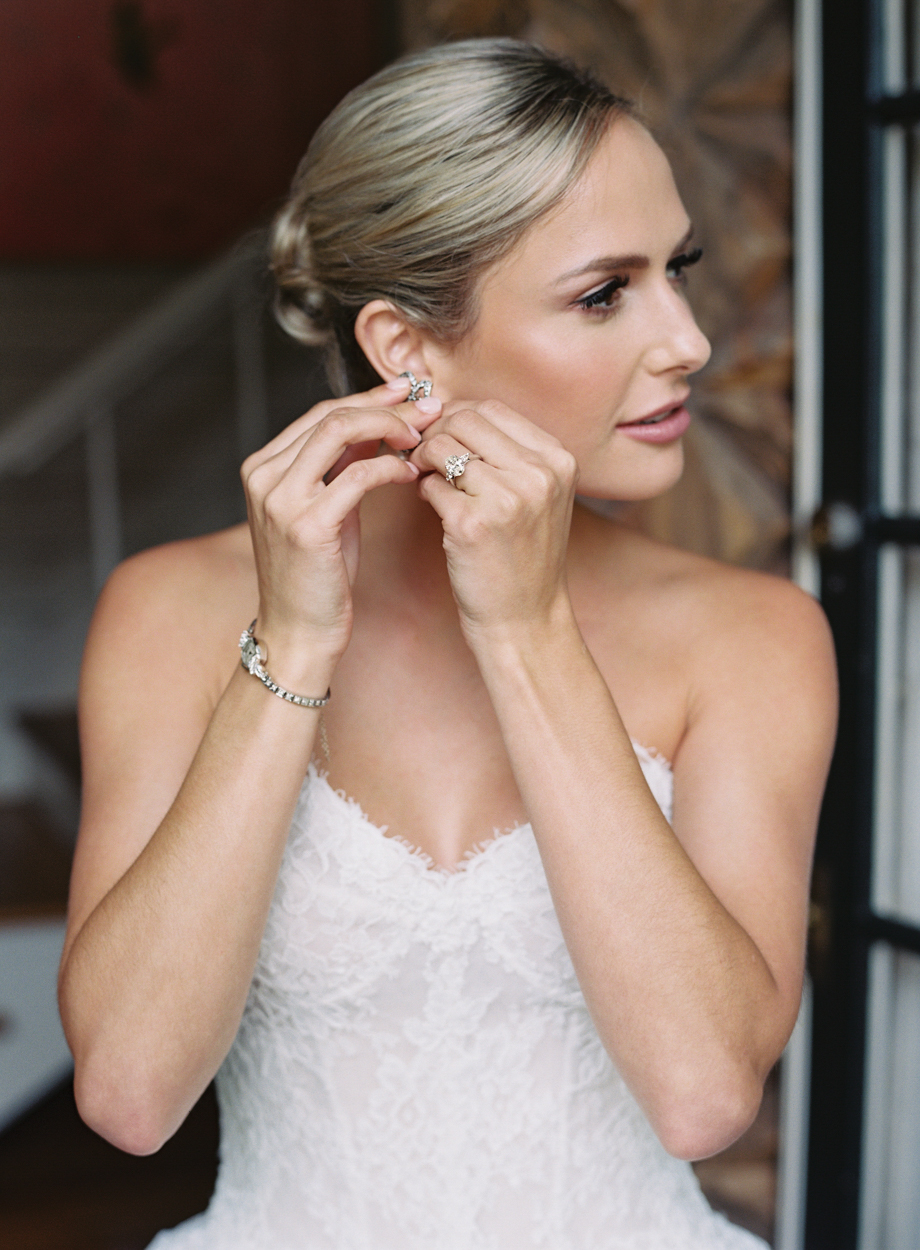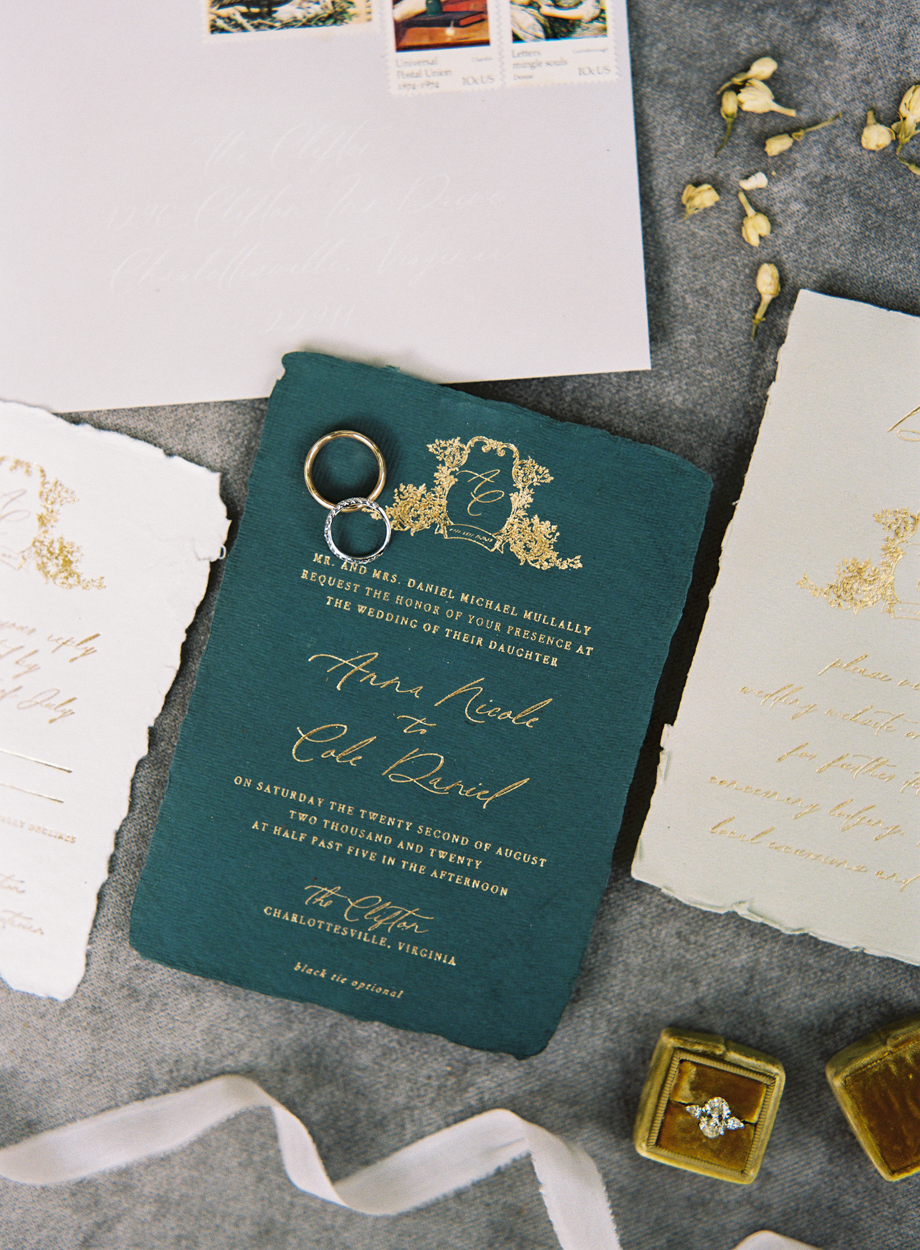 DID YOU HAVE ANY DIY ELEMENTS? We used various stencils and decals for table numbers, seating charts, and welcome signs that we purchased off of Etsy. Many of the signs we created we used antique mirrors to keep the theme flowing.
DESCRIBE YOUR WEDDING FLOWERS: Our wedding was inspired by the movie Pride and Prejudice. With this in mind we wanted an authentic, romantic, and lush floral design. We did not want anything too structured and hoped to achieve a sense as if the flowers were growing in nature and trailing out of the vases, urns, and the arch. We originally had planned a spring wedding with a very different floral design. Covid had different plans. With our new late summer date our florist was extremely accommodating with completely redesigning our floral plan. We kept to large full roses of different warm colours to keep things in season and completely dive in and embrace our new summer date.

FAVOURITE DETAIL OF THE DAY: i loved having a first look with my two brothers and dad. This was such a special moment for me as i am the youngest and only girl in our family and have a special bond with them. I know they are not all into the glitz and glam i was so looking forward to for our wedding day but i know they were thrilled to be there and watch me live out this very special day.
WHAT ADVICE WOULD YOU GIVE OUT TO A COUPLE PLANNING THEIR WEDDING? Be sure you do what you want to do! There can be a lot of influence and expectations from others, but at the end of the day it is your wedding and your party. Be sure you have no regrets at the end of the day! Keeping things small for Covid compliance forced us to look at our wedding differently than we may have if it was not a factor and that is such a blessing. We were able to keep the guest list small and spent invaluable time with each person there.

MOST MEMORABLE MOMENT? Our most memorable moment was our ceremony. With so much going on and so many places to run around and be, your wedding day can really be a blur. But the one thing you really want to take in and remember is your ceremony. For us, our ceremony felt absolutely surreal. To have our family and friends present while we took our vows and to outwardly confirm and promise our love to each other, was really special. It was a moment neither of us will ever forget.

WHAT ASPECT OF THE WEDDING WAS THE MOST IMPORTANT TO YOU BOTH? We both wanted our guests to be full and have plenty of delicious food options. The Cliftons food is unreal. Their Michelin star reviewed chef did not disappoint. Apart from our formal dinner we had late night fare that including chicken tenders and fries. This was so nice to have something to snack on after hours spent dancing on the dance floor. Our lemon and lavender cake with homemade blackberry jam and buttercream frosting makes my mouth water to this day. We can not wait to eat our frozen top tier coming up for our first anniversary.

TELL US A LITTLE ABOUT YOUR HONEYMOON: Unfortunately, because of Covid, we have not been able to take our honeymoon yet! But we are telling ourselves that the wait is only going to make it even better when we finally get there.
A huge thank you to Charlottesville wedding photographer ASHLEY COX for sharing this beautiful inspiration with us. Ashley's aspiration is to take and deliver photographs that capture you and yours in the mundane and the wondrous moments. She tells us, "Over the years, I've honed a style that is romantic yet natural, artistic yet intimate, and I've found film the best medium for conveying my vision. It's my genuine hope that you see the beauty I see as you browse my work or view your own unique images." Check out more of her portfolio here.