To honour the region of Provence, its beauty and its history, Paris wedding photographer PASCAL VO together with planner ENAMORED AND MOTION decided to carry out this project in Grignan, formerly known as the home of famous French literature reference: La Marquise de Sevigné. The purpose of this work was to tell the timeless story of love by honouring the past and its parallel to our present-day love stories. We show through a celebration that is both elegant and amorous, that a couple's special day will be a truly unforgettable experience that they and their loved ones will cherish for years to come. Fine Art Photographer @pascal.vo and videographer @thant_chay_steinbacher captured every key and genuine intimate moment of the day with their skilled photography and videography.
The day started at the "Grotte de Rochecourbiere", formerly known as the private garden of Mme de Sevigné. Our lovers took a step back to the past with a unique dining setting surrounded with natural limestone walls and a profusion of vegetation to give a sense of intimacy and secrecy for their love celebration. There the bride, retraced the steps of the Marquise de Sevigne, where she wrote her vows on the original stone table, before meeting her future husband and leading them to their reception table.
Then the lovers moved closer towards the "Chateau de Grignan" where they translated their wedding day into a modern-time love story. Preceding their wedding ceremony, they both climbed their way to meet each other in front of the tower entrance of this beautiful XIIth century castle right before getting their first look at each other. We can both feel in this frame the apprehension and the exhilarating feelings that the bride and groom feel in those moments.
The day ends in front of the "Collegial Saint Sauveur" where our modern couple just exited their church ceremony and can finally express their joy and feeling of wholeness after binding their love for each other.
Founder of ENAMORED AND MOTION, I wanted to craft this design concept to capture the essence of a modern fairytale. The creative vision here encompasses several key elements such as elegant and romantic attire that suggest royal balls. For this we used crystal and golden details accents to elevate the design, making it look regal and grand.
Additionally, we incorporated subtle golden and antique details such as a unique set of Limoges porcelain plates, a beautiful ivory "Fleurs de Lys" patterned tablecloth, and gorgeous sage green chairs, to switch from traditional beige or white chairs. The whole blends seamlessly into the bucolic background of the castle garden and limestone walls. This combination brings an authentic travel to the past and fairytale to life. Every element served to create a cohesive and magical atmosphere.
The beautiful bride wore two dazzling contemporary hand painted gowns by luxury UK bridal designer HOUSE OF SAVIN. The first, off-the shoulder ivory and pastel floral gown, called "Angelina", exuded elegance, romance, and genuine regal vibes. The second dress named "Willa", brought a modern touch with its bustier shape and its bright Digital Lavender and Viva magenta-coloured flowers. Viva Magenta and Digital Lavender are two of the Pantone 2023 colours of the year! We wanted to tell future brides that they should incorporate colored and patterned wedding dress if they wanted to, and not shy away from wearing gowns that reflect their personality and resonate with who they are!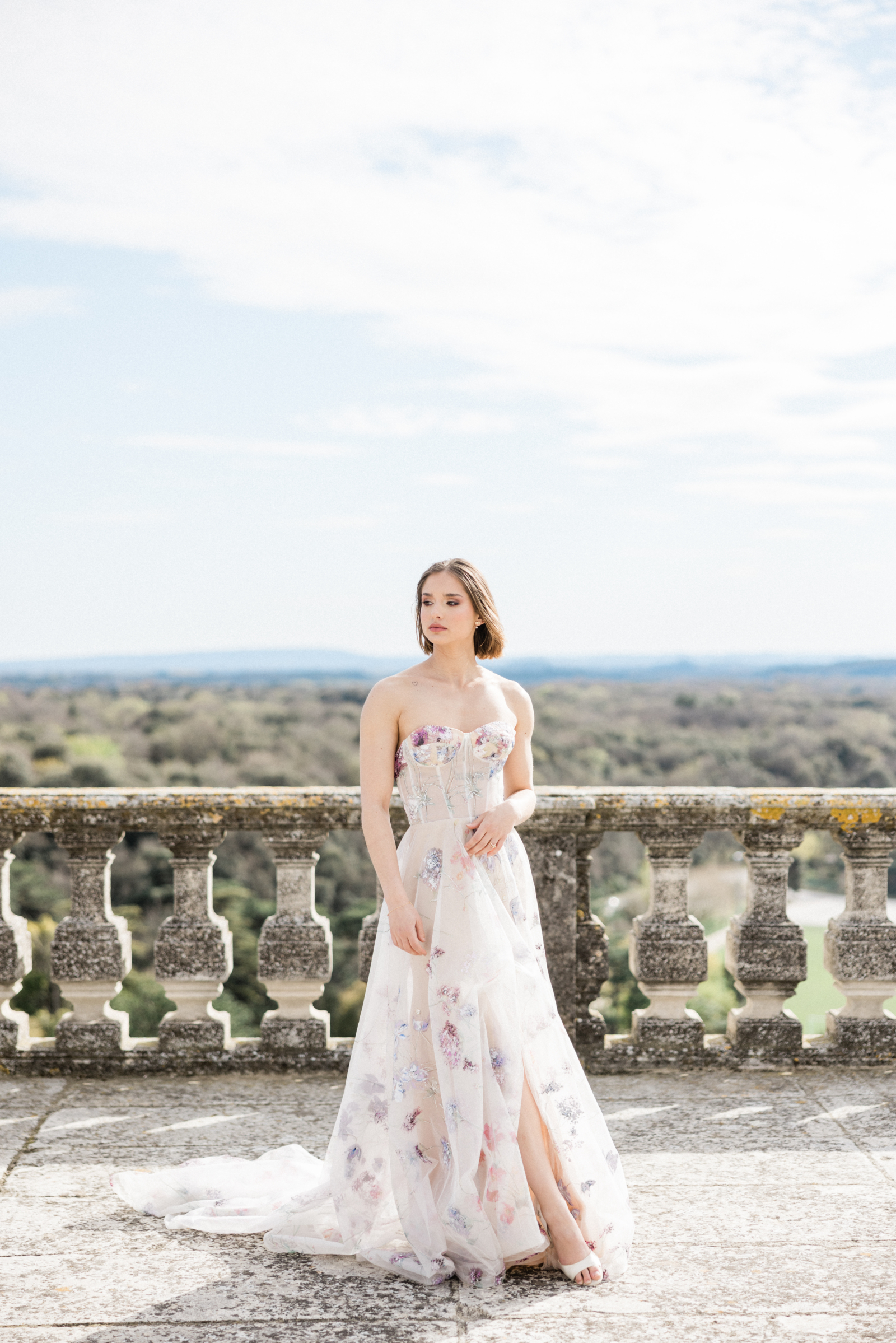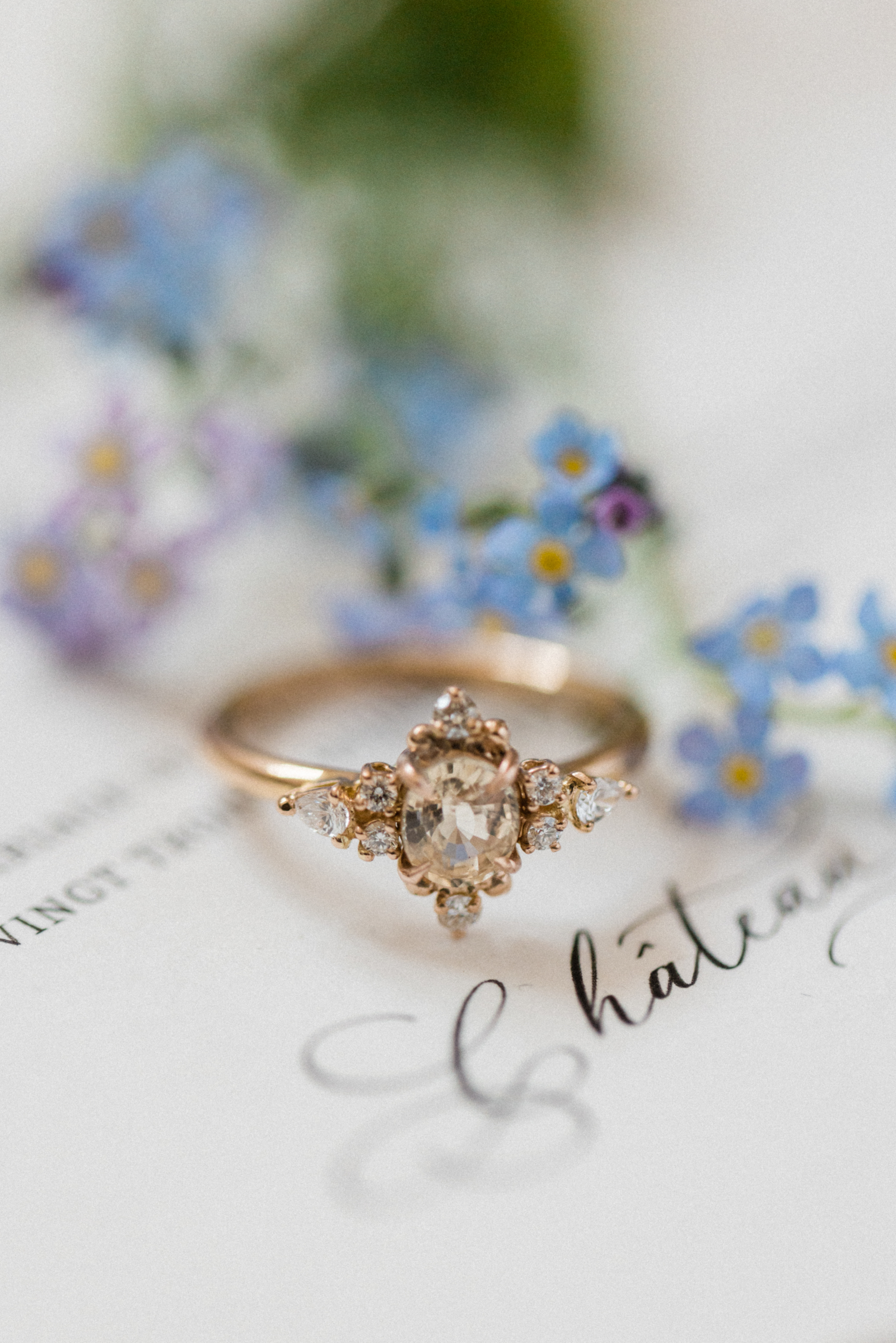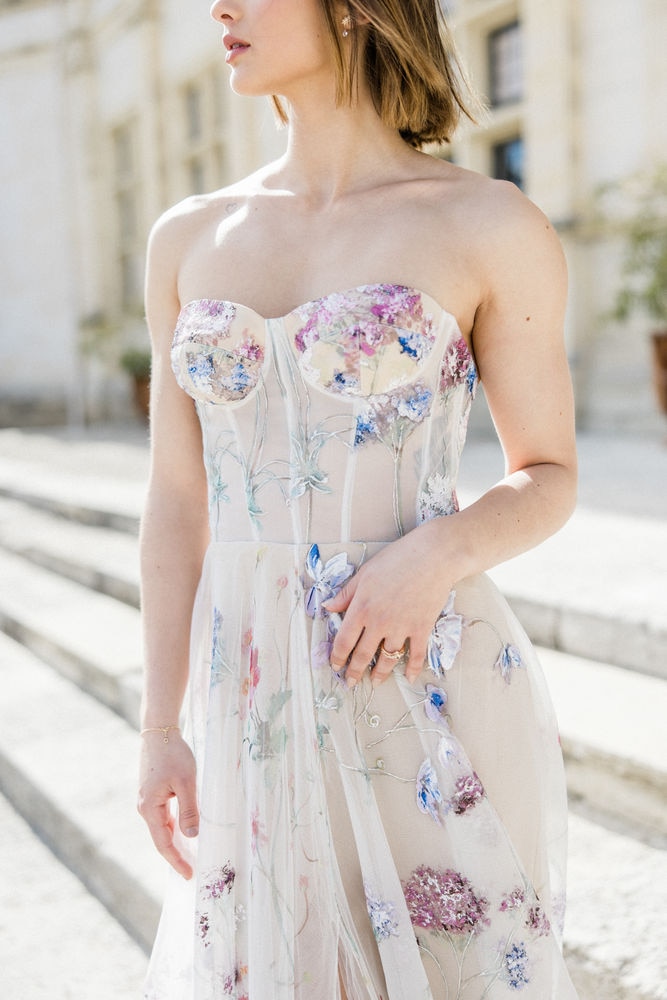 The Bride's jewelry accessories included a fine peach sapphire and diamond ring, customed-made specifically for this occasion by creator ALCEE JOAILLERIE. The designer was inspired by a floral and vegetation theme to create a set that perfectly aligned with both ancient romanticism and modern day non-traditional bridal jewellery. To complete the set, @alcee_joaillerie created pear-shaped pink diamond earrings and a 18k rose gold bracelet ornamented with a green tea sapphire.
To accent the beautiful gowns, our bride wore embellished ivory "Josephine" pumps by world acclaimed US bridal designer BELLA BELLE SHOES.
The bride's makeup was kept fresh and romantic by BEAUTY SB, with an inspired "Rose garden" beauty look, playing with pink hues for the blush, eyes shadows and lips.
Flower decorations were curated by designer EMILY ALARCON, who emphasised the splendour of the venue and maintained its romantic and enchanting aesthetic. The bright "viva magenta" and pastel blues blend harmoniously, creating a dreamy and romantic atmosphere that perfectly complements the modern fairytale theme.
LILIE CAKES created a delicious pear and almond personalised two tier cake. To complement the surrounding vegetation, we used a green Toile de Jouy tablecloth, and played with the contrast between light green paints on the cake and the colourful ornaments of magenta English roses and pomegranate fruits.
For stationery, the most exquisite paper goods were custom-made by ENCRES ET NUANCES. Including a delicate work of calligraphy and black and white handmade gravures. The stationery set tells a story of longing and faith put in love, which is so characteristic of so many young lovers.
A big thank you to Paris wedding photographer PASCAL VO for sharing this beautiful inspiration with us. Pascal is lucky to live in beautiful Paris, the capital of romanticism and a huge source of inspiration for him. He tells us, "When I photographed my first wedding, I immediately understood that I was in the right place. After eight years and over 150 weddings around the world, I'm still in love with my job. Meeting adorable couples, helping them have a better experience of their marriage and creating incredible memories is really my passion, my mission. My style can be summed up in three words; bright, natural and elegant. If my work interests you, I would be delighted to meet you in Paris and talk about your wedding over a good coffee and French cakes." You can see more of his portfolio here.