Destination weddings don't get much more stunning than this Italian celebration at VILLA CETINALE by Paris wedding photographer MOLLY CARR. Clarissa & Daniel had known they were going to get married for a long time so they'd had plenty of opportunity to dream about their day. "We knew we wanted to be able to spend extended quality time with our guests, and keep things intimate, which is when we turned to the idea of having a destination wedding where we could have several days with everyone together. Daniel studied abroad in Rome, and I visited him during my spring break where we traveled Italy together, so it seemed like a natural choice. When we stumbled upon VILLA CETINALE during our extensive internet search we knew we had to get married there.
It's hard to put into words just how amazing the venue is. The grounds and villa itself are historic and you feel it all around you. An olive grove, the world-renowned gardens, an ancient abbey that sits overlooking the villa, giant statues, and Chigi (aristocratic family analogous to the Medici) coat of arms to be found all around the property. It's also been renovated so the modern comforts are top of the line. Most of our guests were with us for the four days leading up to the wedding which meant we enjoyed meals out on the terrace together and most nights stayed up late accompanied by more than a few bottles of Brunello. It would be hard to beat the combination of the intimacy and extravagance the venue provides.
The goal of the design of the wedding day was to create a timeless, classic and old world event, full of gorgeous details and personalisation. The source of inspiration came from VILLA CETINALE itself. The villa is an imposing historical three story main building, surrounded by manicured gardens, a cypress lane that takes the eye up 200 steps to the Romitorio, a spiritual retreat spot with an artistic and historical great value. The soft beige/yellow tones of the walls of the buildings, paired with the tuscan stone and the fall foliage colours, inspired a neutral colour palette, founded on oyster, oatmeal, ivory, and some deeper tones of green and black to add interest and contrast.
All the styling choices, from the paper goods to the decor, to the floral artistry and fashion choices, had this timeless class and old world elegance in mind. We wanted guests to feel like they had stepped into a real life fairytale, like they were transported inside a movie.
We truly would not have been able to pull off the wedding and events leading up to it without our wedding planner LAURA BRAVI. She was able to take our vision and help us execute it even better than we imagined, and we were able to enjoy every moment of our time at the villa as we knew all the logistics were being handled. Planning everything sight unseen made it especially important to hire a team of vendors we could trust wholeheartedly. We didn't do any taste testing, sight visits or hair and makeup trials, and I think having so much unknown forced us to relax a bit more and just enjoy the time, knowing we were unable to micromanage every last detail."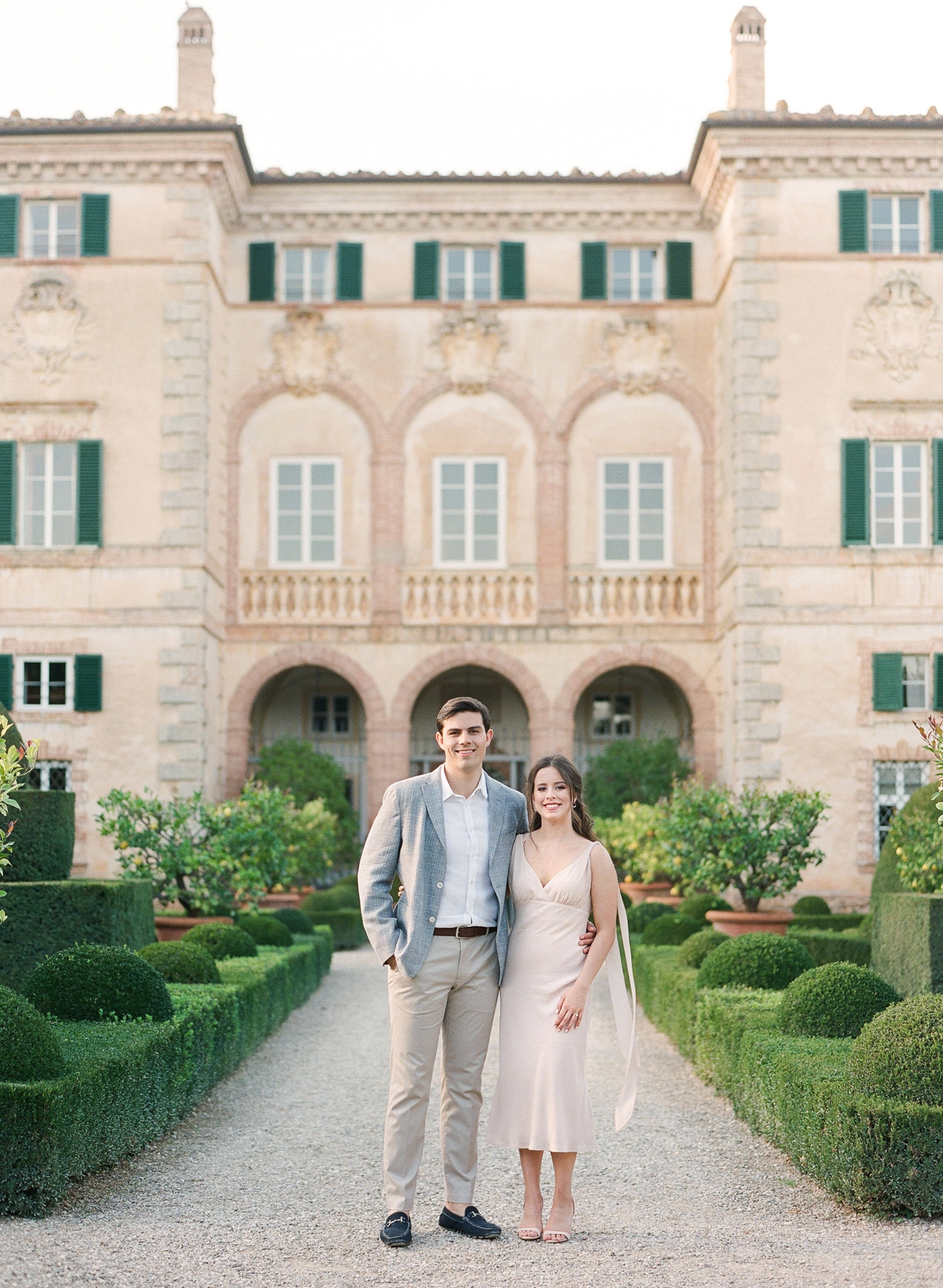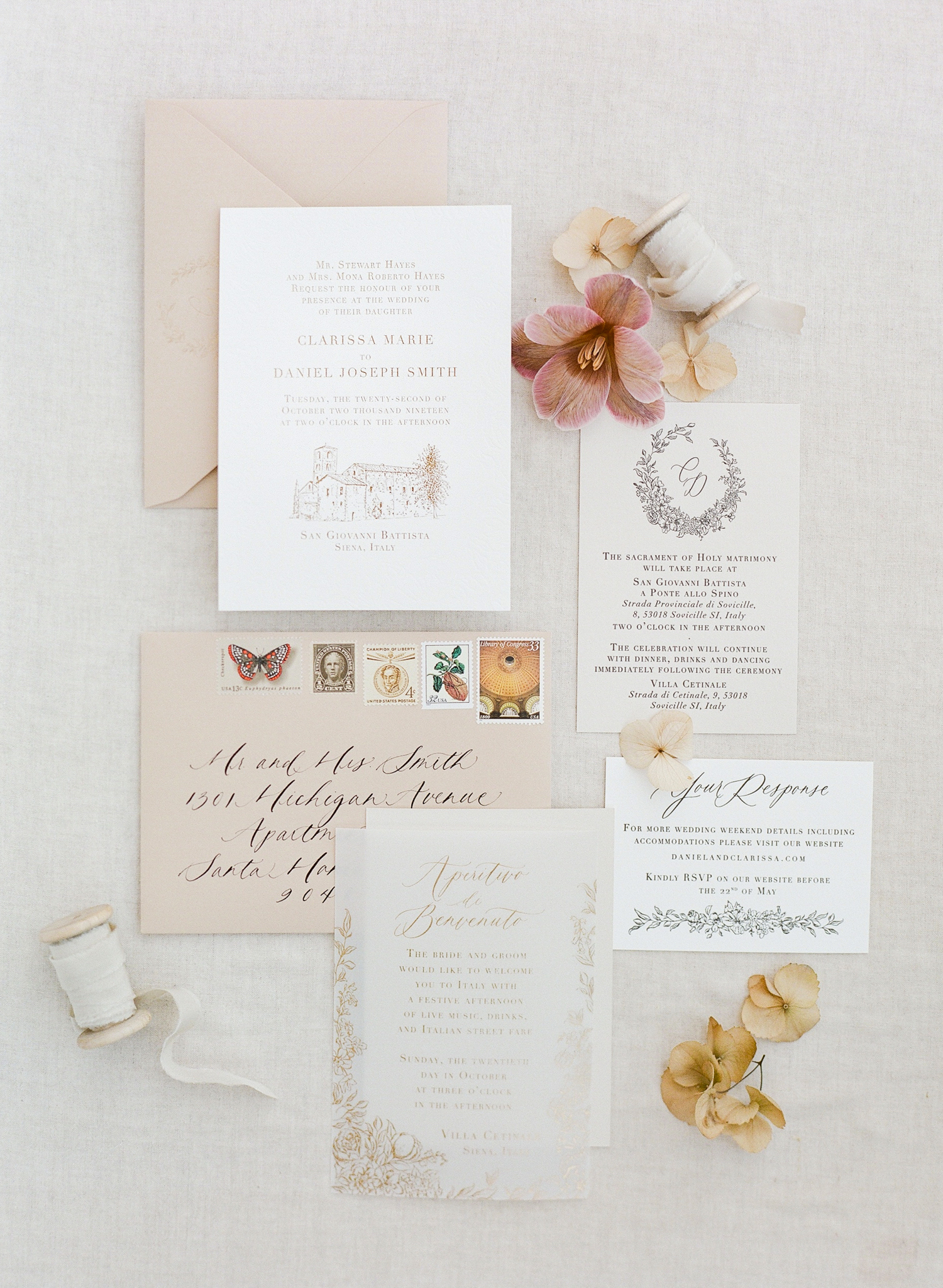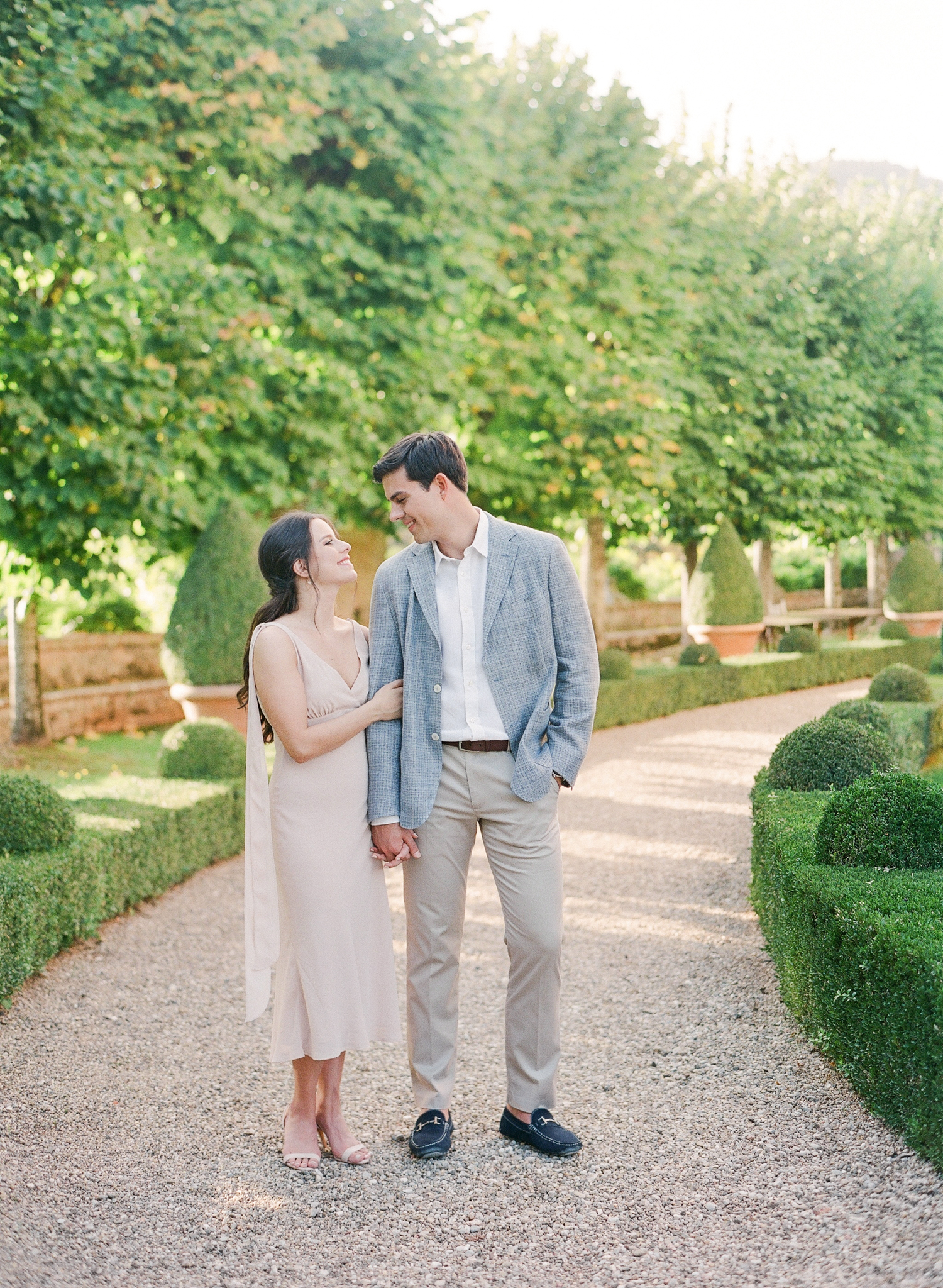 HOW DID YOU MEET? We went to a very small high school together in Salem, Oregon. We met each other freshman year (Sept 2008), but didn't start dating until junior year (Feb 2011). We had physics class together, and we used studying together as an excuse to hang out. A deep friendship turned into a romantic relationship and we've been together ever since.
TELL US ABOUT YOUR PROPOSAL: I was convinced Daniel was not going to propose for at least 6 months, so I was shocked to realise he pulled the entire thing off without me knowing he had even gotten a ring. We went to the beach (we live in Santa Monica) to watch the sunset when Daniel brought out an old cooler containing glasses and a bottle of champagne. This was a cooler we decorated in college (he went to Notre Dame and I went to Santa Clara, so we did long distance) and used to take on trips when we were home together during summer breaks. One side had been left uncompleted, which Daniel had finished with a painting of us sitting on the beach at sunset with the words "The Beginning of a New Adventure" at the top. Daniel tricked me into thinking he was going on a business trip to Portland earlier that month, but instead was going home to ask my parents permission and finish the cooler.
The entire time I thought we were celebrating my recent promotion at work and didn't think anything of all the special treatment. We sat there sipping champagne as the last bits of sunlight slipped away. He then pulled a letter out of his pocket and handed it to me, which is when it started to click. When he left for college our freshman year (his school started before mine), he left me with a letter that promised me one day he would marry me. Each year after that he would write me a going-away love note as sort of reassurance that we could get through another year of long distance. Senior year I never got a letter (which I complained about a time or two). It turned out he had written the letter, but wasn't quite ready to propose yet, so he saved it until that evening. We read the letter together with tears in our eyes and then he pulled out the ring and proposed.
TELL US ABOUT YOUR STATIONERY: I spent countless hours pouring over paper details with Nicole from EVERY LITTLE LETTER. I call her our Paper Fairy because everything she touches is magic. We knew asking our guests to go all the way to Italy was a tall ask, so it was important to us to make the invitations special for our guests. Nicole did an amazing job creating a cohesive look from the save the date all the way through all of our day of paper designs. We wanted each guest to feel special as they went so far for us, and creating very thoughtful personalised paper goods was one way we were able to do that.special for our guests.
The suite was designed with thoughtful details and elements that represented VILLA CETINALE as well as the day. The invitation card was done on thick cotton in a blind letterpress with a detailed floral border, the wording was set in gold foil as well as the church illustration. The welcome invitation, printed on thick vellum also set in gold foil. Guest addresses were done in calligraphy to match headers through the suite. To keep all the pieces together in the envelope, the paper was wrapped in vellum and held with an oversized wax seal of the Villa. The venue as well as the church were illustrated as well as a custom crest. These elements could be seen throughout the wedding paper, bags and door tags throughout the weekend.
TELL US ABOUT YOUR WEDDING GOWN? The fabric made the dress. It was a beautiful floral brocade that was a very limited run, resulting in only a few of the dresses ever being made. Mine was the very last one before the fabric ran out! I added 18 inches to the train and pockets to the dress to customise it.
I had grown up watching countless hours of Say Yes to the Dress and had seen so many wedding dress trends come and go. I knew from the very beginning I wanted a simple timeless silhouette without any embellishments, as that would be the best reflection of my personal style and make me feel the most like myself. When I first tried on my dress I felt the most like myself in it, and not as if I was playing dress up as a bride. There was something so easy and lightweight about the way the dress moved, and the brocade fabric was an amazing unique detail.
Knowing I wanted a simple silhouette without embellishments made me extremely particular about the fabric and details. There was nothing that would distract from the craftsmanship of the dress and the material. There were a handful of beautiful dresses I tried on throughout the process which I really liked, but something always felt not quite right, until I went back and tried on my dress for a second time and knew it was the one. I am lucky enough to live near MONIQUE LHUILLIER'S flagship location, and working with their team was wonderful, between dress shopping and fittings I spent a lot of time with them. Nicola, my consultant, and Chynna my fitting specialist made sure every last thread was in place and perfectly fitted to my body. I was never stressed about my dress knowing that they would leave no little detail to chance, and reassured me that they have had plenty of destination brides and traveling with the dress would not be an issue.
WHAT DID YOUR BRIDAL PARTY WEAR? My bridesmaids each designed their own gown from Fame and Partners. All I asked was that they keep a long hem and champagne colour for a cohesive look. I wanted them to be able to choose flattering designs that reflected their personal style so that they would feel good in them.
DID YOU HAVE A FIRST LOOK? We decided on doing a first look at the last minute and I am so glad we did. It took place to the side of the villa and it was the perfect moment to take it all in and calm our nerves. It didn't take away any emotion from the ceremony, which is what I was concerned with and allowed us more time to enjoy the reception since we were able to take our bridal party photos before.
After? I was surprisingly calm throughout the wedding day. After 16 months of meticulous planning, I knew that it was time to just soak it all in and I trusted my amazing team of vendors to handle the details and execute our vision. When I turned the corner and saw Daniel waiting there for me I immediately began to tear up. All the years of dreaming of this day, was finally here. I always like to say we grew up together, and now we get to grow old together.
TELL US ABOUT YOUR FLOWERS: The vision for this bouquet was to keep the style light, airy and feminine while still making a statement. Combining lush white and cream garden rose blooms with textured accents of sweet pea, queen anne's lace, ranunculus, autumn eucalyptus, riceflower, maidenhair fern, and clematis vine. With the bridesmaids bouquets we wanted to incorporate a little more saturated colour by bringing in some oatmeal and oyster toned blooms, such as the Westminster Abbey dutch garden roses and brown sweet pea blossoms. These moments of saturated colour contrasted nicely with the neutral bridesmaids dresses and maintained the overall light and feminine aesthetic. Other ingredients include ranunculus, riceflower, white spray roses, sweet autumn clematis vine and maidenhair fern. The boutonnieres were masculine and textured utilising both dry and fresh ingredients from the late fall season in Tuscany. Each boutonniere was a little different but all coordinating cohesively together.
TELL US ABOUT YOUR MENU:The food was perhaps the most memorable part of the wedding for many of our guests (as well as ourselves). For dinner we served two pasta courses (homemade mezzelune stuffed with pecorino cheese, pear veloute and toasted pine nuts, as well as paccheri fresh pasta with saffron cream, confit pachino tomatoes and asparagus tips) the main course (for everyone but myself, as I am vegetarian) was Pork fillet with balsamic vinegar from modena sage flavoured roasted tomatoes and green beans chives tied. The food truly never stopped coming. After dinner we moved the party from the tent to the front of the villa where we cut our Italian wedding cake. During dancing there was a surprise pizza snack passed around late at night and trays of sweets left out for people to nibble on.
WHAT ENTERTAINMENT DID YOU HAVE? Were there any special musical selections? After dinner and the cake cutting we had a band kick off the dancing, and then turned to a DJ to take us through the night. The band kicked the night of dancing with an Ode to my favourite artist and my favourite song to belt in the living room, Love on Top by Beyonce. First dance song (and the story behind why you chose it): Everything by Michael Buble, we wanted something both sentimental and upbeat. We practiced dancing in my heels in our living room leading up to the wedding.
WHAT SORT OF CAKE DID YOU HAVE? The cake was another favourite for us and our guests. We decided to go with the traditional Italian wedding cake, as neither Daniel or myself are crazy about wedding cakes. We are so glad we did. After dinner we headed back to the front of the villa in front of the Limonia where the bar and dancing would take place. The cake was assembled in front of us and our guests with layers of cake, rich cream, powdered sugar and fresh berries. It was by far the best cake either of us have ever had, and such a cool unique experience. We ended in a cake fight and began dancing. We still crave the cake and wish there was a way for us to have brought the leftovers home.
WHAT WERE YOUR FAVOURITE MEMORIES FROM THE DAY? 1.Ceremony/Entrance - Probably a popular choice, but that was our highlight. There was a ton of emotion built up by years of waiting and the days and hours leading up to the ceremony surrounded by our loved ones. The string quartet played Canon in D, which brought Daniel to tears on the spot. I started crying the second the doors to the church opened. Being side-by-side in this beautiful thousand year old church, participating in a traditional Catholic ceremony which felt both timeless and spiritual, was absolutely out of this world.
2. Cake/Food - Our caterer was incredible. The appetisers and reception dinner were absolutely delicious, somehow topping the food made by the villa. The highlight of the meal was an Italian wedding cake live-prepared for all guests. The show was really unique, but we were even more surprised by how good the cake was. Truly the best cake we've ever had.
3. Bridal Photos - Much of our day was spent in various locations around the villa taking photos as a couple. It was very special to be able to take in all the beauty surrounding us and spend time alone taking in the gravity of the day.
TELL US ABOUT YOUR HONEYMOON: It was meant to be a surprise for me, but I accidentally opened a piece of mail that gave it away a month ahead of time. We left the villa at 8am the day after the wedding (after dancing past 1 in the morning) to catch our flight. We spent time in the Sahara Desert, the most serene place we've ever been and finally to Marrakech.
A huge thank you to Paris wedding photographer MOLLY CARR for sharing this stunning Italian wedding with us. Molly creates timeless and evocative images that are known for their romantic feel and painterly-quality. If you're planning a destination wedding in Paris, be sure to check out this valued member of our VENDOR GUIDE HERE and you can also read our short interview with her here. Also see this Chic & modern Chateau wedding inspiration with a black gown.