Where the azure sea meets rocky cliffs dotted with white and blue churches; this is the dreamy destination where Hannah and Yanni were wed. Paros Island, Greece was an idyllic setting for their destination wedding accompanied by their closest family and friends. The couple hosted several events during the week leading up to their wedding date and prioritised their guests' experience through it all. Their welcome dinner after the rehearsal, plus the next day at the beach giving everyone time for building priceless memories beyond a typical wedding day. Houston wedding photographer MARNI WISHART captured their beautiful celebration.
WHY DID YOU CHOOSE THIS LOCATION? My husband is Greek, so the country holds very personal value to him. I travelled to Greece 4 months before meeting him and fell in love with the country and culture. We'd dreamed about getting married somewhere "epic" since very early on in the relationship. We specifically chose Paros because it's an island neither of us had been to before, now with only memories of us together.
HOW DID YOU MEET? We met on Bumble three and a half years ago and had our first date in a small pizza shop in Milwaukee. We closed the place down after talking for hours and laughing endlessly.
TELL US ABOUT YOUR PROPOSAL: Yanni proposed on our two year anniversary on the coast of Lake Michigan with our closest friends and family waiting at a nearby restaurant. Our niece was born the same day making it a very special family moment.
TELL US ABOUT FINDING YOUR WEDDING DRESS/ATTIRE: We both can be particular, so it was a no-brainer that we'd both end up in custom attire. My friend had had a wonderful experience with an atelier close by, and I soon became obsessed with her designs and client experience. Yanni's best friend owns a custom tailor shop and helped him choose each detail.
DID YOU HAVE ANY DIY ELEMENTS? My mom, mother-in-law, bridesmaids and I assembled the koufeta bags upon arrival in Paros. They were complete with a personal tag describing the tradition for those unfamiliar.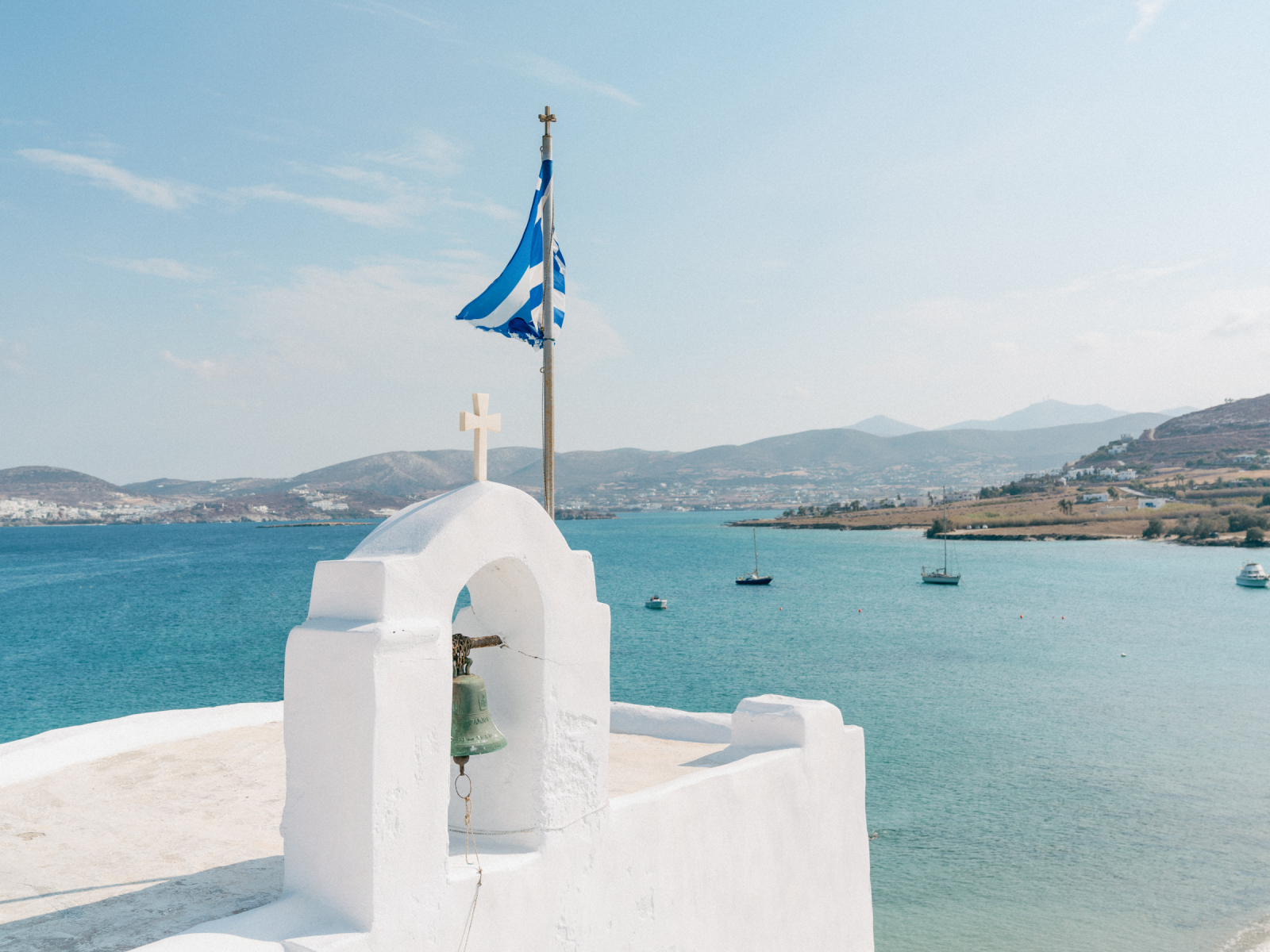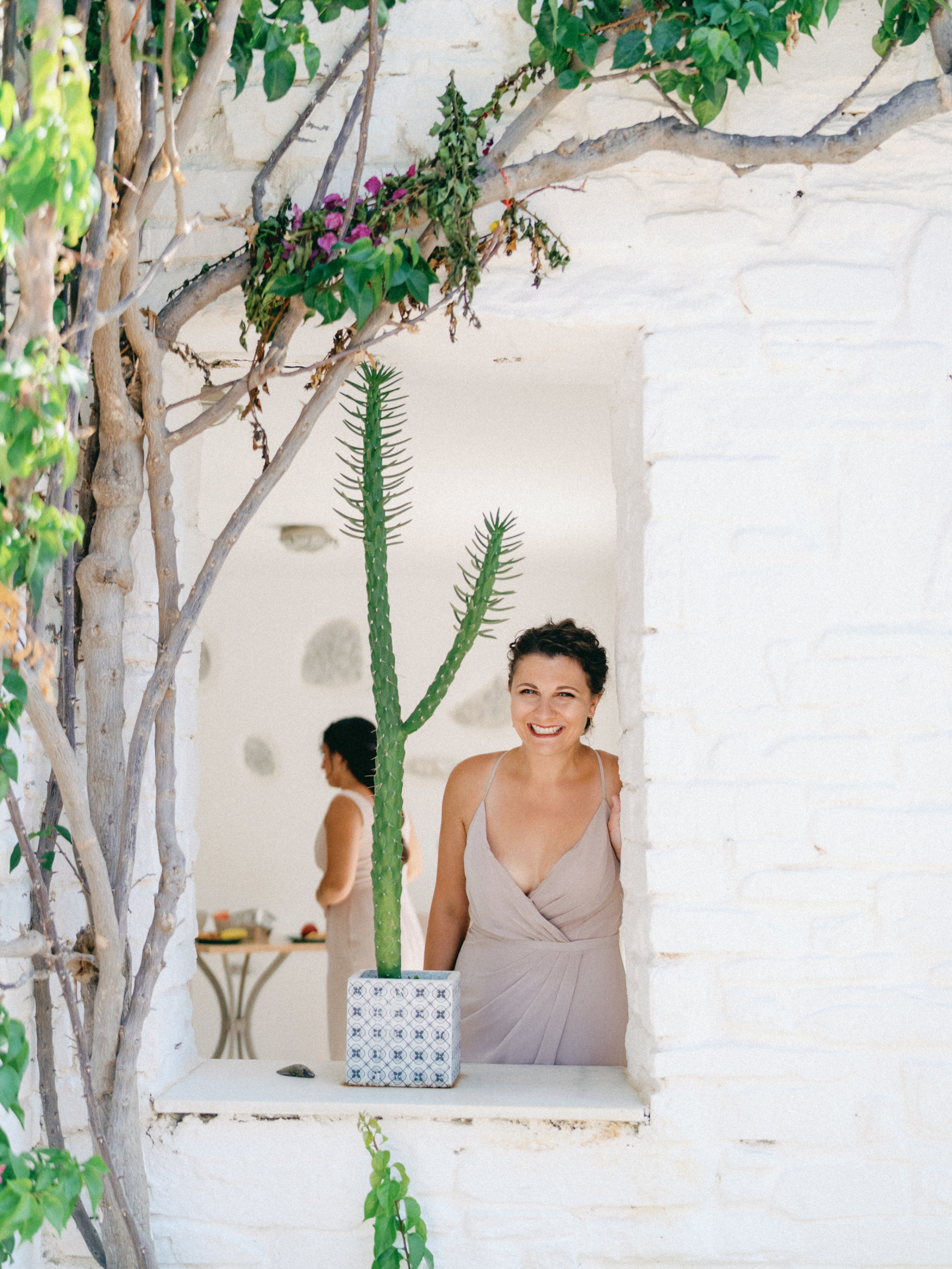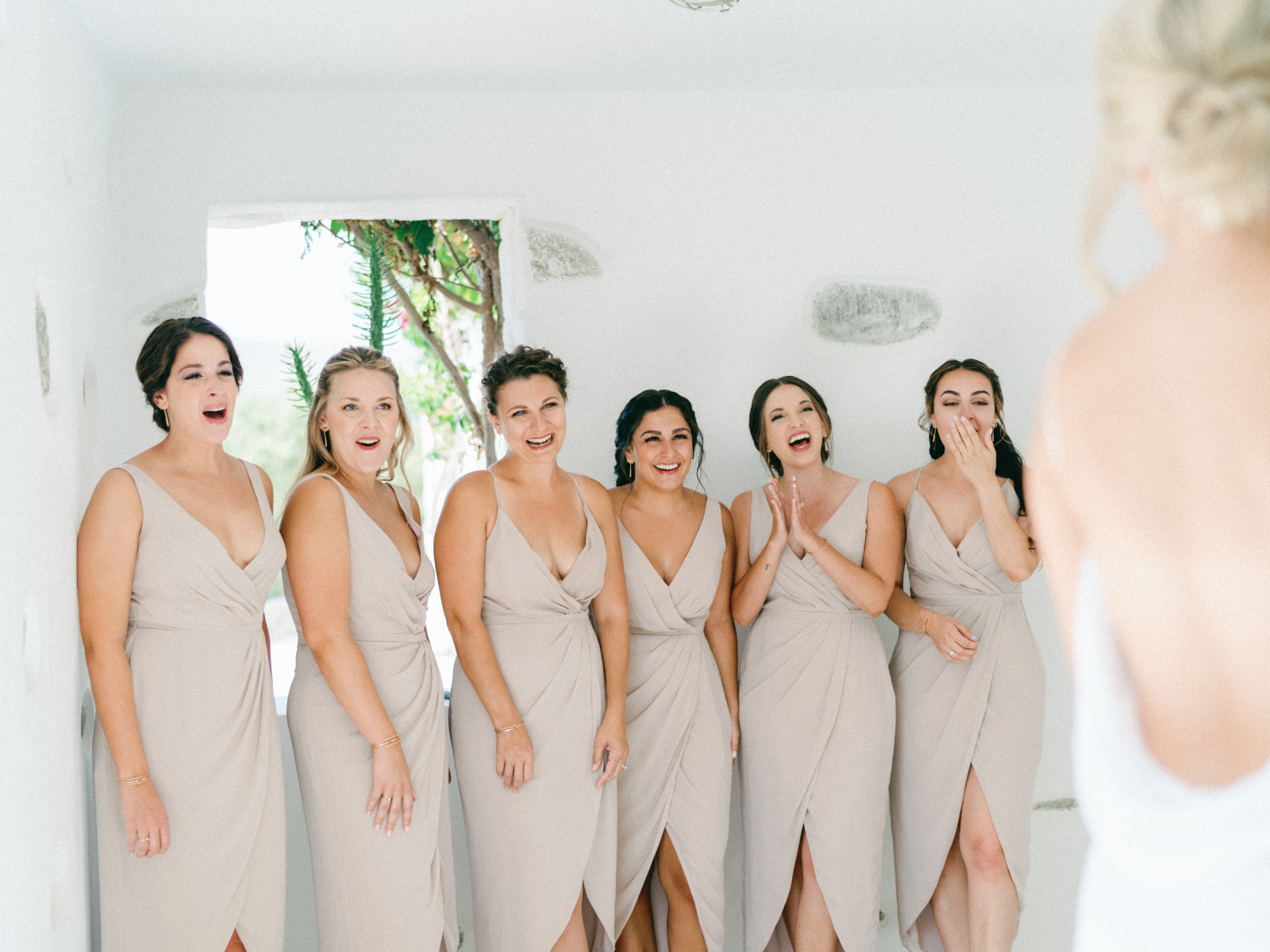 DESCRIBE YOUR WEDDING FLOWERS: My godmother arranged the florals for us. She's incredibly talented and made our silk flowers come to life. It was so special to have a piece of her with me in Greece.
FAVOURITE DETAIL OF THE DAY: I walked down the aisle with a prayer book that my grandmother and my mom both walked down the aisle with at their weddings. It's a tradition I hope to pass on to my daughter one day.
WHAT ADVICE WOULD YOU GIVE OUT TO A COUPLE PLANNING THEIR WEDDING? Align on what's most important before you start dreaming or shopping around. Yanni and I wanted everyone to have a great time, so an open bar, great food, and a welcome event were non-negotiable. Centerpieces and decor fell further on the list and our budget reflected that.
MOST MEMORABLE MOMENT? Due to these uncertain times, dancing wasn't allowed at our wedding. It was something we were bummed about, but completely accepted before the big day. After speeches, the venue coordinator let us dance for 20 minutes and it was the most special gift. A truly memorable moment with loved ones that we'll hang onto forever.
WHAT ASPECT OF THE WEDDING WAS THE MOST IMPORTANT TO YOU BOTH? The most important aspect was that people had fun. I bet that's hard to believe given how beautiful the day turned out, but Yanni and I felt strongest that if guests were travelling across the world for us they had a good time. The rest fell into place once we centered around that.
ANY OTHER DETAILS THAT HELP TELL THE STORY OF YOUR DAY? Yanni and I both have heirloom wedding bands. Mine is my grandmother's wedding band, and his belonged to his Papou (grandfather). We're both very sentimental and feel incredibly blessed to have the memory of some of our favourite people on our hands always.

TELL US A LITTLE ABOUT YOUR HONEYMOON: We travelled around Greece with Yanni's family and a few close friends for about a week, stopping in Ios to see where he spent his summers growing up and ending in Santorini. We then travelled solo to the Amalfi Coast and French Riviera.

IS THERE ANYTHING YOU WOULD CHANGE OR DO DIFFERENTLY? We truly feel we did the best we could with the ever-changing restrictions in Greece. While it wasn't necessarily perfect, it was certainly special and the very best day in our eyes.
A big thank you to Houston wedding photographer MARNI WISHART for sharing this stunning Greek wedding shoot with us. A deep appreciation for the great outdoors is fundamental to who Marni is and this together with family and art, are the influences she brings to her photography. If you're a Texas bride looking for a Houston wedding photographer get in touch with Marni and see more of her work in her vendor listing here.