With the help of ALGARVE WEDDING PLANNERS Zameera & Gurpreet came across VILA MONTE FARM HOUSE - an Algarve venue with a timeless simplicity, a local, rustic atmosphere and a boho-chic spirit. With it's beautiful gardens, lovely spacious rooms and a peaceful location it gave Portugal wedding photographers PASSIONATE the perfect backdrop to capture their day. With a green, white and blue colour palette their day had a natural, classic and timeless feel to it. "We both love the outdoors and wanted a garden setting with lots of greenery and we got just that. Vila Monte was just perfect and was small enough that we could have it all to ourselves for our three day wedding weekend but big enough to accommodate all our guests. The fact that we had it to ourselves meant that we had the freedom to use all the areas of the hotel for different parts of our wedding day."
HOW DID YOU MEET? We were introduced by mutual friends in 2008 instantly got on. We have been together ever since!
TELL US ABOUT YOUR PROPOSAL: Gurpreet's sister was studying in Montreal for a month in the autumn of 2015. He suggested that they go and visit her and as part of the visit take a trip to Vermont for a few days. Gurpreet found the perfect time to propose in a secluded, romantic log cabin in the woods. The proposal was a complete surprise and we couldn't wait to get home and share our excitement with our family and friends!
TELL US ABOUT FINDING YOUR WEDDING DRESS: I looked for my wedding dress with Jasmin, my younger sister and self professed style guru. Her opinion was really important to me and she had requested to buy my wedding dress for me as my wedding gift. We went to several different bridal boutiques and tried on several different styles. However, when Jasmin did not seem like anything I chose, I began to get a little worried! When I tried on the first dress in the final bridal store we ended up visiting, we immediately knew that was 'the' dress and our search for the perfect dress had ended.
DID YOU HAVE ANY DIY ELEMENTS? All the wedding stationery that was used on the wedding day was DIY using templates that we found on the internet. We also made gift bags to go in the guests' rooms with snacks and an itinerary for the weekend.
DESCRIBE YOUR WEDDING FLOWERS: White roses and peonies with greenery for a pure and classic look.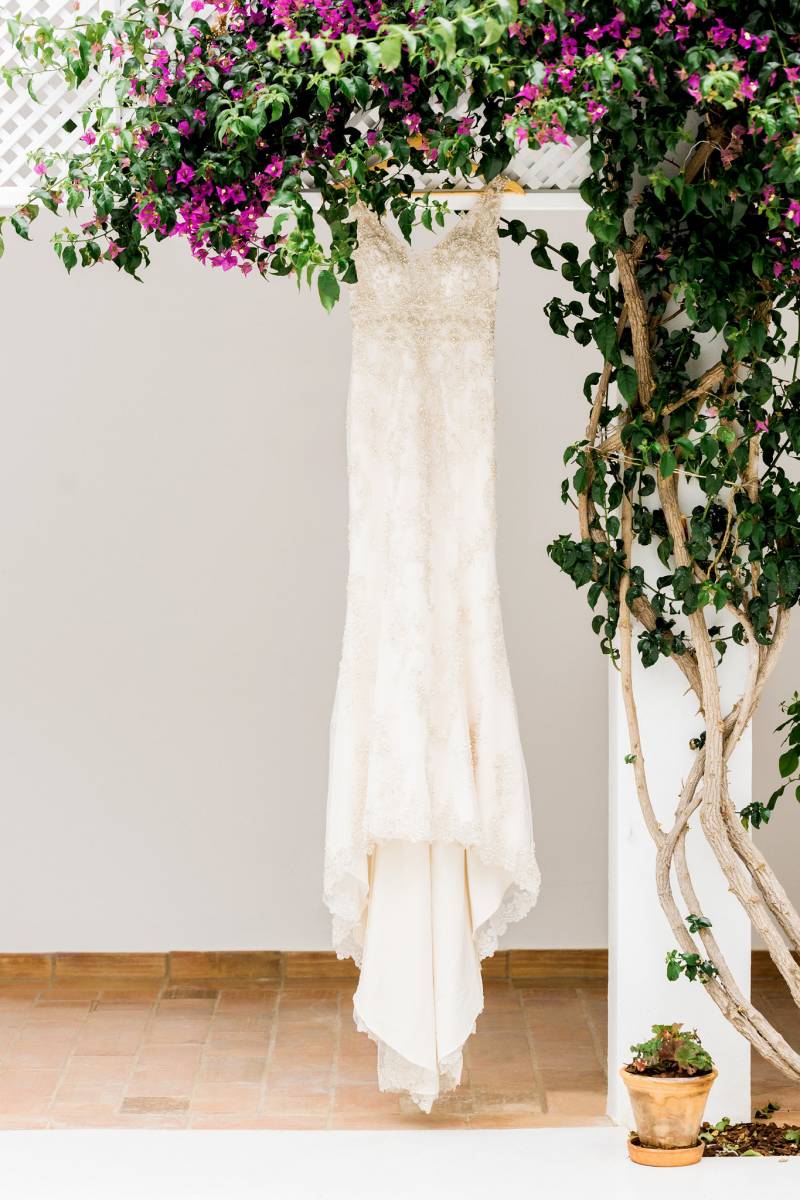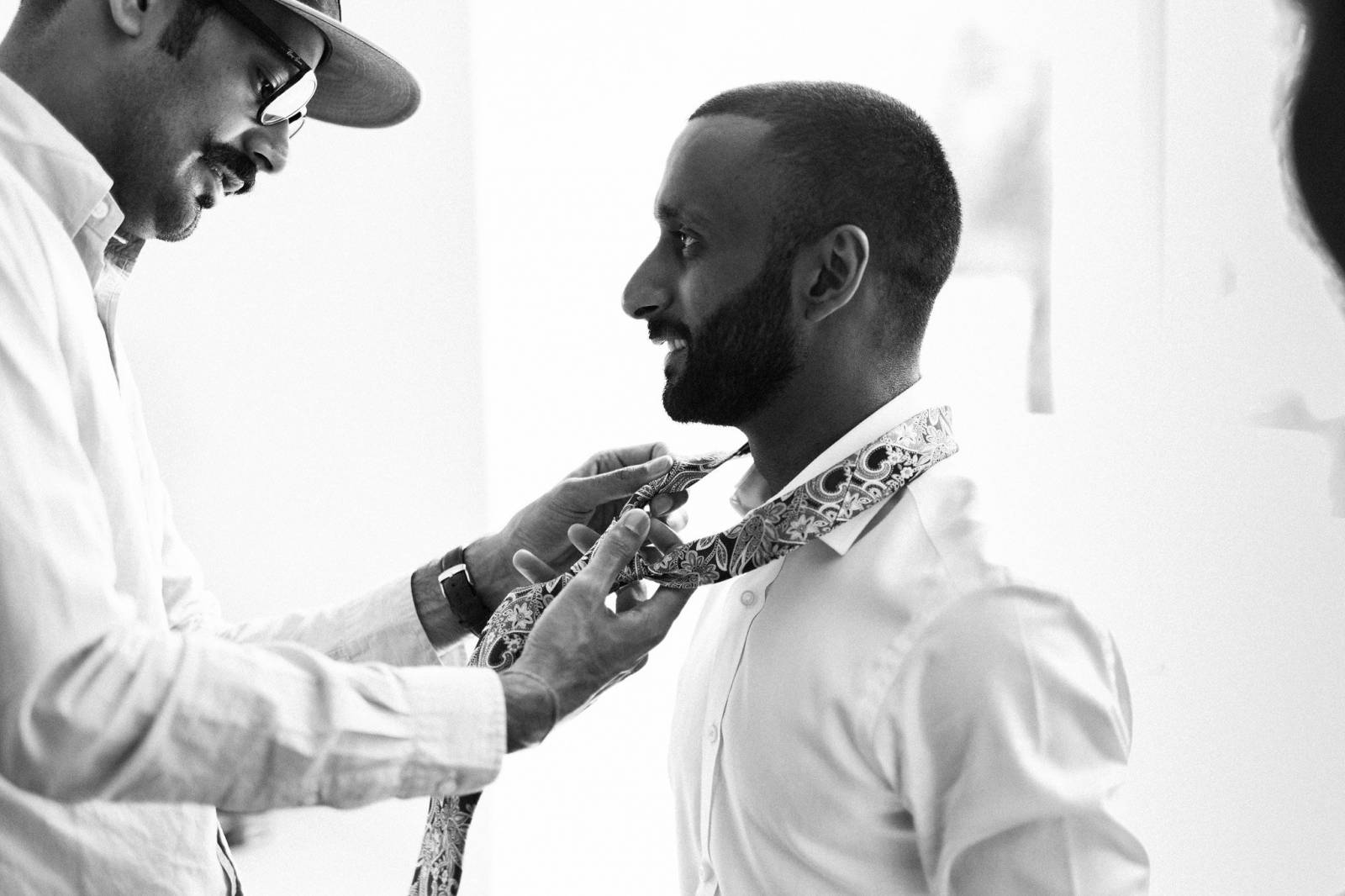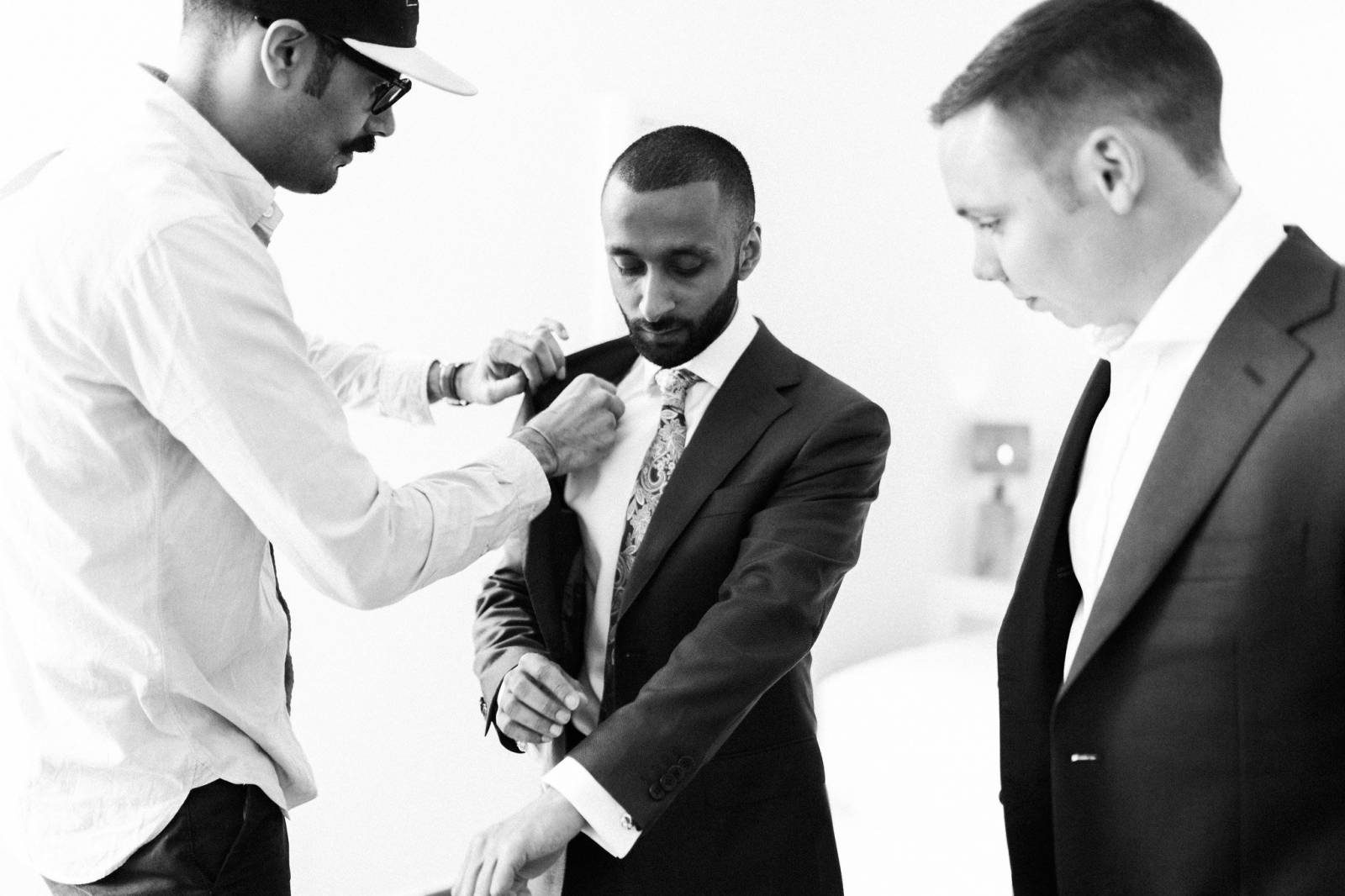 FAVOURITE DETAIL OF THE DAY: The 'find your seat at the bottom of your glass' shots that we had arranged as an alternative to the seating plan.
WHAT ADVICE WOULD YOU GIVE OUT TO A COUPLE PLANNING THEIR WEDDING? Find a good wedding planner who will do their very best to make your dream wedding a reality and make sure you invest in a good photographer/ videographer because when it's all over, the moments they capture will make you smile and help you re- live your special day for years to come.
MOST MEMORABLE MOMENT? Vila Monte had an outdoor cinema and we asked our videographers to create a short 'same day edit' video with all the highlights from the weekend and wedding day. Sharing the first screening of our same day video edit, as a surprise for our guests, after the wedding dinner on a big screen outside was definitely the most memorable moment.
ANY OTHER DETAILS THAT HELP TELL THE STORY OF YOUR DAY? When we woke up in the morning it was raining! We were so worried as the ceremony was supposed to be held outdoors. Thankfully the sun came out a couple of hours later and it turned out to be a lovely afternoon but because the grass was a little muddy my white wedding shoes got ruined- I am really glad the photographers managed to capture these when they were still pristine.
TELL US A LITTLE ABOUT YOUR HONEYMOON: We went to Florence and the Maldives for our honeymoon. It felt amazing to finally relax after all the stress and excitement of planning the wedding.
IS THERE ANYTHING YOU WOULD CHANGE OR DO DIFFERENTLY? If we could do this again we would definitely try to enjoy ourselves a little more and maybe have a few more cocktails! We were always a little preoccupied trying to make sure the guests were enjoying themselves but we shouldn't have been, the wedding planners and hotel staff did an amazing job.
A huge thank you to Portugal wedding photographers PASSIONATE for sharing this beautiful wedding with us. Passionate are dedicated to wedding and editorial photography with an elegant, timeless and genuine appeal and aim to capture the essence of each couple they work with. See more of their work in our VENDOR GUIDE. You should also check out this Refined & Elegant European Wedding Inspiration by this talented team.