Located in the heart of Greenwood, South Carolina sits an elegant mansion, ABNEY HALL. Sitting on 500 acres of land, it created a romantic setting for Beatrice and Noah's June wedding. Beatrice fell in love the with the ornate design and old world touches of the furnishing inside. Outside the lovely gardens made for the perfect spot for a sailcloth tented reception. From the very start of this day the joy and anticipation radiated. South Carolina wedding photographer SOULSHINE PHOTOGRAPHY was alongside the couple to capture all the celebrations.
The bride shares with us, "I owe Harriett-Graham Kramer with SPRAGUE EVENTS a lot of credit for the details of our wedding. We talked about the colours I wanted to incorporate and she immediately went to work on a mood board and created the most beautiful set up I could have ever imagined! I loved how she incorporated the colour yellow into the table cloths because i felt as if it was very unique and something I had not seen a ton of people use." Love was felt throughout the entire day, wrapping up around each person in one big hug. Beatrice's grandmother was able to come and celebrate with the couple and she literally danced the night away!
WHY DID YOU CHOOSE THIS LOCATION? Being from Edgefield, SC there are not a ton of venues that are close by. I knew I wanted a location that allowed for a tented reception and I loved that this location held so much natural beauty. There was not a lot that we had to add to the property on the day of the wedding due to the beautiful landscaping of Abney Hall. As soon as we stepped onto the property for the first time, I knew that this was the perfect location for our wedding! We both immediately fell in love and still do every time we look back on our beautiful photos.
HOW DID YOU MEET? Noah and I met through mutual friends while I was living in Holden Beach, NC. Noah came down to visit for the weekend and we immediately hit it off. The rest is history.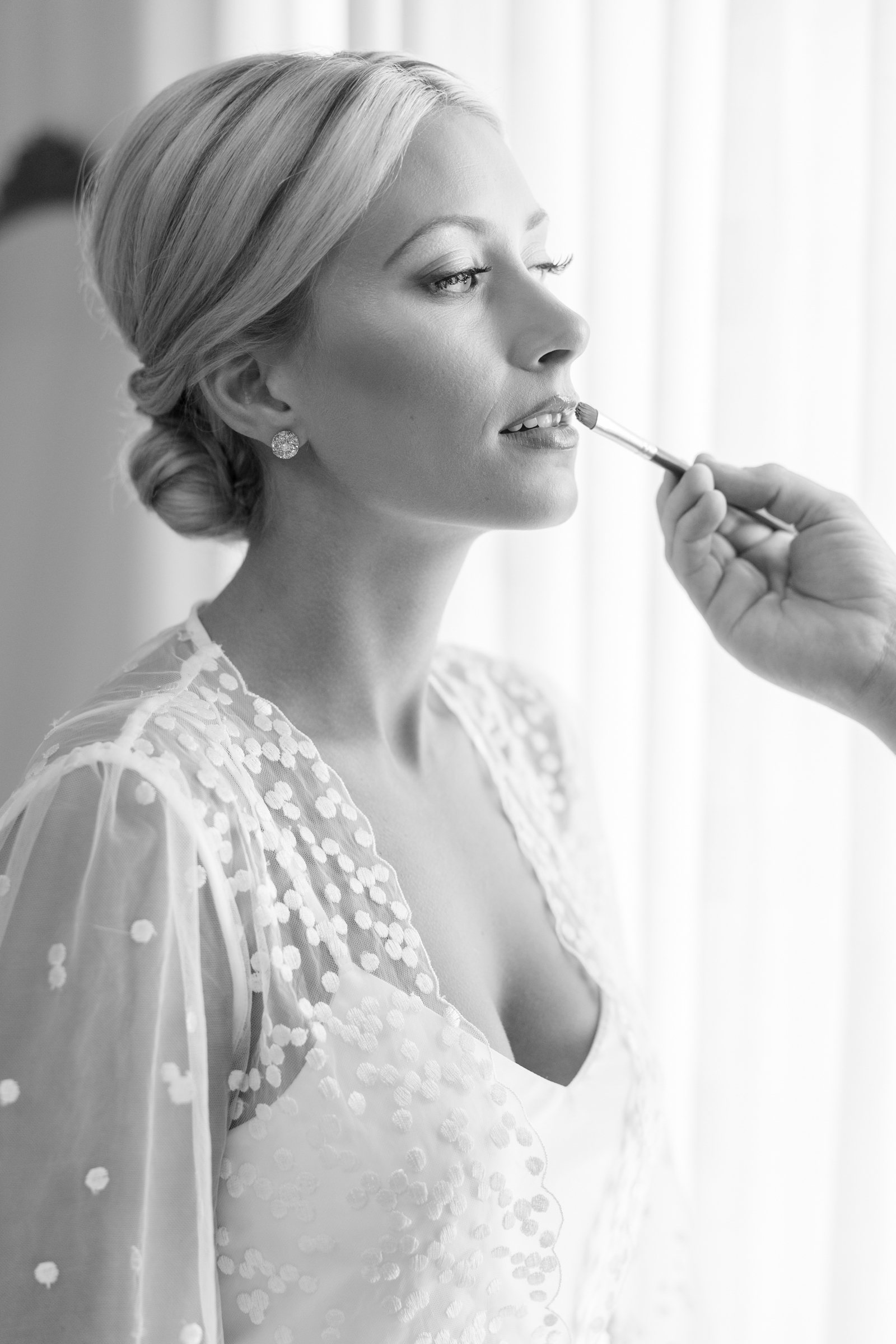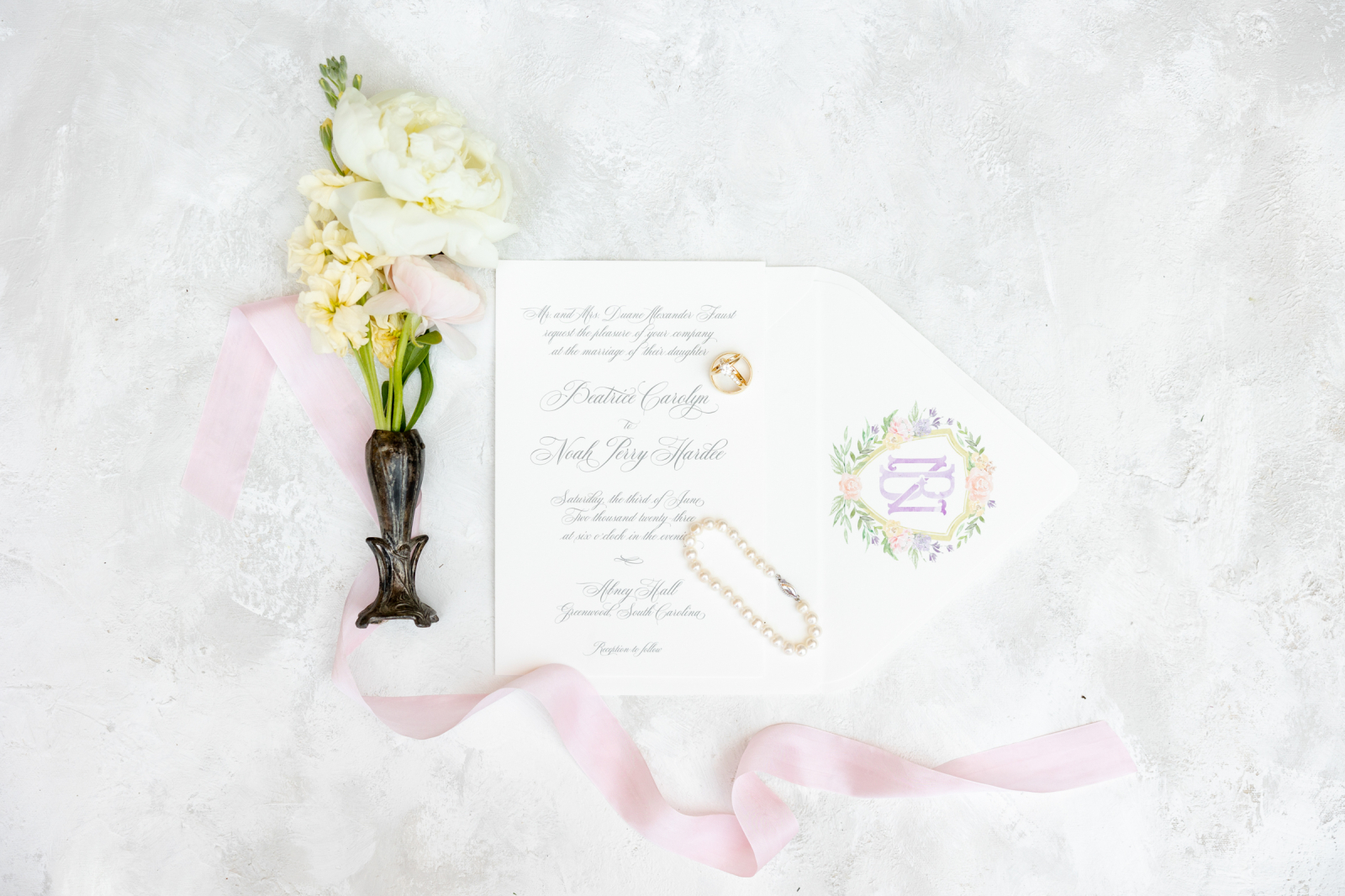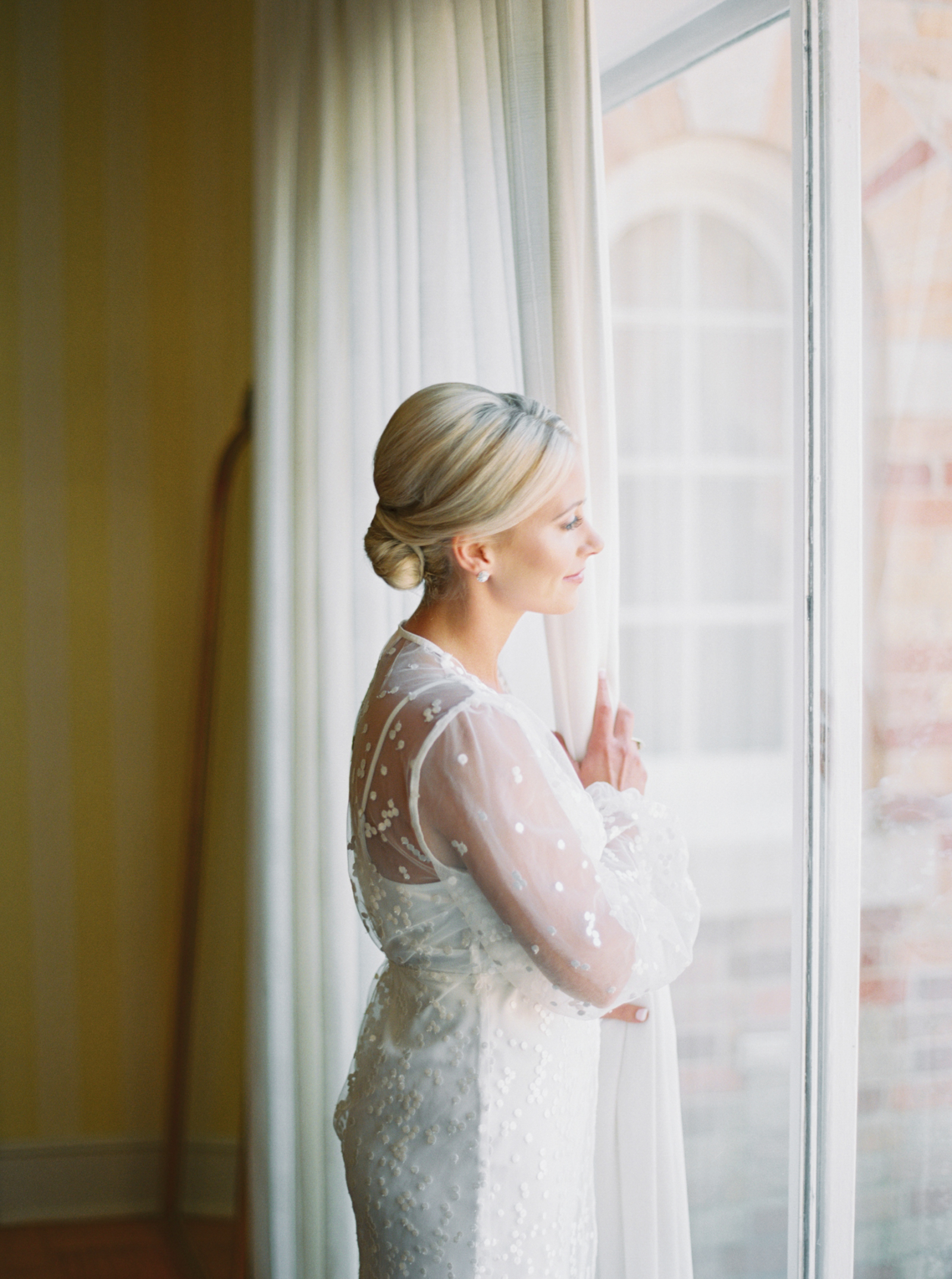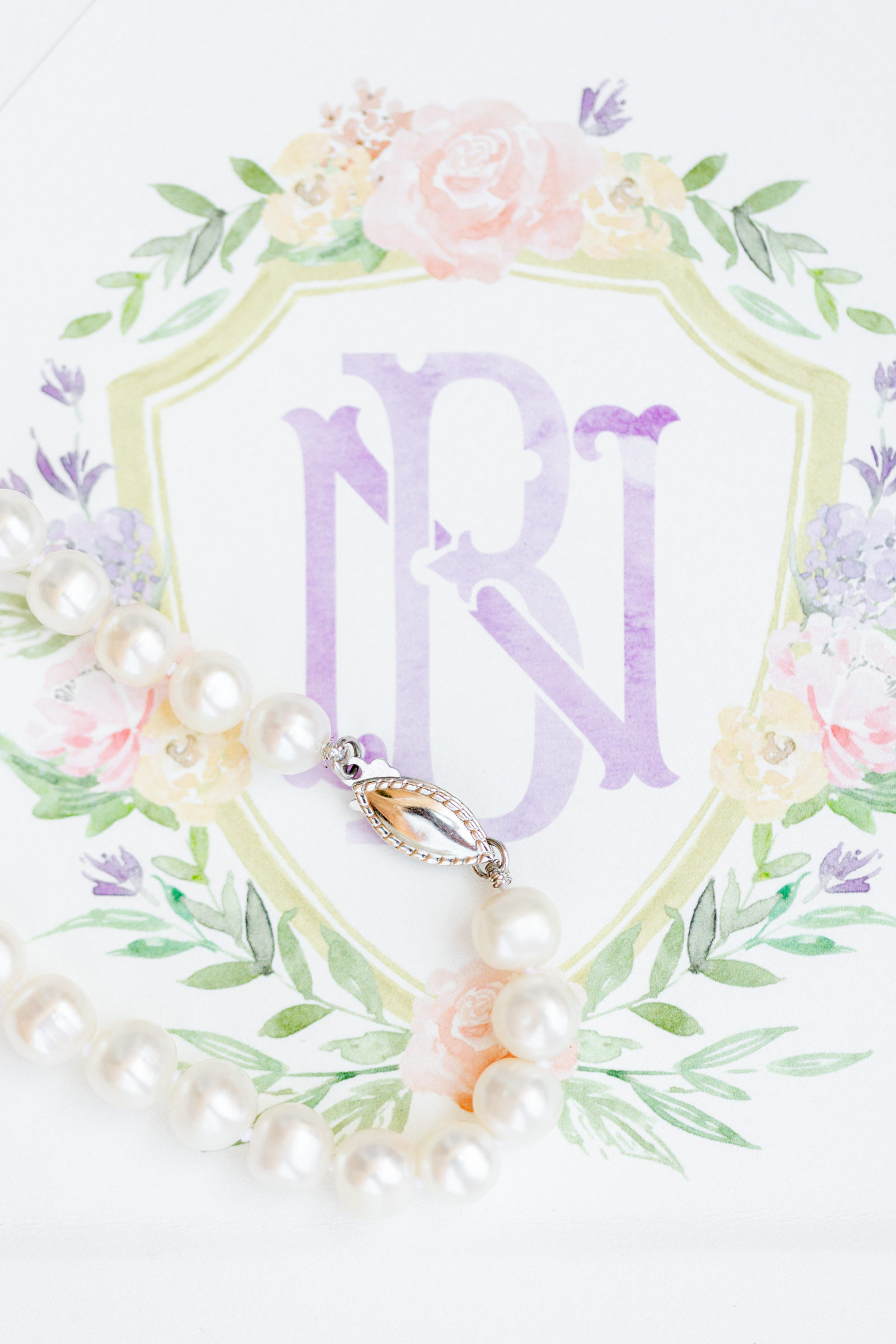 TELL US ABOUT YOUR WEDDING ATTIRE: I found my wedding dress at a beautiful store in Wilmington, NC - Camille's. It was the only store I visited and I only tried on approximately 15 dresses before making my final decision. I knew as soon as I put it on, it was the dress for me.
I wanted to chose a dress for my bridesmaids that I felt was flattering for each of their body types. I found their dresses through Bella Bridesmaids of Greenville, Sc and could not have loved them more! They all looked so beautiful! Noah, and the groomsmen, got their suits from Camille's of Wilmington. I loved the combination of pale pink and navy blue together.
TELL US ABOUT YOUR WEDDING FLOWERS? My wedding bouquet was made of beautiful peonies and minimal greenery. It was simple and classic. My bridesmaids bouquets and table arrangements incorporated a variety of colours that helped to tie everything together, including pale pinks, purples, and yellows. Greg Foster brought all of our floral dreams to life!
FAVOURITE DETAILS OF THE DAY: My favourite detail of the day were the pops of yellow in the table clothes for the cocktail tables. I felt as if it brought the entire reception space to life and added diversity.
WHAT ADVICE WOULD YOU GIVE OUT TO A COUPLE PLANNING THEIR WEDDING: Book a wedding planner! They truly help to take so much stress out of the planning process and bring your dreams to life. Having Harriett-Graham with me through every step in the process made the entire year leading up to our wedding so enjoyable.
MOST MEMORABLE MOMENT: Oh goodness I don't know how I can choose just one! I would say that the first one that comes to mind was seeing Noah for the first time. Being able to see him and finally spend the day with him was such a calm and relaxing feeling. It washed away all of the jitters and nerves that I was feeling.
WHAT ASPECT WAS THE MOST IMPORTANT TO YOU: Our DJ! We knew that our DJ would set the tone for our whole reception and it was important to us that we were able to have a great time with our friends and family. We were extremely lucky to have DJ Gaspar DJ our wedding! He was so fun and upbeat and brought incredible energy to our special day! We were able to dance and sing at the top of our lungs while being surrounded by all of our favourite people. It was an absolute blast, with many thanks to him!
TELL US ABOUT YOUR HONEYMOON? We spent seven days in Jamaica. We stayed at a Sandals Resort in Ocho Rios and spent most of those days on the beautiful white sand beaches with clear water. We ate more than we should have and just enjoyed each others company. It was just as perfect as our wedding day!
IS THERE ANYTHING YOU WOULD CHANGE OR DO DIFFERENTLY? There isn't anything i would change about our wedding. It was truly more perfect than i could've ever imagined. Im so grateful for our wonderful team of vendors that helped bring everything to life. I will forever cherish the beautiful photos that were captured by Soulshine Photography. They warm my heart every time i look at them and bring the biggest smile to my face.
A big thank you to South Carolina wedding photographer SOULSHINE PHOTOGRAPHY for sharing this beautiful wedding with us. Working alongside her husband James, she is a hybrid photographer, mother, wife, daughter and friend based out of the Carolina's. "Photographing and filming weddings has become a passion for me as I am truly blessed to serve so many couples and families. Art in any form has deeply moved my soul, but I was unsure of what medium to express my personal art through.
My couples feel at ease in front of my camera and truly get to enjoy their wedding day. Our style is soft, true to colour, emotive imagery. We desire to go above the status quo in each of our relationships with our couples, and therefore we take a limited number of weddings in order to serve well." You can see more of their portfolio here.