We love it when we get swept up in the emotion of wedding photos - when you look at the images and can really feel the love and excitement that was present on the day, and that's exactly how we feel when we see these photos from Erin & Kristian's wedding by MELBOURNE WEDDING PHOTOGRAPHER BROWN PAPER PARCEL. Held at MINDARIBBA HOUSE in the Hunter Valley during winter, it had a relaxed vibe with the couple incorporating a few bohemian touches but otherwise let the beauty of the venue shine. Read on for more about their magical day.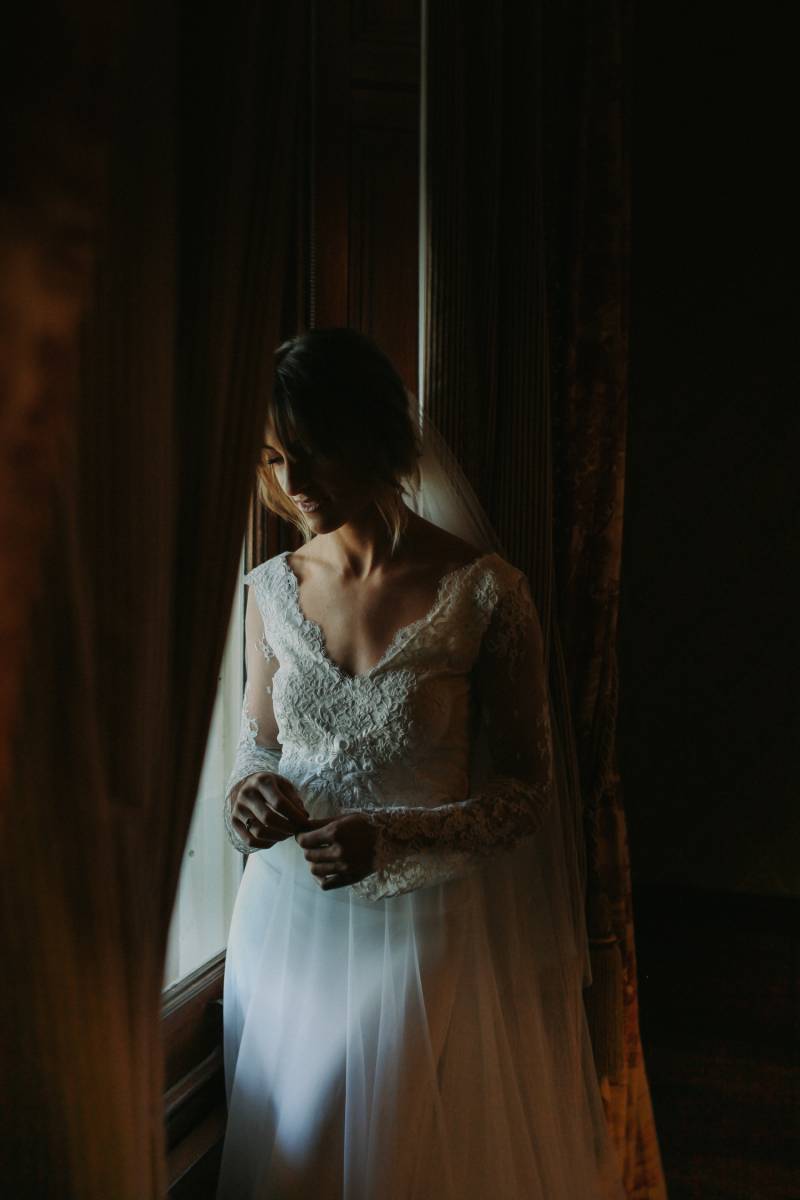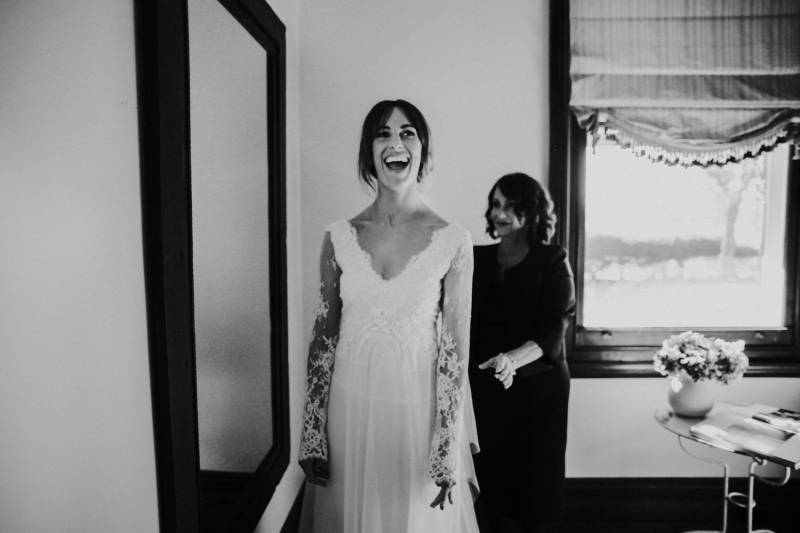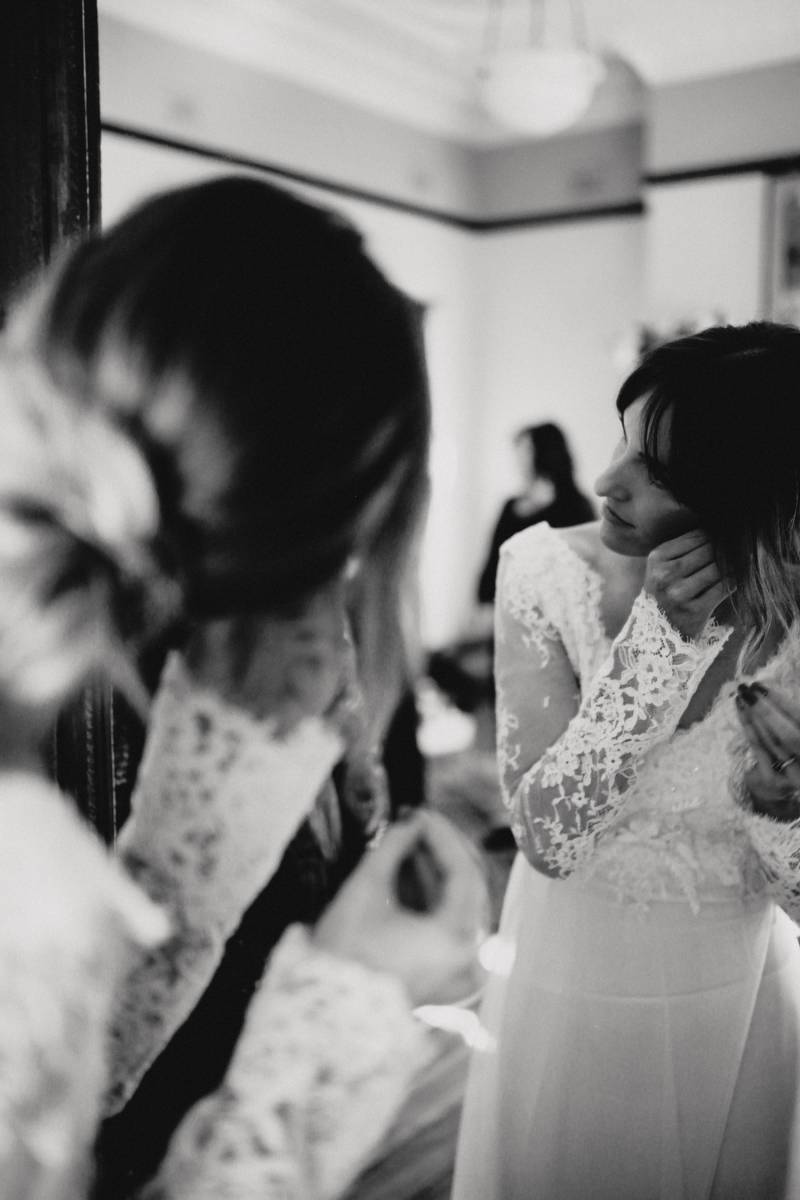 HOW DID YOU MEET? Both of us worked at a local supermarket through high school. We both worked there for a few years, but didn't actually meet until about 3 years after and started dating just as I had finished high school. I was 18 and Kristian was 20.
TELL US ABOUT YOUR PROPOSAL: We got engaged in February 2015, my birthday. After 8 years together, and having discussed marriage a bit and our future plans, it was hard to make the proposal a surprise for me. He did well though! Kristian threw me off the scent by telling me he wanted to propose that year but he mentioned that he wanted to do it later in the year. On my birthday, he decided to take the day off work and have a picnic with me. We ended up driving around for ages trying to find somewhere, and I didn't realise that Kristian was freaking out that his plans were going to be ruined because each beach we went to was really windy. We eventually found a nice secluded spot near the Boat House at Palm Beach, with no wind, no people on a perfect sunny day. As soon as we set up our picnic I stood up to take a photo, and when I turned around Kristian was on his knee. I burst into tears and couldn't believe it was happening, it was perfect. We popped a bottle of champagne, which Kris had brought along secretly, turned off our phones and just soaked up the time together for a few hours.
TELL US ABOUT FINDING YOUR WEDDING DRESS: The biggest DIY project I undertook was my dress. I made it from start to finish, with the help of a beautiful friend who is a designer and dressmaker. Being a fashion designer myself, a lot of people asked if I planned on making it, and originally I said no, knowing how big of a task it was. However, I went and tried on dresses twice and just didn't love any, some had elements I liked, but nothing felt "me". So I decided to design and make it. It took a long time getting the drape and fit right, but I kept the overall design simple and let the fabrics speak for themselves. The most time consuming part was arranging the lace and then hand sewing it to the bodice, which ended up taking about 48 hours total. One of the laces I used is the same one that Inbal Dror uses in a lot of her dresses, and she was a big source of inspiration for the low back design of my dress. I had the hem finished and the back zipper put in professionally, which I had done at La Couturier Alterations in Sydney. This was the best decision I made, as it took a big stress away from my dress and Tsu was lovely and helpful. I finished the dress Thursday night, with the wedding being that coming Saturday. True to form for a designer! It was a big task, one with many highs and lows and fears of not finishing in time, but I felt so proud wearing my dress on the day and it was worth all the stress. I loved the overall experience in hindsight and would love to one day have my own bridal label.
ANY DIY ELEMENTS? We only undertook a few DIY projects, my dress being the biggest. We decided to leave some things up to the pros! The biggest DIY projects were our wedding favours, just assembling the boxes and printing the labels. I love doing calligraphy so all the place cards and the (minimal) signs used on the day were done by me. We also bought a wedding invite design off Etsy and then got them printed ourselves. I hand wrote all the names and addresses for our invitations in white pen on brown envelopes, which took ages, but they looked so good.
DESCRIBE YOUR WEDDING FLOWERS: I let my florist design our bouquets, I just wanted nice organic "loose" posies for my sister and I. The colours I opted for were white and deep red florals with greenery, nice and wintery. The bouquets were beautiful, not only did the red roses smell amazing, the most interesting element was the real cotton plant incorporated through our bouquets. Merrin Grace did an amazing job with everything, designing gorgeous table flowers and two arrangements for the beams in the reception room, and the wedding aisle and wedding arch florals were classic and beautiful.
FAVOURITE DETAIL OF THE DAY: I loved so many details from the wedding, but the favours we came up with were perfect. I came up with the idea months before and I'm so glad we did them in the end. We ordered chocolate freckles online, which were heart shaped and Cadbury. We boxed them up in brown boxes with black and white twine and had little tags made to attach. They read: Freccles, love Mr & Mrs Eccles. It was a nice twist on our new last name and they were a delicious hit with everyone. Coming in a close second would be our wedding cake, which my friend made for us. The middle tier was covered in edible gold sequins!
WHAT ADVICE WOULD YOU GIVE OUT TO A COUPLE PLANNING THEIR WEDDING? Both of us think that utilizing the time you have is so important. Don't leave booking vendors to the last minute. When people offer to help, take it, but remember to stay true to what you and your partner want. The wedding day should be a reflection of the both of you! Finally, try to enjoy the planning process. While it's inevitable that some things are a bit stressful, remember that not every single thing is going to go as perfectly as you imagine. Let things happen, and don't stress about the small things. This time of your life is so much fun, so make the most of your wedding planning, and most importantly, the big day!
MOST MEMORABLE MOMENT? Both of us will never forget the moment of walking down the aisle. I didn't break eye contact with Kristian the whole time, and we both had the biggest grins on our faces. It was the first time Kristian was seeing the dress that I had slaved over for months and he was absolutely stunned. It's a truly surreal and magical moment.
ANY OTHER DETAILS THAT HELP TELL THE STORY OF YOUR DAY? Kristian mixed up my names when it came to the 'repeat after me' part of our ceremony. He was trying so hard to concentrate and announced me as Mary Erin Elise, which everyone found hilarious. So, when it came my turn to repeat after our celebrant, I announced him as Anthony Kristian, which also got a good laugh and round of applause. I loved that part of the ceremony, as it made the whole thing feel a bit more real and relaxed, and was totally "us".
IS THERE ANYTHING YOU WOULD CHANGE OR DO DIFFERENTLY: The wedding day for us went perfectly, we wouldn't change a thing!