Natalie and Mark visited Jackson Hole, fell immediately in love with the natural beauty and vibe of the area, and knew it was the only place for them to tie the knot. They wanted to make their wedding the trip of a lifetime for their guests, and they certainly succeeded. On the day of their wedding, the couple shared an emotional and beautiful first look, and then stole away to Grand Teton National Park for their beautiful couples portraits by Charleston Wedding Photographer BLAIR WORTHINGTON.
Blair shares with us, "We made our way back to Teton Village where we took the gondola up to the top of the mountain for their breathtaking wedding venue. During the ceremony, we were covered in the clouds, and afterwards, the clouds parted and we were able to take in the magic of Teton Valley below us. Their reception was joyful and emotional, as Natalie's sister had gotten pregnant in the months leading up to their wedding, wasn't able to travel for their wedding day, and so gave her Matron of Honour speech in a pre-recorded video. Natalie & Mark actually had a small ceremony in their hometown of Pittsburgh to include her, and were secretly already married--something they announced to their guests, much to everyone's surprise and excitement. It was one of the most perfect weddings I've ever seen!"
WHAT WAS THE INSPIRATION BEHIND YOUR WEDDING STYLE? We really wanted a formal and timeless wedding which was the inspiration for a lot of our decisions.
WHY DID YOU CHOOSE THIS LOCATION? We knew we wanted a destination wedding. We have so much love for Jackson Hole and we wanted to share that with our family and friends. Rendezvous Lodge is at 10,000 feet giving the venue incredible views. It is only accessible by a gondola ride which provided a unique and unforgettable experience for us and our guests.
HOW DID YOU MEET? We were introduced by a mutual friend at a local rooftop bar. The night we met we found out that I lived across the street from Mark for two years and neither of us knew it. We quickly became friends and started dating about a year and a half later.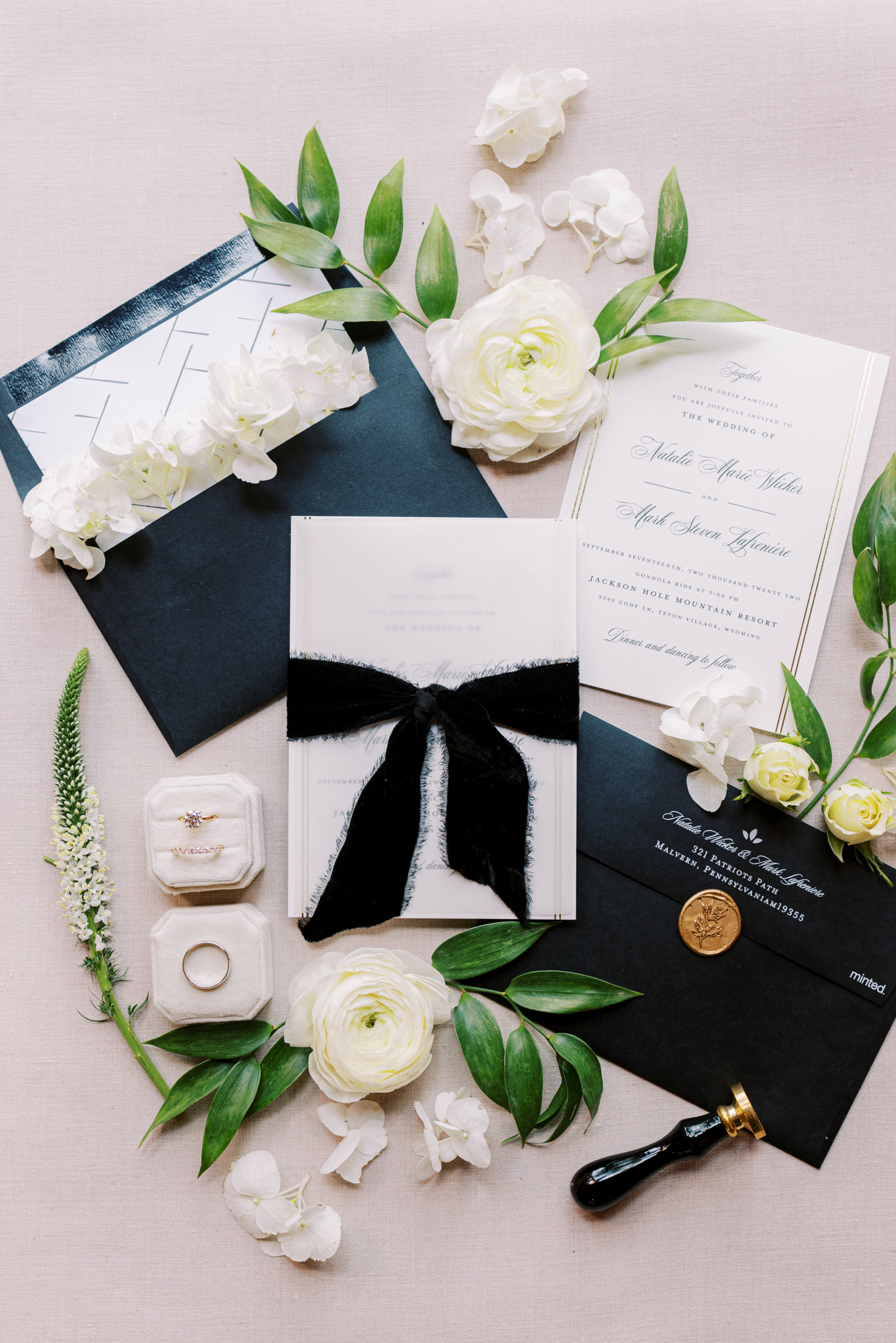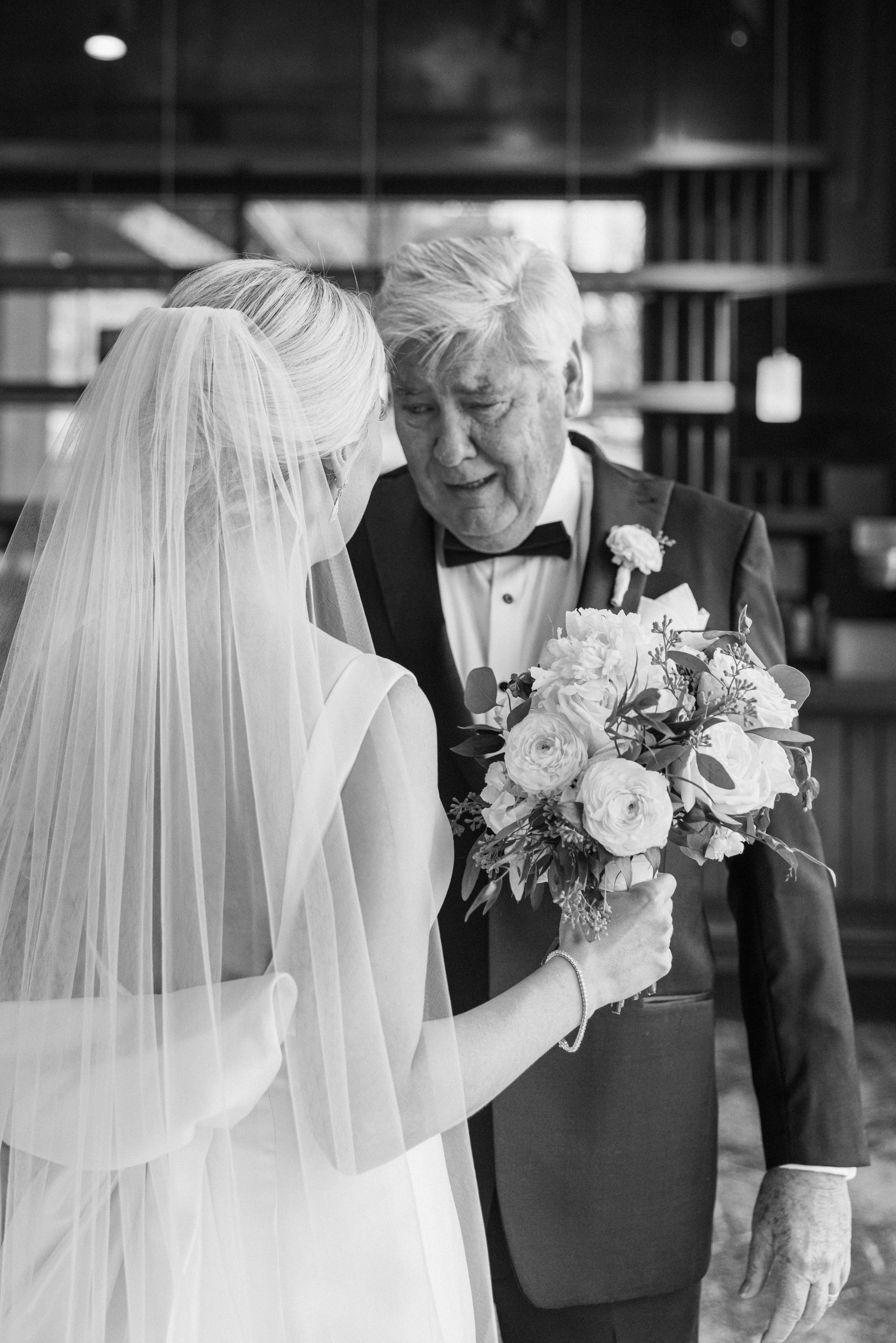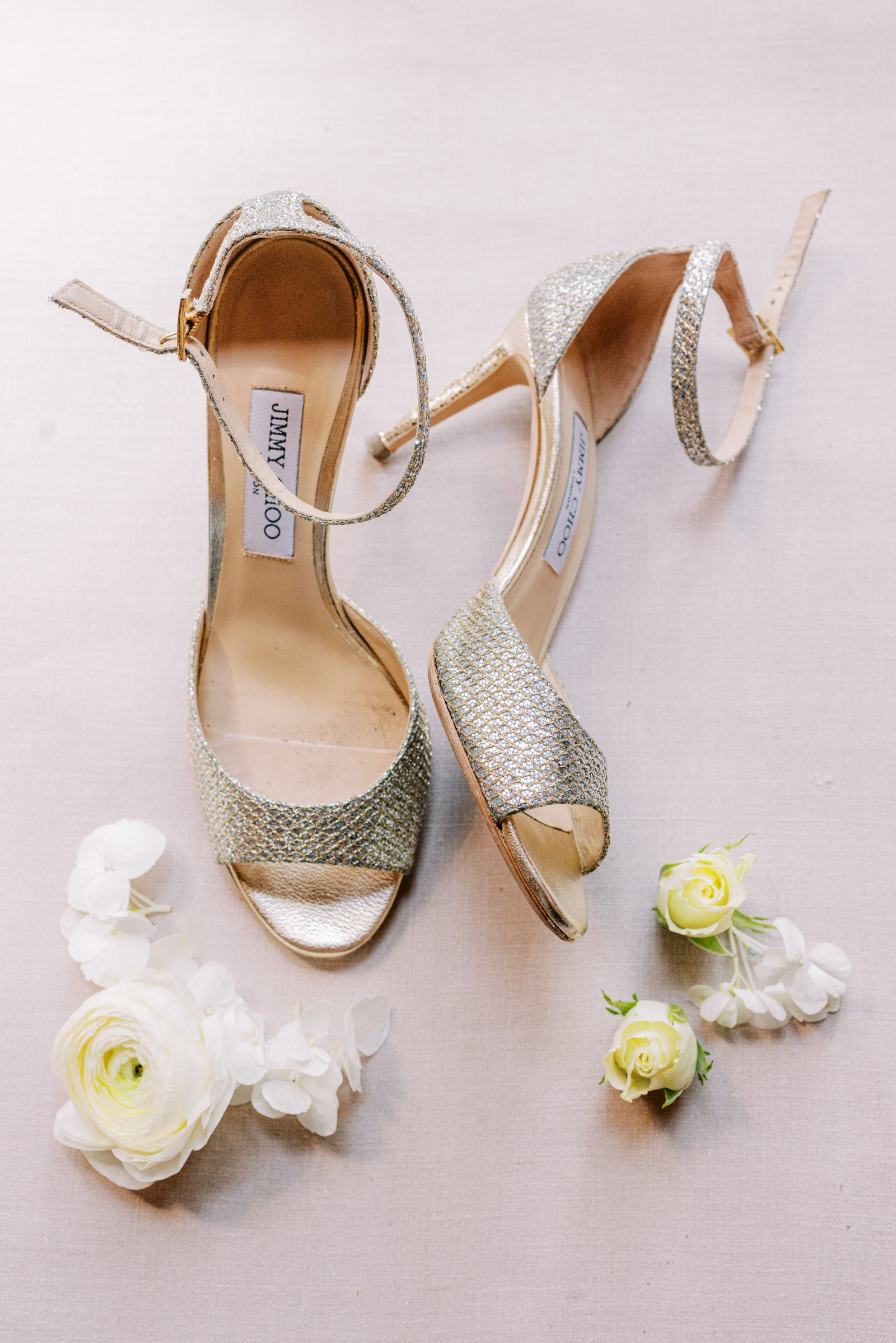 TELL US ABOUT YOUR PROPOSAL: After being in lockdown due to Covid we planned a two week trip to the West and Pacific Northwest. Our first stop was Jackson Hole and visiting Grand Teton National Park. I was very ambitious and wanted to do a hike that was famous for incredible views but also known to be very challenging. Unknowingly to me, Mark was thinking this would be the perfect time to propose.
We started our second day of the trip super early for the Delta Lake hike. What we didn't account for was the elevation difference from Grand Teton National park and where we live, right outside of Philadelphia, PA. After four hours and many doubts from Mark that I would make it, he proposed when we got to Delta Lake for the most incredible backdrop I could have ever imagined.
TELL US ABOUT FINDING YOUR WEDDING DRESS/ATTIRE: I began looking at dresses more than 11 months before our wedding. My first stop was Van Cleve in Paola, PA. I tried on a bunch of dresses and as we were getting ready to leave, my sister pulled a dress and said what about this one? I tried it on and everyone absolutely loved it, including me. However, it was way more than I was originally planning to spend.
I left that very first day not committing to any dress and visited 10 additional bridal shops in the following 3 months. Since I couldn't get the original dress out of my head from Van Cleve, I went back and chose the SAEH NOURI dress that we all loved.
Mark and his brother spent an afternoon with their dad choosing all the details for their custom tuxedos from Hive and Colony.
DID YOU HAVE ANY DIY ELEMENTS? We aren't the best DIY-ers so we left it to the professionals except for our welcome bags for our guests.
DESCRIBE YOUR WEDDING FLOWERS: Our wedding flowers came from Idaho! We used a vendor that our wedding planner recommended who was from Boise. I really loved neutrals with a little greenery so I wanted all of our flowers that day to reflect that and the florist definitely delivered our exact vision.
FAVOURITE DETAIL OF THE DAY: So many, it is hard to choose! The custom shot ski we had was definitely a favourite and created a lot of memories. It was also used as a limbo pole at one point on the dance floor.
WHAT ADVICE WOULD YOU GIVE OUT TO A COUPLE PLANNING THEIR WEDDING? A little cliche, but don't worry too much, it will all come together. Guests also don't know what plan A or B was if things go awry, so try not to compare anything to "oh, well it should have been this."
MOST MEMORABLE MOMENT? Definitely exchanging our vows. We chose early on to write our own vows and as emotional as it got, we are so happy we did.
WHAT ASPECT OF THE WEDDING WAS THE MOST IMPORTANT TO YOU BOTH? Almost everyone traveled from the greater Philadelphia area to celebrate us, so it was important to us that our guests were having fun and enjoying their time in Wyoming.
ANY OTHER DETAILS THAT HELP TELL THE STORY OF YOUR DAY? We had quite the day of weather for our wedding. It rained, snowed, sleeted and was sunny. The day started off with no visibility, so much so you couldn't see the Tetons and our venue was hidden by clouds. We had planned for pictures in the park and an outdoor ceremony and cocktail hour.
We committed to driving 45 minutes to the park and were so fortunate that the clouds parted and the Tetons came out giving us the incredible backdrop we dreamed of. On the way back to the venue the temperatures dropped, the clouds returned and it started to rain/snow. They had to move our ceremony inside and the view was a total whiteout. When it was time for the ceremony to start it stopped raining and the clouds parted again. Mark and I chose to open the sliding doors and stand outside while everyone was inside to give us the ceremony views we wished for.
TELL US A LITTLE ABOUT YOUR HONEYMOON: We left right from Jackson Hole to our honeymoon. Our first stop was Paris! Followed by St. Tropez, Positano, and Rome. We wrapped up our honeymoon with a shaky bike ride around the Colosseum.
A huge thank you to Charleston Wedding Photographer BLAIR WORTHINGTON for sharing this beautiful Jackson Hole wedding with us. Blair's lifelong pursuit of creativity ignited a passion for wedding photography in 2016. Her work explores blending fine art and time capsule together, and seeks to preserve every detail and emotion possible for each couple so that no matter how much time has passed, their day will live on for their own memories and as an heirloom for future generations. She is based in Charleston, SC, after living and working for many years in beautiful Jackson Hole. She serves Charleston, the Lowcountry, and Jackson Hole. When she's not behind the camera, she's probably on the beach with her husband and two young kids. See more of her portfolio here.