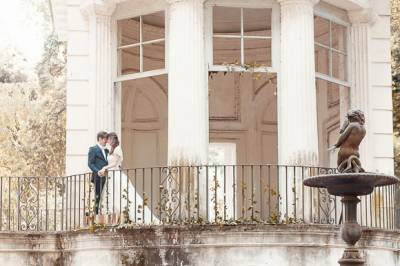 Let's travel back in time for a moment. Shot in an abandoned XVIII century coffee house in Rome, this decadent and romantic wedding editorial captured by IN LOVE IN ITALY has an old world, almost decadent feeling to it. With a colour palette of ivory, gold, olive-green, blush and purple it features a book clutch in place of a bouquet as a bit of a statement piece. THE WEDDING CARE designed this to speak to the bride who has an eye for unique beauty, who indulges in a nostalgic old-world taste, and covets antique books and heirloom finds. Read on for their story of the day.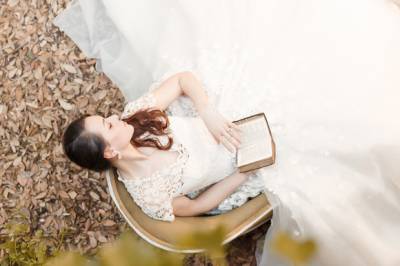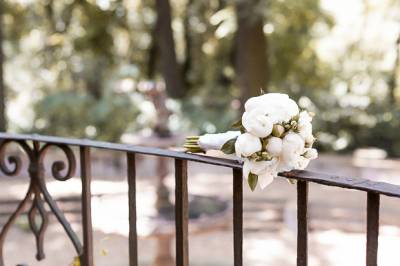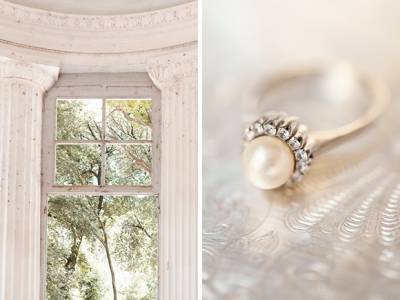 "The bride, in a stunning Peter Langner lace and organza gown, and pearls and crystals headpiece by Alessandra Avallone, graciously plays with orchid blooms floating in the arch of the balcony, while the groom, in a perfectly classic blue suit with a white bow-tie, waits for her pensively reading a small XVII century book. They finally meet, and dwell along the candle-lit galleries underneath the temple, then climb up to the old coffee house, and kiss, enjoying the autumn breeze, leaning over the balcony, where ivy and antique books gently intertwine.
A beautiful white velvet book-clutch, embellished with a golden embroidery and an oversized tassel, by the Latvian designer "From Bee. With love", is a daring alternative to the classic flower bouquet. Peonies and ivy, delicately arranged by Dordas Flowers in silver heirloom vessels, adorn the dining and desserts table, where a chic three tiered cake, topped by an ivory sugar peony is surrounded by indulgent white and blush meringues, cake-pops and macarons, by the skilled cake-designers at Fonderia.
A cameo and a beautifully handwritten placecard by the talented Schin Loong at Openinkstand Calligraphy, elegantly embellish the dining table, covered in a hand embroidered linen tablecloth, and set up with silver plates and flatware. A beautiful olive-green velvet armchair, restored by Officine Adda, embraces the newlyweds as they enjoy their first dinner as husband and wife.
And when the last meringue has been eaten and the sun goes down behind the oaks and pines embracing the Flora temple, the special photo shoot day signed by The Wedding Care and captured by In Love In Italy Photography might have ended, but the fairy tale of a life together has just begun."