An English cottage style wedding in Charleston? Sounds utterly dreamy right? Despite having their original plans railroaded by Covid, Mariana & Walker managed to pull off their dream wedding. Blake of GREGORY BLAKE SAMS EVENTS created a stunning set up for their garden reception - held at Mariana's childhood home - that involved one long table filled to the brim with silver vessels filled with honeysuckle, green blueberries and ferns. Charleston wedding photographer HANNAH ALYSSA captured their truly stunning day.

Following their noon wedding ceremony, the day time party continued with jazzy brunch music played from the porch with their custom cocktail being served; a vodka basil lemonade with crushed ice, served in their engraved mint julep cups. The bride tells us, "I like day time parties, I find it refreshing and exciting, also I find the light is so much prettier. So we had fun daytime decor, these great green and white fringed umbrellas instead of a tent! We had to pivot, due to COVID, but were able to celebrate with Family under the umbrellas at noon!"
WHY DID YOU CHOOSE THIS LOCATION? The house has been in our family since the 50s, my mom grew up in it and so did I. It's been the backdrop of so many special occasions and memories. It's the perfect house for entertaining, the first floor is open and more formal, so we've had lots of parties over the years. Christmas parade parties, birthday parties, Easter egg hunts, our UPS man's wedding, countless engagement parties, it's full of so much love. It was really the only place I've ever imagined celebrating a wedding, if I were ever so lucky.
HOW DID YOU MEET? Through a mutual friend, she brought him to our parade party! We met on the steps of our porch, where he proposed the next year!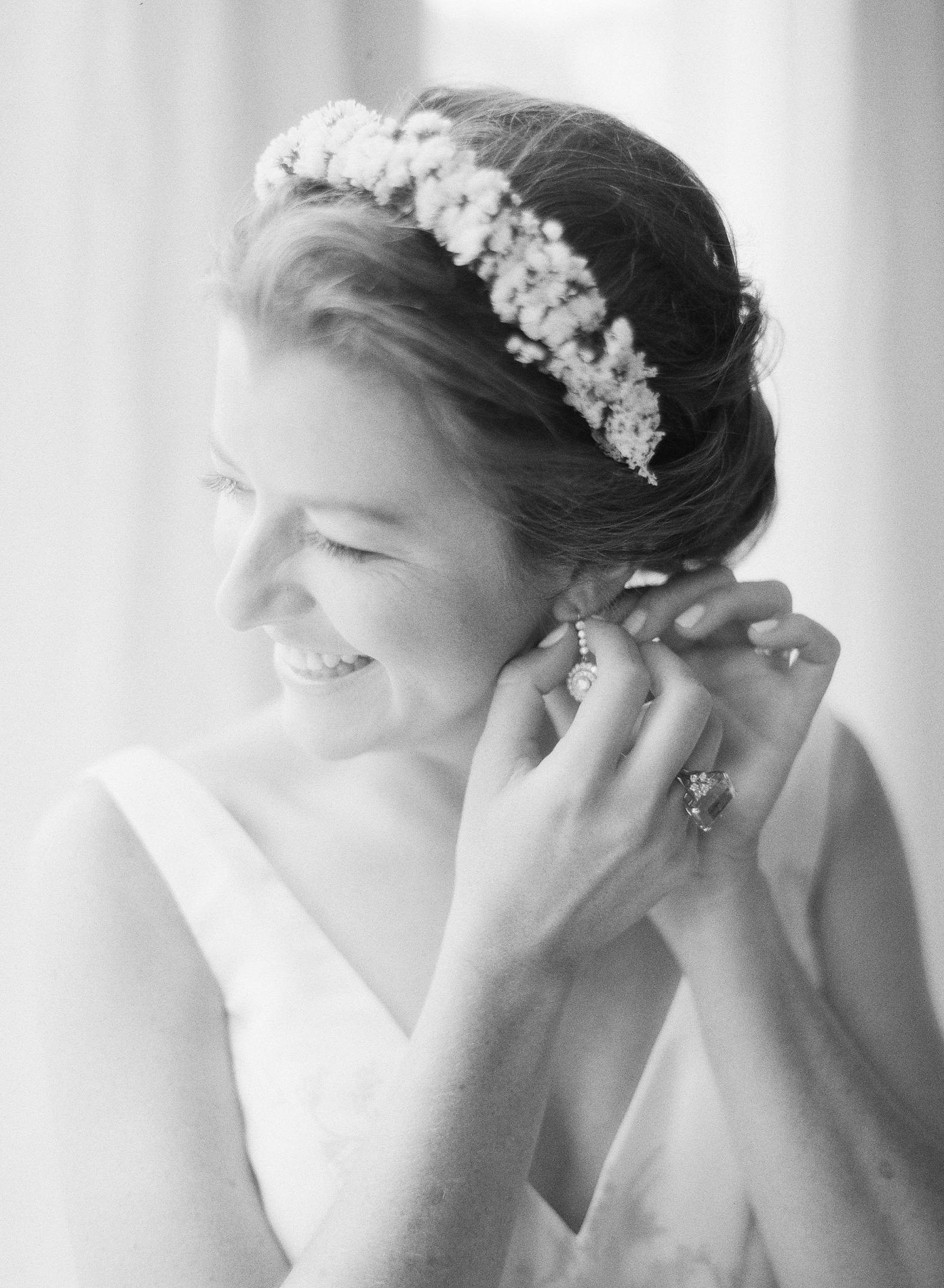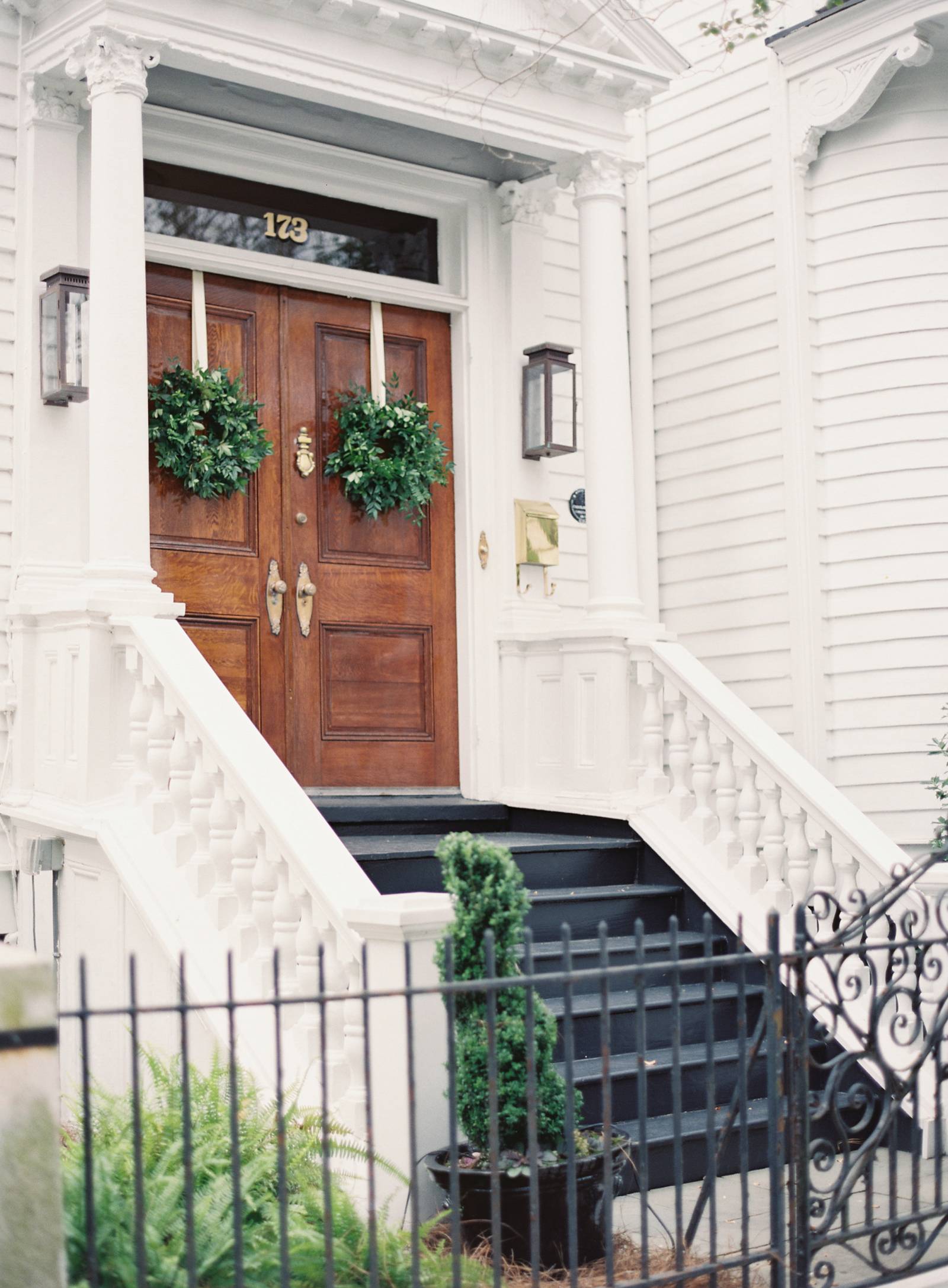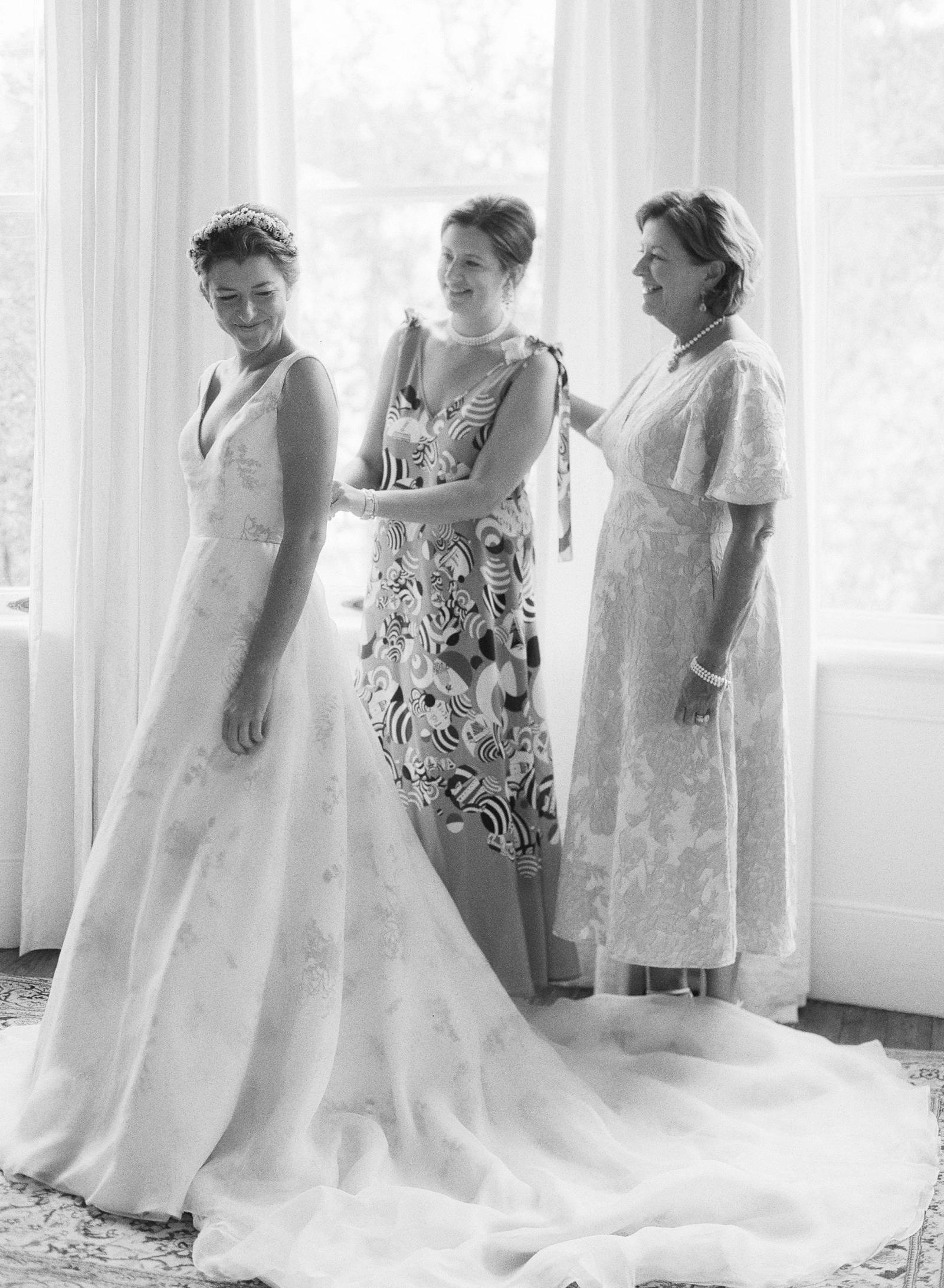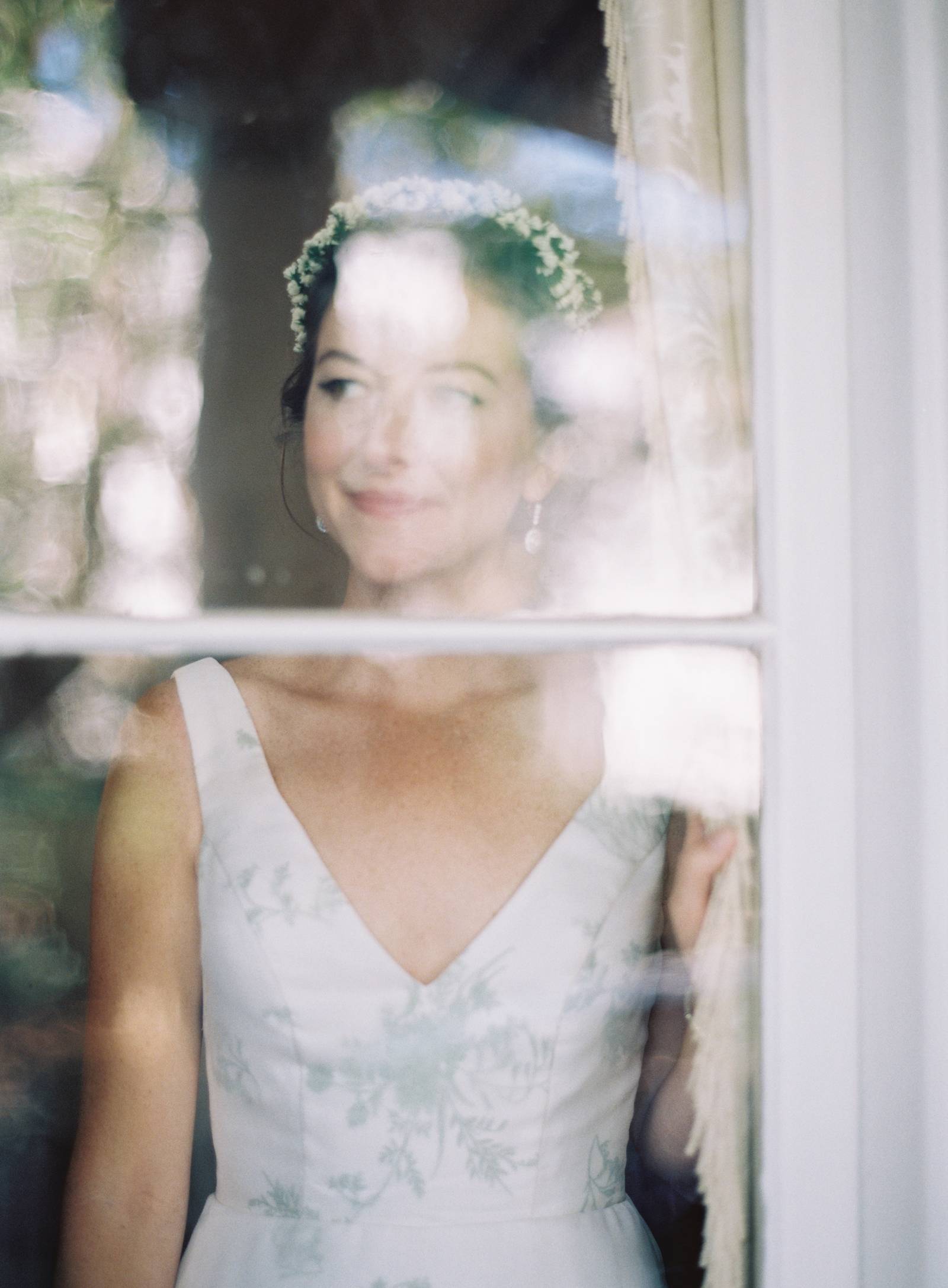 TELL US ABOUT YOUR PROPOSAL: We were supposed to be going to supper with my family because my brother was in town. I had gone fishing with my dad and brother that day and Walker kept reminding me to be ready to go for drinks at 6pm. My family is never on time, so I wasn't very worried and since it was just supper with my family, I knew I could just throw a dress on and be ready. So, I braided my wet hair and put on the first dress I saw, and was miraculously ready on time! Walker picked me up and said we had to make a quick stop before, so we pulled up to Broad Street (my family's house) and got out, he was being really weird and put on his jacket so that's when I kind of knew something was up, we walked over to the porch and he started talking/crying, I don't really remember what happened next, except saying yes! And hearing all this screaming and it was both of our families watching and peeking through all of the windows watching!
TELL US ABOUT FINDING YOUR WEDDING DRESS: I actually couldn't find one! I ended up designing one. Everything I tried either reminded me of a dress someone else wore, or when I tried it on, I didn't feel like myself. So I worked with Jodi at White, she's helped with all of our family wedding and debutante dresses over the years, she's really relaxed and makes you feel at ease. I talked her through my idea and she looked at me like I was crazy, but we worked through it, and I loved the finished product.
DID YOU HAVE ANY DIY ELEMENTS? The florist brought over all of the flowers the day before and my mom, aunt, and the floral team all worked together and did the flowers in random bits of sterling!
DESCRIBE YOUR WEDDING FLOWERS: Lots of greenery and some florals found locally, honeysuckle, green blueberries, ferns. The most giant peonies I've ever seen.
FAVOURITE DETAIL OF THE DAY: Since Covid changed our original plan, it ended up being just our family. I think that was my favourite part of the day. I was not stressed or nervous, it was just a happy day surrounded by all of our loved ones! Our friends sent toasts on our original wedding day, so we felt like they were sort of there, and some others did a drive-by while we having our luncheon, so that was really fun!
WHAT ADVICE WOULD YOU GIVE OUT TO A COUPLE PLANNING THEIR WEDDING? Don't sweat the small stuff, you are lucky enough to find someone you want to spend your life with, the wedding is the cherry on top!
MOST MEMORABLE MOMENT? When we were in the church, before we said our vows, we both just kept smiling! We couldn't believe this day was finally here! Walker's dad, who was the best man, sat across from us and every time I looked over at him, he had such a big smile on his face. I feel like I keep saying it was such a happy day, but it really was, just so happy!
ANY OTHER DETAILS THAT HELP TELL THE STORY OF YOUR DAY? My dad and I rode in an old limo to church, I loved having this time with him alone, before we went in. It was really special to have a few minutes to just sit with him and chat. We have a picture of the two of us looking out the window of the limo, my mom has the same one with her dad, and my grandmother has the same! Then after the wedding Walker and I rode in the limo and took the same picture, my mom has it with my dad, and the same with my grandmother and grandfather. I love this special little tradition.
We also had some wedding crashers! Some of my mom's oldest friends came by in their dresses from their rehearsal dinners with gloves, veils, and masks! It was hilarious! I was so relieved that the day was fun and not so serious. I think people get really bogged down in have the absolute perfect wedding, but in reality when you're surrounded by the people you love, its perfect regardless! So don't stress.
TELL US A LITTLE ABOUT YOUR HONEYMOON We were originally going to go to Mexico, but quick COVID change, we went to The Breakers in Palm Beach!
IS THERE ANYTHING YOU WOULD CHANGE OR DO DIFFERENTLY? Nope! I loved every minute of it!
Charleston wedding photographer HANNAH ALYSSA is a valued member of our VENDOR COLLECTIVE. Hannah takes an editorial approach to her weddings, with attention to detail and a passion for storytelling. "Shooting film requires me to slow down, be fully present and photograph with intention. I am passionate about capturing genuine love stories and inspiring destinations just as beautiful as they are in the moment, and film allows me to do just that." See more of her work in our vendor collective here and be sure to check out this Sailboat engagement shoot on the Charleston coast.