The day started with that perfect cool breeze rolling over the hills of Santa Ynez as the sun broke through the morning fog. You could sense the warmth to come that would bathe the vineyard of SOGNO DEL FIORE WINERY in a golden glow. Stacy and Brian were making preparations in separate bungalows and you could feel ease and calm as they chatted with their family by the pool. Their day was planned to be an intimate dinner party for their closest friends and family with delicious food and wine, and gorgeous details executed by Event of the Season. These gorgeous images by Southern California wedding photographer WHISKERS & WILLOW transport us to a warm California evening.
Photographer Jackie tells us, "Stacy and Brian are an easygoing couple. Whilst Stacy wowed in her effortless dress by SHIN BU BRIDAL, their dog Yomi the pekingese was really the star of the show. Yomi never left Stacy's side the entire day, including in family portraits. Wherever Stacy was, Yomi was right there, with her adorable face peeking out from behind Stacy's dress.
If you're looking for intimate wedding inspiration that incorporates your pup, Stacy and Brian did it right. We just loved the fresh palette of white, grey, with splashes of peach. Floral arrangements by BLOOM FLORAL AND FOLIAGE also felt light and fluffy, which helped set the tone for this easy, breezy day. If she could give advice to brides to be, Stacy says to "Trust your planners and don't stress!"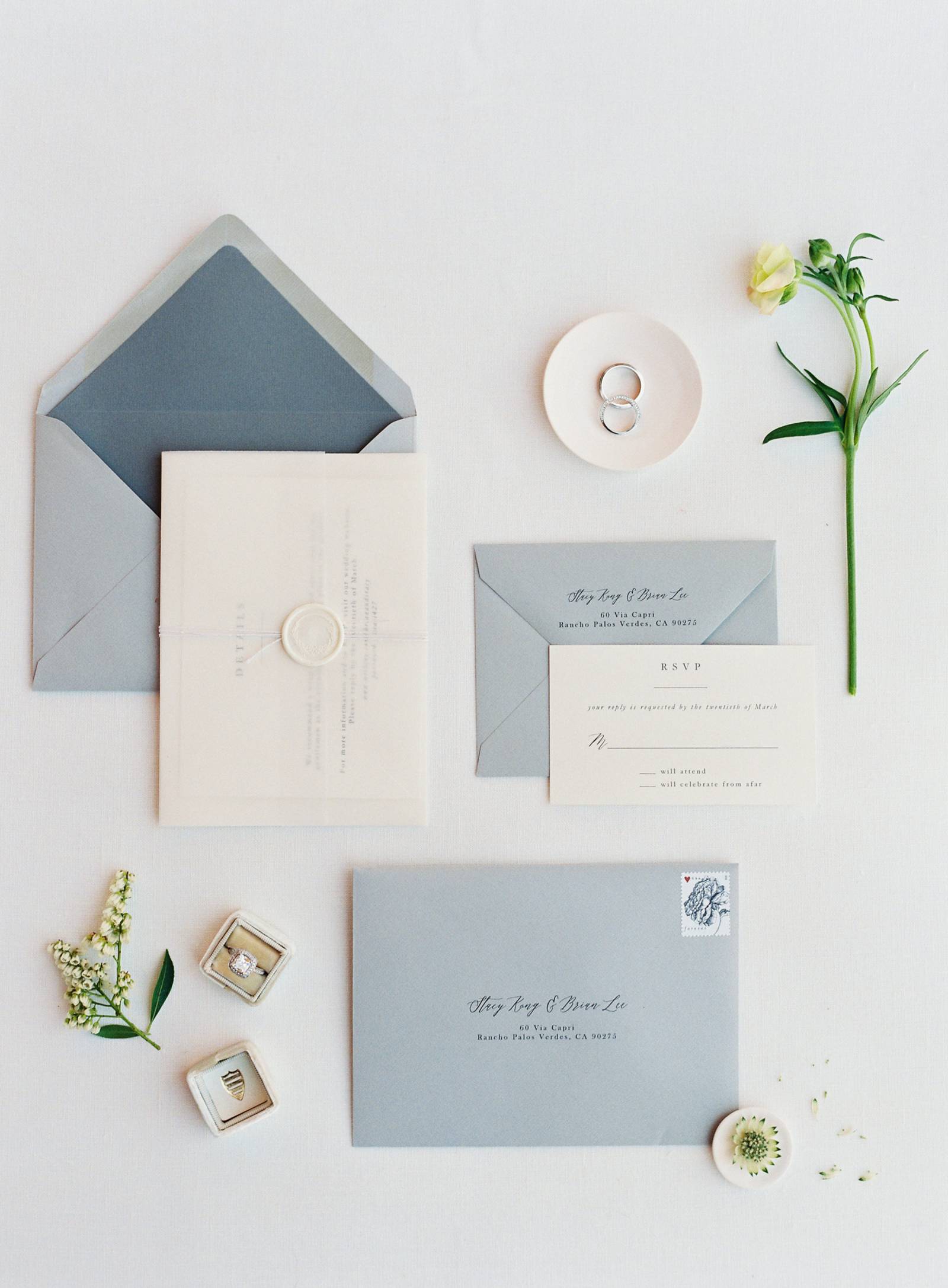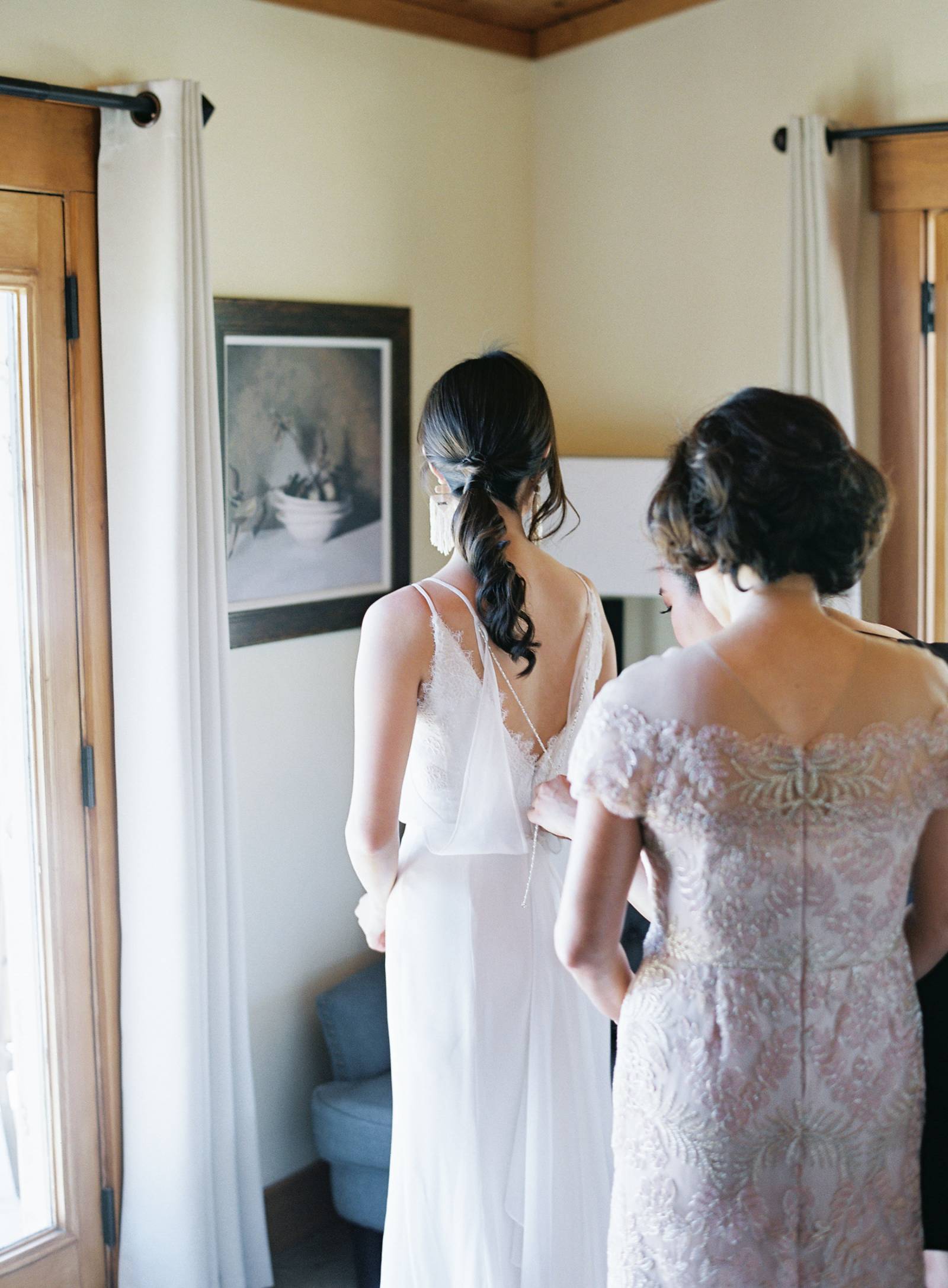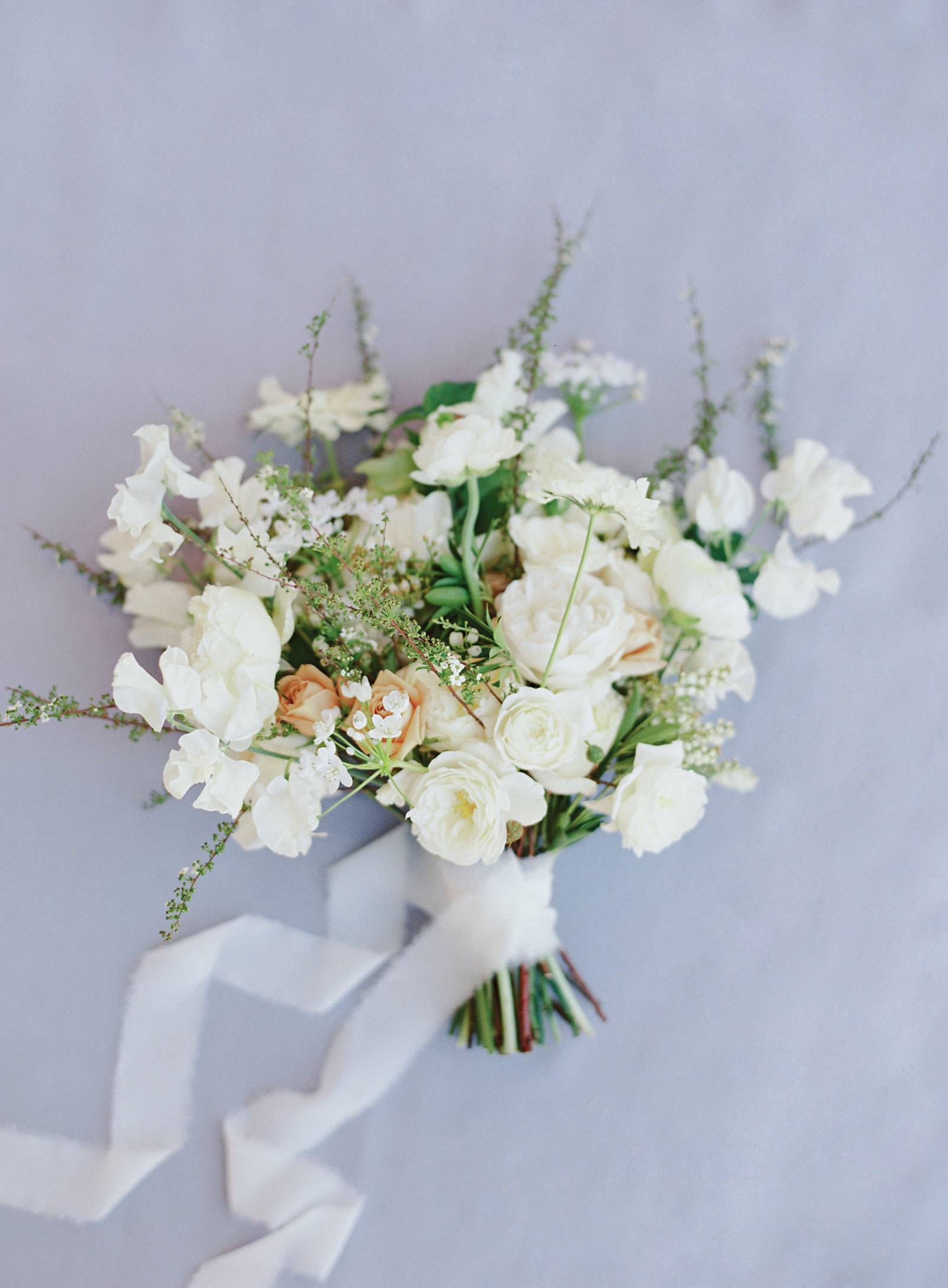 TELL US ABOUT YOUR PROPOSAL: Brian proposed to me in June of 2018. We were headed to New York for his brother's wedding the following day, and he popped the question the evening before in front of some friends so they could capture the moment.
TELL US ABOUT FINDING YOUR WEDDING DRESS: I was inspired by the dress Calvin Klein had designed for Helena Bordon. I was able to customise my own dress with Mr. Seo from ShinBu Bridal. The dress came out perfect and exactly what I had envisioned.
WHAT WAS THE INSPIRATION BEHIND YOUR WEDDING STYLE? Romantic, minimalist and simple.
WHY DID YOU CHOOSE THIS LOCATION? We fell in love with Jerry and Liz as soon as we met them. They truly cared and listened to what our vision was for our wedding. We are both avid wine drinkers, and Jerry recommended the best wine. We immediately became members of his wine club. The estate was small and intimate, just what we both envisioned. The best part: our fur baby would be able to roam freely on the big day.
DID YOU HAVE ANY DIY ELEMENTS? Our welcome boxes for our guests included balsamic vinegar exclusively casked at Sogno del Fiore, some edible treats, sparkling water, and lavender.
WHAT ADVICE WOULD YOU GIVE OUT TO A COUPLE PLANNING THEIR WEDDING? Be sure to have open communication with the planners. The day of will be so busy. You will be in good hands if you trust your planners!
MOST MEMORABLE MOMENT? Father of the groom's speech.
TELL US A LITTLE ABOUT YOUR HONEYMOON: Due to conflicting work schedules, we were only able to do an impromptu trip to Aruba in June. Our "official" honeymoon will be in Europe this fall!