With a style that's clean and elegant, gorgeous bride Allison wanted that to be reflected in her choices when it came to the style of her wedding to Mitchell. Loosely focusing on the New Years Eve date of their nuptials the result was a picture of elegance with some pops of sparkle added in. Southern California wedding photographer AMY GOLDING captured their day in her beautifully authentic style.
HOW DID YOU MEET? We like to call it, from Hinge to Hitched. We met on the dating app, Hinge, and Mitchell says to anyone he meets, that it was love at first sight. His family stands by in that as soon as he saw my picture, he said, "Doesn't she look like she could be my future wife?" We had our first date at a brewery, and immediately hit it off, and the rest is history.
TELL US ABOUT YOUR PROPOSAL: Mitchell had planned a special weekend in Carmel, CA where he was going to propose with our families there waiting to celebrate with us. But then, the very weekend we were supposed to go, shelter in place happened in California, and we had to cancel our trip. Not wanting to wait any longer, Mitchell finally got to pull off one of the only surprises he has ever been able to get away with, and he proposed in my mom's backyard in Danville, CA on April 11th, Easter Eve, and it was perfect. The next day, we found out my Papa had proposed to my Nana on Easter Eve in 1954, making it all the more meant to be. Who knew backyard moments were going to be our thing?
TELL US ABOUT FINDING YOUR WEDDING DRESS: Again, planning a wedding in a pandemic, I had done a lot of my searching online. I knew the style I was looking for, and I even thought I knew the designer I wanted. Eager as ever, I made an appointment at Bride and Bustle, the cutest bridal boutique ever in Los Gatos, CA for my mom and I, on the very day it reopened. Turns out, they only had one dress from the designer I had thought I had wanted, but I tried on about ten dresses in the style I wanted. I believe it was dress number five or six, but I just knew that it had absolutely everything I had dreamed of and more, with so many details that you might not even be able to see in pictures, but made it absolutely unique and gorgeous and it fit like it was made for me!
WHY DID YOU CHOOSE THIS LOCATION? Our original location went bankrupt in the pandemic, and after thinking about other options, we decided that there was no better place than having our wedding in Mitchell's parent's backyard. Our families love this backyard, and it's so special knowing that we will always be able to go back to the place that we got married. And, planning an outdoor wedding in California, in December, helps when you are in sunny San Diego, and sure enough we had the most beautiful sunny day, with an amazing coloUred sunset sky.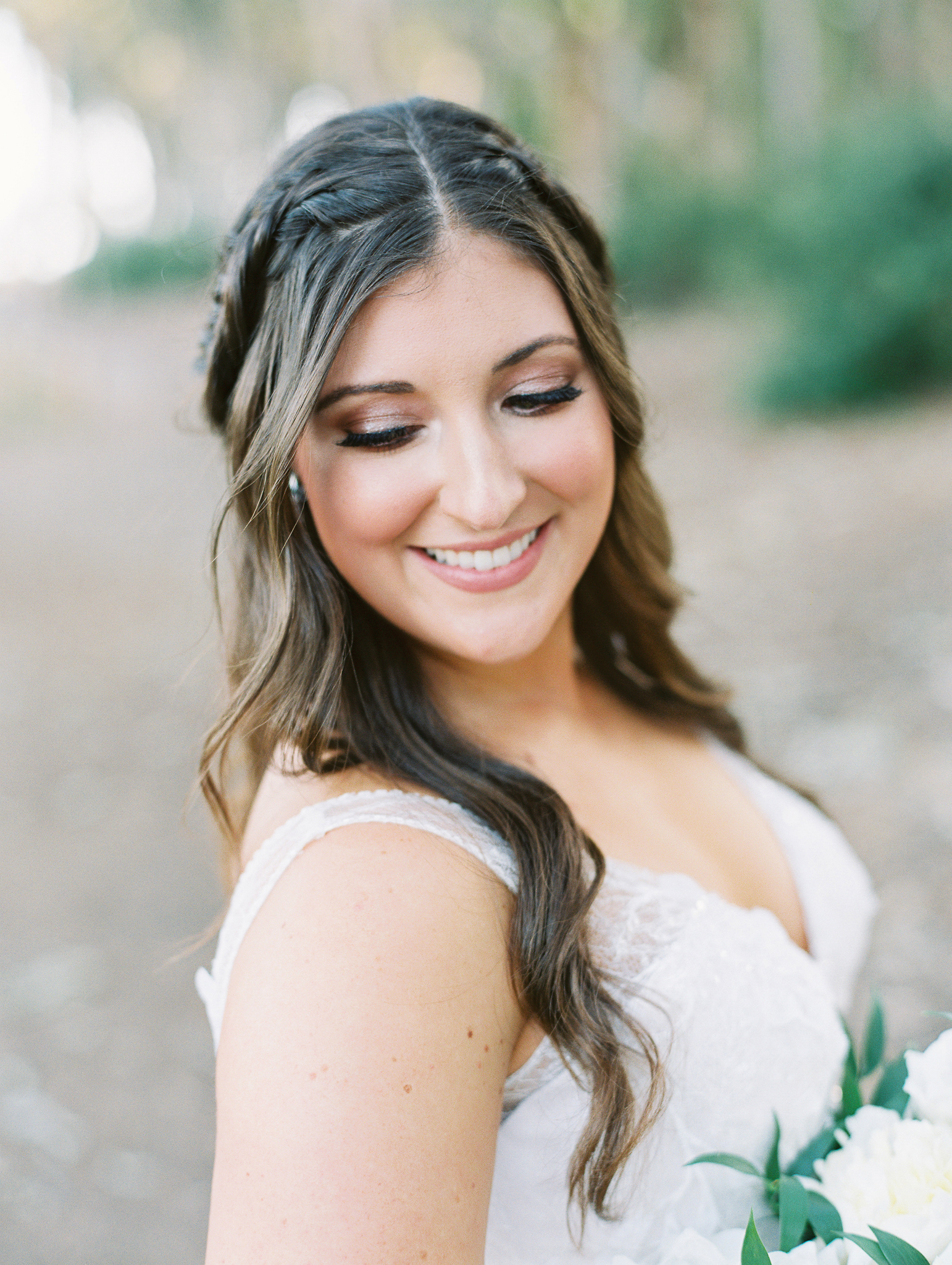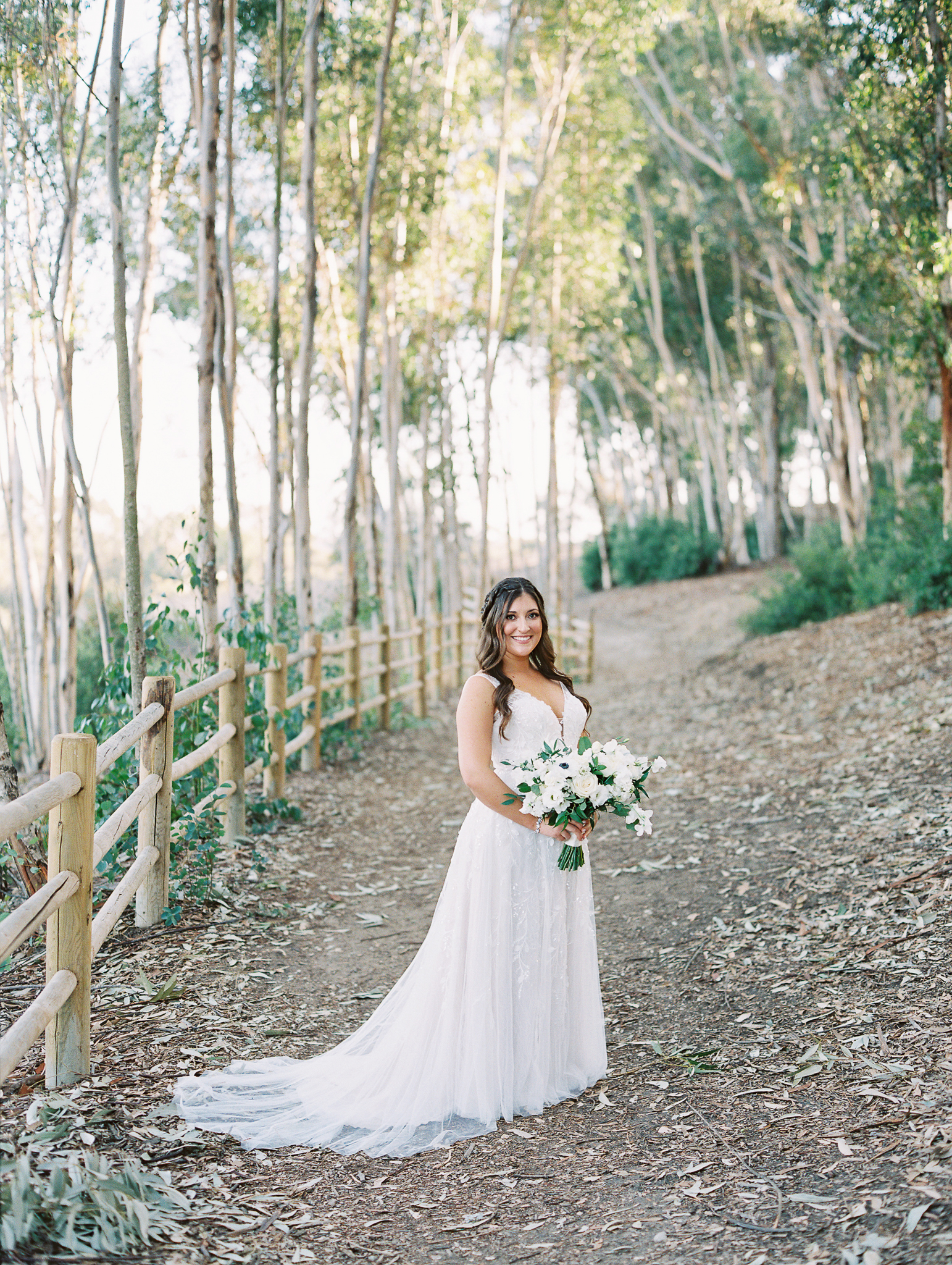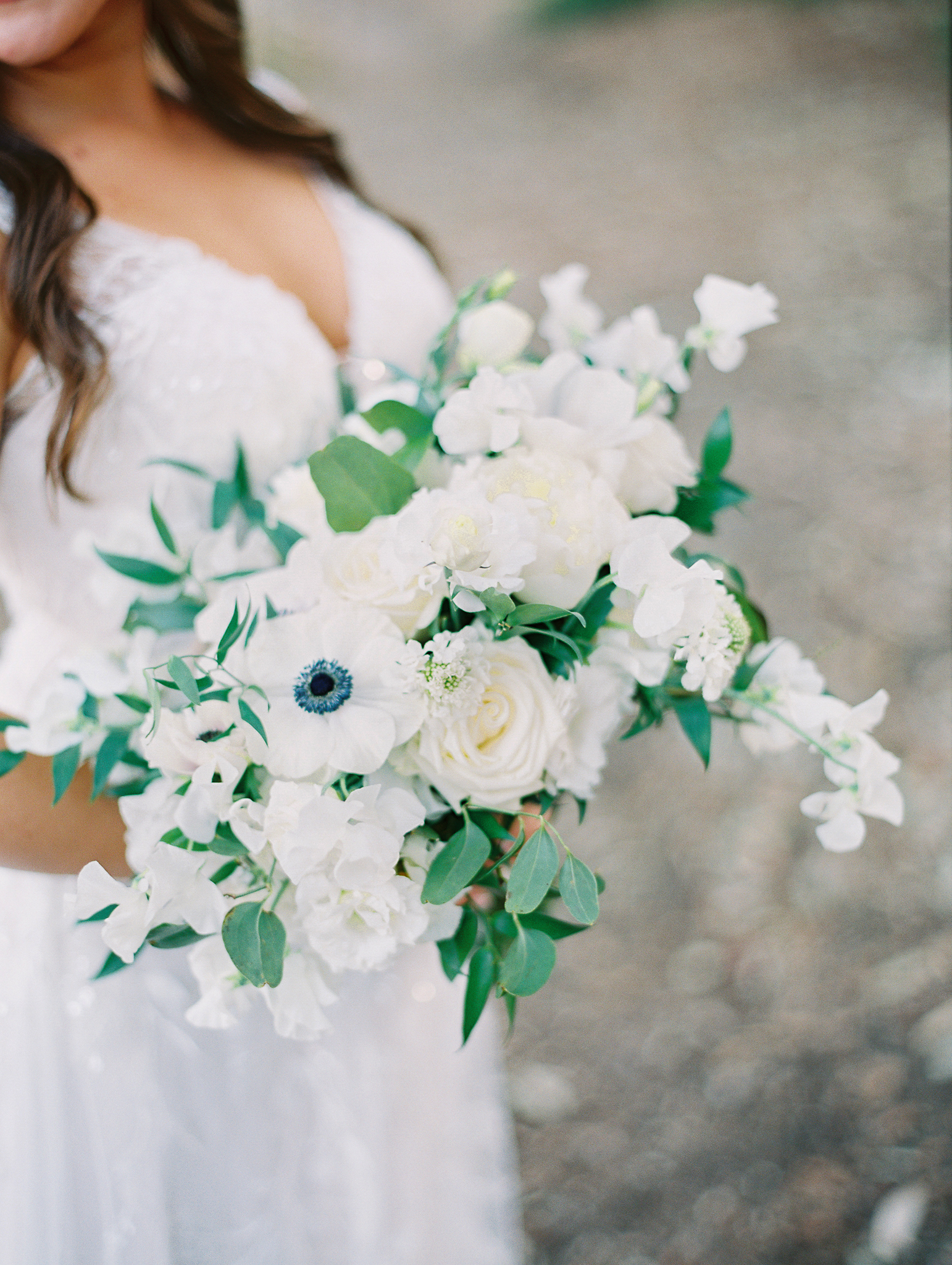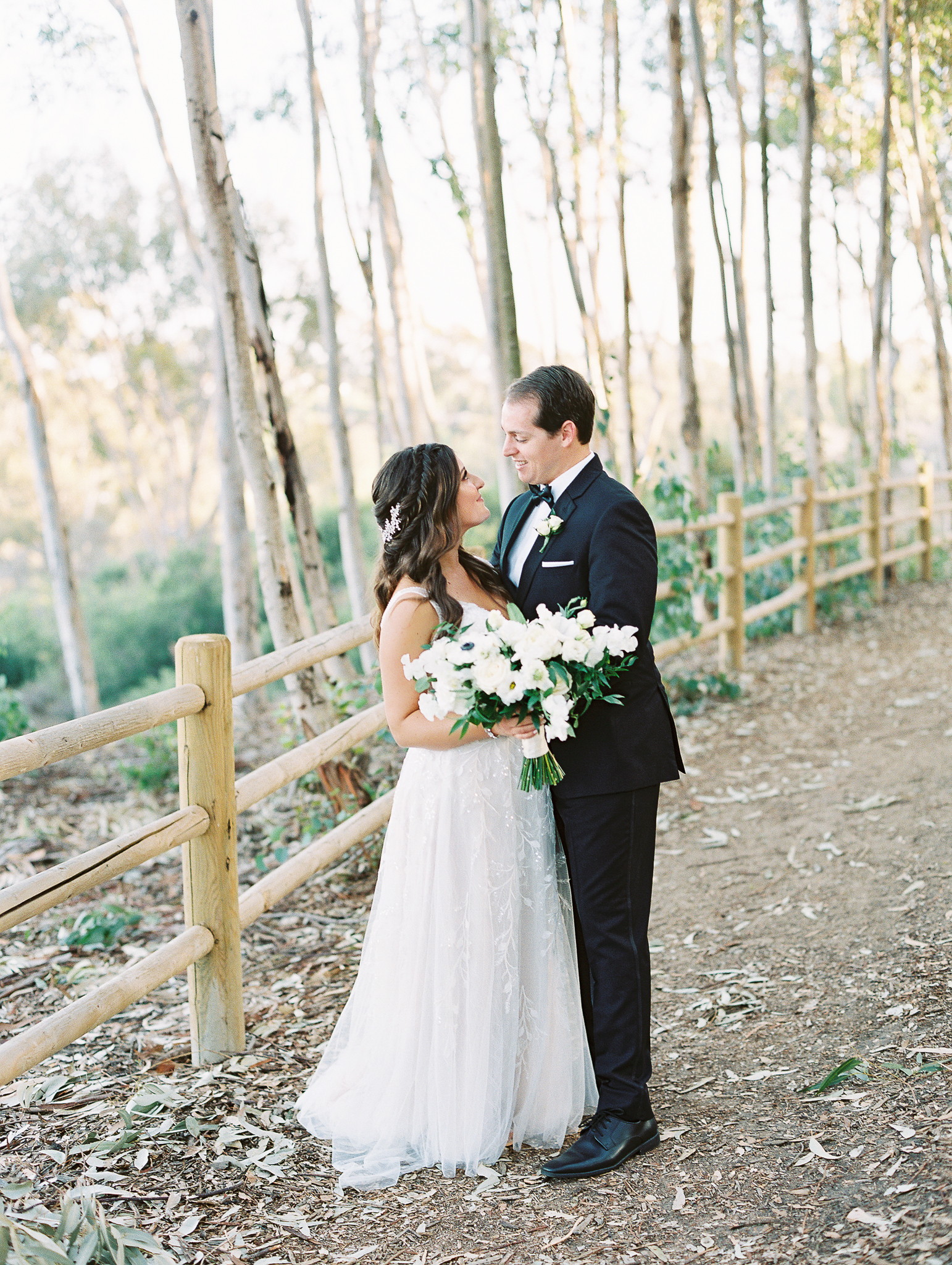 DID YOU HAVE ANY DIY ELEMENTS? While I like to say I have a great vision, I really needed a team to make it happen. With so many last-minute changes from having to cut our guest list down from 45 to 13, just three weeks before the wedding, I owe everything to my mother and law and CARA GOSET (our wedding coordinator) for putting all the last-minute details and changes together!
DESCRIBE YOUR WEDDING FLOWERS: Going with the clean, simple, elegance, I really wanted to keep the flowers, white and green, with some pops of drama with the black centered anemones and some deep purple flowers sprinkled in! We wanted simple table flowers and a small floral arrangement on the arch and they turned out to be stunning.

FAVOURITE DETAIL OF THE DAY: The intimacy of only having our families at the wedding, and being able to sit at the head of the table and look down at all of our family members, was such a special moment. We had an amazing 5 course dinner with wine pairings, and we were able to go around the table and share stories. The table was perfect in every way from the flowers, to the settings, to the food, making it the highlight of our event!
WHAT ADVICE WOULD YOU GIVE OUT TO A COUPLE PLANNING THEIR WEDDING? I had always had a picture in my mind of what my wedding would be, and I think the biggest thing I learned was that, the picture can and will change, and it will be even better. It's hard at the time when you plan for the wedding of your dreams, and it's easy to be so consumed by all the little details, but in the end, our far wedding surpassed anything I had ever dreamed of, and it truly felt like everything was meant to be.
MOST MEMORABLE MOMENT? Our first look! Just around the corner from Mitchell's parent's home is this little walking path through these tall eucalyptus trees. When we walk around the neighbourhood, we walk through this area all the time, and it was the perfect place for our first look and our moments together right before we were going to get married! Amy, our photographer, helped me hide behind a bush, and helped to pull many sticks out of my dress. It was the most magical and peaceful setting, and that feeling of the moment and the big day finally being here, was the most amazing feeling!
ANY OTHER DETAILS THAT HELP TELL THE STORY OF YOUR DAY? Our first wedding plan had a gust list of 150, then we narrowed it down to 45, and then just 3 weeks before, we had to narrow it down to just 13. It was extremely hard to do, but all of our friends and families were so supportive. We went back and forth for weeks on what to do, but in the end, we are so glad that we didn't completely cancel. We are so happy with our small, intimate, wedding, and we are looking forward to a bigger party this year on New Year's Eve 2021 with a few more friends and family.
TELL US A LITTLE ABOUT YOUR HONEYMOON: We spent our wedding night and the following night in a suite at the Cape Rey Hotel in Carlsbad, CA, right on the ocean. But our big honeymoon will be this June in Maui, where we will be staying at the Andaz Maui at Wailea, where we are looking forward to the Road to Hana, golfing, swimming, and reading by the pool!
IS THERE ANYTHING YOU WOULD CHANGE OR DO DIFFERENTLY? The only change we would have made, would of course be to have had all of our friends and family members there that were on our original guest list. But with the time that we are in right now, our family ceremony and celebration was amazing and the intimacy of the evening is something we will remember forever. Mitchell even said in the middle of the dinner, "I honestly think all weddings should be this way, because of how special it is to be here with both of our families." We had time for conversations, and stories, and laughter, and it didn't feel rushed our fast. It was a wonderful evening!
A huge thanks to Southern California wedding photographer AMY GOLDING for sharing this beautiful wedding with us. Amy is passionate about documenting love in the most raw of forms and collecting beautiful moments. Authenticity and kindness are her jam. She chases posing that is authentic and connective, and deeply believes that every wedding deserves to be beautifully and elegantly captured. You can see more from this Southern California wedding photographer in our vendor guide and you should also check out this Malibu Engagement shoot in moody winter tones.