Being that Art Museums are a mutual interest for Kathryn & Jordan, deciding to get married at one made perfect sense. With the world-class CRYSTAL BRIDGES MUSEUM in their new hometown of Bentonville, Arkansas it was an easy decision. Working with wedding planner ANNE-CLAIRE ALLEN the result was a modern, minimalist and artsy masterpiece. Arkansas wedding photographer ERIN WILSON captured their beautiful day which saw the bride wearing a stunning MONIQUE LHUILLIER gown which featured a sculptural origami bodice sporting a notched V a-top a ballgown crafted from smooth silk gazar. Bridesmaids were in beautiful shades of burgundy, cinnamon rose, and champagne.
HOW DID YOU MEET? We grew up in the same hometown and shared mutual friends... so it started out as just one of those friendships you've "always had". There wasn't a specific moment we remember meeting.
TELL US ABOUT YOUR PROPOSAL: Jordan and I went on a week-long trip to Paris in the Fall of 2018. The trees still had autumn leaves, the Christmas lights had just gone up, and most tourists were gone. It was the perfect time of year. We got engaged at an authentic little French restaurant called Le Stella after having champagne and chocolate mousse.
TELL US ABOUT FINDING YOUR WEDDING DRESS: I tried on wedding dresses at four different locations over three months and ended up selecting the very first one I tried on at the first store. When comparing notes, we always went back to it because it had this modern, elegant and architectural "wow" factor. It was a MONIQUE LHUILLIER dress called the Emerson. Our sweet friends who owned the bridal store named their precious new shop puppy after my dress!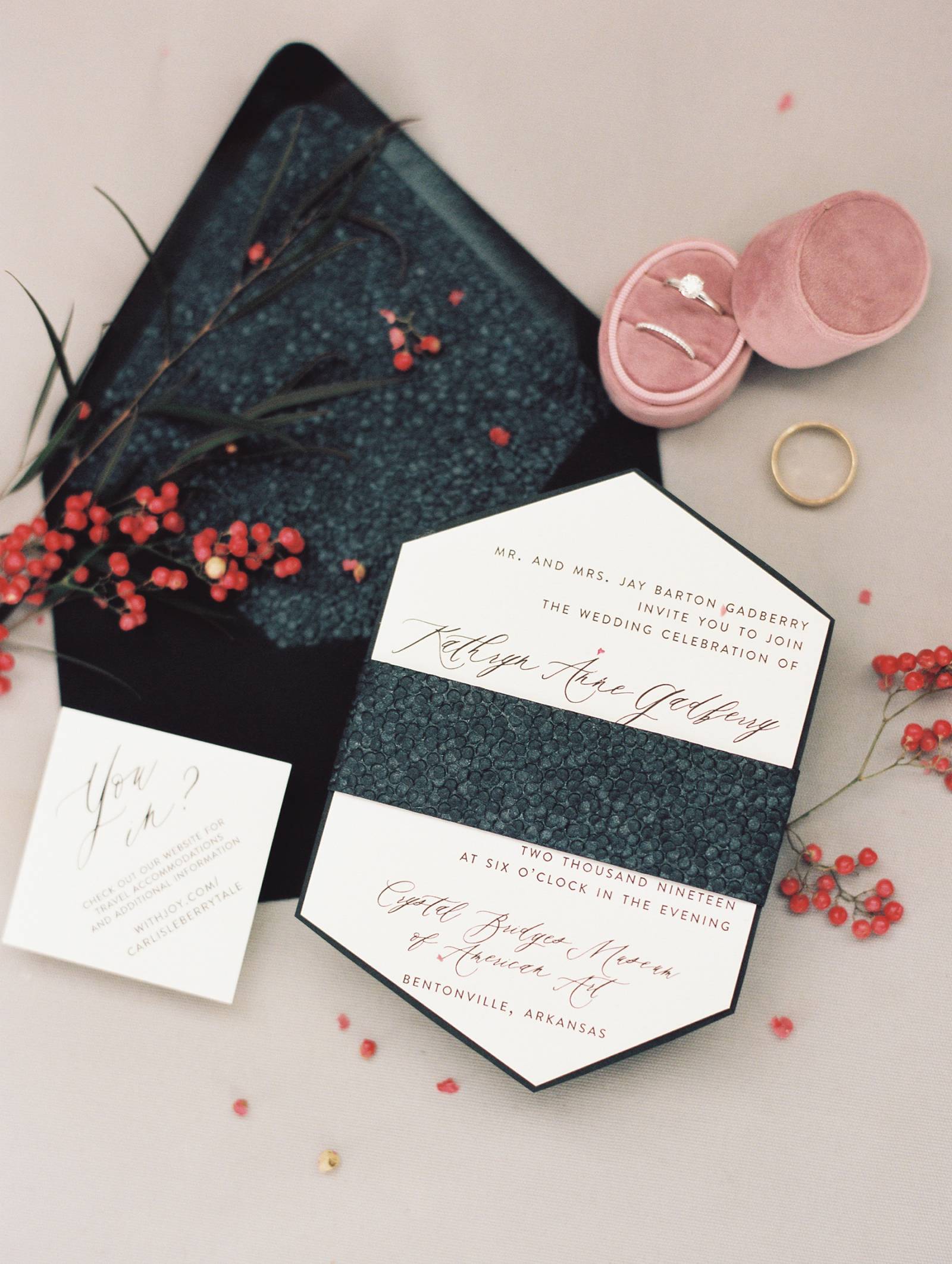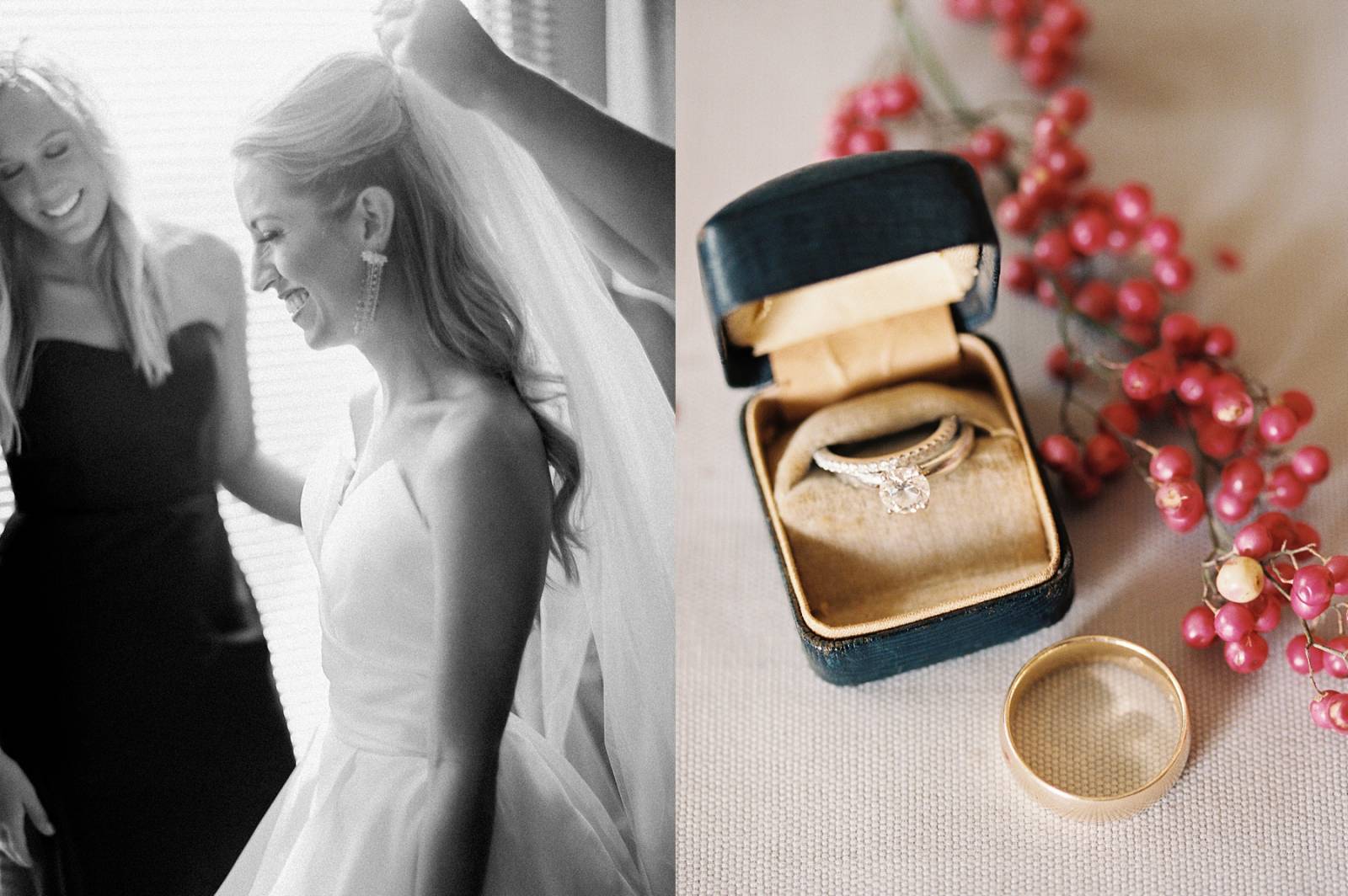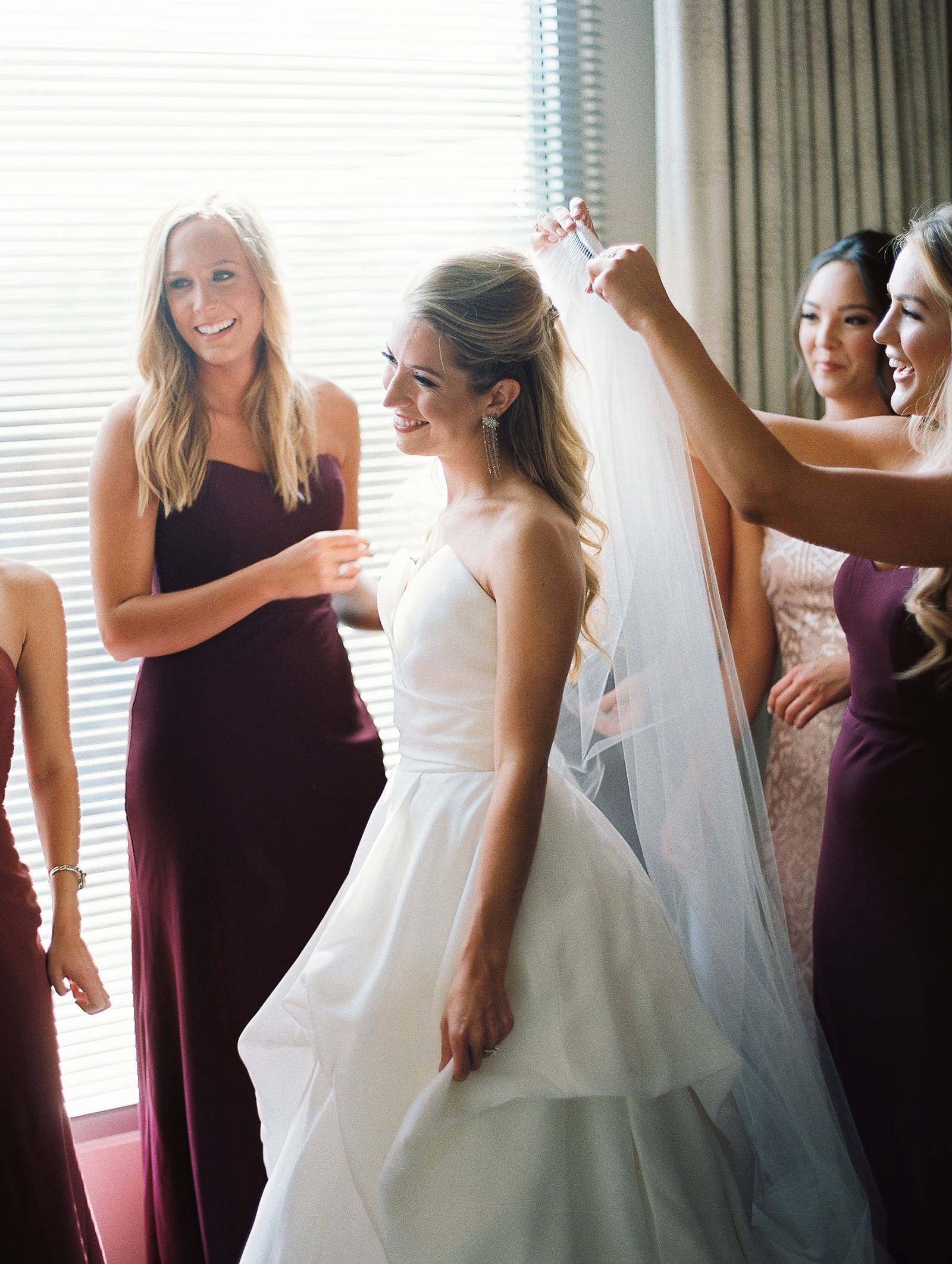 TELL US ABOUT YOUR FLOWERS: Burgundy and sand tones with hanging pepperberry, pops of coral and cool toned greens. Agonis, Burgundy Dahlia, Seeded green, Guneye and Silver Dollar Eucalyptus, Green Helleborus, with hanging Pepperberry and Hybrid coral, Rose Sahara and Smoke Bush Ranunculus. Ceremony flowers included a custom built wooden cross with a mix of bride's flowers and greenery - full, draping and pooling around the bottom.
DID YOU HAVE ANY DIY ELEMENTS? My new mother-in-law is the most creative "maker" type I know. Our whole rehearsal dinner decor was mostly DIY and you'd never know. My family doesn't necessarily have that gift, so there was very little DIY the actual day of. At most, we printed off black and white canvases for our "In Memory" wall.

FAVOURITE DETAIL OF THE DAY: My earrings! It's so small in comparison to everything else, but they made me feel like a bride and a rockstar at the same time. The detailed photographs of the earrings we received after just summed up what I felt like that day.
WHAT ADVICE WOULD YOU GIVE OUT TO A COUPLE PLANNING THEIR WEDDING? Less "stuff" is more. If you focus too much on the things and details, then you might be disappointed because everything is hardly ever picture perfect (weather, wardrobe malfunctions, etc.). Focus on the people you love and their experience. That's where we felt 100% happiness and success.
MOST MEMORABLE MOMENT? It was raining for hours up until 45 minutes right before the ceremony. I was trying my hardest to keep it together. My maid of honour literally dropped to her knees and said a prayer. The rain stopped, the sun came out and a double rainbow was present during our entire ceremony. It was the most perfect gift that day.
WHAT ASPECT OF THE WEDDING WAS THE MOST IMPORTANT TO YOU AND YOUR PARTNER? Right after we said our vows, we wanted our first act as man and wife to be taking communion together. My cousin sang a very moving song and some dear friends came up, privately served us communion and prayed over us. It was our chance to slow everything down, soak in what was going on, and give thanks for all the friends, family and experiences that had brought us together in this moment.
ANY OTHER DETAILS THAT HELP TELL THE STORY OF YOUR DAY? I'd say the most unique thing about our wedding was the movement through the museum. Everything from the ceremony, to the cocktail hour, to dinner, to drinks and dancing were all in different parts of the venue. Our guests also had the chance to see some of the art exhibits in between. Jordan and I were able to take some wedding photos in an interactive art exhibit called "My Heart Is Dancing Into The Universe". Some of my favourite pictures of the night!
TELL US A LITTLE ABOUT YOUR HONEYMOON: We waited a couple months and then back-packed through Thailand and Vietnam for 17 days. We are more of the get up and go type of people, rather than laying on the beach in one spot for a week. It was an incredible adventure!
IS THERE ANYTHING YOU WOULD CHANGE OR DO DIFFERENTLY? I would have worn my hair all up or had it redone mid-party! Dancing and hair whipping really took its toll on my curls.
A huge thanks to Arkansas wedding photographer ERIN WILSON for sharing this gorgeous wedding with us. Erin is known for her dreamy wedding photography and loves to serve others by encouraging their creative sides, reminding them how beautiful they are and being as positive and calm in wild situations. "I am extremely passionate about people, art and love. I photograph weddings on film and digital and very inspired by timeliness images that have a little artful vibe." You can see more of Erin's portfolio in our VENDOR GUIDE and you may also want to check out this Stunning Italian garden wedding inspiration.