For Annie & Eli, picking the right wedding venue was very important to them as the vast majority of their guests would be travelling from out of town. The couple met, started their careers and made a life together in Washington, D.C. therefore they wanted somewhere that would portray the rich history and beauty of the city. "The moment we stepped foot into the PERRY BELMONT HOUSE we knew immediately we wanted this place to be where we got married and where we wanted to celebrate with our loved ones. It was truly fascinating to learn the history behind this historic home which was built for the specific purpose of entertaining, and not only to notables of Washington, but also dignitaries from all over the world." Captured by Washington D.C. Wedding photographer BRIGITTE RENEE PHOTOGRAPHY the venue and location itself served as inspiration for the classic, black-tie celebration. "Our wedding style was elegant, sophisticated, and romantic. With our venue being a historic home, it offered charming furnishings and beautiful décor with architectural detailing, which complemented our wedding style. Our wedding colours were navy blue, white, and natural greens. These colours allowed the architecture, marble staircase, and the gold finishings of the Perry Belmont House to really shine!"
HOW DID YOU MEET? Eli and I met in Washington, DC the night the Kansas City Royals won the 2015 baseball World Series at a Kansas City Royals bar in DC. We both showed up with mutual friends to cheer on our home team, the Royals, and were introduced at the very last inning of game five. Eli and I were both born and raised in Kansas, so it was very special night for us. Not only because the Kansas City Royals won their first World Series title in 30 years, but because we met each other. We later found out that we grew up within 10 minutes from each other in Kansas but never met prior to us both moving to Washington, DC. Truly is a small world!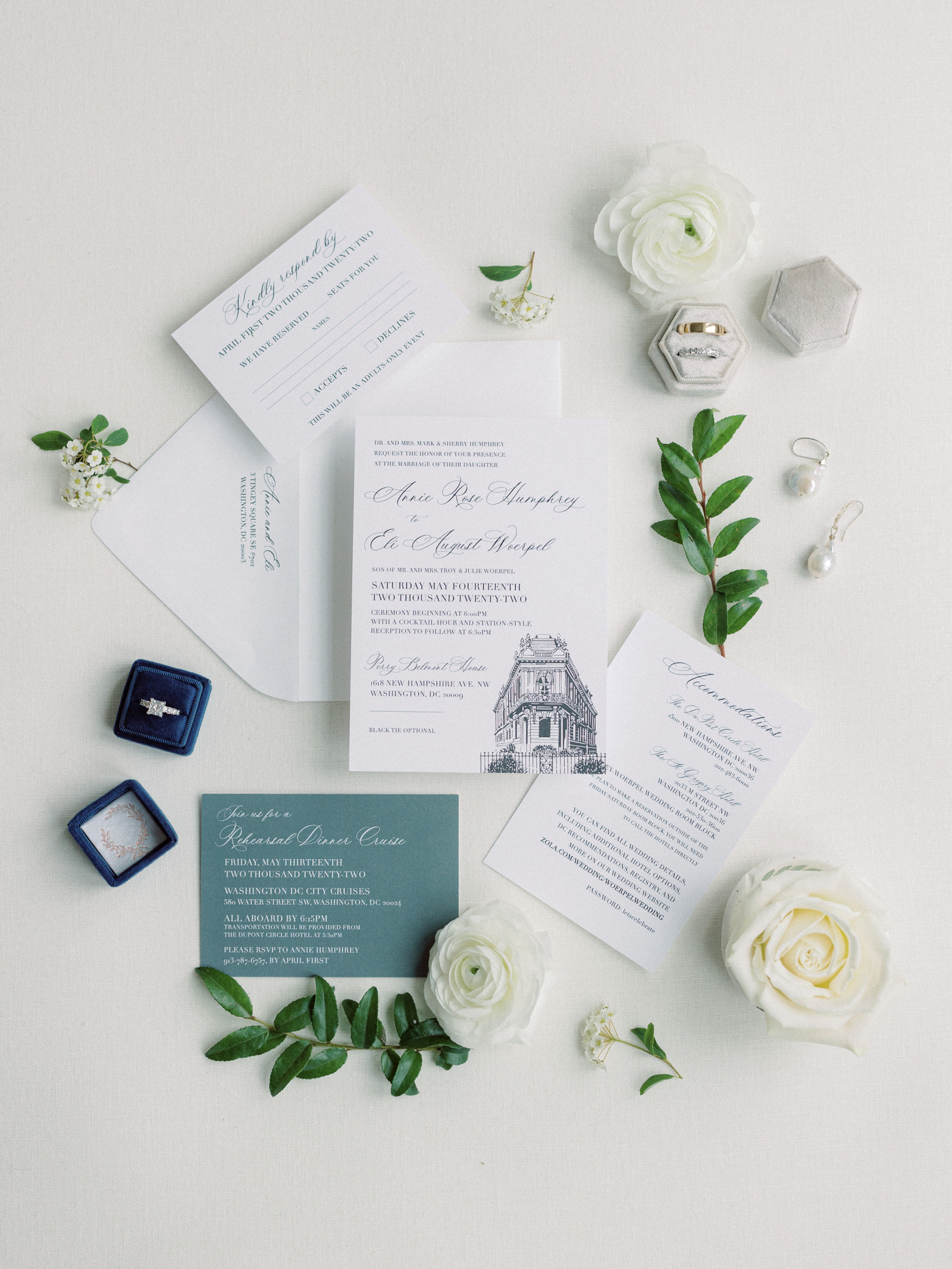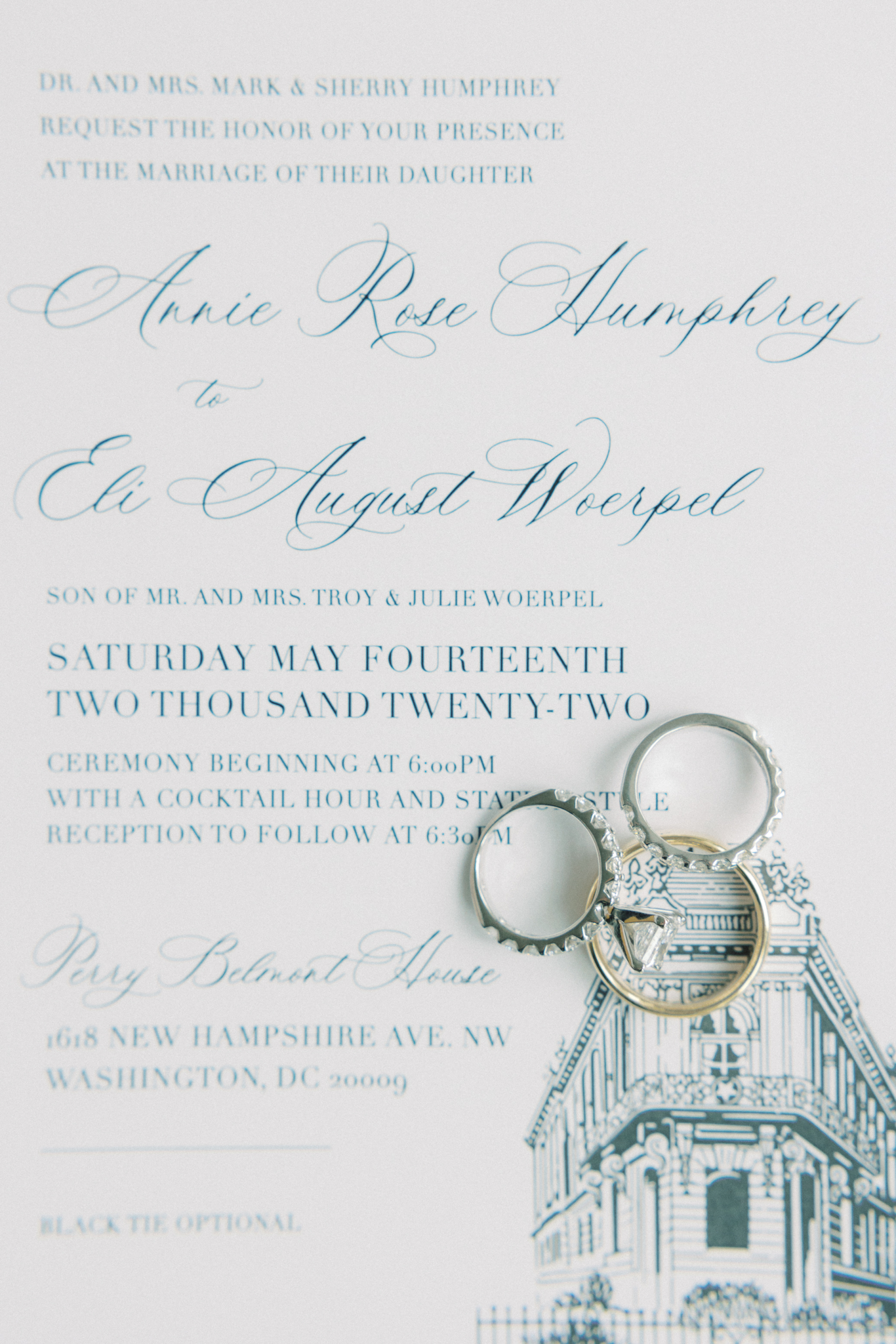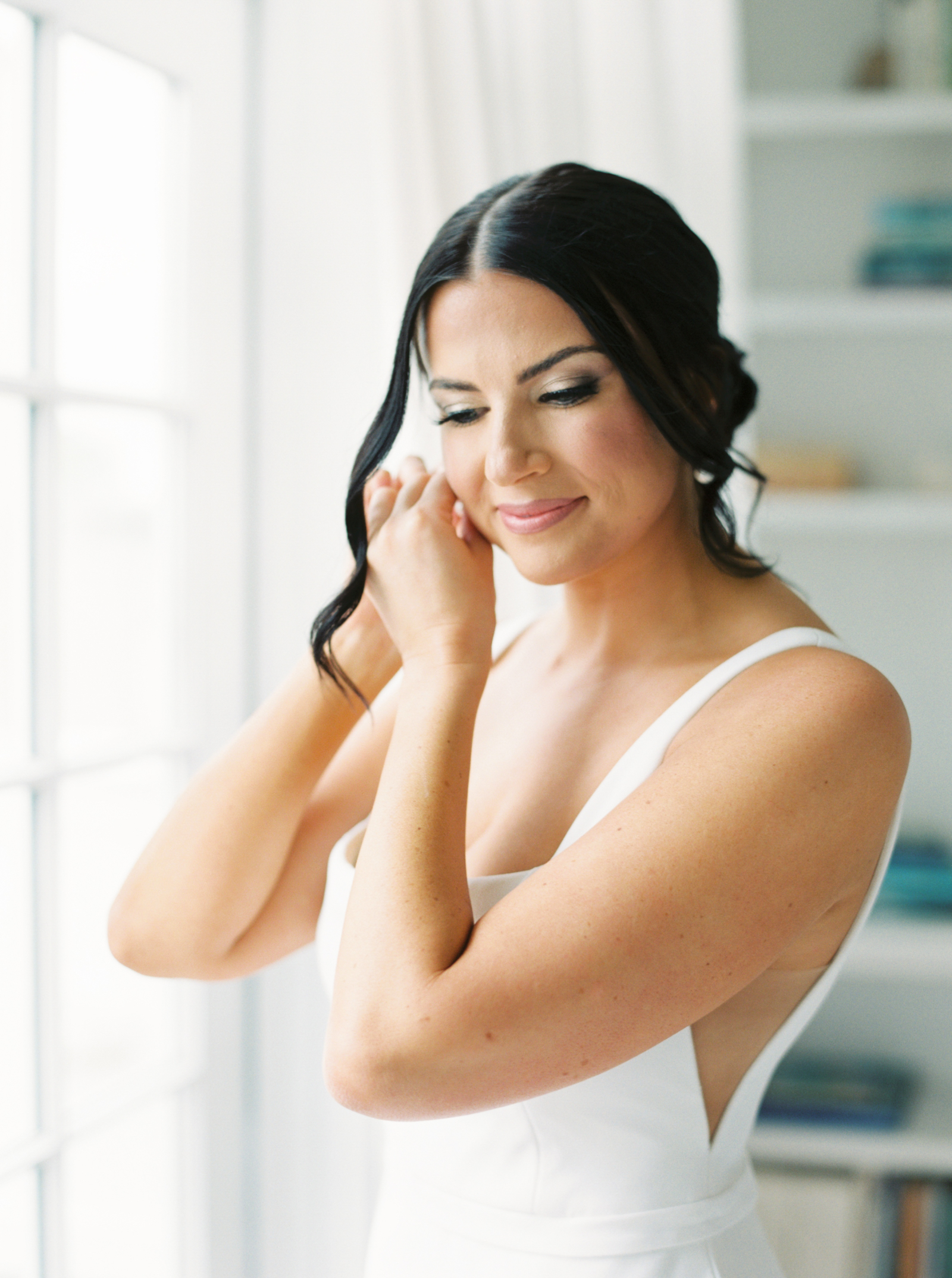 TELL US ABOUT YOUR PROPOSAL: Eli and I do an annual Christmas dinner in DC before heading back to Kansas for the holidays with our families. On December 12, 2020, we had planned a dinner in Georgetown. Eli told me he wanted to stop by the U.S. Capitol Christmas tree before heading to dinner. For background, every year, a real Christmas tree (some have been up to 84 feet tall) is shipped into DC and placed in front of U.S. Capitol Building. It is always decorated and lit up beautifully. I loved the idea to stop by the tree, as Eli and I both worked at the U.S. Capitol and have shared many memories there. We then walked up to see the Christmas tree before our dinner. Eli turned to me and got down on one knee and asked me to marry him. We ended up going back to our apartment and I was surprised by all my friends who were there to celebrate the engagement! It was an amazing and special night.
TELL US ABOUT FINDING YOUR WEDDING DRESS/ATTIRE: I found my wedding dress at Bridal Extraordinaire, a bridal boutique in Kansas, where I tried on dresses with my mother, sister, and my now mother-in-law and sister-in-law. Fun fact - my older sister found her wedding dress at the same boutique, which was special. I knew I always wanted a minimal, sleek, and ultra-chic look for a wedding dress. That day, I tried on designer Alyssa Kristin's stunning Sydney dress and knew it was THE one. I just loved the fitted silhouette, with the square neckline and backline, and the long train - it fit me and my personality. I couldn't stop thinking about the dress after I left, and I ended up buying it later that week. I wore a delicate, velvet dotted cathedral length veil with my dress. It was stunning. Throughout my wedding day, I wanted to honour my grandmother, Doris. I was able to wear her white gloves throughout the day and the ceremony. My grandmother was an incredible woman, and I am the person I am today because of her. She taught me empathy, kindness, and inner beauty. It was a meaningful addition to my wedding look. My maid of honour, my sister, gifted me a necklace with a quote in my grandma's writing that said, "you give love, you receive love." I wrapped the necklace around my bouquet during the wedding day. Unfortunately, while my grandmother was not there that day with us, I know she was watching down. I was so happy to honour her by wearing her gloves and reminding myself the beauty of love with the necklace tied around my bouquet.
DID YOU HAVE ANY DIY ELEMENTS? There was a DIY element that I loved. We had bottles of wine at a table off the reception room, and we asked guests sign them with a sharpie. Each bottle of wine resembled a different number of years by a custom label, and each of those bottles will be opened on those special wedding anniversaries. It was one of my favourite ideas, and we can't wait to sip in remembrance of the years passed and read the signatures and notes our family and friends left us! I also designed custom napkins which were at the bar during the reception. It included a graphic of the skyline of Washington D.C.
DESCRIBE YOUR WEDDING FLOWERS: Our wedding flowers were traditional and elegant with white and green florals, including white roses, white ranunculus, white snow berries, and touches of loose greenery. The white and green florals complimented the space and venue. Our florist, B Floral Event Design, did an incredible job decorating the historic venue with our florals. One arrangement that I LOVED (I still think about it to this day) was the fireplace mantle in the reception room, which included a large, dramatic arrangement filled with loose and trailing greenery, white hydrangeas, roses, and white delphinium, surrounded by tall candles. We couldn't have been more happy with our gorgeous florals.
FAVOURITE DETAIL OF THE DAY: There are just so many, this is a hard question! One of our favourite details was the station- style food reception we had. We choose to have food stations, rather than a seated dinner. We had always loved this idea, as it allowed for more mingling and really got people on the dance floor early. We had high top and low top tables throughout the reception, where people could go and get food/sit down when they wanted or grab a drink and go on the dance floor. We had a live six-piece band and wanted our guests to really enjoy the music and dancing - it was amazing! My next favourite detail would be the florals, I still can't get over how stunning they were.
WHAT ADVICE WOULD YOU GIVE OUT TO A COUPLE PLANNING THEIR WEDDING? Be patient with each other and try to enjoy all the moments, from the planning, to touring/talking to vendors, to the days leading up to the big day - even when it gets stressful. It all is such a fun experience doing it together with the person you love. Someone told me this before I got married, they said guests won't always remember the food they ate, what they drank, or the weather that day, but they'll remember time they had and memories they made celebrating you both as a couple. That stuck with me. Having all your family, friends, and loved ones all together to celebrate you as a couple will make a perfect wedding day no matter what.
MOST MEMORABLE MOMENT? There were so many amazing moments that day! I would say the most memorable moment was when Eli and I read our private vows to each other. After the ceremony, we went downstairs while the guests were enjoying cocktail hour. We sat and read our private vows to each other. We cried, laughed, and enjoyed being together, just him and I, after we said, "I do." Given the reception can be so busy talking, dancing, and enjoying the time with guests, we really wanted a moment with just him and I after the ceremony. It was perfect, we loved having that time to really be present and take everything in.
WHAT ASPECT OF THE WEDDING WAS THE MOST IMPORTANT TO YOU BOTH? Honouring our family was very important to both of us during our wedding day. We were honoured to have Eli's cousin, Jacob, officiate our wedding. He was able to bring a beautiful personal touch to the ceremony. In addition, during the ceremony, we had my uncle, Paul, and Eli's Aunt, Pammy, read scripture. During the reception, after all the dances, Eli and I brought back both of our parents on the dancefloor, and we all danced separately to "Isn't She Lovely" by Stevie Wonder. Eli and I have always been thankful for our parents, as they were strong role models for what a successful marriage looks like. We loved being able to be on the dance floor with them for one last song all together.
ANY OTHER DETAILS THAT HELP TELL THE STORY OF YOUR DAY? One thing I loved about the day was incorporating the Washington, DC monuments in our photos. We took photos with our wedding party at the Thomas Jefferson Memorial, which is a stunning circular monument with iconic marble columns and steps. The tall, beautiful columns really made the photos, even despite the light rain we had during that time. Our photographer captured our party and us as a couple perfectly.
TELL US A LITTLE ABOUT YOUR HONEYMOON: After our wedding, Eli and I went travelled to St. Lucia, an island in the Caribbean. St. Lucia is known for the Pitons, which are twin mountainous volcanic peaks. It has been rated top 10 most famous and beautiful mountains in the world. It truly was. We loved spending time on the island exploring the white beaches and blue waters, hiking, exploring the different towns, and trying authentic Caribbean food. We even drove through a volcano and took a volcanic mud bath in Sulphur Springs. It was a trip we will remember forever as a new married couple.
IS THERE ANYTHING YOU WOULD CHANGE OR DO DIFFERENTLY? May 14, 2022, was the most special day of our lives - I truly would not change a thing, except making the day and reception longer. We just loved every moment of the day and celebrating our marriage with family and friends. I wish we could relive the day!
A big thank you to Washington D.C. Wedding photographer BRIGITTE RENEE PHOTOGRAPHY was for sharing this beautiful wedding with us. Brigitte fell in love with the timeless nature of film and thrives on finding the balance between classic portraiture and whimsical fun, capturing your story in an elegant way, and also allowing you to be in the moment. "I hope you take away from our experience together the kinds of images that remind you of the joy that can be found in the simplest of moments together." You can see more in her portfolio here.