For gorgeous bride Pricella - an interior designer - textures, materials and furniture were important considerations when it came to selecting a venue. With her groom Jacob having an interest in modern architecture they wanted somewhere that would infuse these two passions together. San Diego wedding photographer AMY HUANG captured their chic celebration at the CONRAD HOTEL in downtown Los Angeles, over the Lunar New Year weekend. Blending their Taiwanese and Japanese heritages, the result was a modern fusion of sleek style and personal touches.
WHY DID YOU CHOOSE THIS LOCATION? The moment i walked into the lobby at Conrad Los Angeles, i was obsessed. The lobby, bar, and restaurant design were all done so beautifully. Then i looked out the glass windows and had the most perfect view of Walt Disney Concert Hall. I immediately knew I had found my wedding venue.
TELL US ABOUT YOUR PROPOSAL: I took Pricella to one of our favourite places - Aspen, Colorado. When we first visited Aspen, i knew that was the place i was going to propose to her. During Christmas, they add all the Christmas lights in town and that's where i asked her to marry me.
TELL US ABOUT FINDING YOUR WEDDING DRESS/ATTIRE: I want to say I tried on my wedding dress at the first store I went to. I went to a total of three stores just to see what else was out there, but i felt like i just needed to explore other options - just in case! My mom and i always went back to the wedding dress I ended up picking. I think i tried it on three different times before we bought it. Sometimes you don't get the tears and emotions, but i think you just know if you keep going back to that one dress.
Jacob: I have always loved the James Bond movies and how the actor Daniel Craig had the best fitted suits. I quickly learned that he wears Tom Ford suits and knew that was what i wanted to wear on my wedding day.
DID YOU HAVE ANY DIY ELEMENTS? I designed the all the graphics, which included the seating charts, "chargers", place mats, table numbers, and our welcome table "about us." i also sourced and edged all these marble slabs used in our centerpieces.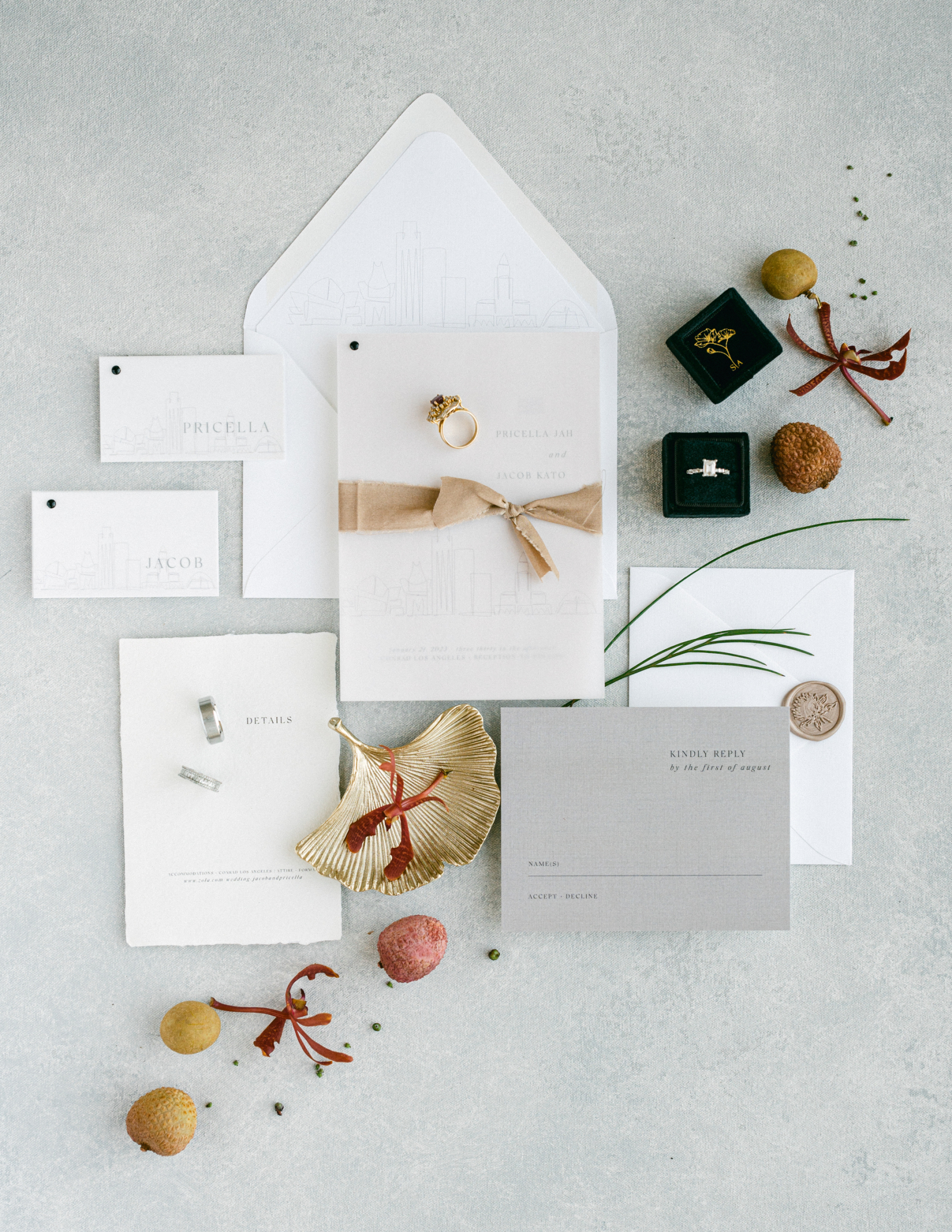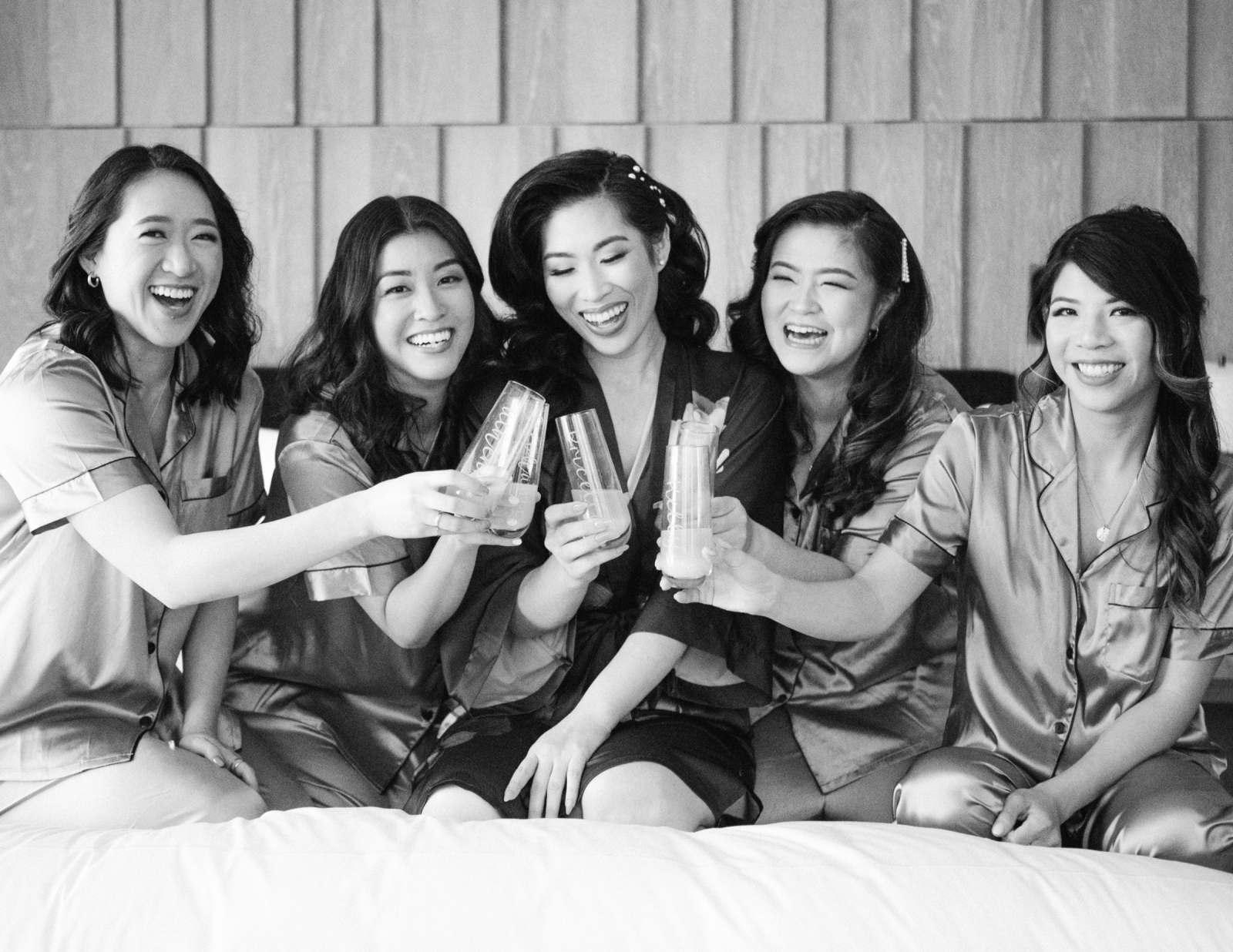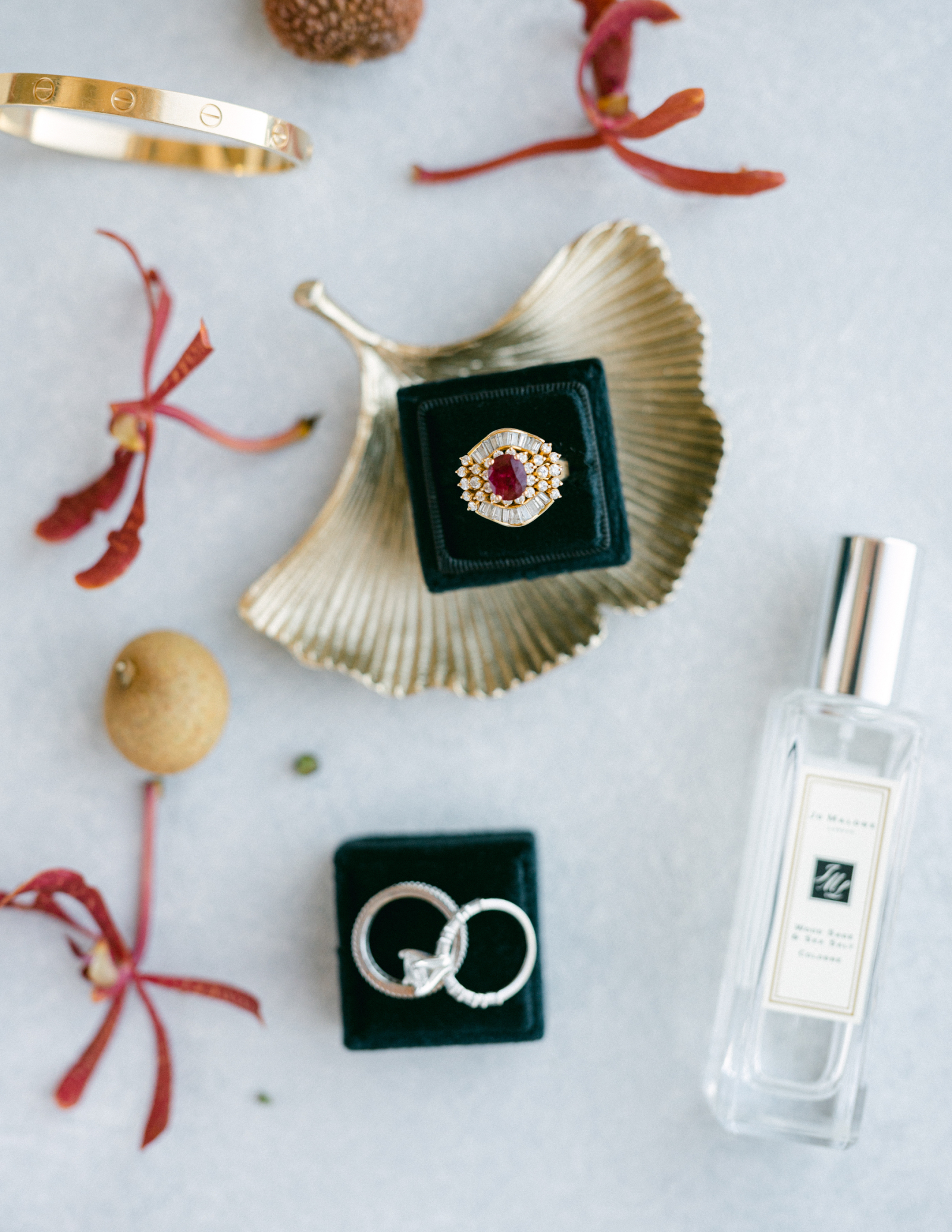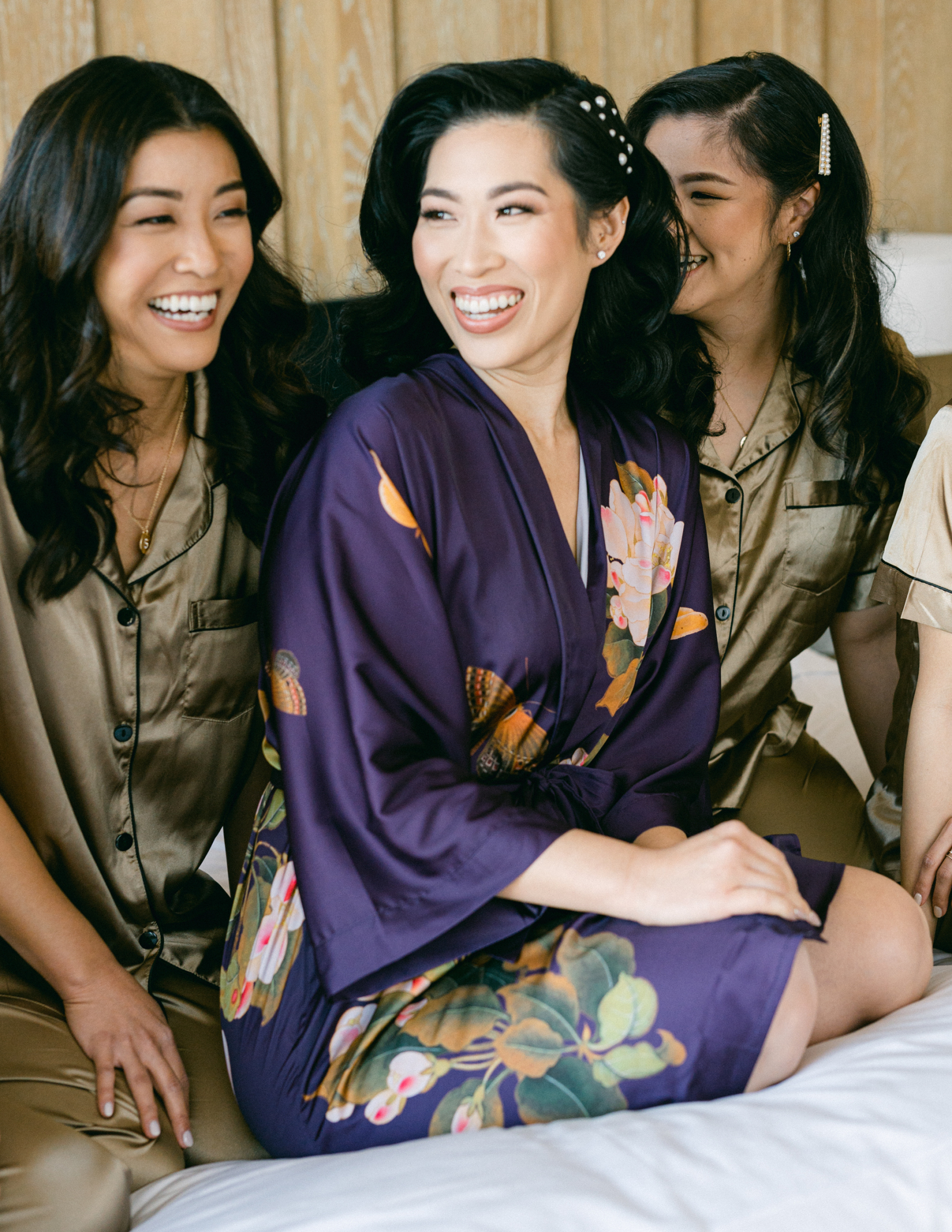 DESCRIBE YOUR WEDDING FLOWERS: I went for a more whimsical, light and airy feel overall. I wanted to have a Japanese feel with the florals and asked to incorporate hints of red in the most subtle one to pay homage to lunar new year weekend.
FAVOURITE DETAIL OF THE DAY: One of my favourite details of the day is the lychee element in our centerpiece setup. I asked my florist to incorporate live fruit and i felt like the texture and colour of lychee was the perfect touch and tribute to our asian heritage. Our guests loved it and they were also able to enjoy the fruit!
WHAT ADVICE WOULD YOU GIVE OUT TO A COUPLE PLANNING THEIR WEDDING?
So much advice on this, but i'll share three things:
Do a courthouse wedding with just you two first! Knowing that you are already married to your partner helps with deciding what truly matters at your wedding at the end of the day. It also helps with not stressing that the actual wedding day has to go perfectly. We were able to head into our wedding week pretty stress free and be present with our family and loved ones leading up to our wedding day.
Question every wedding tradition. Ask yourself why do we need a cake if we don't even like to eat cake or do what is the purpose of doing the single ladies bouquet toss? I feel like so often we just follow the wedding standards, but never question its meaning for you and your partner. Your wedding day truly flies by so do not feel like you need to cram your timeline with all sorts of wedding traditions.
Show up to cocktail hour! This was so fun to be able to hangout and enjoy the party (that we worked hard to put together) with our wedding guests. We also got told by our friends and family that it seemed like we were very present at our wedding, which was really important to us.
MOST MEMORABLE MOMENT? My most memorable moment was actually the father daughter dance. My father moved to another country for work when i was two years old and my siblings and i would only see him 2-3 times a year. Naturally, he would miss a lot of my life's milestones so for us to have that moment on my wedding day will always be impressed in my memories.
WHAT ASPECT OF THE WEDDING WAS THE MOST IMPORTANT TO YOU BOTH? Being present with our wedding guests. From the beginning, we told our vendors that we really want to be able to chat with every guest even if it was a "hi! Thank you so much for coming!" this was the first time our extended families have gotten together since the pandemic so it was our priority to make sure we greeted everyone who made their way to our wedding.
ANY OTHER DETAILS THAT HELP TELL THE STORY OF YOUR DAY? I really liked the welcome table sign that we did. We wanted to step away from the traditional frames of photos. We opted to showcase a spread of photos - both from our wedding in taiwan as well as our los angeles lifestyle session. For the content, we included three separate blurbs: 1) current updates with jacob, 2) current updates with pricella, 3) how life was like being married. We felt this was important to include at our welcome table so it felt like we were "catching up" with our guests!
TELL US A LITTLE ABOUT YOUR HONEYMOON: We were able to go to taiwan and japan for our honeymoon. Pricella's parents are from taiwan and jacob's family is from japan. We both had family in both places so it was time spent with family and tons of good eats! We plan to frequent both of those places since we always want to be sure we remember our roots.
IS THERE ANYTHING YOU WOULD CHANGE OR DO DIFFERENTLY? If somehow we could be even more present than we were, we would do it. The day was pretty perfect and overall, we are just so happy we were able to actually enjoy our wedding day!
A big thank you to San Diego wedding photographer AMY HUANG for sharing this beautiful modern wedding with us. Amy grew up with a camera in her hand. She was taking photos from a young age and constantly talking to her father about photo crops and camera angles. Because of her firm technical foundation, Amy can freely create photos beyond the norm - discovering and capturing each of her clients on a much deeper level - bonafide images and memories created only because of their deep trust in her. Amy's approach is simply this: Understanding the tightrope walk between worlds, Amy utilises her uncanny ability to read people, her approachability and authentically warm & caring heart to serve clients who desire to showcase the beauty behind their rich cultural traditions and heritage - while also embracing the culture and world they were brought up in. You can see more of her portfolio here.