Arika and Matt had a day surrounded by absolute joy. They chose to get married in the mountains in Montana at COPPER ROSE RANCH and according to Arizona wedding photographer TROY MEIKLE it could not have been a more perfect day. Their elevated details paired with the rustic backdrop was such a treat to experience! Arika's bridal details were stunning alongside Matt's classic bowtie and gold band. They wanted blossoming branches for the ceremony arch, which is hard to find in Montana in August, but ROWAN AND LARCH were up to the task and created the most beautiful ceremony arch. The couple opted not to have a first look prior to the ceremony. Instead Arika surprised Matt at cocktail hour with her reception dress (who doesn't love a second wedding day look!)
WHAT WAS THE INSPIRATION BEHIND YOUR WEDDING STYLE? We both knew we wanted our wedding day to be something timeless and classic. We are very traditional but I (Arika) love to add a twist or elevated element that will stand out in everything I do/wear. With our wedding, we agreed to add personal touches that were sure to stand out and be remembered but overall, wanted to be able to look back on the day and not regret doing something just because it was "on trend" that season.
WHY DID YOU CHOOSE THIS LOCATION? We first visited Montana (Red Lodge) during COVID. We took our dog out there for an extended weekend and fell in love- with the state and each other. The following year, we found ourselves back out there with our baby boy. When it came time to finding a venue for our wedding, we knew Montana only made sense. It took some time for us to find that perfect spot as we knew the barn needed to be modern enough for our style. When we toured Copper Rose Ranch in Livingston, we immediately knew that it was exactly what we were looking for.
HOW DID YOU MEET? Matt and I grew up in the same small town in Northern Minnesota. He was a few years older than me but in a small town, everyone is friends with everyone. We would see each other at the annual night-before-thanksgiving bar meet-up every year but we both were always in other relationships. I had just moved back to the Midwest from Florida in 2019 and was home with my girlfriends celebrating Oktoberfest when we met up with Matt and his friends at the local pub. We finally were single at the same time and the rest is history!
TELL US ABOUT YOUR PROPOSAL: We had talked about a proposal only once during the summer months, just prior to when the day came. Matt had asked what I envisioned, and I said my only requirements were that it was photographed. We are notorious for not taking pictures together, ever. Only a month or so later, we found out we were expecting our first child and the timing couldn't have been more perfect to announce it to everyone by Christmas card. We had a Christmas mini-session with a local photographer scheduled in early November and while I was distracted, looking at inspiration pics with the photographer, Matt was putting a bandana that read "Please say yes" on our dog. When I turned around, I first noticed the bandana then realised Matt was on one knee! We had a trip planned to Arizona the following weekend so I thought for sure he was going to ask me then so to say I was shocked was an understatement! But I said "Yes!" and it was photographed. It was perfect. We then had to have a celebratory drink nearby and found some of our friends waiting for us there!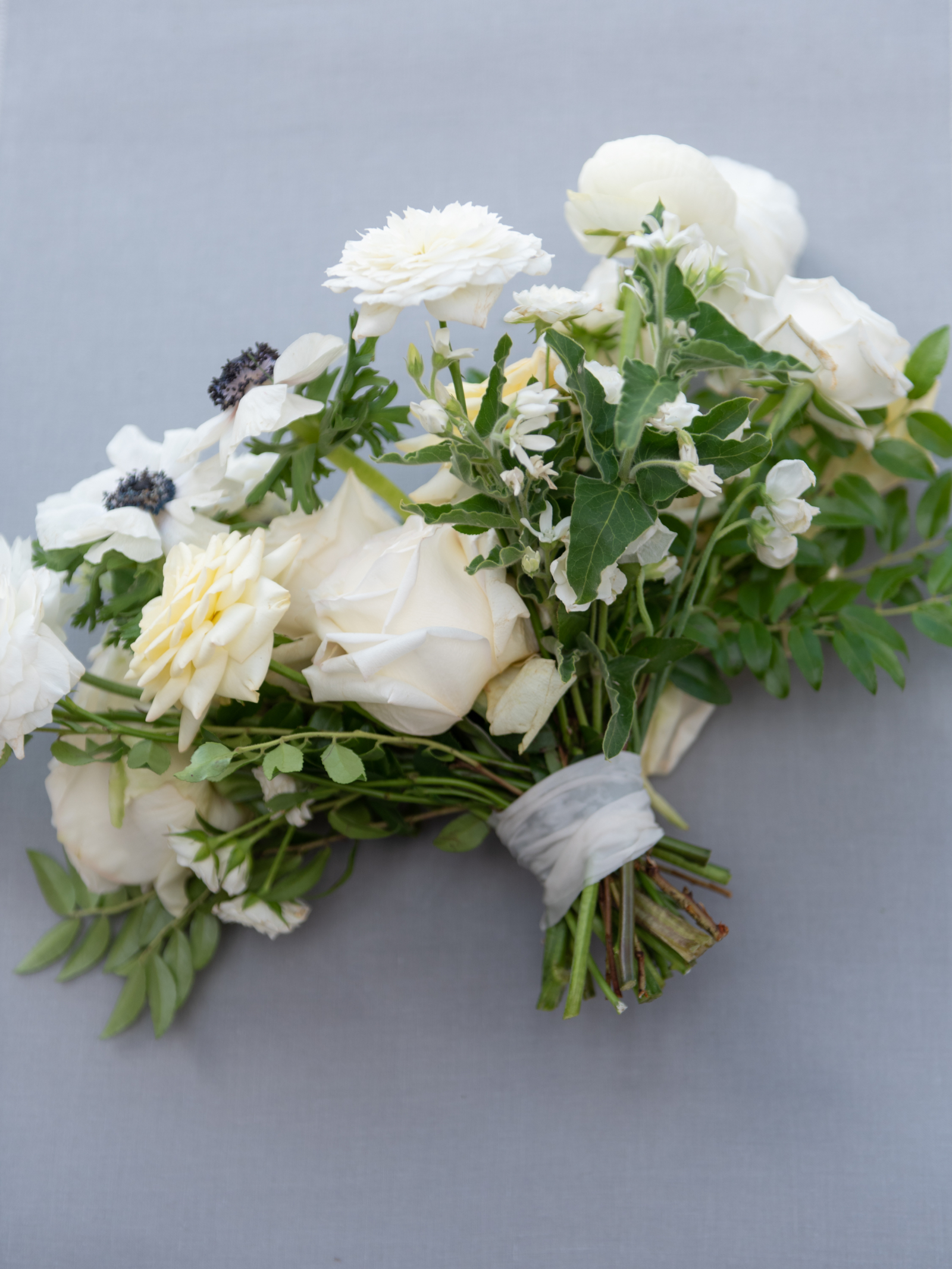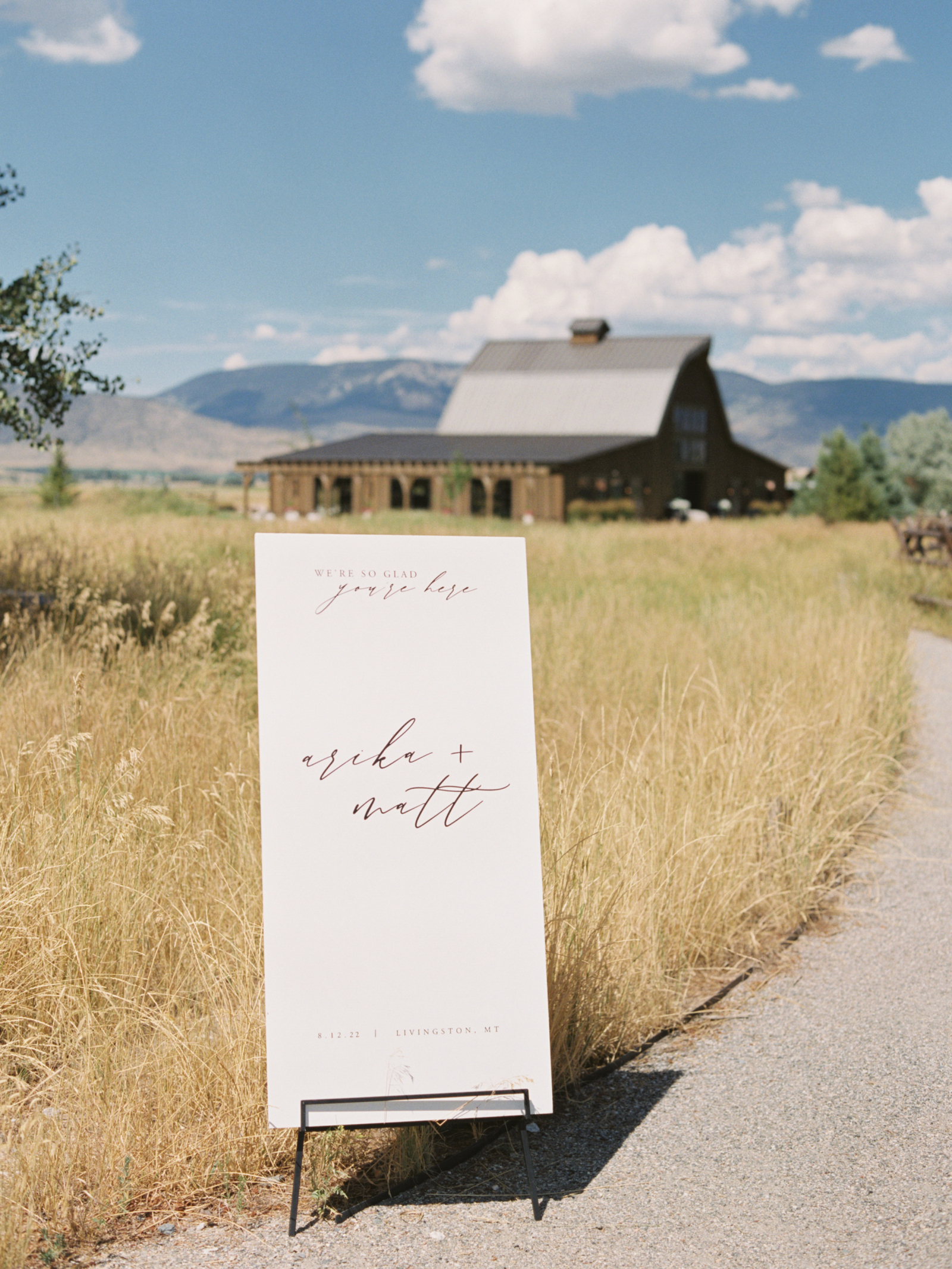 MOST MEMORABLE MOMENT? This is a difficult question. We had our guests out in Livingston with us for five days. There were so many moments throughout the entire (long) weekend that will stay with us forever. I think I can speak for both Matt and I and say it was being able to show all our family and friends what Montana has to offer and why we love it so much. Having everyone we love in a place that we love meant the world to us and will be something we never take for granted. Close second was closing the reception with Piano Man and having 30 grown men drop their pants and sway in a circle together! (I thought this was a universal tradition for this song but turns out it's just a Minnesota thing ha!)
WHAT ASPECT OF THE WEDDING WAS THE MOST IMPORTANT TO YOU BOTH? Our guests. We wanted to make that that the people who took the time out of their busy schedules to get out to Montana to celebrate us, were taken care of. From the lodging and daily activities to the wedding day food, DJ, transportation- we picked each vendor with our guests in mind.
TELL US A LITTLE ABOUT YOUR HONEYMOON: We will be enjoying our honeymoon next year in Europe! We have plans to visit my family in the Netherlands, see the southern Italy, and spend some time in Greece. Although I could spend a whole week laying on a beach reading a book, Matt needs activity and action. So, we're going to compromise and do activity and action! But in all seriousness, Matt let me take lead on the wedding planning and I want him to be able to take the lead on the honeymoon.
IS THERE ANYTHING YOU WOULD CHANGE OR DO DIFFERENTLY? Not at all! Our friends are texting us frequently asking us if we can plan another group trip out West. It was perfect in every way and we wished it could have lasted forever.
A big thank you to Arizona wedding photographer TROY MEIKLE for sharing this beautiful wedding with us. Based in both Montana and Arizona Troy believes documenting beautiful and honest relationships is the most rewarding career. Her goal is providing couples with timeless images that represent the story of their relationship. She is passionate about traveling and meeting new people. For Troy, fine art photography means creating genuine and organic images that illustrate your love story as authentically as possible. Head over and see more of her portfolio here.