As a New York based couple, Nicole dreamt of integrating their home city's charm with her families' southern roots for a day of unified celebration when it came to her wedding to Rob. In dramatic juxtaposition, the aesthetic was classic old-world glamour meets laidback Lowcountry living. "The execution meant our ceremony would take place inside a grand Cathedral in the city center of Savannah, Georgia; whilst the reception would be held outdoors among the coastal salt marshes of Bluffton, South Carolina." Captured by LAURA WATSON the festivities commenced by popping champagne in a vintage clawfoot tub and ended, hands intertwined, on a boat beneath a blanket of stars. In a beautifully symbolic moment between nuptials and dancing, the bride's eldest sister and new husband collectively cut my chapel length veil as she traded the crepe wedding gown for a bow adorned linen sundress to party the night away in.
HOW DID YOU MEET? Rob and I met at an iconic dodgy dive bar in New York City. Rob was celebrating his best friend's birthday and I was celebrating my best friend's arrival to the city. Being the only two groups occupying the bar at mid- day on a Saturday we quickly fell into group conversation. After telling stories of my experience as an orthopaedic operating room nurse I was directed to the identical twin and aspiring orthopaedic surgeon of the friend group. Once recovered from the shock of seeing double, we discussed the battleground that is our profession and found we shared many other interests. New York pizza being one of those interests, we ended the night, together, sharing a slice.
TELL US ABOUT YOUR PROPOSAL: The morning of New Year's Eve we took our three month old puppy, Lucy, on a walk across from our favourite Cathedral in Savannah, Georgia. Rob suggested I take a photo of Lucy frolicking in Lafayette square with the Cathedral in the background. Once I snapped the photo and turned around, Rob was on one knee with a beautiful ring.
TELL US ABOUT FINDING YOUR WEDDING DRESS/ATTIRE: Before I found my wedding dress I found the shoes I knew I had to wear. They were 4-inch ivory GUCCI MARMONT heels and little did I know they were wrapping up their season. After searching for a simple, crepe dress that would match the simplicity and elegance of the shoes, I excitedly entered Gucci to make the purchase of my dreams. Devastation hit hearing the words "out of season." As a determined bride, I searched high and low for months just to be left empty handed. However, a month before my wedding, the shoe Gods smiled down and placed a pair of perfectly sized 7 Gucci Marmont heels in a consignment shop next to my Manhattan apartment.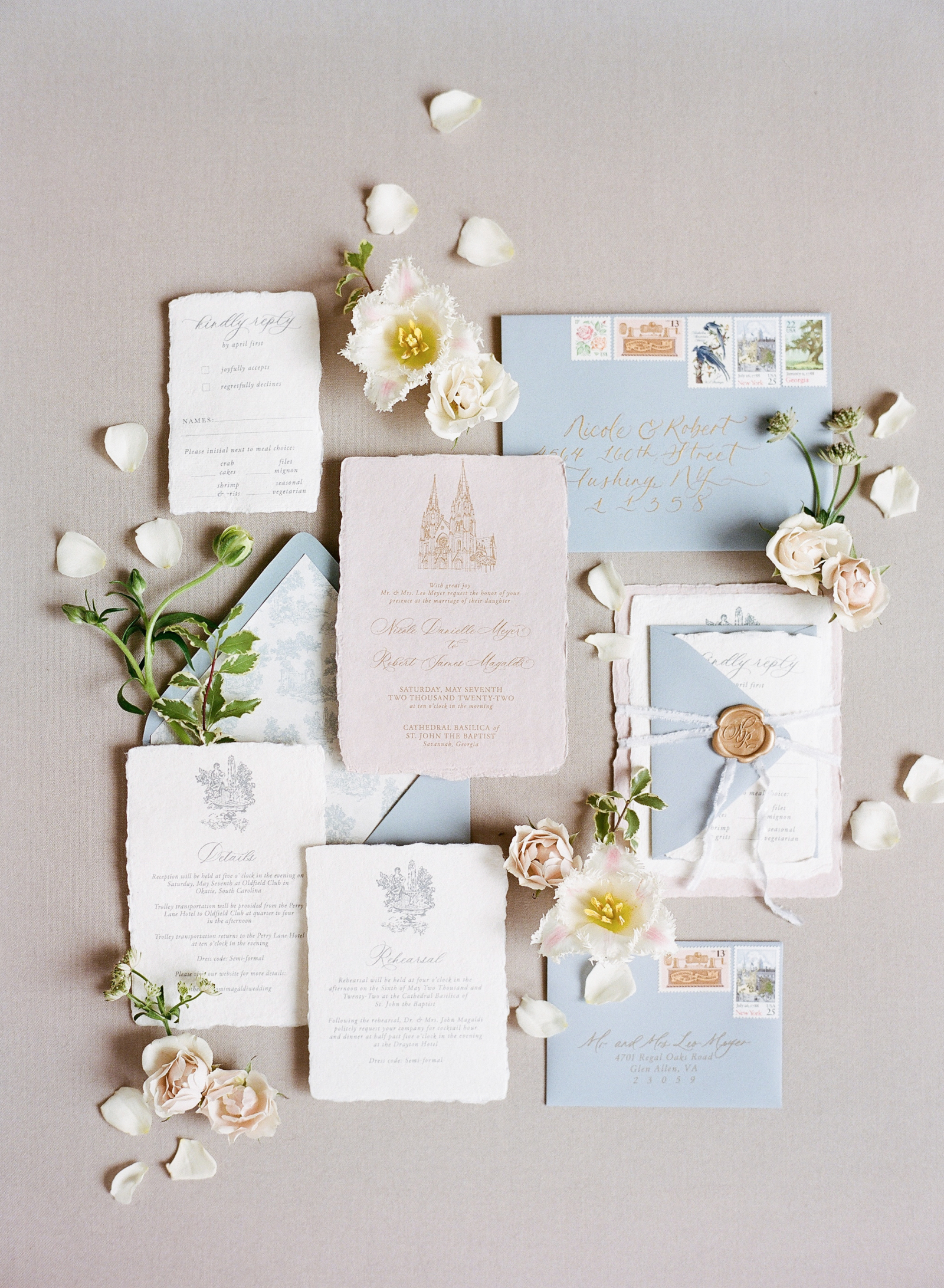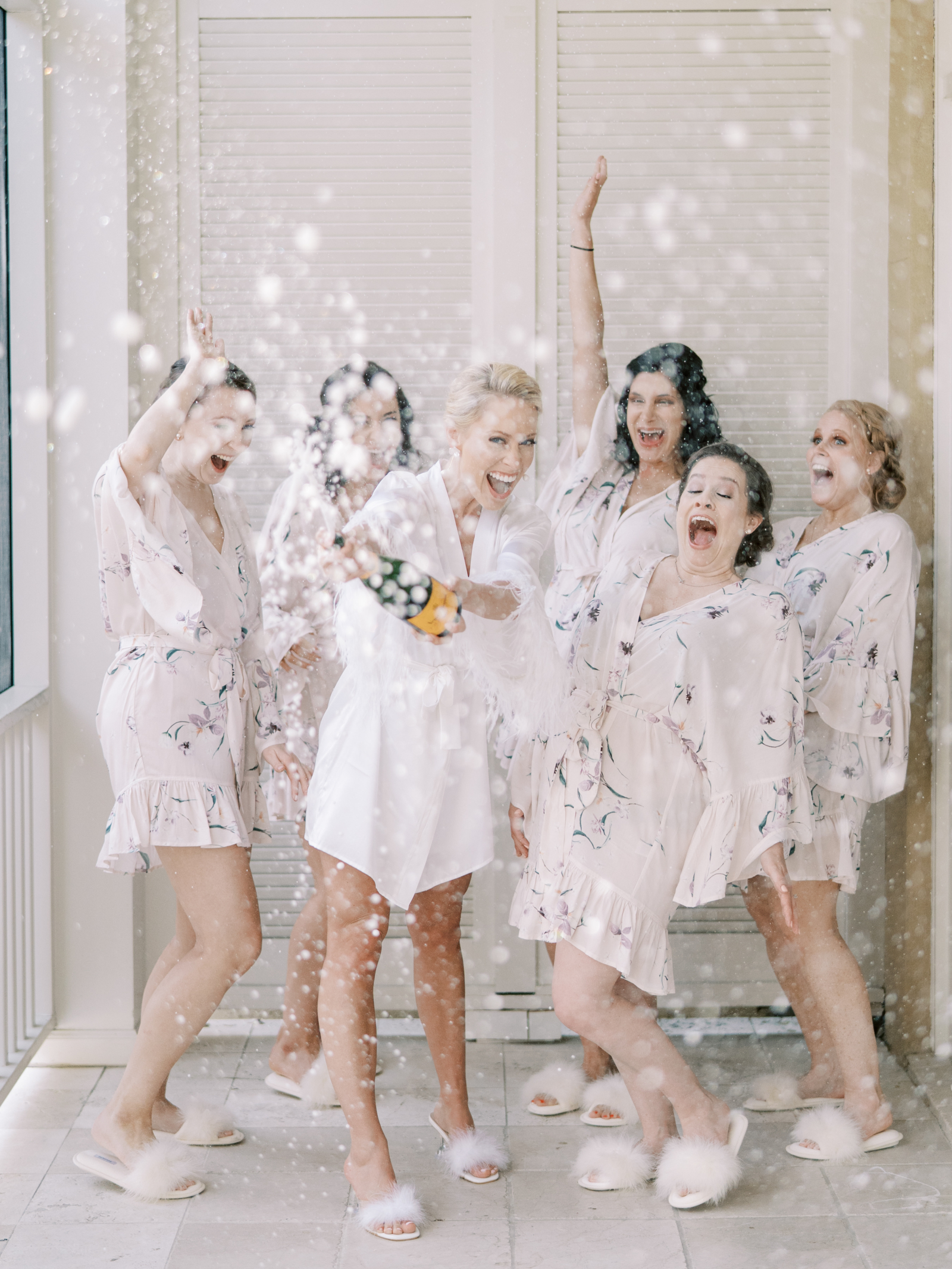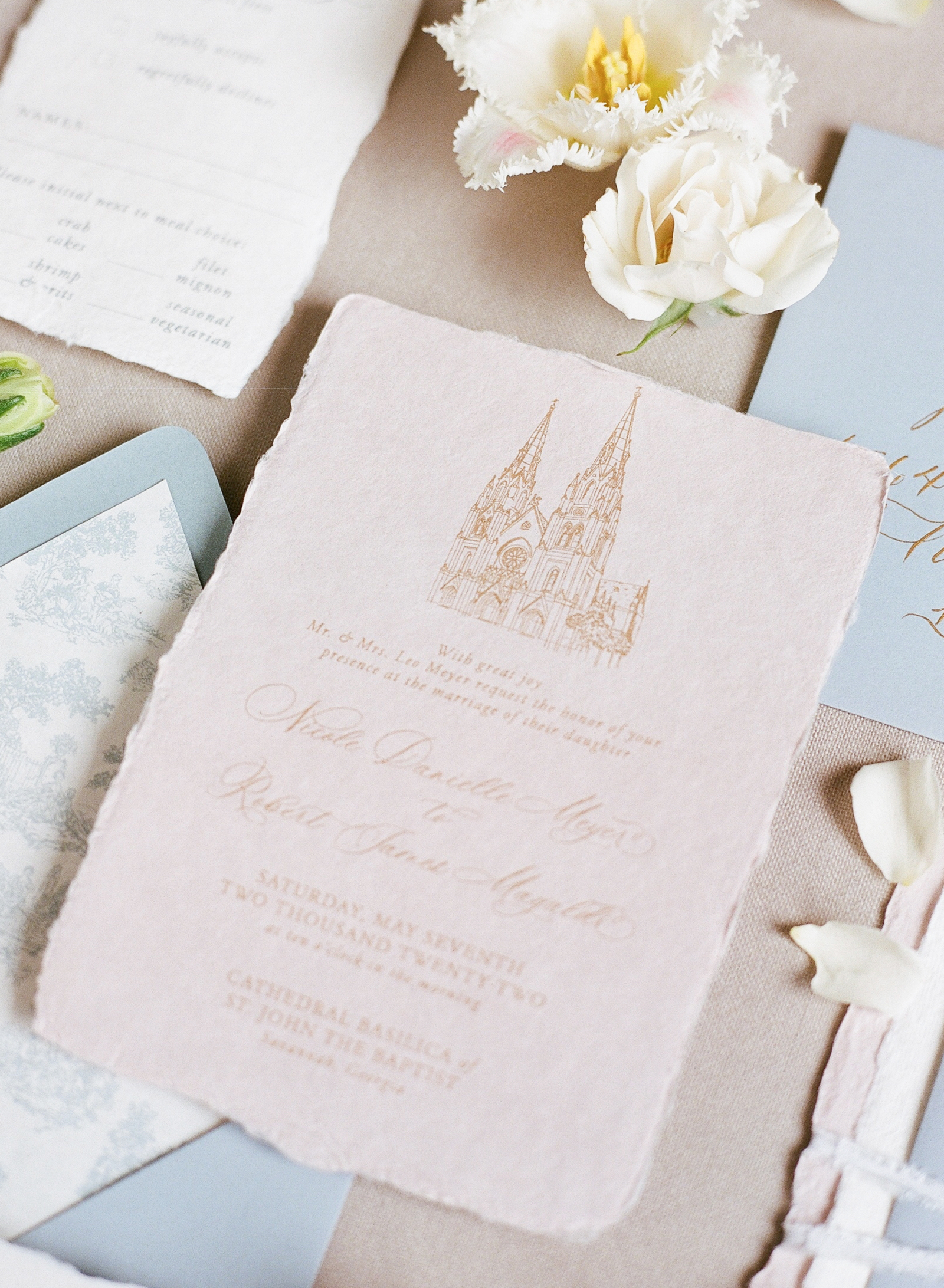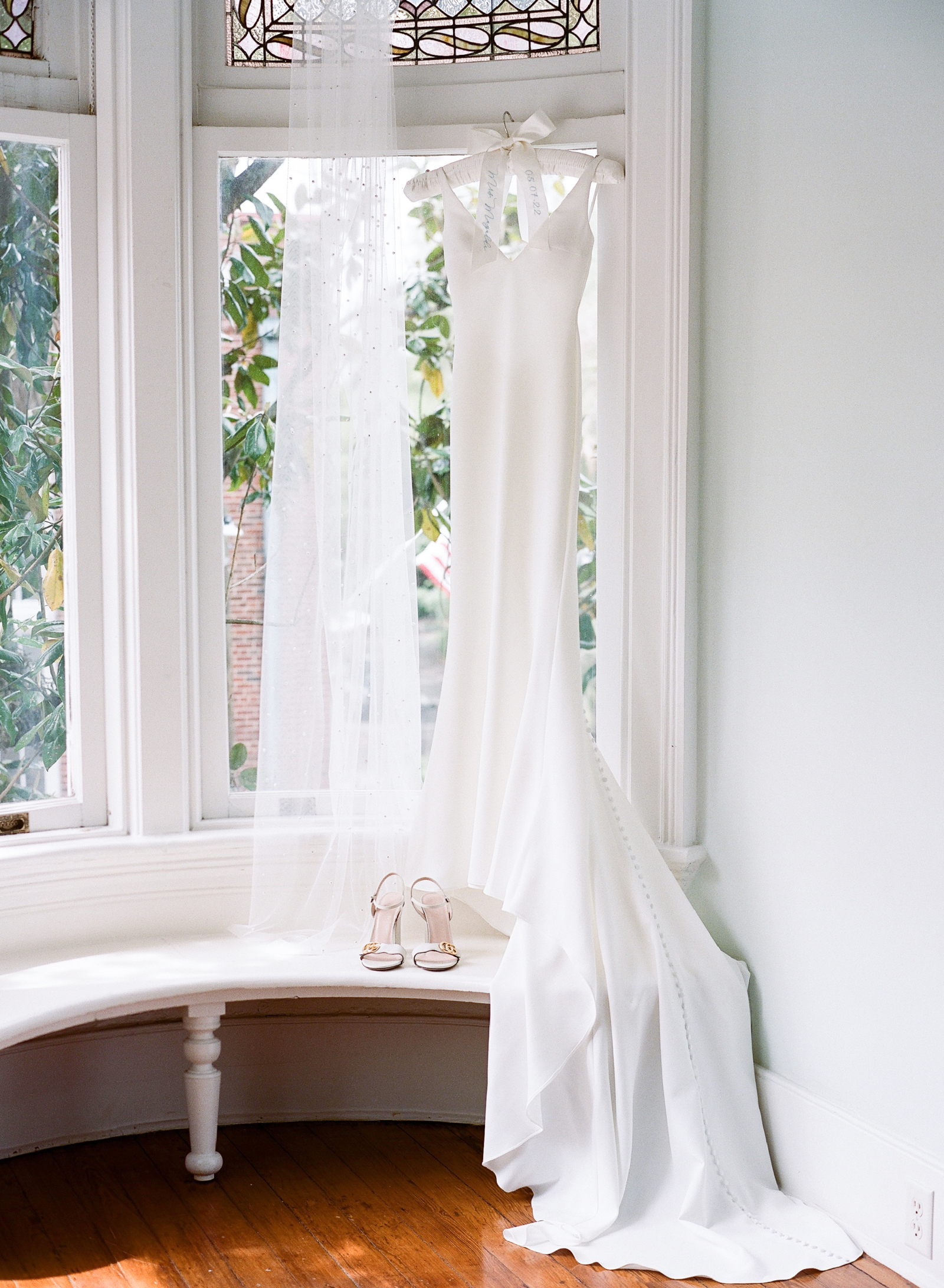 DID YOU HAVE ANY DIY ELEMENTS? I decided to DIY many elements of our wedding simply because I did not want to settle for the limited options on the market. My intention was to curate an environment that reflected Rob and I's personality as a couple, rather than replicate the generic wedding "templates." My advice is to get ideas from the market and then run with it. For example, I put together my own mirror seating chart and card collection station. I enjoyed thrifting the pieces that spoke to me including a whitewash vintage mirror and matching birdcage. I then assembled them with blush cheesecloth from Amazon to pull in the wedding colours, and it all came together with a few florals added the morning of the wedding.
DESCRIBE YOUR WEDDING FLOWERS: Lush blooms were paired with sprigs of greenery in loose bouquets, tied together with hand dyed silk ribbon in a romantic garden style fashion.
FAVOURITE DETAIL OF THE DAY: We will never forget being pronounced husband and wife by Father Schrek at the Cathedral Basilica of St. John the Baptist, surrounded by everybody we love. Rob and I went through a rigorous process to be deemed suitable for marriage in the Catholic church and, to date, it is one of our biggest accomplishments we succeeded in together. Those we love traveled far and wide to witness our proclamation of love and faith, showing exuberant support of our future endeavour as husband and wife.
WHAT ADVICE WOULD YOU GIVE OUT TO A COUPLE PLANNING THEIR WEDDING? Trust in your decisions as a couple wholeheartedly. Lean into your personal preferences and style to create a day that will truly reflect your personality as a couple. Leave out the unsolicited advice and opinions, as it's just noise that confuses the authentication of your day.
MOST MEMORABLE MOMENT? Rumour has it, you plan your wedding for what feels like an eternity, but you blink and the day is over. They are not wrong, the most memorable moment was when time felt like it stopped. Rob and I rode separately from the wedding party, to our reception, in a Callan's Classics' Bentley where we are able to clink glasses just the two of us. Together, we were able to bask in the biggest moment of our lives without any distractions.
WHAT ASPECT OF THE WEDDING WAS THE MOST IMPORTANT TO YOU BOTH? Both Rob and I were raised in strong, Catholic families. In fact, one of our very first dates we attended mass together in Manhattan. We felt it was crucial to hold our ceremony in a Catholic church, and not just any church, but a church that was special to us. The Cathedral Basilica of St. John the Baptist in Savannah, Georgia is not only the home parish of my parents, but the location of Rob's proposal. The only non-negotiable in planning our wedding was getting married in this Cathedral. With full bookings for years to come, we leaned on creativity and asked if they would be willing to accommodate a morning ceremony. To our great excitement, they were on board.
ANY OTHER DETAILS THAT HELP TELL THE STORY OF YOUR DAY? I was blessed to work with two wedding planners. I selected Tara Skinner Weddings and Events because they were highly rated in the location of my venues. Through the company, I worked specifically with Lead Planner Evan Cowart. Not being local to the area myself, Evan provided a wealth of knowledge and connections to the Georgia wedding industry. The second wedding planner that helped in the magic was The Virginia Wedding Planner. The owner, Christina Duty, happens to be my big sister. As little girls and built in best friends we grew up dreaming of our weddings, and here we were at my parent's kitchen table pouring over floral arrangements and searching for the perfect shade of pink. I truly believe Rob and I' s wedding so accurately portrayed us as a couple because the talent behind the day debatably knew us better than we knew ourselves.
TELL US A LITTLE ABOUT YOUR HONEYMOON: We traveled to Italy for our honeymoon and spent most of our time in Tuscany within the regions of Chianti, Val d'Orcia, and the Cinque Terre. Between the new wineries and old vines of the Chianti region, the beautiful rolling hills and pecorino cheese of the Val d'Orcia, and the outstanding views in the five towns of Cinque Terre, we enjoyed much of central Italy within a week. Our activities included horseback riding, an early morning hot air balloon ride, many wine tastings, and a full day spent riding around Tuscany on a white Lambretta scooter. Our two favourite places were the quaint and picturesque town of Pienza, located just east of Montepulciano as well as Riomaggiore, the southern-most sea-side town at the base of the Cinque Terre National Park.
IS THERE ANYTHING YOU WOULD CHANGE OR DO DIFFERENTLY? I truly believe every faux pas, flaw, and incident on wedding day is what made the day uniquely ours.After all, no good story starts with "everything went to plan." If I had this perspective during the planning process I would have been less focused on creating an unattainable "perfect" wedding and more confident in my decisions.