Great, big things can certainly come in small packages and Adrien & Andrew's beautiful wedding day captured by Austin wedding photographer KRISTIN LA VOIE was proof of this. On a perfect summer Thursday, these lovebirds met at the Alfred Caldwell Lily Pool to privately exchange their vows before meeting their families at THE FREEHAND HOTEL for a sweet ceremony followed by champagne toasts. Kristin tells us, "After the ceremony w\e then walked through the city a couple blocks to their dinner at the Tortoise Supper Club, set in a private, candlelit room with a band trio and more heartfelt toasts. Every minute was magical."
WHAT WAS THE INSPIRATION BEHIND YOUR WEDDING STYLE? We wanted an intimate and warm (but still fun!) wedding with just immediate family members so all of our styling choices were centered around this.
WHY DID YOU CHOOSE THIS LOCATION? We started our day at the Alfred Caldwell Lily Pool where we had our first look and read our personal vows to each other. We frequent this location to read together or just sit and soak in the serenity of the spot. We knew we wanted to incorporate it into our day because it's one of our favorite places in Chicago and it naturally has the intimate and calm atmosphere we were looking for to start our day. Our ceremony and mini-cocktail hour were at the Freehand Hotel in one of their penthouse suits. The suit is two stories tall so it has large beautiful windows that let in a ton of natural light. It was the perfect size to accommodate us and our 11 guests. From there we went to Tortoise Supper Club for our reception which was held in a private dining room that has lacquered red walls, a library, and a fireplace. It was the perfect way to transition from the lightness of our first two locations to a more night-time but still intimate feel.
HOW DID YOU MEET? We met on a dating app! We had our first date not long after meeting and have been together ever since.
TELL US ABOUT YOUR PROPOSAL: It was in October 2020 so there weren't many safe things to do, but Andrew still managed to make it so personal and special. We had plans to get to-go drinks from our favourite bar (which is also where we had a first date) and then go to see a movie outdoors. When we got to the bar Andrew went inside and came back out with our drinks and the largest bouquet of flowers I had ever seen. He proposed right there practically on the street. I said yes and we were able to enjoy the rest of the evening just us.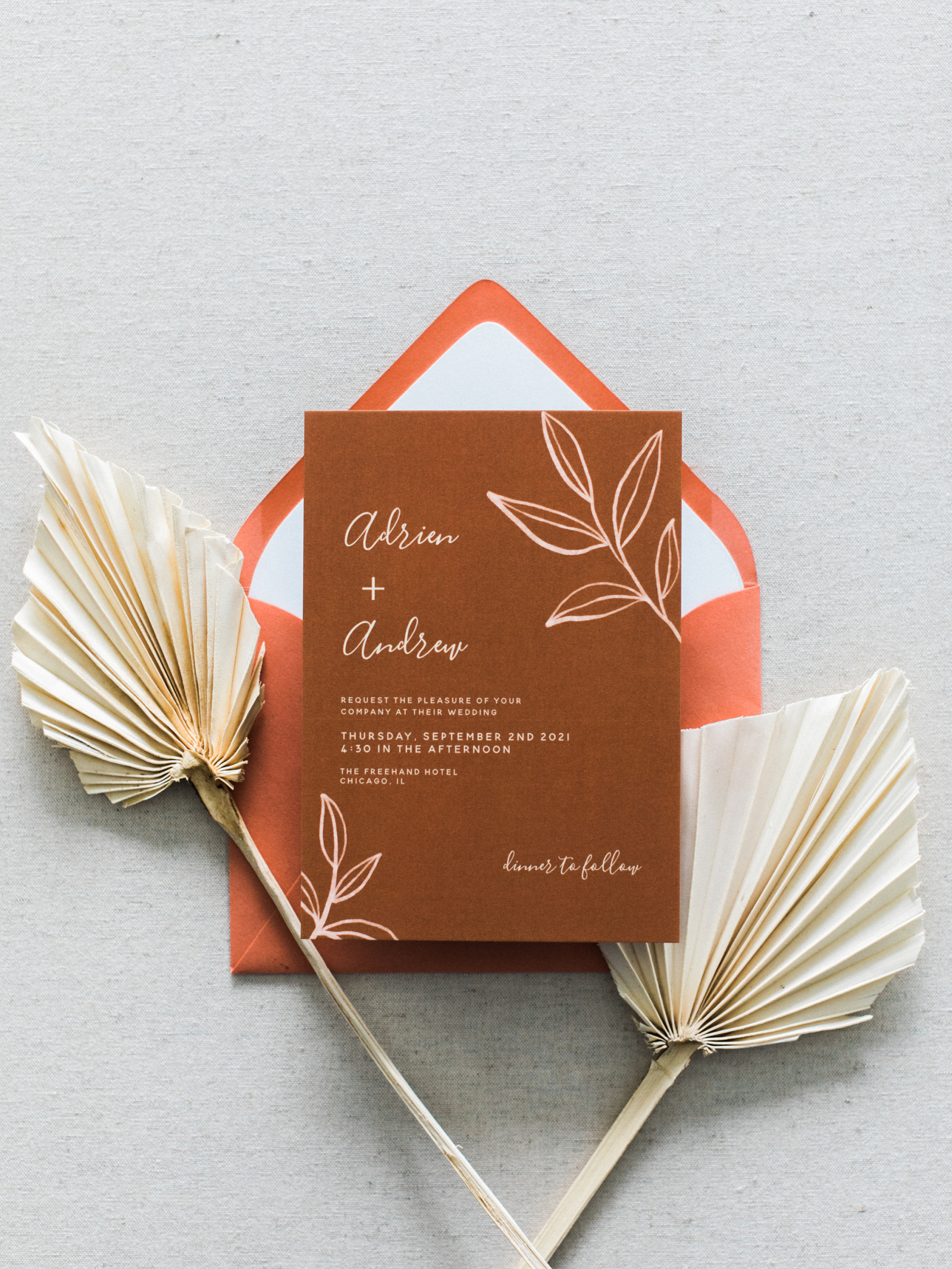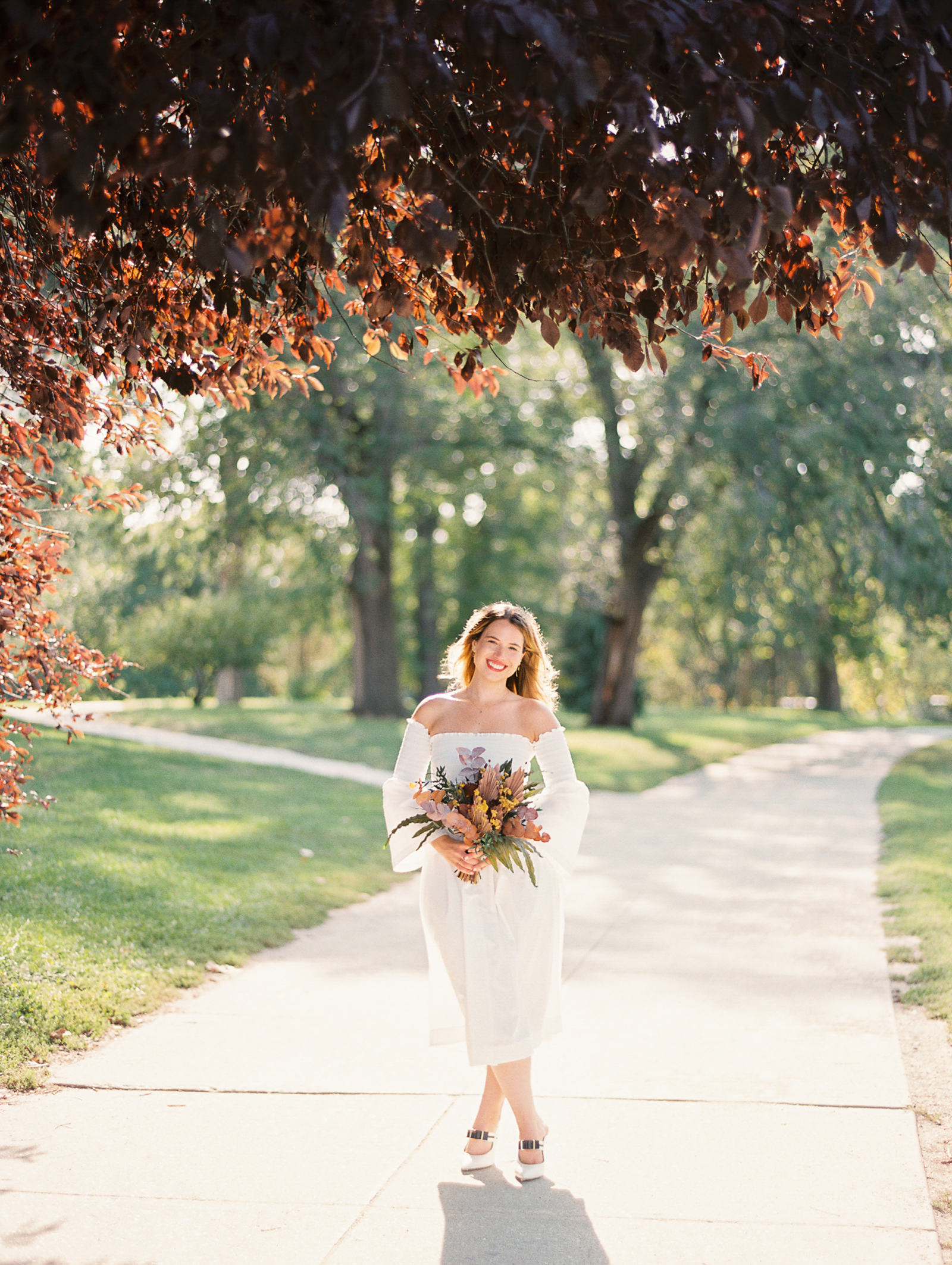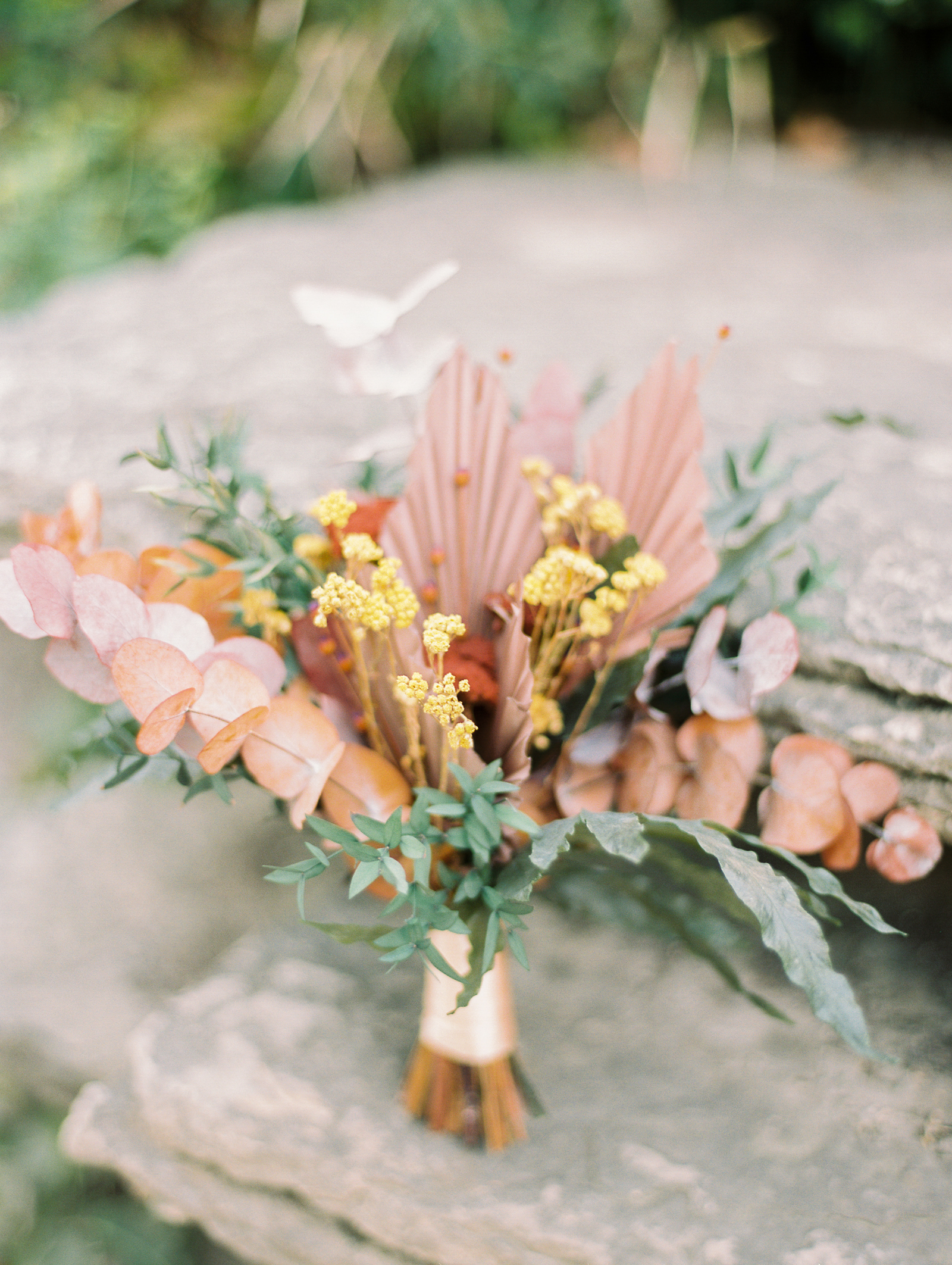 TELL US ABOUT FINDING YOUR WEDDING DRESS: I knew I wanted a simple silhouette but with a fun detail or two. I looked online first and stumbled upon the dress I ended up wearing by La Ligne. The silhouette was so flattering but the sleeves gave it that something more that I was looking for. It's not a typical wedding dress at all so I'm already looking forward to being able to wear it to events in the future.
DESCRIBE YOUR WEDDING FLOWERS: We wanted to play off of the colour palette of our first look location (the Alfred Caldwell Lily Pool) and the brown of Andrew's corduroy suit. We gave Sprout Home a lot of creative freedom and they created a beautiful bouquet and boutonniere using dried flowers in earthy tones with a pop of yellow.

FAVOURITE DETAIL OF THE DAY: Andrew and I both love our wedding bands made by Oak Park Jeweler. They worked with us for months during the first half of 2021 to get them customised just how we wanted and we had so much fun going through the process as a couple. To finally be able to put them on each other's fingers was just the best. We also think often about how Tortoise Supper Club set up our reception so that our live jazz trio was playing when we walked in and we were all immediately greeted with champagne so we could get the night started in style.
WHAT ADVICE WOULD YOU GIVE OUT TO A COUPLE PLANNING THEIR WEDDING? Decide your day based off of what feels the most you as individuals and as a couple. When your wedding day reflects who you are as people instead of all the latest trends, the genuine joy will be felt by everyone.
MOST MEMORABLE MOMENT? It's so hard to pick one but it has to either be walking through downtown Chicago in order to get from the ceremony to the reception or popping champagne immediately after saying "I do". Being able to pour the champagne for our family members and giving them all hugs after a huge life moment is something we'll cherish forever.
WHAT ASPECT OF THE WEDDING WAS THE MOST IMPORTANT TO YOU BOTH? Having our immediate families together safely and making sure that they also felt included in our day was very important to us.
ANY OTHER DETAILS THAT HELP TELL THE STORY OF YOUR DAY? Because family was so important to us, Andrew and I wanted to make a speech that centered around them. Right after we said our vows, we poured champagne for everyone and made a speech that individually thanked each family member for a trait we've picked up from them that our spouse loves about us. They weren't expecting this speech and needless to say a lot of tears were shed. I think our choice of having a jazz trio play during the entire reception was just magical. The ambiance their music created just can't be replicated and it was also wonderful music to have our first dance to.
TELL US A LITTLE ABOUT YOUR HONEYMOON: Continuing the trend of intimate, we honeymooned in the small town of Two Rivers, Wisconsin. We stayed in a beautiful home designed by Frank Lloyd Wright where we laughed a lot, drank a lot of champagne, and listened to a lot of our favourite music.
IS THERE ANYTHING YOU WOULD CHANGE OR DO DIFFERENTLY? Absolutely not. What we remember the most from the day isn't the small details but the big emotions. We'll never forget how loving everything felt and how genuinely happy everyone was that day.
A big thank you to Austin wedding photographer KRISTIN LA VOIE for sharing this gorgeous wedding with us. Kristin is a hopeless romantic. Married to her High School sweetheart, she lives with her two fur babies in Austin. She's been documenting couples' love stories ever since 2006 when she photographed her first wedding and we're delighted to have her as one of our valued Vendor Guide Members. Be sure to check out this Garden bridal with a delightfully whimsical pink dress.