Inspired by the nature and local history of the Colorado Rocky Mountains, Edwardian fashion, the movie Emma (the 2020 version), and photographs of turn-of-the-century weddings, Lily & Christian went about planning a Victorian inspired wedding at HAMILL HOUSE MUSEUM captured by Arizona wedding photographer TROY MEIKLE.
The couple wanted to get married in Georgetown because Christian is a seventh generation Coloradan and his family has history in the area. They tell us, "We've also always loved Georgetown and wanted to be forever connected to it ourselves. The Hamill House itself fit the feeling of "a step back in time" that we wanted for our whole wedding."
HOW DID YOU MEET? We met on campus at our art university. We both locked eyes and then Christian had to spend several weeks tracking me down because every time he got close, I'd bolt - I was too nervous to talk to the most handsome man I'd ever seen! Eventually he tracked me down and we've been together ever since.
TELL US ABOUT YOUR PROPOSAL: We'd been together for 6 years, and were on a trip to visit Lily's parents in Montana. Lily was hinting every way she cold think of that she wished I'd propose, when I suggested we leave the house to go snowshoeing. We made it to the top of a mountain, when suddenly I set the timer on my 1960s Minolta film camera, put it on a stump nearby, and pulled out the 1890s wedding ring she'd seen in an antique shop several months earlier.
TELL US ABOUT FINDING YOUR WEDDING DRESS/ATTIRE: I was really inspired by both Edwardian and 1940s wedding dresses and figured I would have to design my own to get the combination just right. However, my stylist at Emma and Grace Bridal in Denver understood my vision and we found the perfect Pronovias leotard and skirt that I combined with a flower crown, veil, and silk belt to tie it all together. My mom's Edwardian inspired Peter Fox shoes, that she wore at her own wedding, completed the look. - Lily
I really wanted to look authentically turn-of-the-century at our wedding, so I ended up sourcing my suit and most of my outfit from Darcy Clothing, a historical reproduction clothing shop in the U.K. The tall starched collars, suit, and shirt were all cotton. The cufflinks are antiques, a gift from Lily's Yiayia and late Pappoo. My boots are new old stock Chippewa Packer Boots. - Christian.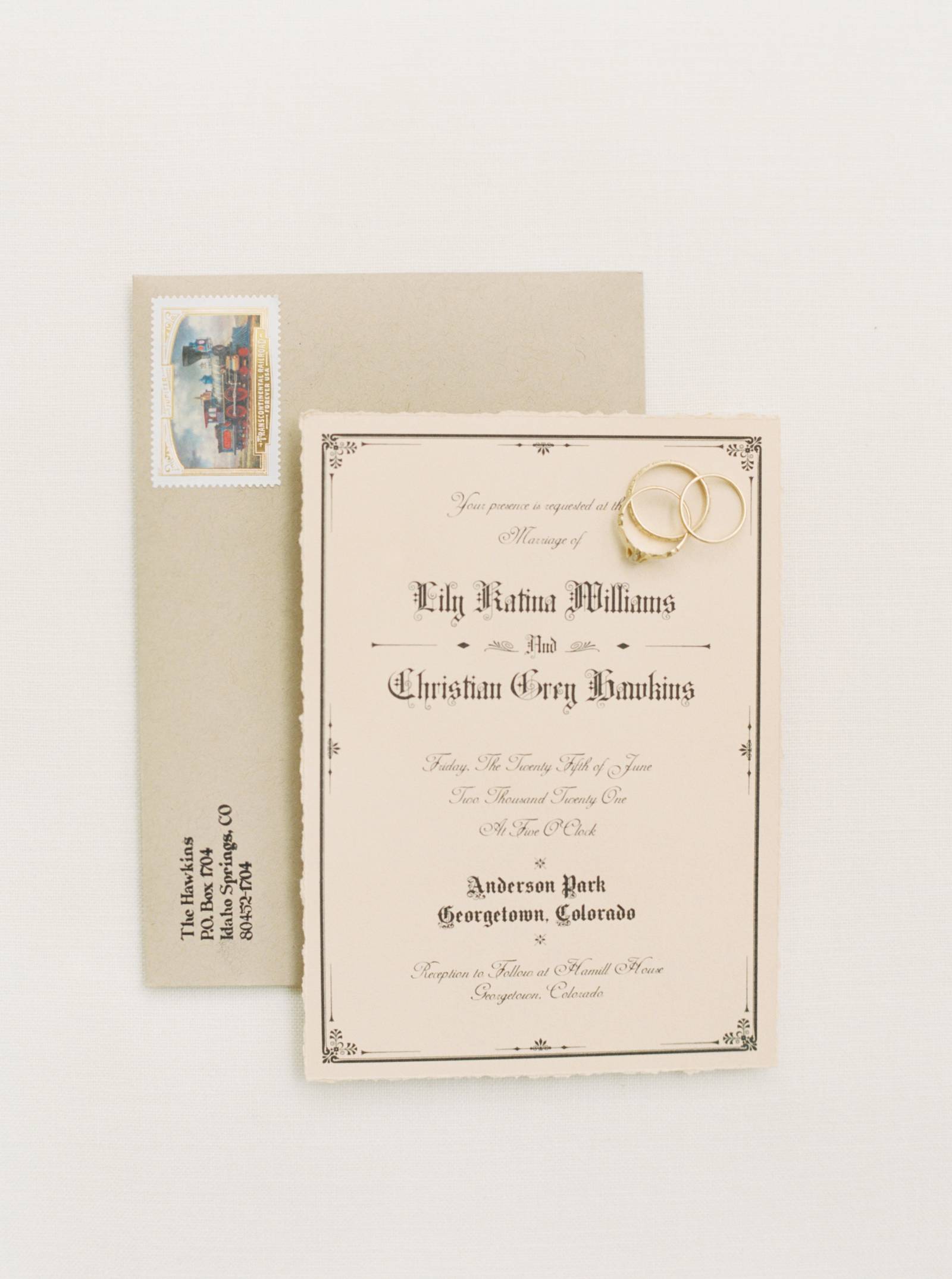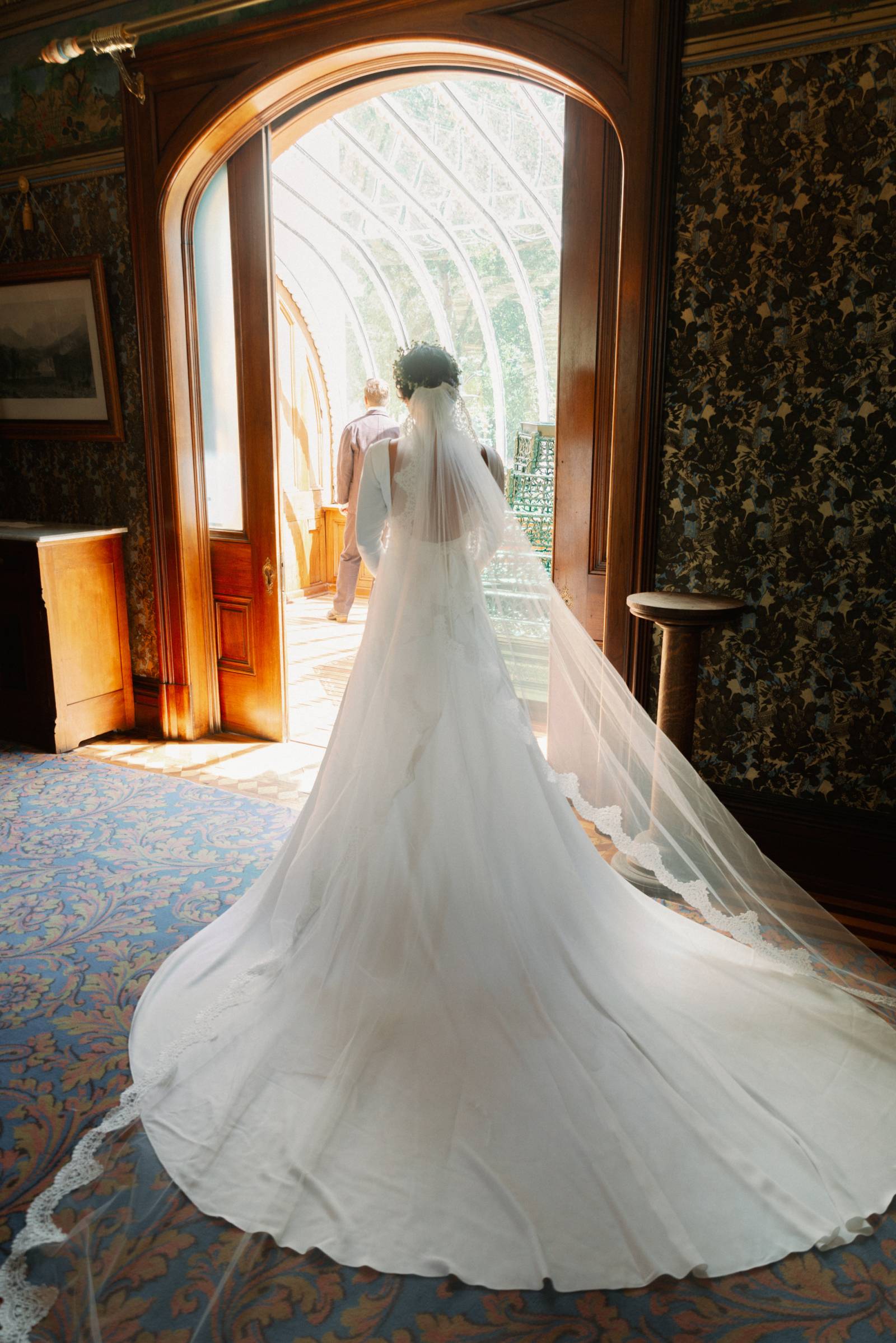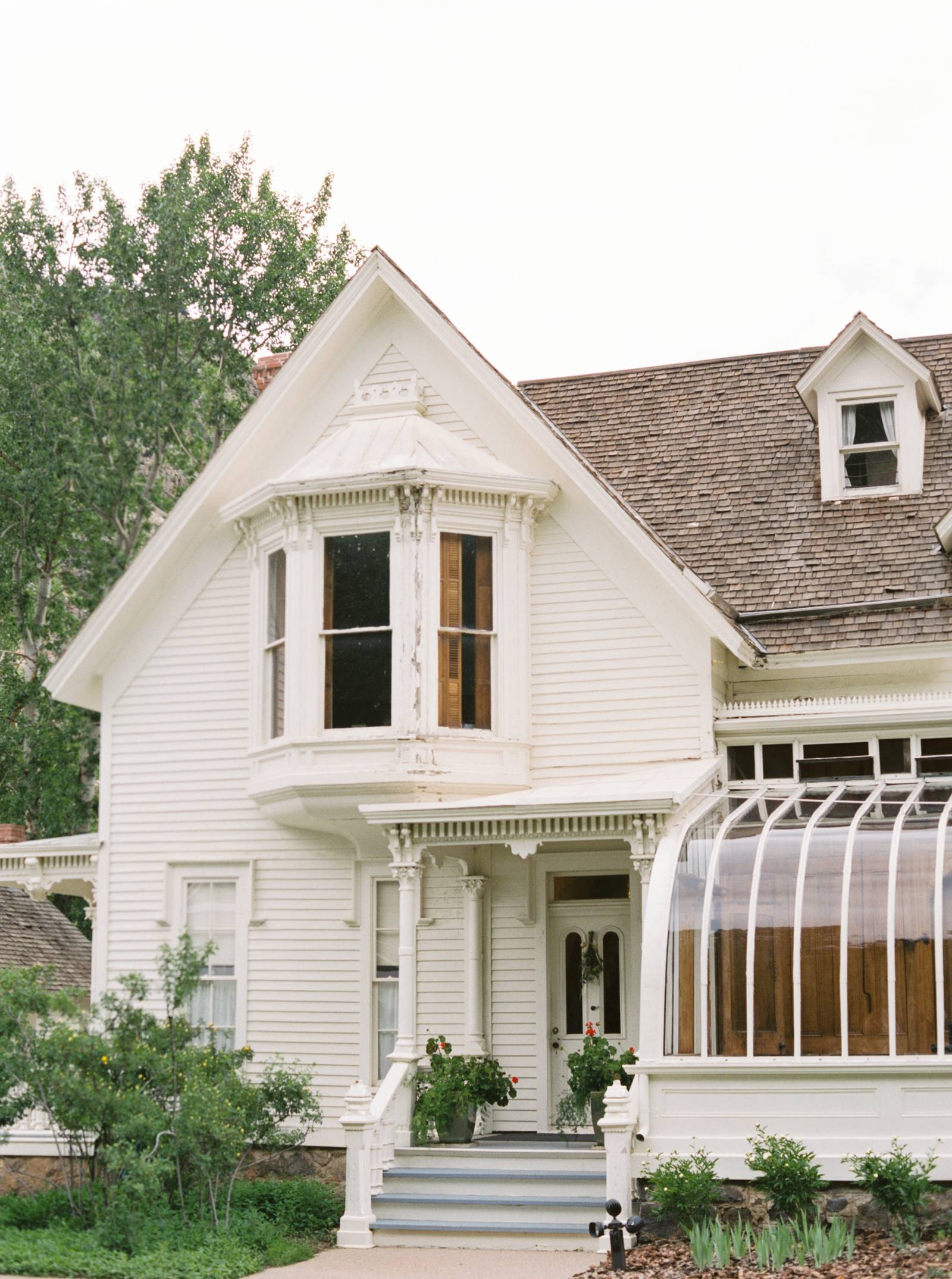 DID YOU HAVE ANY DIY ELEMENTS? We collect antiques, so we had antique tablecloths we'd both inherited and purchased on all of the tables. Antique bottles held flowers on each table, and we also had a typewriter Christian restored set up on a side table to function as the guest book.
DESCRIBE YOUR WEDDING FLOWERS: I had told our florist, PEPPER ROSE DESIGN, that our colour scheme was like "a bee landing on lavender"… and that other than three white Cala Lillies in my bridal bouquet and using small antique bottles on the tables, we wanted her to follow her artistic vision. She really outdid herself! The flowers were incredible from the hair pieces, to the table settings. We were so happy and have hung most of them to dry and pressed many others to keep for a lifetime.

FAVOURITE DETAIL OF THE DAY: There were so many but the highlight was that the weather played along perfectly with the wedding. It had been raining all week, but on the day of the wedding the skies were blue and filled with beautiful towering clouds to look at and stayed clear exactly while everyone was outside for the ceremony and then the rain came during the reception after dinner.
WHAT ADVICE WOULD YOU GIVE OUT TO A COUPLE PLANNING THEIR WEDDING? If you're looking for a venue, try asking places that aren't broadly advertised as a wedding venue. Our venue had only recently started hosting weddings when we booked with them, and because of that we were able to get something a little different a lot more affordable than we expected.
MOST MEMORABLE MOMENT? No one single moment stands out above the others because they all felt so memorable and special in their own ways.
WHAT ASPECT OF THE WEDDING WAS THE MOST IMPORTANT TO YOU BOTH? It was really important to us that the wedding felt honest and full of the love not only between each other but of our families and everyone we care so deeply about. Having a guest list of 56 people made it feel like every moment was full of so much care.
ANY OTHER DETAILS THAT HELP TELL THE STORY OF YOUR DAY? Like so many others, we had to postpone our wedding a year because of the pandemic. So we had already eloped the year before, but still wanted the full wedding with ceremony. Getting to have this moment with 56 of our closest friends and families felt so intimate and beautiful. I'm so glad we got to have it and that the timing worked out well.
IS THERE ANYTHING YOU WOULD CHANGE OR DO DIFFERENTLY? Absolutely nothing. It was better than we could have hoped for!
A big thank you to Arizona wedding photographer TROY MEIKLE for sharing this beautiful wedding with us. Based in both Montana and Arizona Troy believes documenting beautiful and honest relationships is the most rewarding career. Her goal is providing couples with timeless images that represent the story of their relationship. She is passionate about traveling and meeting new people. For Troy, fine art photography means creating genuine and organic images that illustrate your love story as authentically as possible. Head over and see more of her portfolio here.