Sonali & Hormazd had not just the one ceremony, but two! With many of their guests coming from out of town and wanting to give them all a taste of San Francisco, they chose two contrasting venues. They held a civil ceremony at the iconic San Francisco City Hall - its gilt work and carved stone allowed them to appreciate the rich cultural history of the city, and followed it up with a traditional Indian celebration at the stunning VILLA MONTALVO which highlighted the natural beauty of Northern California. San Francisco wedding photographer INÉS ZRINSKI captured these absolutely gorgeous images of the multi faceted celebration which included the most exquisitly detailed wedding henna we've ever seen!
Gorgeous bride Sonali tells us, "We had two ceremonies: a traditional Indian one, and a civil ceremony. We wanted to highlight our Indian cultural heritage. Hormazd is Zoroastrian, so we did a traditional Parsi wedding ceremony, and my sari was hand-embroidered with peach and pearl flowers. I am not Parsi, which made our first look a sweet and special moment. When Hormazd saw me, his first reaction was, "my Parsi bride." The red bangles I was wearing are meant to give my husband a long, healthy, and safe life, and they were given to me by my mother-in-law, as is traditional. Being raised in the States, I have always dreamt of my sister, Anika, officiating our civil ceremony-- and she did. It was an amazing experience to stand up at the altar with her and my husband, vowing our love for each other in front of friends and family from around the world."
I have been enamoured by the English Countryside and Regency novels (Pride and Prejudice was my first ever bedtime story) ever since I can remember, and we wanted to create this very romantic, peaceful, ethereal feeling for all of our friends and family. I would say our wedding style was inspired by the feeling of stumbling into a secret garden that no one else knows about, and falling in love there. We wanted all of our guests to be reminded of their own love stories, which is why we went with the colour palette of dusty rose, sage green and very soft, vintage-feeling details. Love is timeless, and we wanted our wedding to be, too!
Falling in love is natural, abundant, and timeless. I, the bride, grew up reading Jane Austen novels from back when Mr. Darcy was just a bedtime story, and I learned volumes about love. I learned that falling in love was natural, abundant, and timeless. And so, once Hormazd and I decided to get married, I knew that our wedding had to embody all of those qualities. While I was planning our wedding, Hormazd was still in India, waiting for his visa application to come through, so every decision I made in planning the wedding-- from the stunning, overflowing dusty rose and moss green florals, to both monumental venues, Villa Montalvo and San Francisco City Hall-- was an expression of how much I love him."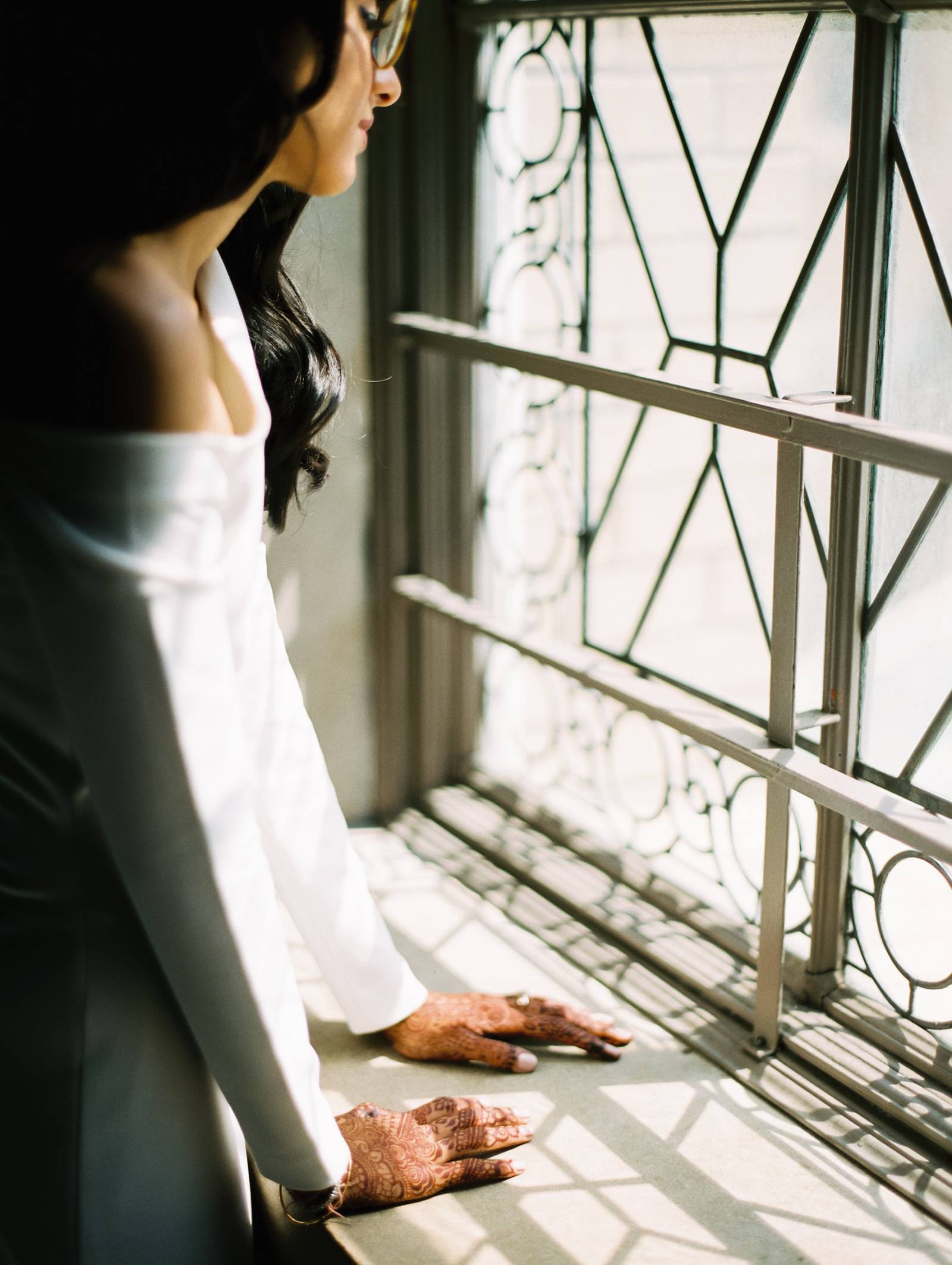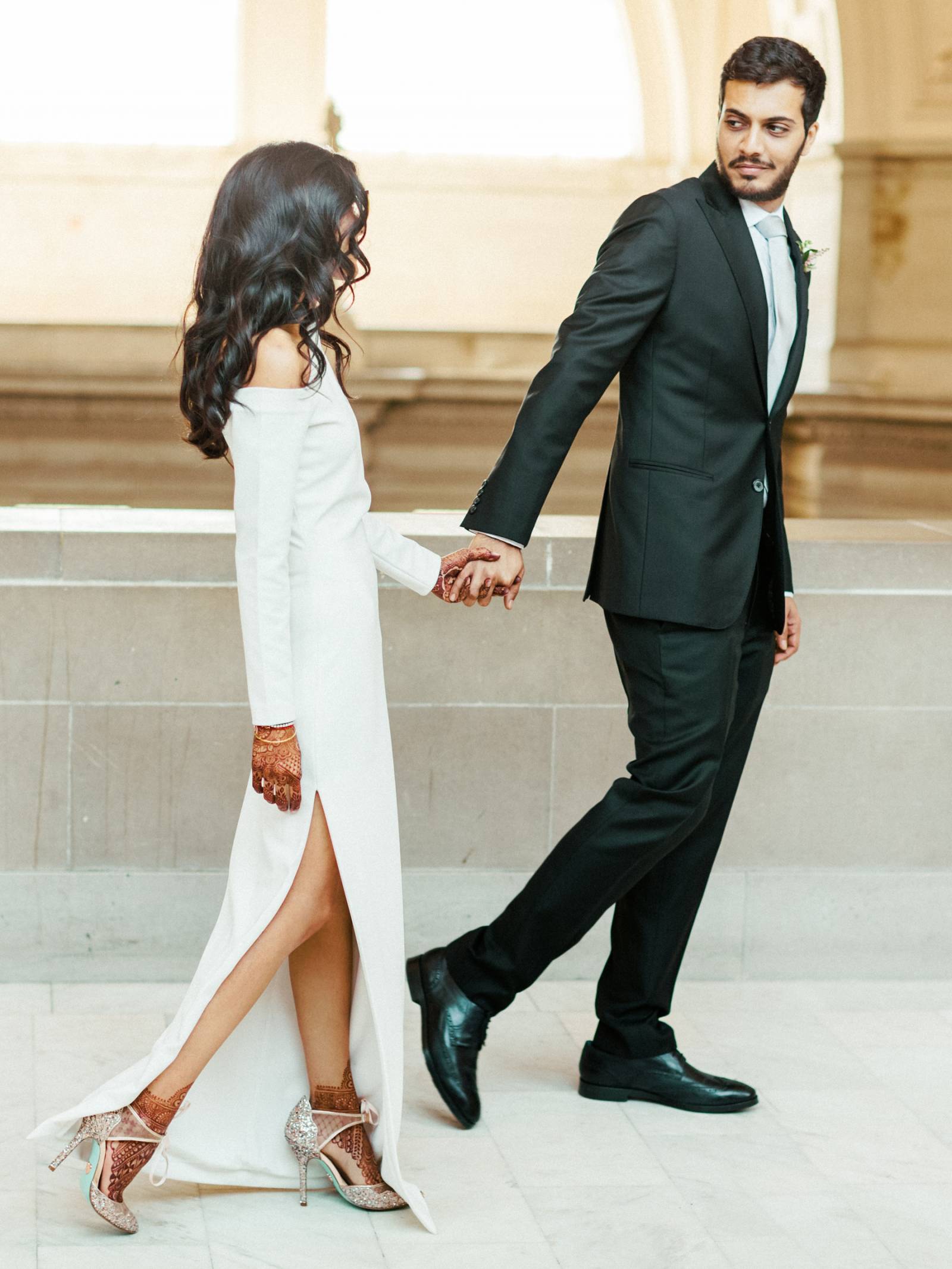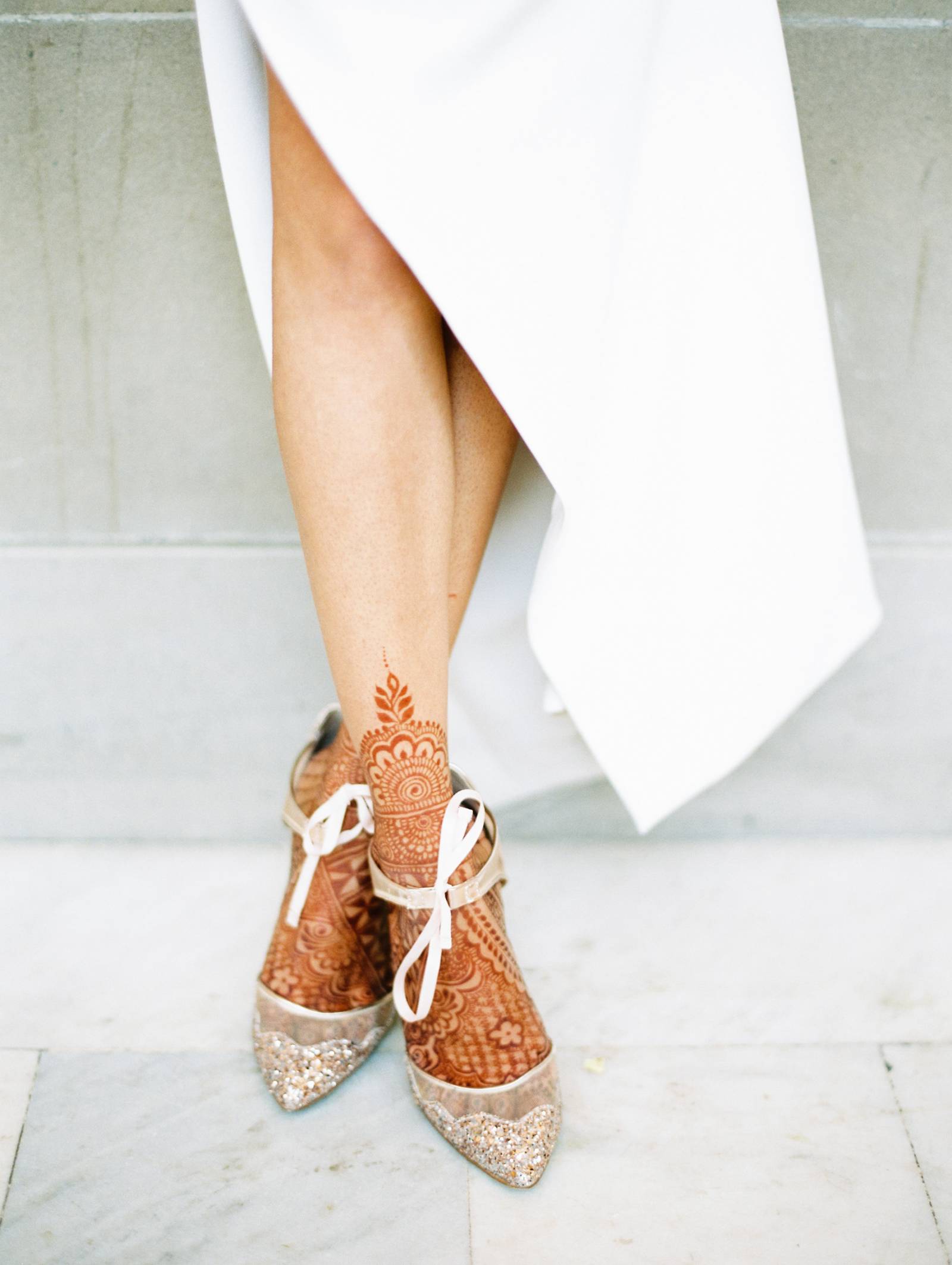 WHY DID YOU CHOOSE THIS LOCATION? I had come from my home in Pennsylvania to visit Saratoga years ago with my family, before I even went to London and met Hormazd. One afternoon we went to Montalvo to sightsee, and I remember pulling up the drive to this stunning estate with the sprawling lawns and just thinking: I'm going to get married here. So when it turned out that we lived in this area when it was time to start planning the wedding, it felt almost predestined that Montalvo would be the venue we chose.
HOW DID YOU MEET? We met in film school - I was studying screenwriting and Hormazd was studying producing -- and our first project was to star in a short, 5-minute silent romance film that was the story of two strangers meeting on the Underground. People have the hardest time believing us that that's actually how we met, but I guess life followed art, and we are so glad we did!
TELL US ABOUT YOUR PROPOSAL: Hormazd proposed one night on our favourite stretch of Southbank, in London. It was freezing cold, but it was perfect. We ended up being accidentally serenaded with acoustic versions of our favourite love songs from a nearby Greek restaurant, and the backdrop for the proposal was St. Paul's Cathedral.
TELL US ABOUT FINDING YOUR WEDDING DRESS: My wedding sari was a one-of-a-kind hand-beaded sari that I found by accident on the first day of wedding shopping in Mumbai. I was looking for ideas and the owner of the shop said she had one piece left that was in the colour I was looking for (blush pink) -- and that was it! I fell in love immediately. My jumpsuit was the perfect complement to the sari -- baby blue, modern and sleek. I'd been following Alexia Maria for a while on instagram -- love that her brand is inspired by Audrey Hepburn -- and so I knew I had to have it for my reception! When I found out the skirt was detachable -- AND had pockets? I was smitten.
DID YOU HAVE ANY DIY ELEMENTS? Hormazd hand-built and painted the adorable dessert cart with the help of my sister, Anika, and my cousin, Richard. While I was having my bridal henna applied (which was an 8-hour process), they were in the garage, spray-painting that perfect shade of mint green and adding gold touches.
DESCRIBE YOUR WEDDING FLOWERS: Our wedding flowers were wild-looking bouquets of pinks and greens. We wanted a variety of flowers so it looked as though we had picked the flowers from the most lush of forests. I couldn't be happier with the final look of the flowers, I think they really created the romantic atmosphere we were looking for!
FAVOURITE DETAIL OF THE DAY: When I asked Hormazd was his favourite detail of the day was, he said "You - the one detail I got right." What a charmer. Montalvo itself was the most perfect setting to host everything we wanted to do on our wedding day. As filmmakers, mise-en-scene is so important, and Montalvo, with its gardens, its library, its character did so much of that work for us!
WHAT ADVICE WOULD YOU GIVE OUT TO A COUPLE PLANNING THEIR WEDDING? Remember that no guest will remember the little detail that didn't work out - the wrinkle in the dress, the missing table number, or when the priest announced his own name instead of the groom's while "now announcing you husband and wife" (okay, actually people will probably never forget that one). All anyone even cares about is that two people they love are starting their lives together. And definitely go out for coffee, just the two of you, after the ceremony - you're going to need it!
MOST MEMORABLE MOMENT? After we had finished taking our sunset portraits, it was just Hormazd and me crossing that vast lawn toward the house - where our loved ones were no doubt dancing and laughing and eating and drinking - and we saw a family of four deer, crossing the lawn. It stunned us both -- that moment was such a magical, beautiful illustration of the fact that despite all the expenses and the planning and the ceremony, what we were really doing that day was creating a family.
WHAT ASPECT OF THE WEDDING WAS THE MOST IMPORTANT TO YOU BOTH? Because we're from two different continents (North America and India), and we studied together on a third (the UK), it was super important to us that all of the most important people in our lives could come together and celebrate the day with us.
ANY OTHER DETAILS THAT HELP TELL THE STORY OF YOUR DAY? So many friends and family came together to help us create our special day; that by the end of it, it felt more like a family party than a wedding with guests. I remember meeting at the top of the stairs to make our big, reception entrance, and we were just so excited to see everyone's smiling faces and get all the hugs from the people who were waiting for us at the bottom.
TELL US A LITTLE ABOUT YOUR HONEYMOON: We drove across the country, from Pennsylvania to San Francisco over two weeks. Because Hormazd didn't grow up in the States, I wanted to show him the East Coast, where I grew up, and then we drove via the southern route, through states even I've never visited, like Arizona and New Mexico. On the trip, we listened to music, and talked, and had the road trip of a lifetime (one of many, we hope to take)!
IS THERE ANYTHING YOU WOULD CHANGE OR DO DIFFERENTLY? Honestly, the weekend went so quickly that we ourselves can't even remember the things that weren't perfect anymore. If anything, I think we both wish we had just taken a moment to recognise the importance of what we were doing -- getting married -- and appreciate that our very different lives brought us together at all.
A huge thank you to San Francisco wedding photographer INÉS ZRINSKI for sharing this utterly stunning wedding with us. Inés adores meeting new people and creating beautiful images with them. She tells us, "I love all things whimsical, aged, and romantic whether it's in regards to photography, literature, or cheese! Whilst I have multiple passions, from felting quirky toys to crafting complex costumes, film photography is where my heart is most at home as there is something tangible about the experience as you slow down and hold your breath for the negative to soak in as much light as possible." Head to her profile to see more of her beautiful work.