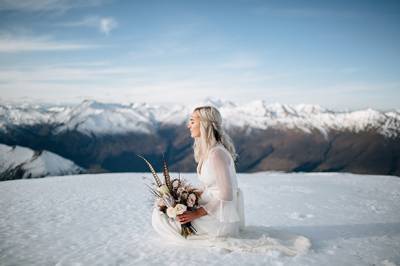 When Sydney wedding photographer JAMES FROST came to Lake Wanaka, New Zealand, the beauty, the majesty, and the sheer epic drama of the landscape demanded a beautiful bride and groom in the picture. LAKE WANAKA TOURISM pulled together their go-to dream team including ASPIRING HELICOPTERS, CRIMSON WEDDING FLOWERS – who created that beautiful textural bouquet – ROAD TO BEAUTY, and THE FLOWER BRIDE and asked New Zealand's Olympic Ski golden boy, Jossi Wells and his very new wife Hannah if they would be keen to relive their wedding day in Wanaka. Local boy Jossi jumped at the opportunity to take his beautiful bride into the mountains where he has spent his life skiing. Married in her hometown in the USA, the couple, who have chosen the stunning lakeside town of Wanaka as their home, were thrilled to be able to recreate their wedding photos in the home of their heart. And the results will leave you breathless!
If you've booked into the FORAGE & FERN workshop in Queenstown next March, this is a little taste of some of the scenery you'll be treated to… minus the snow! I can't say enough about how amazing it is in this part of the world!