It's no secret that Autumn and its warm tones are a favourite of mine... in fact I design my entire life by a fall colour palette so much do I love it! Naturally when this beauty hit by inbox and took me a while to get back to reality after fawning over all the incredible images by Southern California wedding photographer XO & FETTI PHOTOGRAPHY. Autumn is more than just the changing of leaves, it represents growth, change, excitement, hope and renewal. Love blossoms, hope is within us, relationships grow and beauty arises around us. Exquisitely planned by Southern California wedding planner BOWTIES & BOUQUETS this really is an utter dream!
Both Naomi from BOWTIES & BOUQUETS and Vanessa from XO & FETTI PHOTOGRAPHY sought to put together all of the beauty and wonder within us inspired by Autumn. There's a little bit of whimsy, wonder and excitement at the thought of this time of year. The duo wanted to channel the beauty of the Temecula Valley and the passion behind celebrating special moments in every unique love story.
The stunning MORGAN HILL ESTATE set the scene for this beautiful editorial. It boasts of such epic valley views with a lush garden and is the perfect backdrop for any couple who wants to wow their guests. The goal was to keep the ceremony space minimal with decor, yet make a big impact with the backdrop view and gorgeous floral details. NEW CREATION FLORALS added dahlias, peonies, golden rain pods and copper beach to the vines on the gazebo creating an X frame, a perfect backdrop for the couple's "I Do's". The bistro wooden chairs and petal aisle lead the way to the bride and groom as they exchanged endearing smiles and vows.
The reception was a creative design pairing of classic elegance mixed with modern details and untraditional elements. The design led into a unique tone that was set to welcome guests and give them an unforgettable experience. It was full of a variety of textures and details to create a classic and whimsically appealing design. With 3 beautiful centerpieces to add a touch of beauty, Naomi chose pairings that leaned towards classic and modern for the dinnerware, flatware and glassware. To round out the perfect tablescape, Vanessa chose and styled petite textured bud vases and golden candles to add to the mood. These textures enhanced that little touch of whimsy and beauty that everyone can appreciate about Autumn. The scene was set under a Golden Rain Pod Tree which added the most glorious colours to the magical tablescape. Lastly, Naomi chose to move away from the traditional cake and instead opt for a personal mini pie just waiting for each guest. It was the perfect way to create a special yet memorable experience for any guest to feel welcomed to their seat and table. Pie was chosen as a reminder for guests of one of the many great details that everyone can adore about Autumn and this magical season.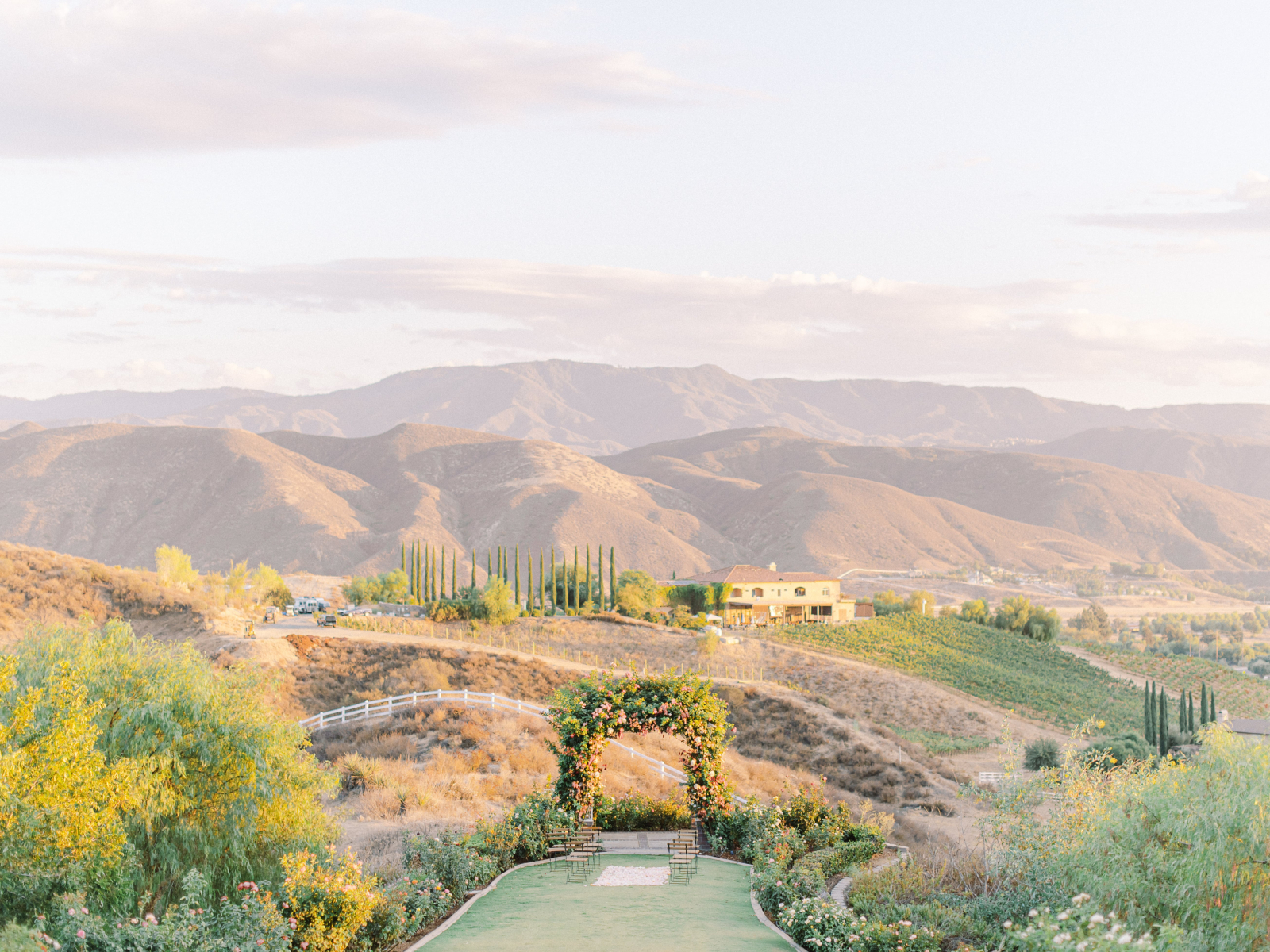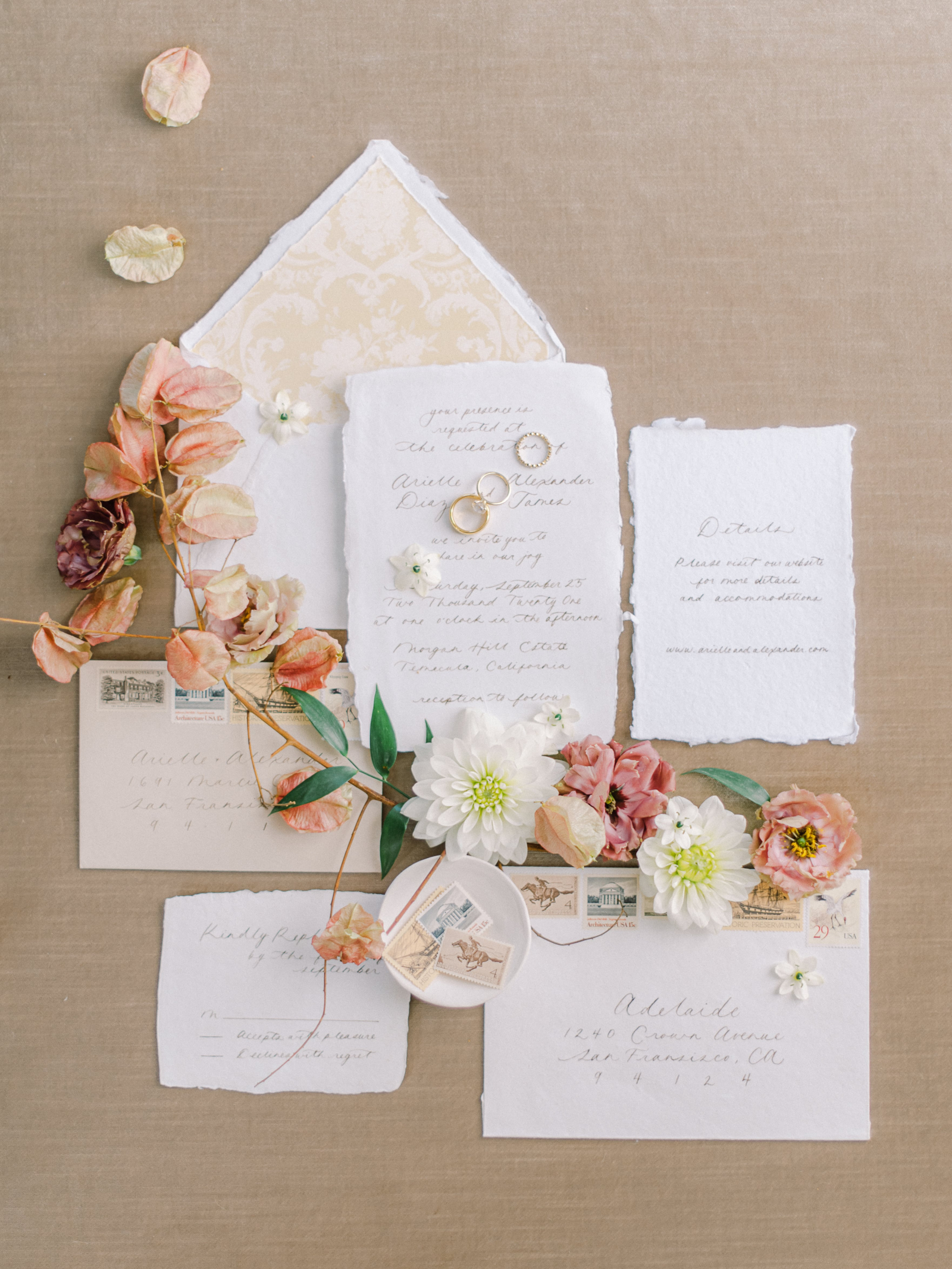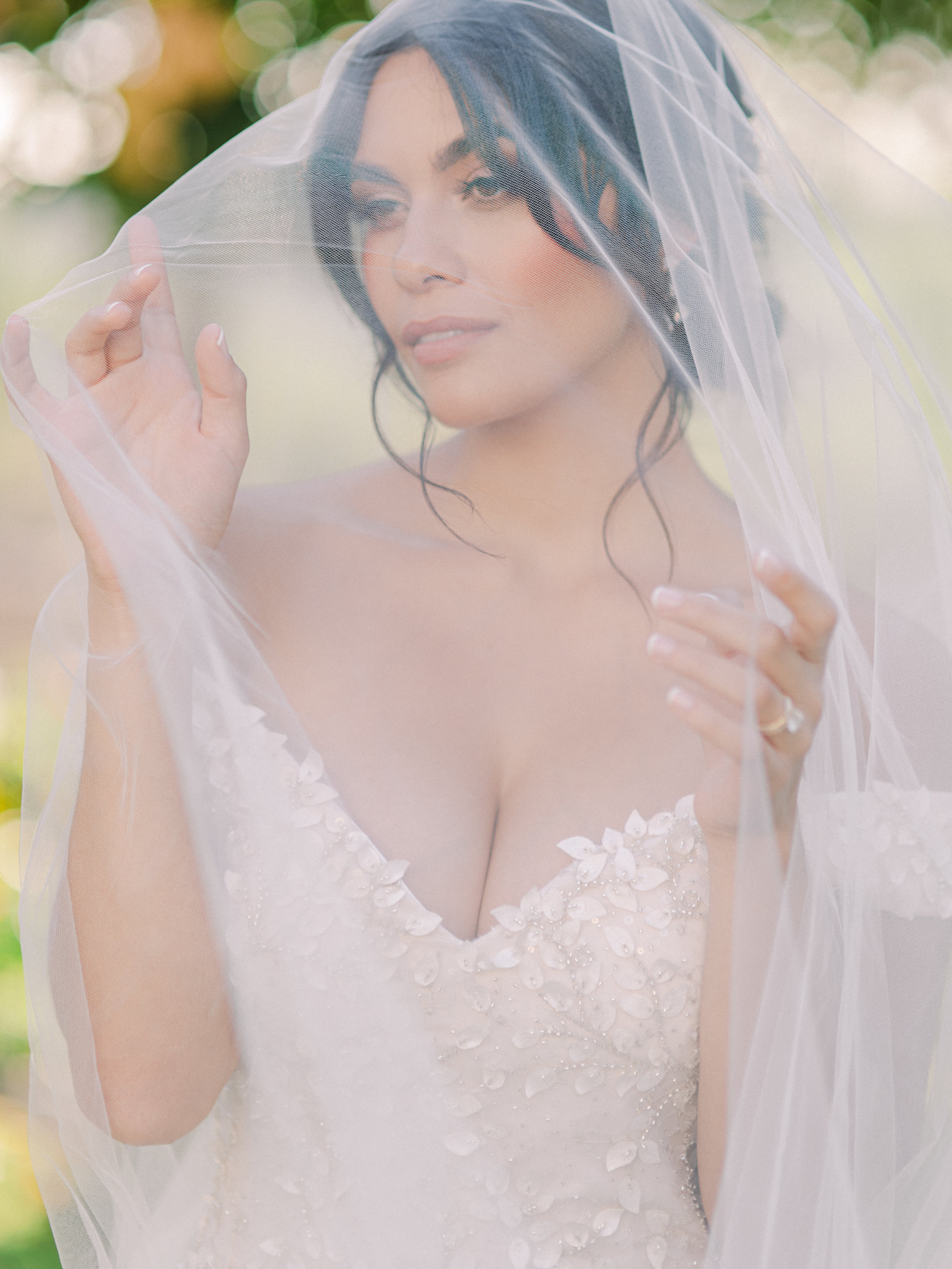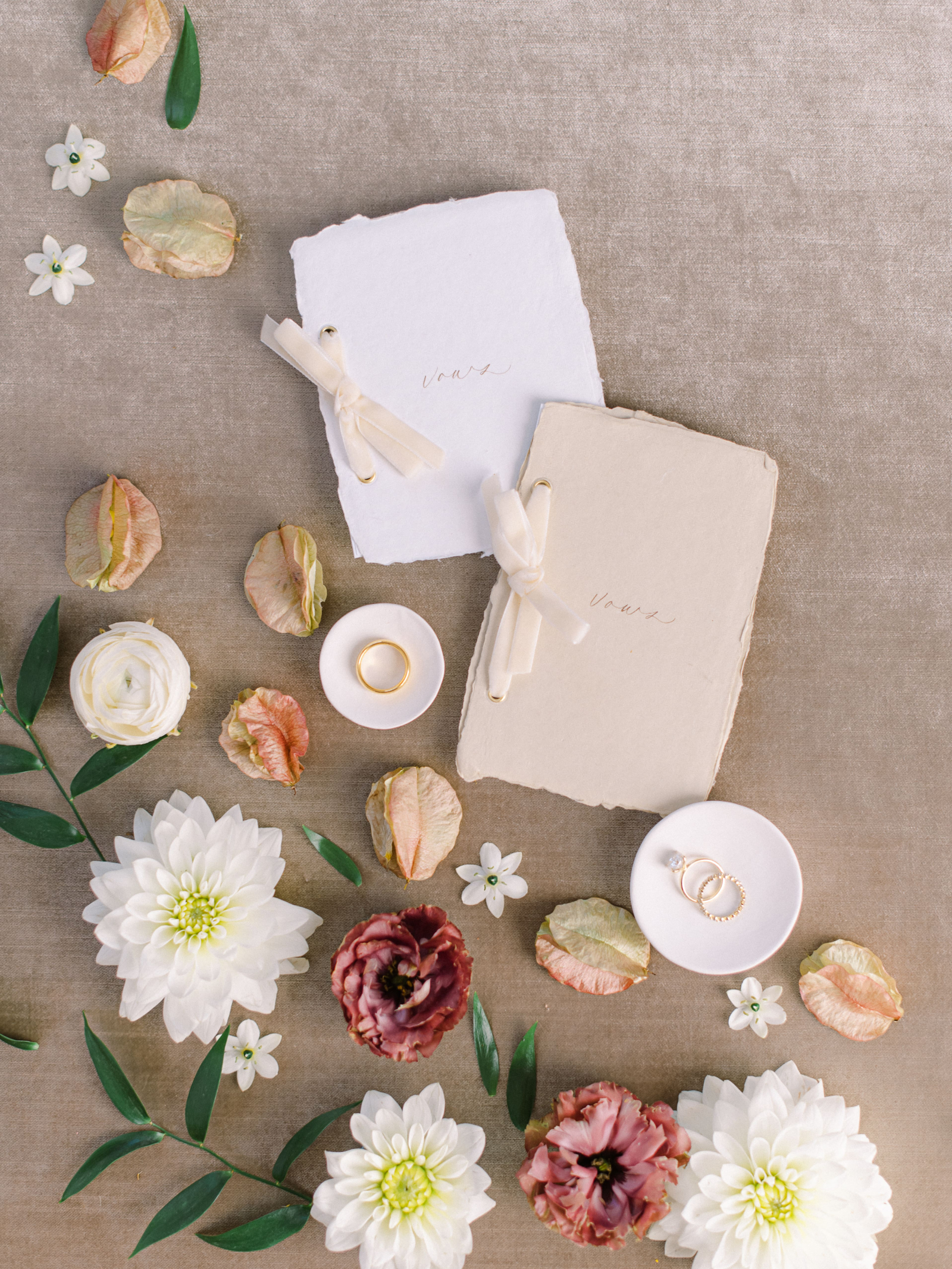 To add to the Southern Elegance, the Bride stunned in a striking gown by Tony Ward Couture. It featured a beautiful A-line cut, adorned with a bed of sparkling leafs in three-dimensional cuts which gave our bride the most elegant and regal styling. The leaf embellishments reminded us of the natural greens surrounding the Estate. Our Bride's hair and makeup styled by KYLEE HUDSON BRIDAL took on a classic and natural beauty look to pair so perfectly with the regal gown.
Our Groom was looking so chic and fashionable in his classic black tux from Friar Tux. The choice of a classic tux only enhanced the beauty of our Bride's striking gown, making them together an absolutely stunning sight!
Paper Goods and Invitations often set the first impression for guests regarding the details and expectation of the wedding. We wanted to enchant guests with the use of multiple textures and a gorgeous walnut brown ink. The inspiration led to leather, handmade paper and a golden toile to tie in the feeling of the period home as well as the colours of Autumn. These paper goods by AMELIA NIU STUDIO were designed to feel both warm and welcoming, yet elegant and classic.
A huge thank you to Southern California wedding planner BOWTIES & BOUQUETS for sharing this absolutely stunning inspiration with us. Owner Naomi is a Wedding Planner and stylist for the wildly in love, fairytale-inspired, fine-art couples. "I believe that your fairytale begins as soon as you say "yes" and I want to create a wedding day experience that gives everyone their own unique and magical fairytale. I am a visual storyteller, a romantic dreamer and a firm believer of creating beautiful and magical keepsake memories that will stay with you for a lifetime! My dream for my clients is for each wedding to be significant through personal touches. Every single one of my clients is so unique and each one has a very special story to share. My greatest joy is getting to tell that story through the planning and design." Head over to her portfolio to see more.
Southern California wedding photographer XO & FETTI PHOTOGRAPHY is a valued member of our vendor guide. Owner Vanessa documents love for the wildly romantic, believers in magic, soulmates and true love. "Combining fine art styles with a documentary approach, we are dedicated to expertly capturing the unforgettable moments of your unique fairytale. XO & FETTI believes in building relaxed, comfortable photography sessions for every client so that each shot is authentic and natural. We do this by valuing the individuality of our clients, getting to know both their personalities and their story before the camera ever steps into the picture." Head over to their portfolio to see more of their work.