Sometimes a story comes along that just touches you that little bit more, and reading Tiffany & Michael's story - and viewing the images by Southern California wedding photographer MALLORY DAWN - does just that. Grab your tissues as I hand you straight over to the gorgeous bride-to-be since she tells her story far better than I can!
From the Bride, "Our story is a bit long, but I'll try to make it as concise as possible. To give you a little back story, I was married previously. I got married when I was 21 & was married for eight years. Four years into our marriage, my ex was training for a triathlon & while cycling was hit by a truck. I was initially told that he was unresponsive & thought I was going to become a widow at 25. Thankfully he survived, but he did suffer a spinal cord injury & was paralysed from the waist down. While we decided to part ways four years after his accident, my life was forever impacted by Spinal Cord Injury & I have been an advocate for the community ever since. For the past ten years I have been honoured to serve on the board of directors for Triumph Foundation whose mission is to help children, adults, & Veterans with Spinal Cord Injuries to triumph over their disability & to inspire them to keep moving forward with their lives by pushing themselves to get better every day. Through my involvement with Triumph, I began volunteering at UCLA's adaptive recreation program… & I'm SO glad I did. That is where I met Michael.

Michael runs the adaptive sports & recreation program at UCLA. He was a passenger in a car accident when he was 15 & they believe he was ejected out of the moon roof. He suffered an aortic rupture & a spinal cord injury. Most people don't survive an aortic rupture... especially considering how long it took him to get airlifted to the hospital. It's a long story, but one hospital was fogged in, one wasn't a trauma centre & the other hospital's trauma surgeon who was on call was outside of the perimeter he was supposed to be within & couldn't get to the hospital in time. Michael is truly is my miracle. We became very good friends & that friendship quickly developed into love. He is truly the most amazing person I've ever met & I feel like the luckiest girl in the world to get to spend the rest of my life with him. It's been amazing to see life come full circle & to realise that maybe the reason I went through all of that with my ex, was to prepare me for my journey with Michael. He understands what I went through I with my ex's injury. I understand the ins & outs of what a spinal cord injury entails, what he went through during his recovery as well as what he faces on a daily basis. I couldn't imagine a better partner or teammate... he truly is my soulmate & sometimes I think he knows me better than I know myself. He has the biggest heart, the best perspective on life & the greatest sense of humour. He puts everyone at ease & people are just drawn to him. I can truly say I'm a better person because of him.

For the wedding, we really care most about the environment and vibe created. We loved the idea of an intimate estate wedding as one of our mottos in life is quality over quantity. We don't care if we have the most friends, but the ones we have we really want to invest in. We basically want the wedding to be a really fun dinner party with the people that mean the most to us. We're so grateful that we found each other & we just want to celebrate that."d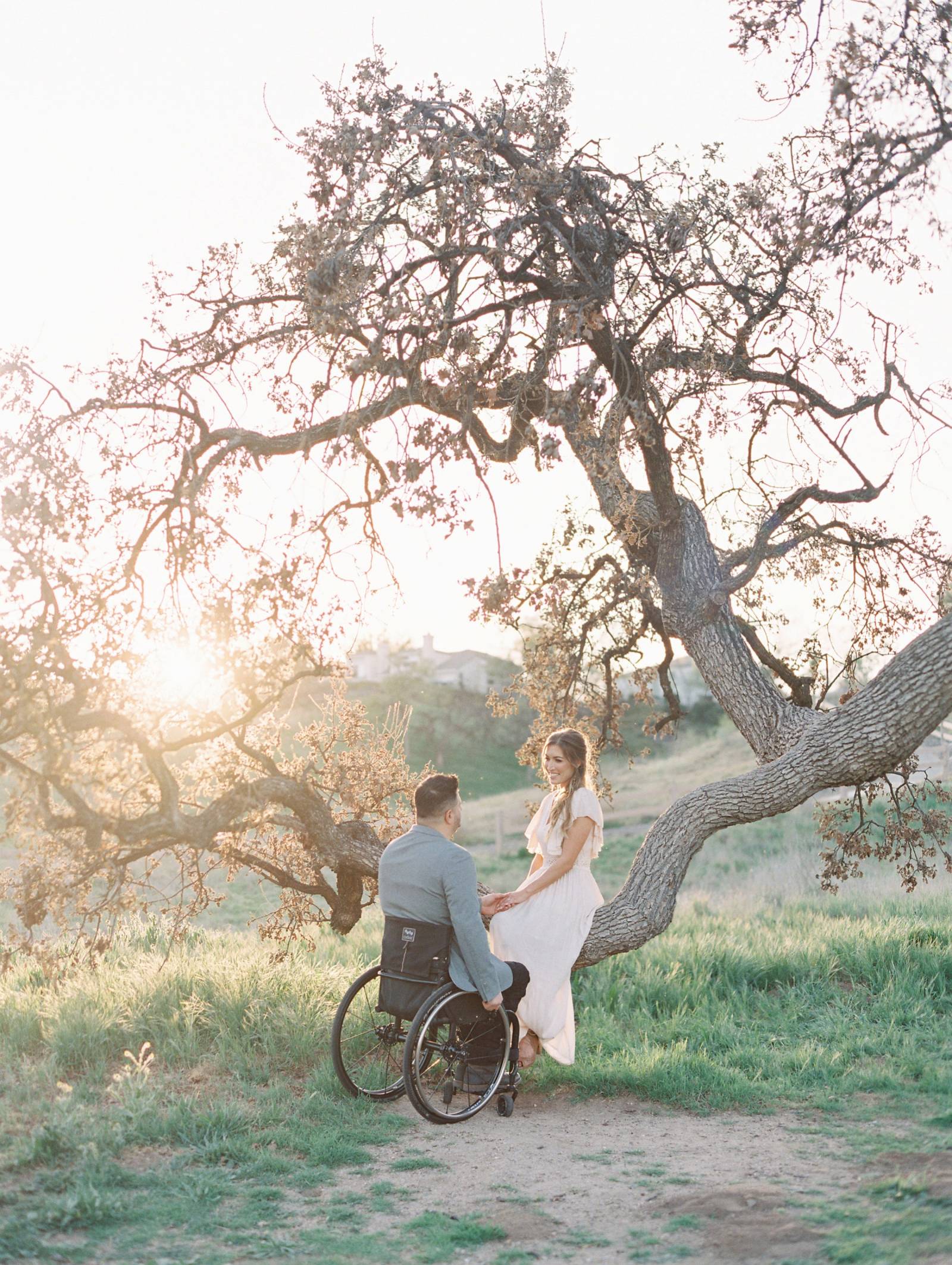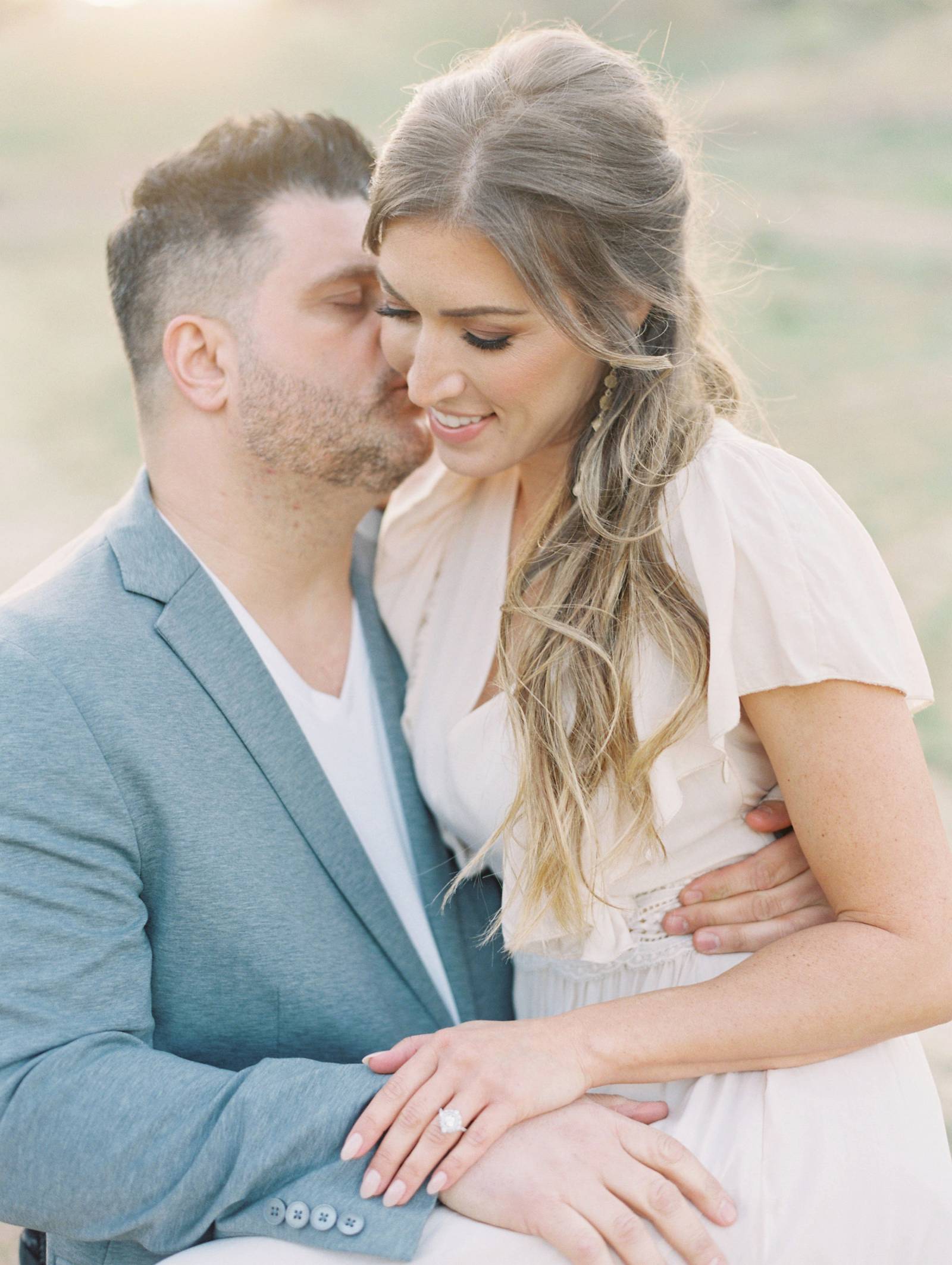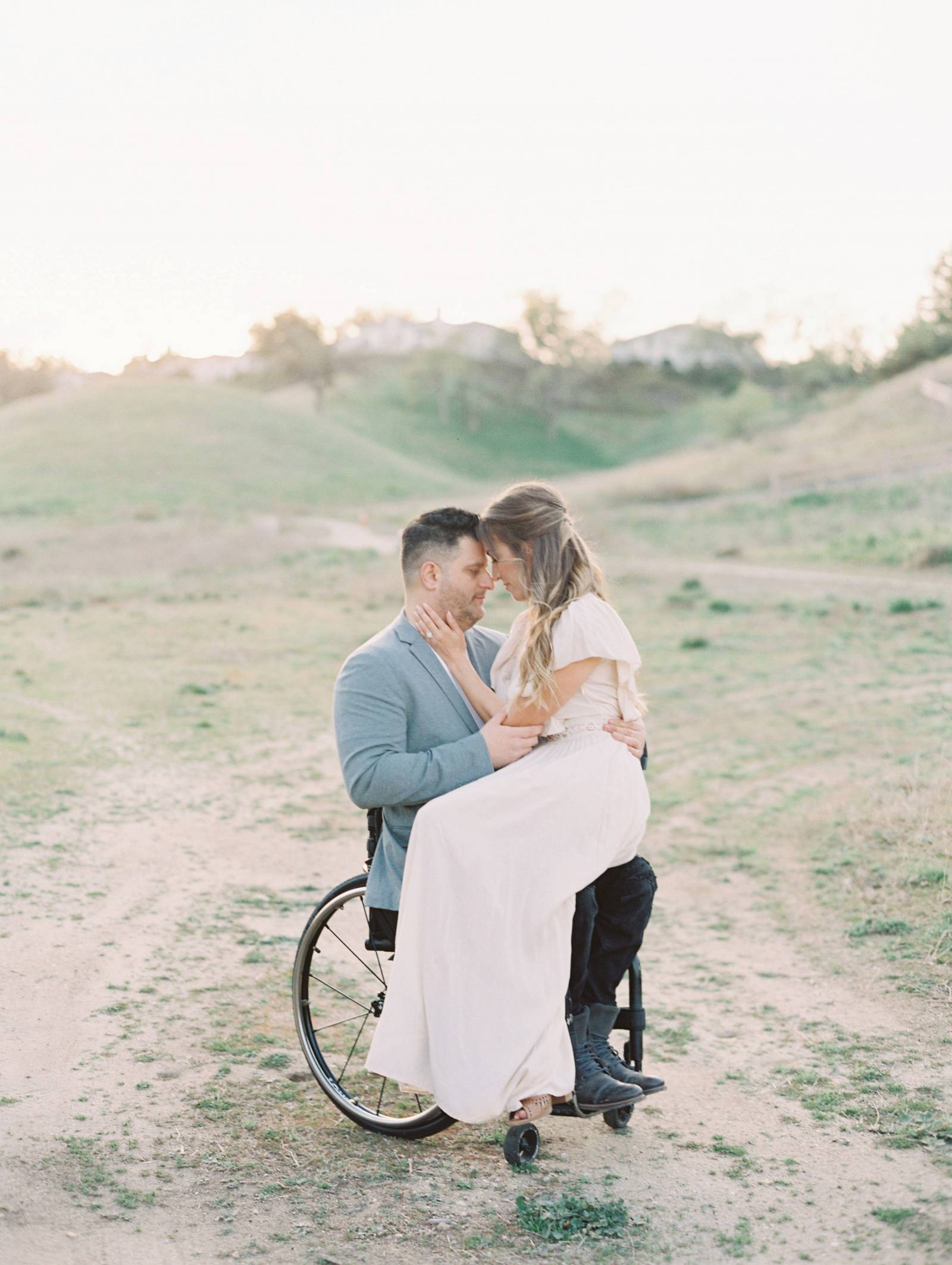 A huge thank you to Southern California wedding photographer MALLORY DAWN for sharing this beautiful engagement shoot with us. Mallory is passionate about shooting weddings and prides herself on making her couples feel comfortable and relaxed in front of the camera, so they can truly enjoy their wedding day! "I would describe my style as bright, soft, romantic and elegant. I can honestly say that I value the relationships I create with my clients. I only photograph a limited number of weddings each year to ensure my couples receive the best service possible. I am so passionate about what I do and I would be honoured to document your love story." If you're a bride looking for a Southern California wedding photographer be sure to check out our vendor guide of which MALLORY DAWN is a valued member. You might also want to check out this Elegant Summer Wedding inspiration at Sunstone Winery.