Unobstructed views of the Crane Ridge mountain range swathed in golden sunlight set the perfect scene for this timeless fall wedding just outside of the small town of Winters, California captured by WHITNEY NICHOLS PHOTOGRAPHY. Artist Katie Kukulka, and her groom Nicholas set to work crafting an exquisite affair on the magical ten acre estate of Park Winters. Fueled by the mood and colours of a bygone era, Katie drew her inspiration from a range of historic quintessentials. Nods to antiquity began with the Victorian moods and colours of Jane Eyre and continued on to the Edwardian fashion and florals of Downton Abbey. Tapered candles, trailing eucalyptus, and manicured garden lawns set the tone for this faded ivory and neutral toned wedding. Intricate detailing added further interest to the brides ivory "Aspen" gown by JENNY PACKHAM. This dress features a silk button and lace back, delicate capped sleeves, and silk chiffon train. Paired with a silk tulle cathedral veil and her antique Georgian diamond engagement ring, Katie encapsulated the vision of a timeless bride.
Gorgeous bride Katie shares with us, "Our venue was a house a few miles outside of our hometown that we discovered one day driving through the countryside. It had been neglected for years but preserved thanks to that neglect. We fantasized about living there someday. Years later when we were searching for a wedding venue we saw 'our' house had been renovated and was available for events. We thought, if we can't own it we can at least rent it and pretend we do for a day." The 6000 sq. ft. Victorian mansion was so detailed and authentic that it made capturing all of the inside portraits and finer details a grand experience. The bride herself crafted the stunning floral arrangements, including two bouquets for herself, with a variety of locally sourced stems from the San Francisco Flower Market. Ivory garden roses, blush dahlias, delicate lisianthus, hellebore, anemones, hydrangea, and queen annes lace complimented the neutral colour scheme desired.
"For our ceremony we created a simple, elegant, Victorian inspired backyard affair. Nothing over the top or extravagant." The ceremony site was further decorated with white pumpkins as a subtle nod to the fall season. With a shared love for antique photographic processes, the bride and photographer made sure to set aside enough time for portraits to be taken with an 8x10 Deardorff view camera, creating exquisite black and white film portraits much like those taken during the same era the mansion was first built. The reception was hosted inside the barn on the estate property, welcoming guests inside its double French doors to a candlelit dinner. Outside on the terrace, a string quartet filled the warm evening air while guests mingled underneath the romantic cafe lights strung between the trees. The atmosphere set by the estate suggested to all those in attendance that they had truly taken a step back in time to celebrate this elegant fall wedding.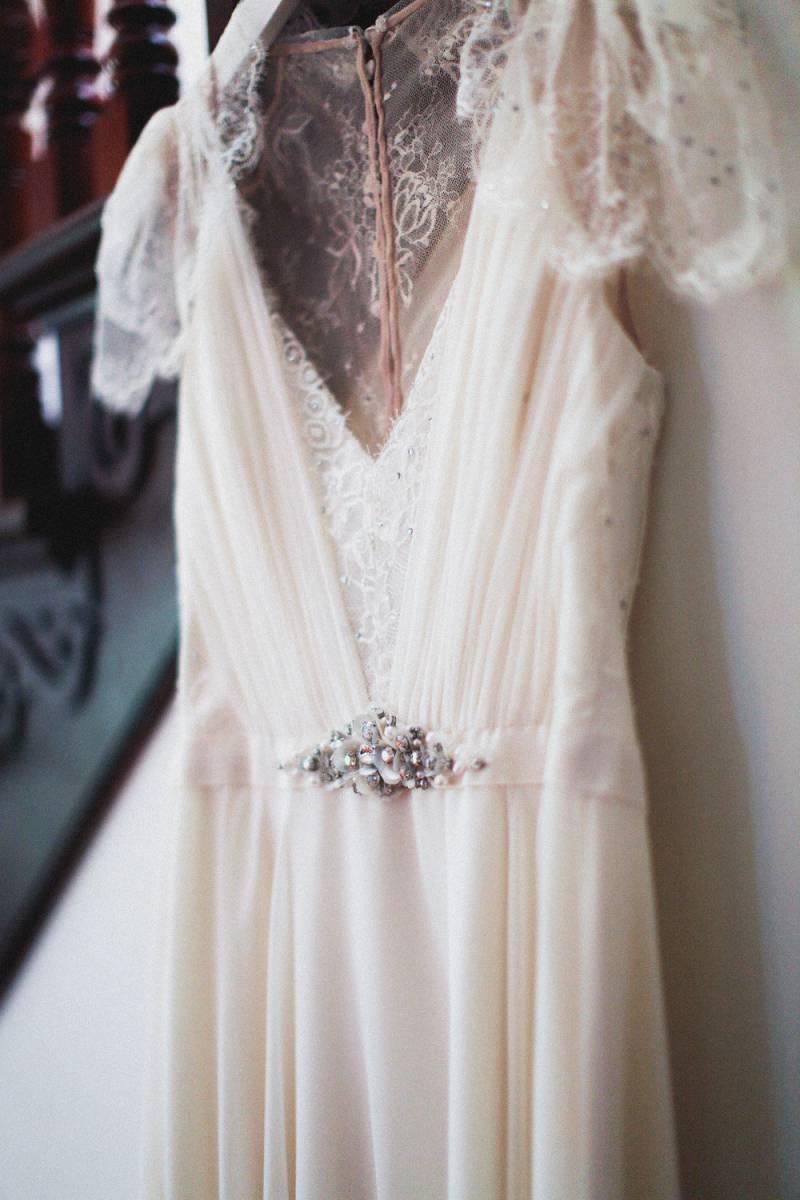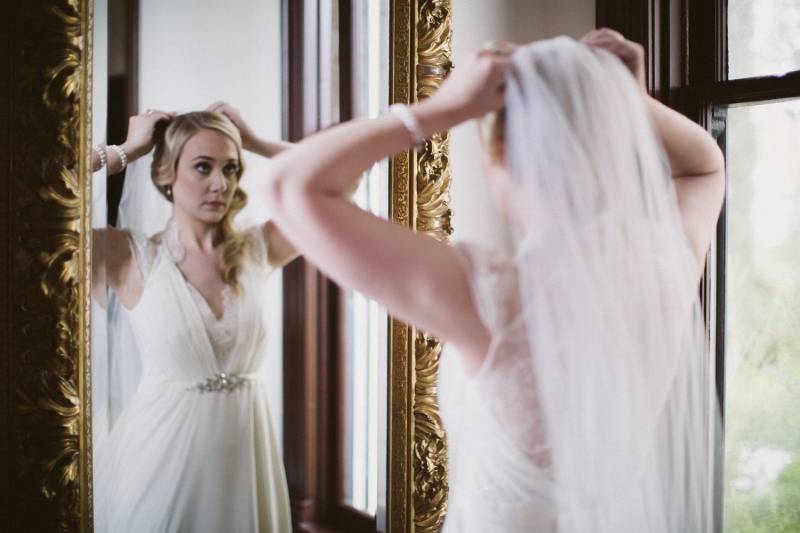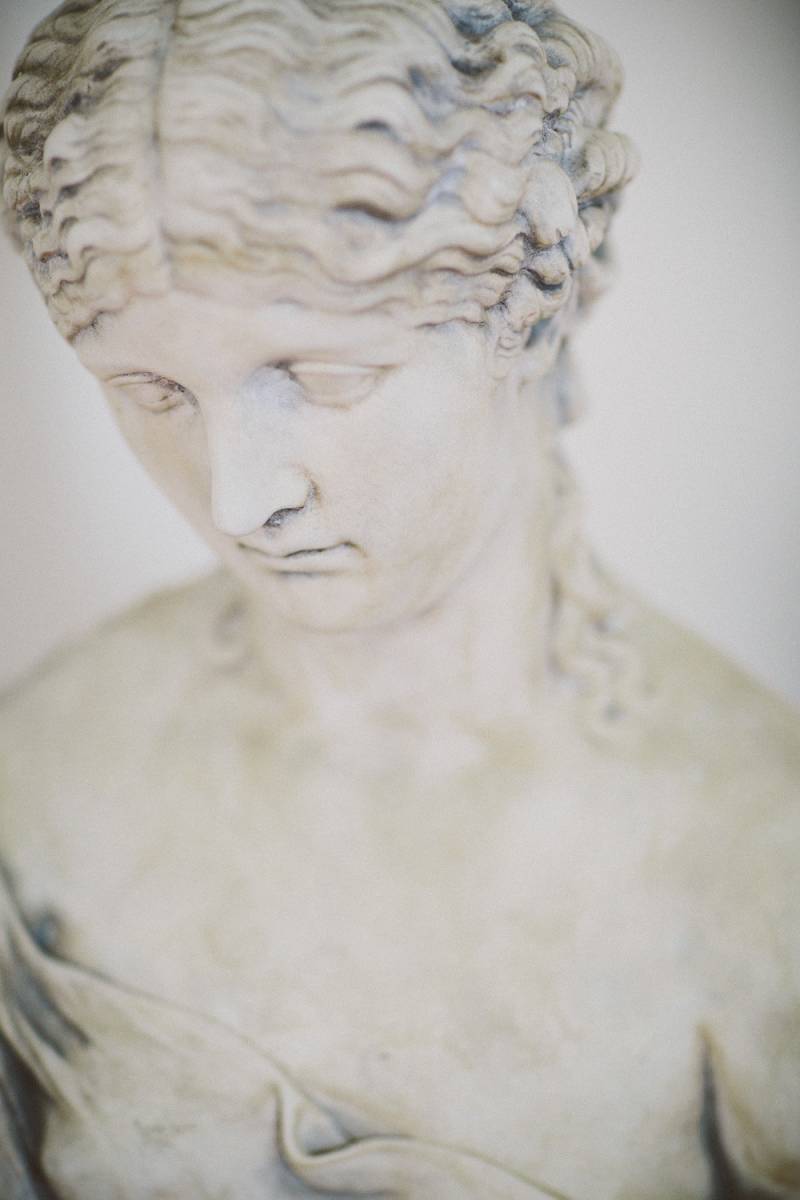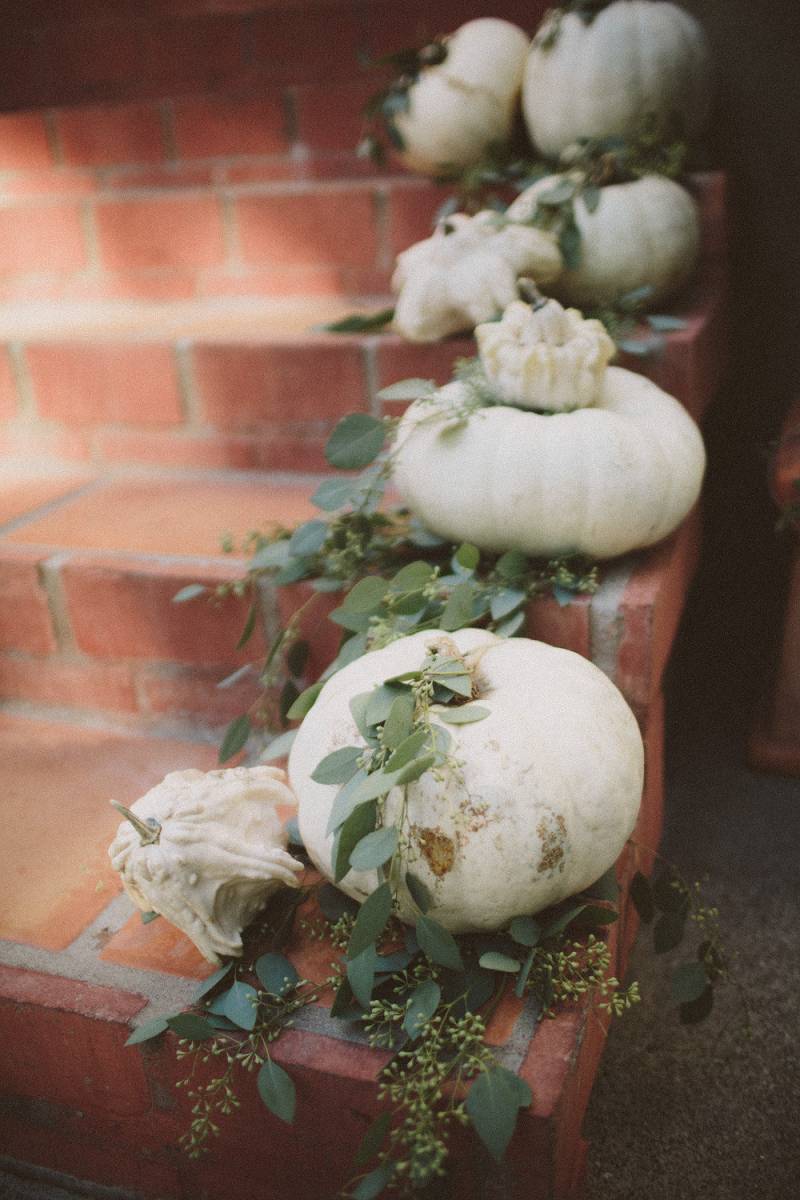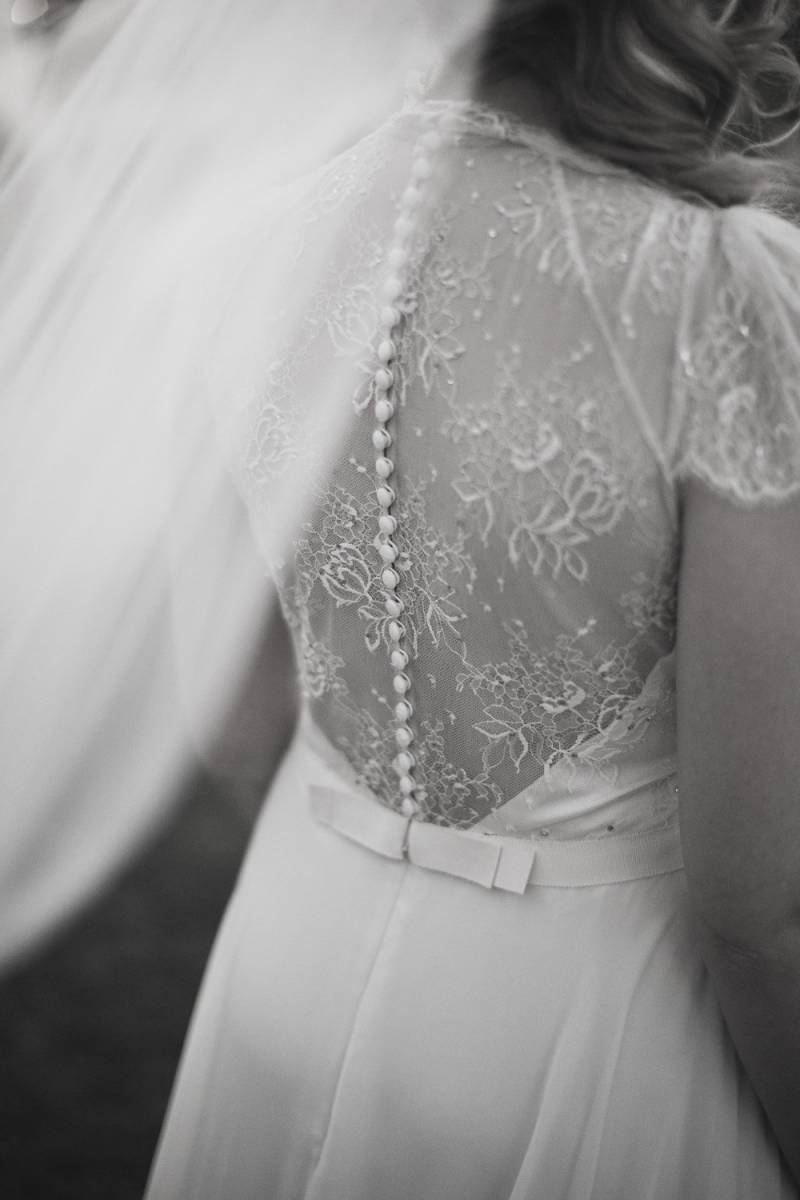 HOW DID YOU MEET? He was in a band and I went to see him play.
TELL US ABOUT YOUR PROPOSAL: He asked me to marry him nearly every day for 9 years, but he officially proposed at our favourite beach!
TELL US ABOUT FINDING YOUR WEDDING DRESS: Choosing a dress was the hardest decision for me, I had a vision in mind but couldn't find a dress that matched. In the end I compromised and told myself just to choose my favourite of what was available. The dress I chose ended up being a wonderful choice.
WERE THERE ANY DIY ELEMENTS TO YOUR WEDDING? Our wedding was almost entirely DIY. I designed and hand stamped our invitations, sourced and designed all of our decor, wrote our place cards using pointed pen calligraphy. Just about the only details that were not DIY were the food and what we wore.
DESCRIBE YOUR WEDDING FLOWERS: I made my own floral arrangements and used a selection of flowers I picked out at the San Francisco flower market for my bouquet, bridesmaids bouquets and centerpiece. My only criteria was muted tones, from there I just picked out what I liked of the selection they had that day. I used eucalyptus branches for our table garlands and had many helping hands wire them together. We also used an abundance of white pumpkins because I love them.
WHAT WAS YOUR FAVOURITE DETAIL OF THE DAY? My favourite details of the day were walking down the aisle with my father and watching my husband's face when he saw me for the first time in my wedding dress.
WHAT ADVICE WOULD YOU GIVE OUT TO A COUPLE PLANNING THEIR WEDDING? Hire people to help you. I thought DIYing my wedding would be fun, I was wrong, it was incredibly stressful. Hunting down all of the vendors we used, handling all of the scheduling and logistics, spending the days before the wedding arranging flowers and garlands, loading cars full of table cloths, being in charge of every single detail was a huge burden.
Thankfully my friends and family helped set things up the day of our wedding while I got ready. They took charge and made magic with a truck bed of pumpkins, seemingly endless meters of garland and several hundred votive candles.
WITH HINDSIGHT IS THERE ANYTHING THAT YOU WOULD DO DIFFERENTLY? I would have hired help from the beginning so I could have enjoyed the months and days leading up to our wedding.