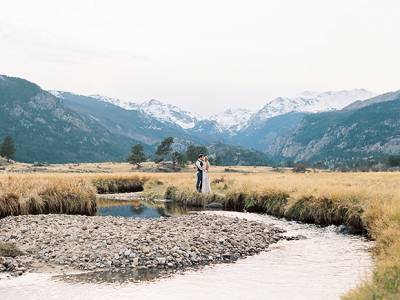 The Rocky Mountain National Park makes for the most stunning backdrop to these gorgeous engagement photos by COLORADO WEDDING PHOTOGRAPHER WINSOME & WRIGHT. Faith tells us, "Kalyn & Theo simply stole my heart the moment they contacted me. They are one of the sweetest and most loving pairs I have ever had the honor to photograph and I keep pinching myself every time I look through their session. Spending time with them adventuring and hiking in the mountains couldn't have made for a better day! Their wedding cannot get here soon enough!"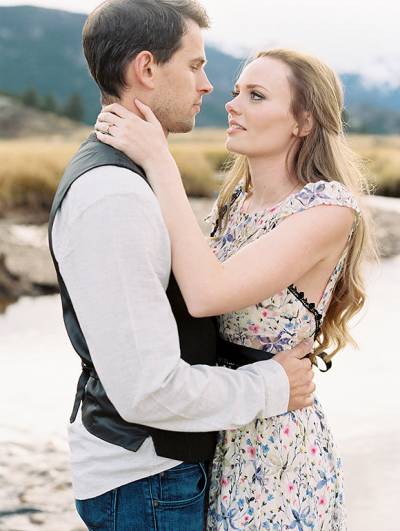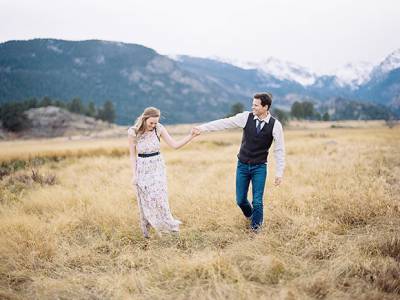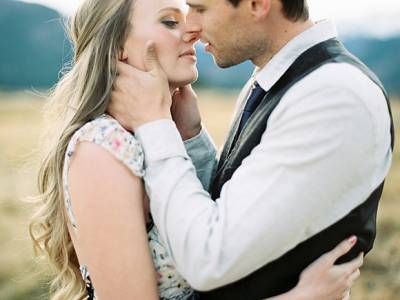 From Theo, "I first met Kalyn by chance at a karaoke bar. It took me less than a second to know how special Kalyn was. Without any time to prepare, I approached her with the pickup line of a 12 year-old. To be honest, I probably could have communicated to her with gestures or scribbles on a napkin that night and the result would have been the same, as I believe fate brought us together. She may have caught the corner of my eye but she got the center of my heart. We both have faith that it was always meant to be.
Call it chance or call it whimsy, when searching for a photographer to shoot our engagement photos we both knew right away we had found the right choice when we stumbled upon Faith of Winsome and Wright, as it would seem, by fate. We both loved her work but after speaking with her on the phone we loved her as a person as well. It is rare to encounter a professional that is genuinely as eager and excited to perform a service for the consumer as the consumer is eager and excited to be serviced."
"Faith recommended that we shoot in Rocky Mountain National Park, a place Kalyn and I know very well and love. When she mentioned the park as the site of the shoot I immediately thought of two specific locations in the park I preferred. Low and behold, those were the locations Faith had chosen. Faith took the time to talk with us and learn our style and preferences. She took to heart what Kalyn and I hold in our hearts. She genuinely took interest in our relationship and our journey.
It was no surprise that our photographs turned out beautifully. As Faith was taking the photographs she would continually compliment us with genuine admiration. I was so comfortable during the shoot that I forgot at times we were posing for a camera. I was able to smile and blush naturally with the beautiful young woman I am going to marry. We are so pleased with the quality of our photos and even more pleased with the memories of taking them. Perhaps eclipsing even the shoot at Rocky Mountain National Park are now the memories of Faith and her husband attending our engagement party. Which just so happened to take place at the karaoke bar where fate brought Kalyn and myself together."