The Notebook is Alex's favourite movie. This passionate tale of soulmates fighting for love amid the tension of their differing social classes, pulls at Alex's heartstrings. Embellished with scenic Southern vistas, tidal creeks, and antebellum mansions, this film is a source of nostalgic, romantic inspiration for Alex and her sweetheart Jared. The day these two said their vows at BOONE HALL, in front of Allie's summer house, was the day they fulfilled their romance dreams and got to star in their newest favourite movie: "Mr. and Mrs. Polak's Tale of Everlasting Love", beautifully documented by KAILEE DIMEGLIO.
Four years ago, Alex and Jared's matchmaking friends set these two up on a date at Charleston's favourite bar, The Cocktail Club. Alex and Jared fell for each other fast, and continued to fall. Jared made plans to propose, and took Alex to one of their first date spots on Sullivan's Island. Much to her surprise, he got down in the sand and asked her to marry him. After she said yes, friends and family emerged from the boardwalks, showering the awe-struck bride and the proud groom in joyous celebration.
During October the sun shines with a special golden light and stretches long and far over the horizon. With this glorious change of season comes a rich palette of warm, iridescent earth tones. We love how the couple and their vendor team let the musings of autumn saturate the aesthetic and tone of their October wedding. Combined with the rustic buildings of BOONE HALL, and the breathtaking landscape that envelopes the estate, it was a unique and stunning production.
Kailee tells us, "We met the bride and groom at opposite ends of the estate before the ceremony. Alex was gorgeous in her off-the-shoulder, lace embroidered gown. The bride tribe wore copper silk dresses, with the maid of honour providing a striking contrast in a wine red dress. With their fall inspired florals by FESTOON, they brought out every hue of the warm light that scattered through the branches above their heads. Across the way, out of sight of his bride, Jared was looking sharp in his tux, with a little rust orange pocket square.

The avenue of 300 year old oaks stretches for a mile, leading up to the ornate wrought iron gates that enclose the extravagant Boone Hall mansion. On the lawn outside the mansion, the guests began to take their seats amidst the majestic and meticulously well kept landscape. Vibrant florals with radiating gold leaves and robust fall colours sprouted up from each row. The violinists began to play as three precious flower girls in cream tulle dresses and the couple's golden retriever preceded the bride. With the ancient trees, historic estate and friends and family as their witnesses, Alex and Jared vowed to a life together and started a new chapter in their love story.
After the ceremony and photos we headed over to cocktail hour on the Wamponcheeoone Creek. The rustic hall with its tall wooden rafters, brick hearth and stunning view of the marsh was as inviting as it was charming. Warm, soft light bounced off the natural pine walls and farmhouse tables adorned with candles and terracotta runners. Their planner Natalie Knox softened the rustic accents with bamboo light fixtures, two cane back couches and bohemian touches. Festoon florals created swoon-worthy arrangements with preserved golden leaves, blush roses and whimsical, tan pompous grass.
After their first dances, the guests gathered like a big family on the farmhouse tables and enjoyed fabulous food and the roaring fire. With some of Charleston's best musicians blowing their horns and serenading us with soul, many caught a quick dancing bug and took to the dance-floor. Outside the dance party there was a fresh rolled cigar bar, a gelato truck and an enchanting starlit view of the creek to be experienced. After dancing the rest of the night away, the guests gathered for the couple's sparkler exit. Lit up by all the love and the glowing sparklers, Alex and Jared strutted through the runway and into their vintage convertible. Off they went, passing through the ancient avenue of oaks and into the future to write the rest of their epic love story."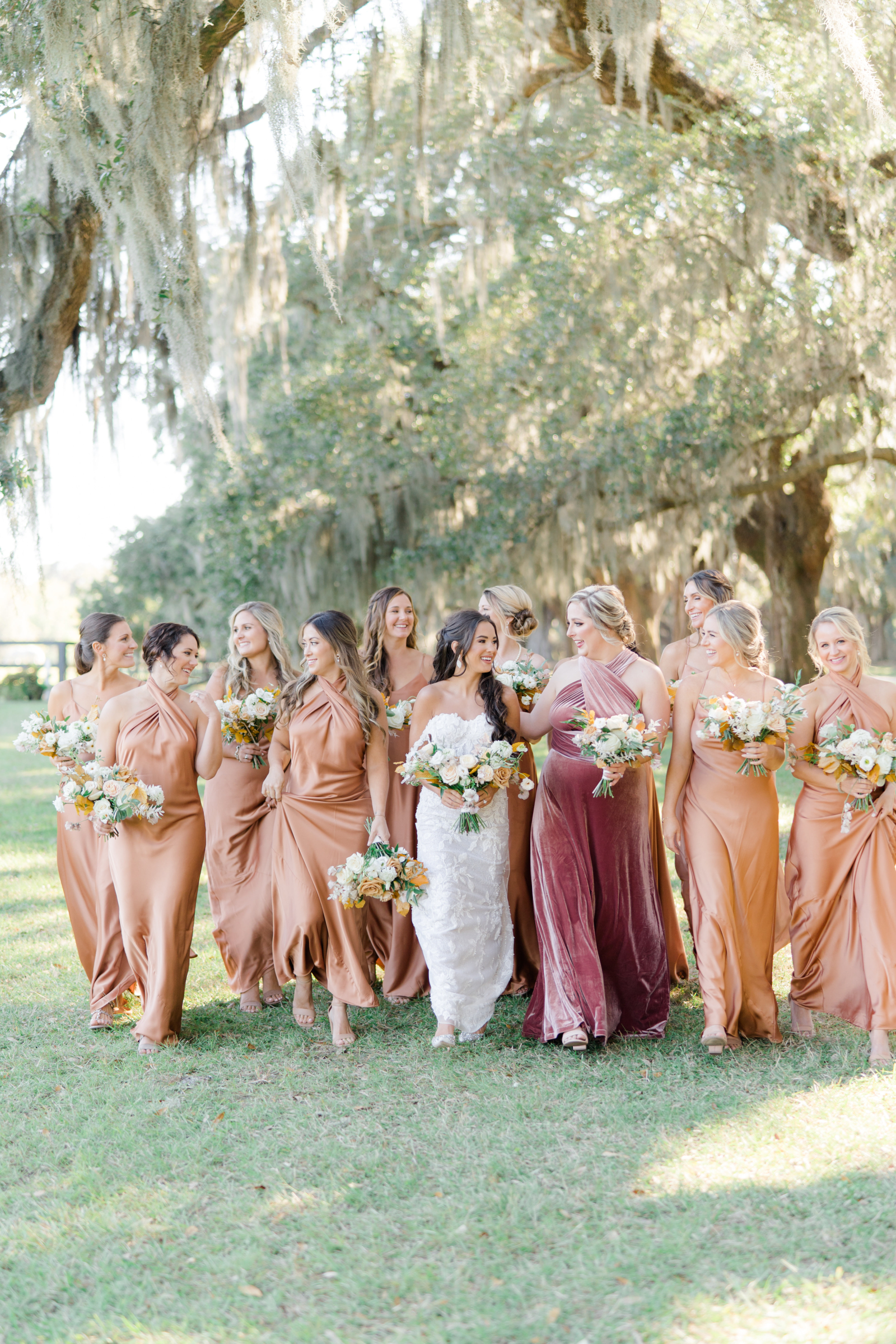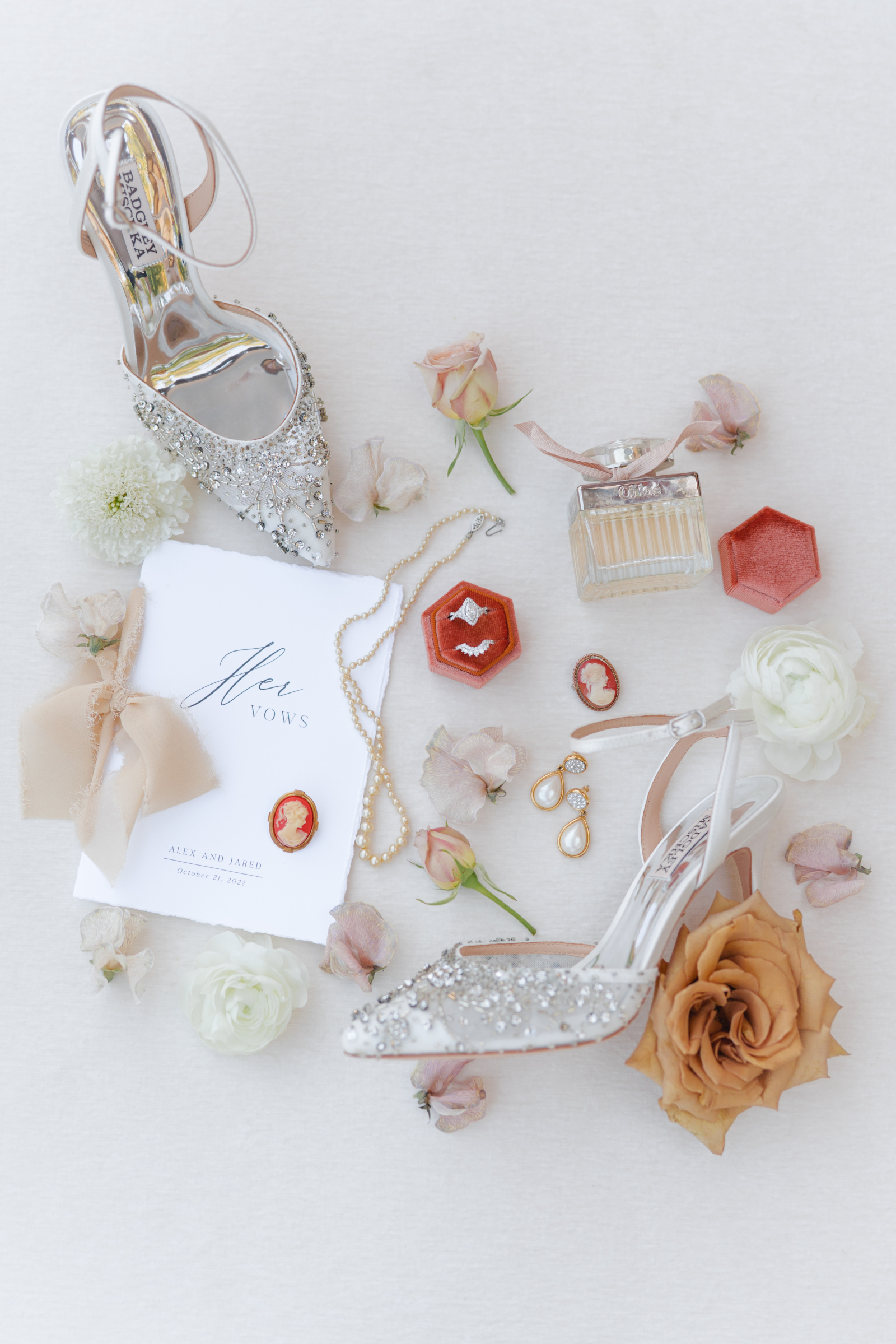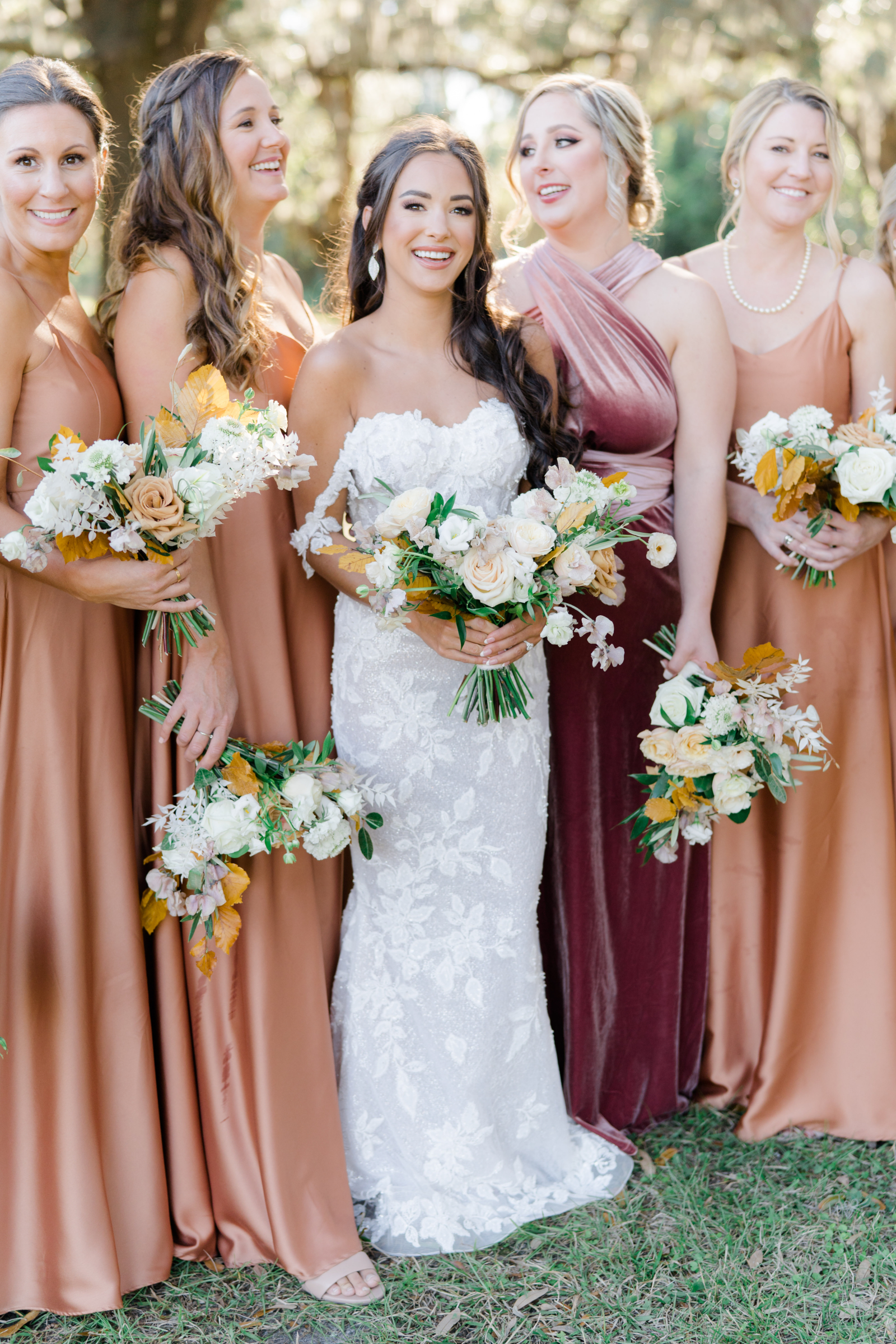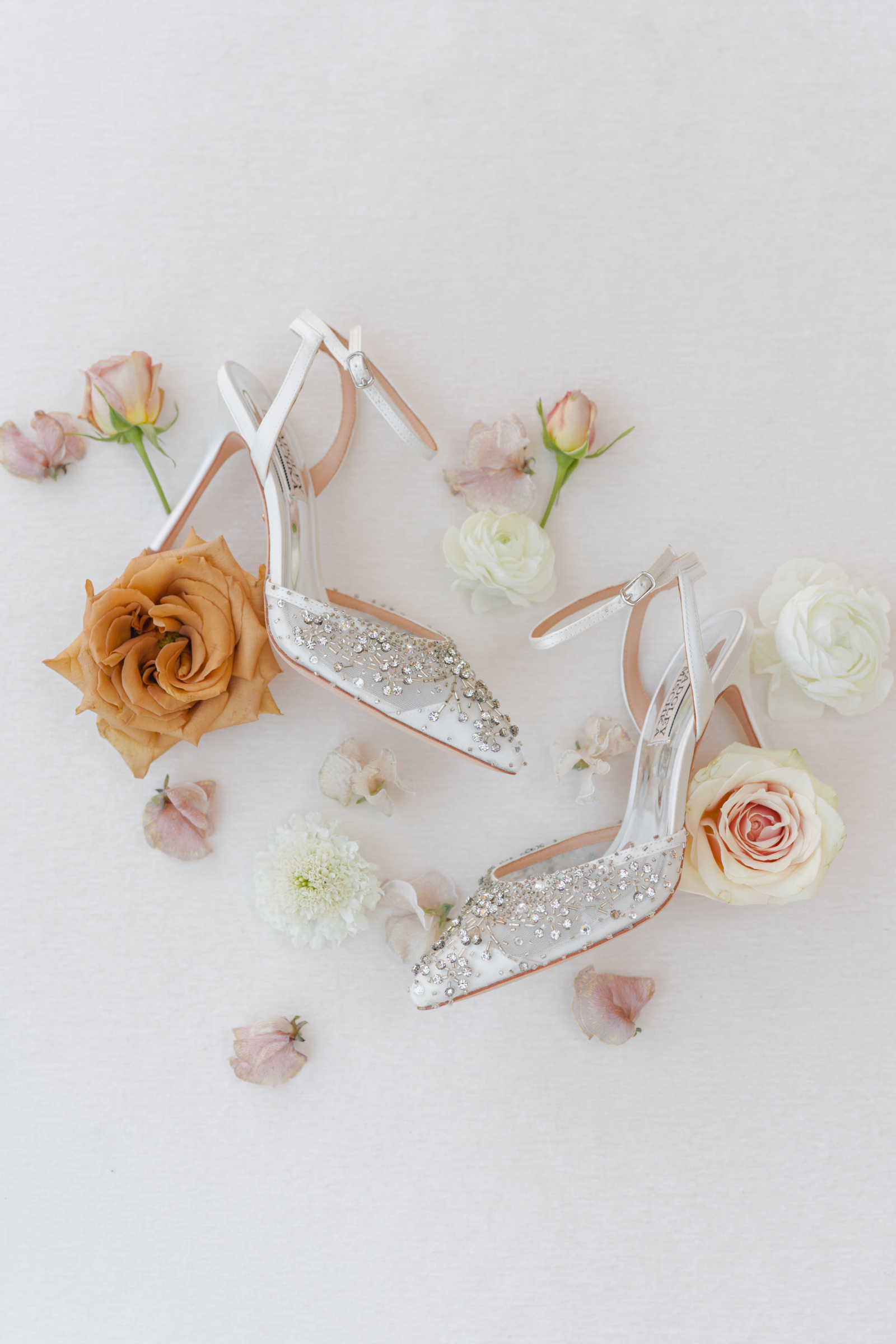 WHAT WAS THE INSPIRATION BEHIND YOUR WEDDING STYLE? I have always loved boho decor, so when it came to my wedding, I thought it would fit my venue perfectly. I also wanted the event to be more formal so I told my wedding planner my theme was "boho chic."
WHY DID YOU CHOOSE THIS LOCATION? I actually went on a tour of Boone Hall right after I moved to Charleston six years ago and the entire property was beautiful. I looked at my best friend and said "I will get married here one day." Jared actually never saw the venue until rehearsal, but I knew he would love it as much as me, because he loves the water and Boone Hall is surrounded by the river. It's also an added bonus that The Notebook was filmed there which is also my favorite movie! The entire venue is so historic and romantic so you truly feel like you are in a love story.
HOW DID YOU MEET? This is not a very romantic story, but we met at a bar on King Street in Downtown Charleston 5 years ago. Jared and myself are actually both from Atlanta, but both moved to Charleston around the same time. With it being a small world, I saw some mutual friends out on a Bachelor party, and it just so happens that Jared was part of that celebration. Our mutual friend introduced us that night and we have been inseparable ever since.
TELL US ABOUT YOUR PROPOSAL: Well I was getting a little impatient with no ring after 4 years, but little did I know that Jared had been planning a huge surprise for five months! On July 2nd, Jared took me out to dinner on Sullivans Island with another couple. After dinner, I was told we were going to meet our other friends out on the beach. I did not think this was off since we live in Charleston and during the summer we are always on the beach. Jared walked me down the beach and popped the question at the same spot our 2nd date took place. The entire proposal was a blur, but next thing I knew, the entire beach was filled with our hometown and Charleston friends and family. It was the best day surrounded by so much love and support!
TELL US ABOUT FINDING YOUR WEDDING DRESS/ATTIRE: I found my dress at Elite Pour La Vie in Alpharetta, GA. I wanted to go somewhere close to my hometown so that it would be easy for my family to join. The entire experience was so fun and I felt like a princess. I knew I wanted a couture dress and this bridal boutique had so many beautiful options from multiple designers. The only bad part was that I loved every dress I tried on, so I eventually had to eliminate which was not easy for me. I had different details from each dress that I loved, and then the owner brought me a dress that combined them all! I knew the second I put on the dress that it was "the one". My dress was made by the designer, Netta BenShabu, and I was so infatuated with the details. The dress was filled with lace, beads, florals, and sparkles. It had my name written all over it!
DESCRIBE YOUR WEDDING FLOWERS: I always wanted an all white wedding but I felt as though that would not fit the venue. Boone Hall has a more rustic feel and with it being October, I wanted to add in some fall colours. I told the florist, Festoon, that I wanted a lot of greenery, white flowers, and pops of dark orange and yellow. I also told the florist our theme was "boho chic" so they added in Pampas which really pulled it all together. The florist filled the entire ceiling of the reception with greenery, vines, and rattan chandeliers. It was magical!
FAVOURITE DETAIL OF THE DAY: I would say it was when I kissed the groom under the Avenue of Oaks. The huge gate and the line of trees made for the perfect backdrop for the ceremony and Kailee photographed it perfectly! It was the perfect spot to marry my best friend and soulmate! We had our golden retriever, Cooper, in the wedding. He was so excited to walk down the aisle and he sat by the groomsmen the entire ceremony. He even smiled for the camera during all of the pictures. Cooper was given a lot of treats that day!
WHAT ADVICE WOULD YOU GIVE OUT TO A COUPLE PLANNING THEIR WEDDING? The best advice would be to book a great wedding planner. Natalie was a dream to work with and anything we wanted or needed, she would have it done almost immediately. Also, my family is not from Charleston, so she was a huge help with suggesting local vendors! I know this is easier said than done, but try not to stress. It all comes together at the end of the day! Take in every second! The entire day goes by so fast and we wish we could relive it 100 times, so enjoy the moment with your friends and family.
MOST MEMORABLE MOMENT? Watching my husband cry while I walked down the aisle. He is not an emotional person, while I on the other hand, cry in every commercial, so I think everyone in attendance was in complete shock. It was the sweetest moment to witness and he had the entire audience crying.
Another memorable moment was when we walked into the reception and saw the decor for the first time. The only details we had seen was from a vision board, so the vendors all went above and beyond and created my dream wedding reception! From the floral arrangements at the bar and fireplace, to the greenery in the ceiling, to the oyster and cigar bar, every detail was perfect!
WHAT ASPECT OF THE WEDDING WAS THE MOST IMPORTANT TO YOU BOTH? We wanted it to be a big party where all of our friends can enjoy the dance floor all night so we had an 8 person band that was awesome! They were so entertaining and people are still talking about how fun they made the night! (Emerald Empire Band)
The food was extremely important. I wanted to make sure they had options that represented the South, such as the raw oyster bar, pimento cheese biscuits, and shrimp and grits, but also showed my Italian side by having a pasta station! Every appetiser and entree from Cru Catering was delicious.
ANY OTHER DETAILS THAT HELP TELL THE STORY OF YOUR DAY? This is not very popular in the South, but we did not have a seating chart. Instead of plated meals or a buffet, we decided to have stations set up with different entrees. We offered a carving station, pasta station, and shrimp and grits station. This was a great way for our guests to try different food and it was all delicious! A seating chart can add so much stress onto the bride and groom so we did not have to go through that and our loved ones were all able to meet each other over dinner! I also wanted to offer a dessert besides cake, so we had a gelato cart (Bertolinis) that offered 10 flavours. This was a huge hit, especially for the kids!
We had a 1948 Oldsmobile convertible as our getaway car and we also had the car service come to the venue right after the ceremony so we could take pictures while it was still light outside. I have always loved vintage cars so I knew I wanted to incorporate one into the day. These turned out to be some of my favourite pictures!
TELL US A LITTLE ABOUT YOUR HONEYMOON: We went to Secrets Akumal in Riviera Maya, Mexico. I would highly suggest this resort to anyone. It was an all inclusive adult only resort, which was great for a honeymoon. We had a swim out pool connected to our suite that was right on the beach. The resort also had multiple shows each night and 8 different restaurants so you were never bored.