Madison and Jesse's enchanting garden party-inspired wedding was held at America's oldest landscaped gardens MIDDLETON PLACE - dating back to 1741 it is surrounded by romantic Spanish moss covered oaks, long vistas and beautiful canals dotted with wildlife. Captured by Charleston wedding photographer HANNAH ALYSSA, the couple wanted a simple intimate wedding with a minimal style. Madison's beautiful MONIQUE LHUILLIER wedding gown provided the biggest inspiration and was a dreamy vision perfect for the venue's exquisite gardens.
WHY DID YOU CHOOSE THIS LOCATION? I was scrolling through Instagram and saw an outtake from a video shoot a videographer I follow did there. It was of this girl running in the rain through the gardens. I immediately booked a tour (our first venue tour), and that was it. We both agreed MIDDLETON was our venue after seeing the beautiful oak trees, landscaped gardens, and outdoor setup that was perfect for our intimate dinner.
HOW DID YOU MEET? We met in middle school, but we didn't start dating until late high school!
TELL US ABOUT YOUR PROPOSAL: Jesse proposed in Central Park on October 8, 2021. It was very unexpected! We found a quiet place to sit early Friday morning and he handed me his phone, which had a slideshow of photos of us and a vlog-style video of Jesse buying the ring, asking my parents' permission for a "surprise", etc. The moment the video ended he got down on one knee and proposed. I remember saying yes without even looking at the ring and we hugged for the longest time…
TELL US ABOUT FINDING YOUR WEDDING DRESS/ATTIRE: I saw my wedding dress on Instagram first… shocker! I remember showing my mom one afternoon and telling her I wanted "this one." We booked a trip to NYC not long after as a family to try it on at the MONIQUE LHUILLIER flagship store. It was the very first dress I tried on and it fit like a glove.
Jesse wore a Ralph Lauren linen suit. We ordered it two months before the wedding in a panic that we hadn't found the right one yet, but as soon as he tried it on, we knew it was perfect.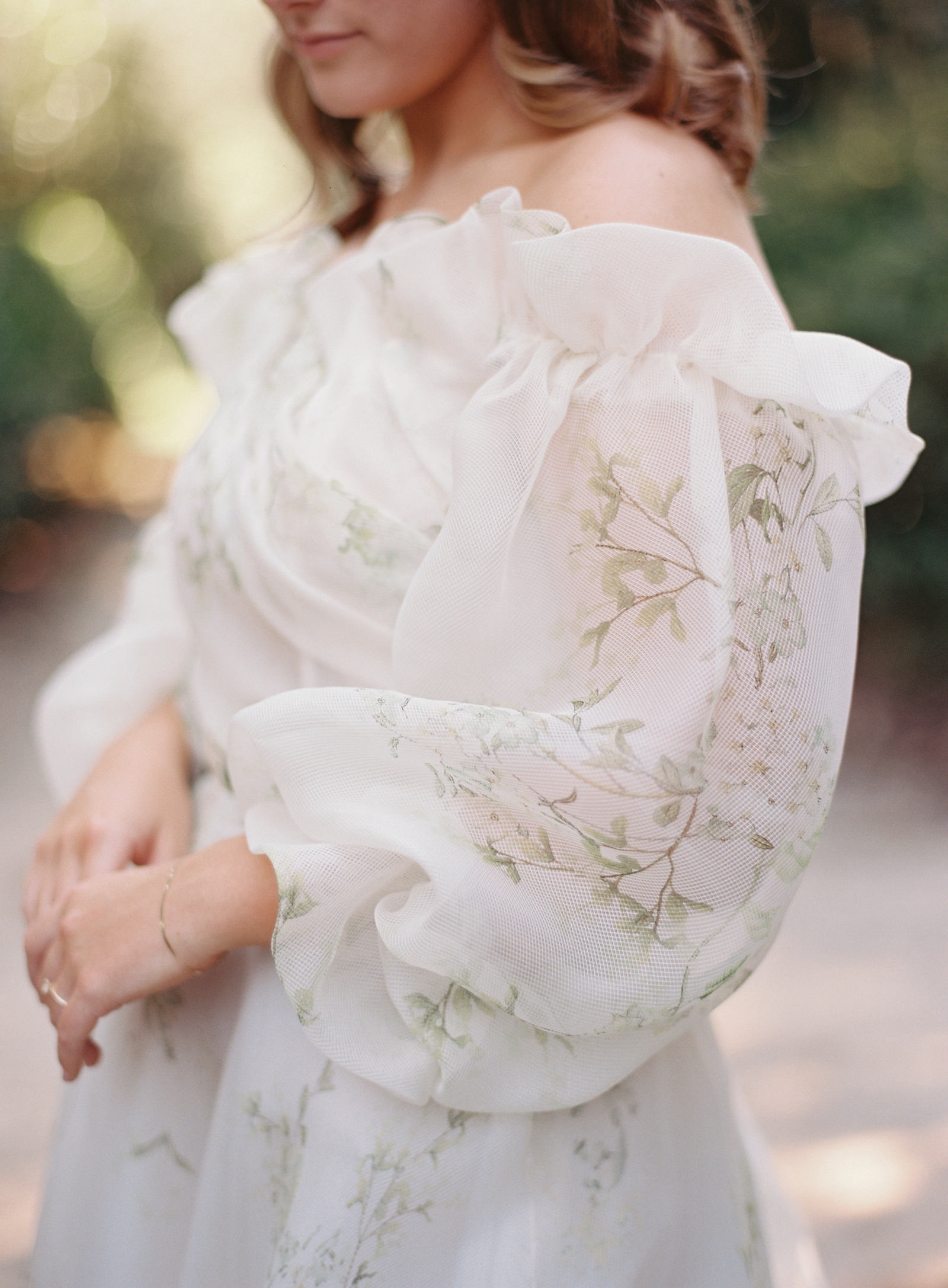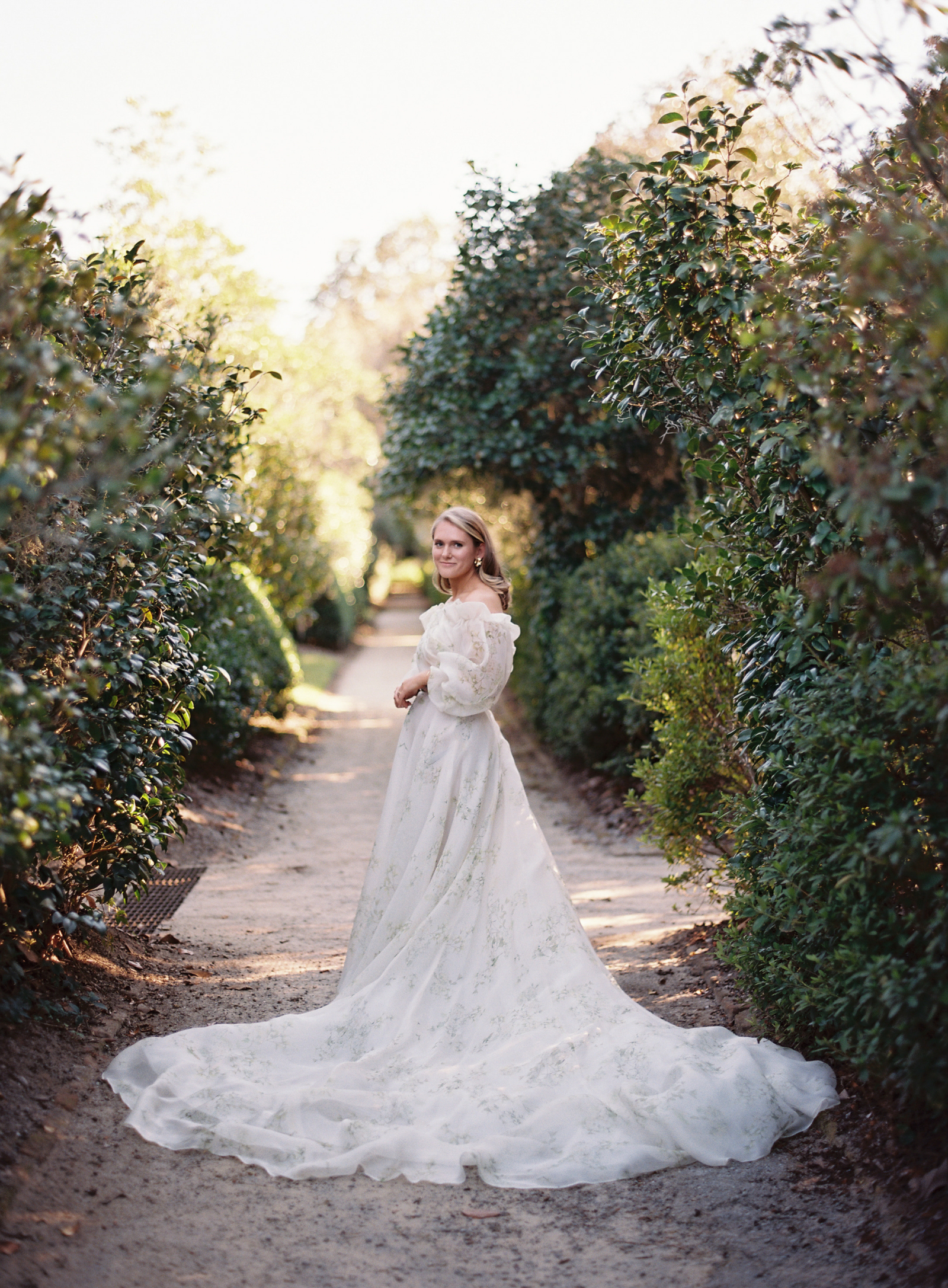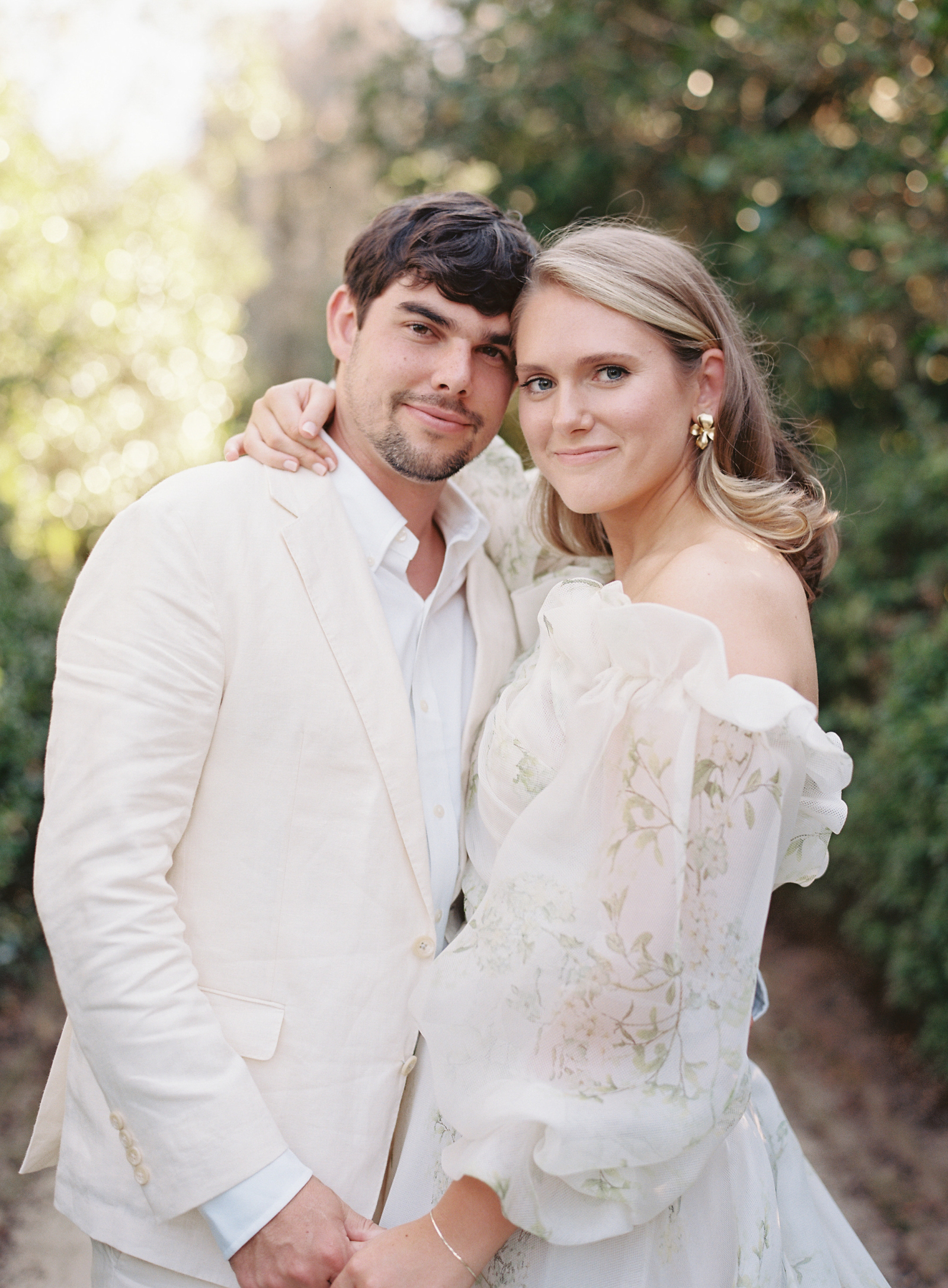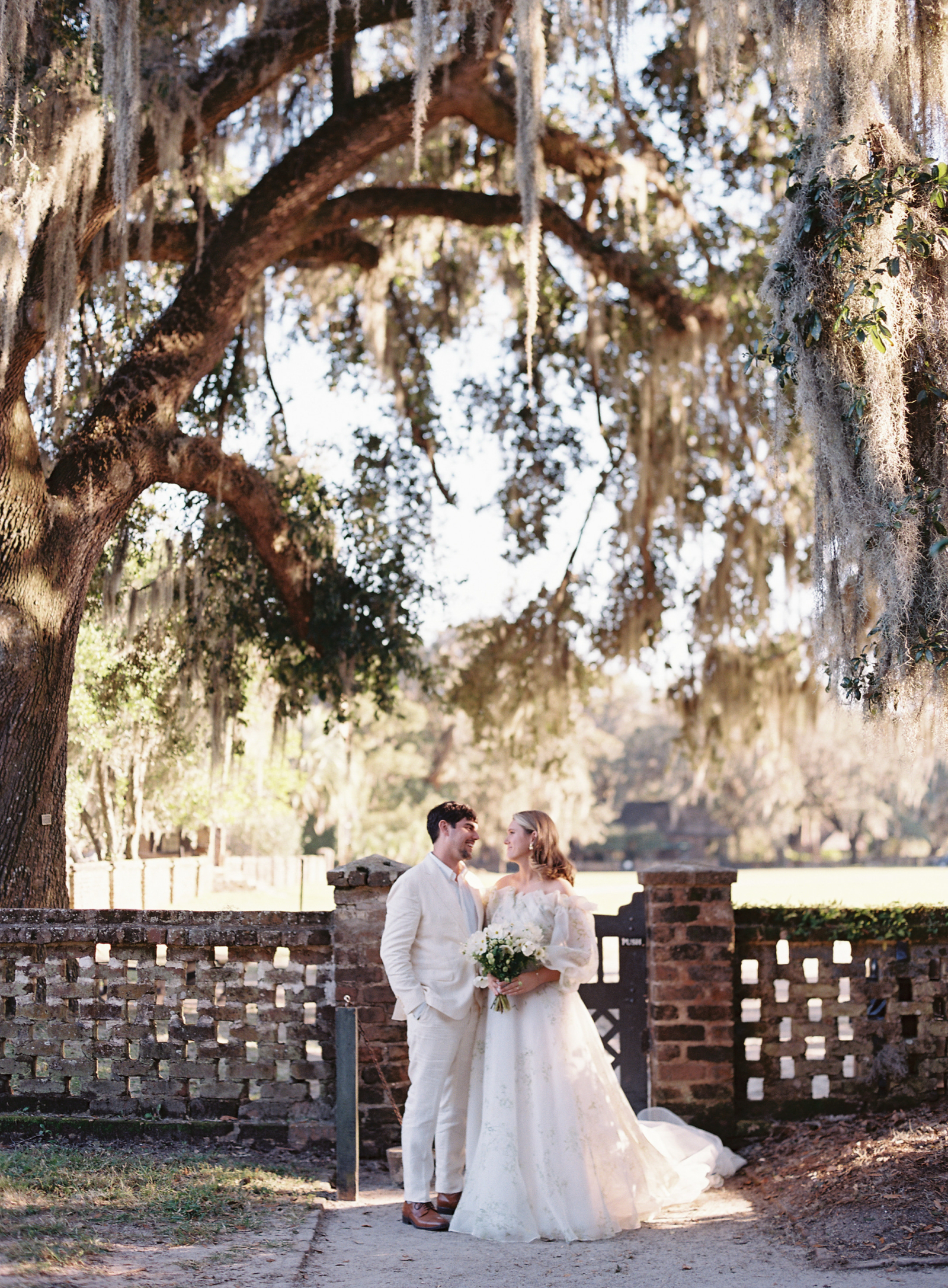 DID YOU HAVE ANY DIY ELEMENTS? I kept it very minimal for the most part, but I did design our own programs. On the back were photos of our parents on their wedding day with a little note thanking them for the love and commitment they've instilled in us all these years. I had a photo book made from Innocence Paris for guests to flip through and sign that featured all our engagement photos. A day before the wedding I also went to Publix and bought several pears to adorn the table with.
DESCRIBE YOUR WEDDING FLOWERS: Beautiful… exactly what I wanted! My bouquet and my sister's maid of honour bouquet held the prettiest cosmos and wildflowers. While the dinner table was minimally designed with several different glass cups of chamomile, cosmos, and Queen Anne's lace. Megan at Vero Events did an incredible job!
FAVOURITE DETAIL OF THE DAY: It's hard to pick just one! But our entire dinner table setup wowed me. I'll be forever obsessed with how it turned out.
WHAT ADVICE WOULD YOU GIVE OUT TO A COUPLE PLANNING THEIR WEDDING? I feel like everyone says this, but it truly does go by in the blink of an eye. My advice would be to take opportunities on your wedding day to just be with your spouse. We took photos before the ceremony, just us and our good friend/photographer, and it's honestly a core memory for me now. Just getting to be silly and present with Jesse before the Ceremony and dinner with all our family and friends was so special.
MOST MEMORABLE MOMENT? Our ceremony. We had Jesse's sister, Ella, officiate, which made it really unique to us. She did such an incredible job. We can't thank her enough!
WHAT ASPECT OF THE WEDDING WAS THE MOST IMPORTANT TO YOU BOTH? Keeping it small and intimate was always at the forefront. We wanted to be able to enjoy one another while also getting the opportunity to engage with each of our guests.
ANY OTHER DETAILS THAT HELP TELL THE STORY OF YOUR DAY? For the most part, I'd say we kept things pretty untraditional, down to staying at Post House Inn the night before our wedding together. This was when we shared letters we'd written for one another, and woke up the morning of our wedding to breakfast in bed!
My sister, parents, and I got ready for the day at Post House Inn. It was so relaxing and fun and put me at ease just being around them! We also had Father of the Bride on a loop in the background (one of my favourites!).
At dinner we had a few people give toasts. Jesse's mom and sister, my sister, and parents, plus our good friend, Chandler, all said a little something throughout dinner and dessert, and it was one of the highlights! So many laughs and tears.
We opted for a month-of wedding coordinator versus a full-on wedding planner. So, every detail was carefully decided on by us. It was a lot of work leading up, but ultimately so worth it to see our vision come to life!
TELL US A LITTLE ABOUT YOUR HONEYMOON: The night of our wedding we stayed at Post House Inn and the next morning we woke up early and took a mini moon to New York City for a long weekend! It's a city we both LOVE and where we got engaged just a year before, so it was very special to be back and just enjoy one another's company while walking around Central Park, wandering museums, and eating our favourite food. We're hoping to honeymoon in Hawaii sometime soon!
IS THERE ANYTHING YOU WOULD CHANGE OR DO DIFFERENTLY? Honestly, no! It was exactly what we always imagined it to be and so much more. Such a beautiful day from start to finish.
A huge thank you to Charleston wedding photographer HANNAH ALYSSA for sharing this sweet engagement shoot with us today. Hannah is a valued member of our VENDOR COLLECTIVE. Hannah takes an editorial approach to her weddings, with attention to detail and a passion for storytelling. "Shooting film requires me to slow down, be fully present and photograph with intention. I am passionate about capturing genuine love stories and inspiring destinations just as beautiful as they are in the moment, and film allows me to do just that." See more of her work in our vendor collective here and be sure to check out this Dreamy floral filled picnic complete with baby goat at Kiawah River, Charleston.