Jenna and Doug's Tuscan wedding was a beautiful blend of everything they love the most. It was intimate, warm and romantic and set in the most exquisite location - LA FOCE - a historic Italian house with world-famous gardens that are truly show-stopping! Planned by Tuscany wedding planner WEDDINGS IN TUSCANY who designed every aspect of the day, the wedding played up on the bride's Italian heritage and felt like a large family gathering. Chiari tells us, "To bring their vision to life, we used long banquet tables covered in Italian linens topped with timeless and elegant table settings, to match the colorful flowers, and included lots of candles." THE FASHION WEDDING were on hand to capture all the beauty.
WHY DID YOU CHOOSE THIS LOCATION? The most beautiful gardens in Tuscany, just stunning! We decided to make a family weeklong vacation out of it and stayed at La Foce for the week and get married on the property. We had the most magical week, so many laughs and memories made we will cherish forever.
HOW DID YOU MEET? We met at boarding school in New Hampshire, we dated our freshman year of high school and then remained friends for many years. It wasn't until later in life we started dating again.
TELL US ABOUT YOUR PROPOSAL: We were engaged almost 2-years prior to our wedding date at Villa Bordoni in Greve Chiant.
TELL US ABOUT FINDING YOUR WEDDING DRESS: I found my dress with the help of Le'Elite Bridal in Boston. We tried on so many beautiful dresses, but I fell in love with the designer Ines Di Santo. Her dresses are so feminine and fit women so beautifully.
DESCRIBE YOUR WEDDING FLOWERS: PUSCINA FLOWERS, I found via my wedding planner Chiara. They are local to Tuscany and are two sisters that grow all their own flowers and I thought that was just so amazing! I wanted warm, seasonal, autumn colours since it was harvest time in Tuscany.
FAVOURITE DETAIL OF THE DAY: All of it! It is just the most stunning place, seriously if ever in southern Tuscany you must tour the gardens. However, the tablescape and ceremony flowers were just stunning - I'm a sucker for a tablescape and flowers.
WHAT ADVICE WOULD YOU GIVE OUT TO A COUPLE PLANNING THEIR WEDDING? It goes by so fast and can be extremely stressful especially with COVID. Plans change and you can get disappointed, at least I know I did. Just try to remind yourself to sit back and enjoy all the moments, even the planning process try to make it fun.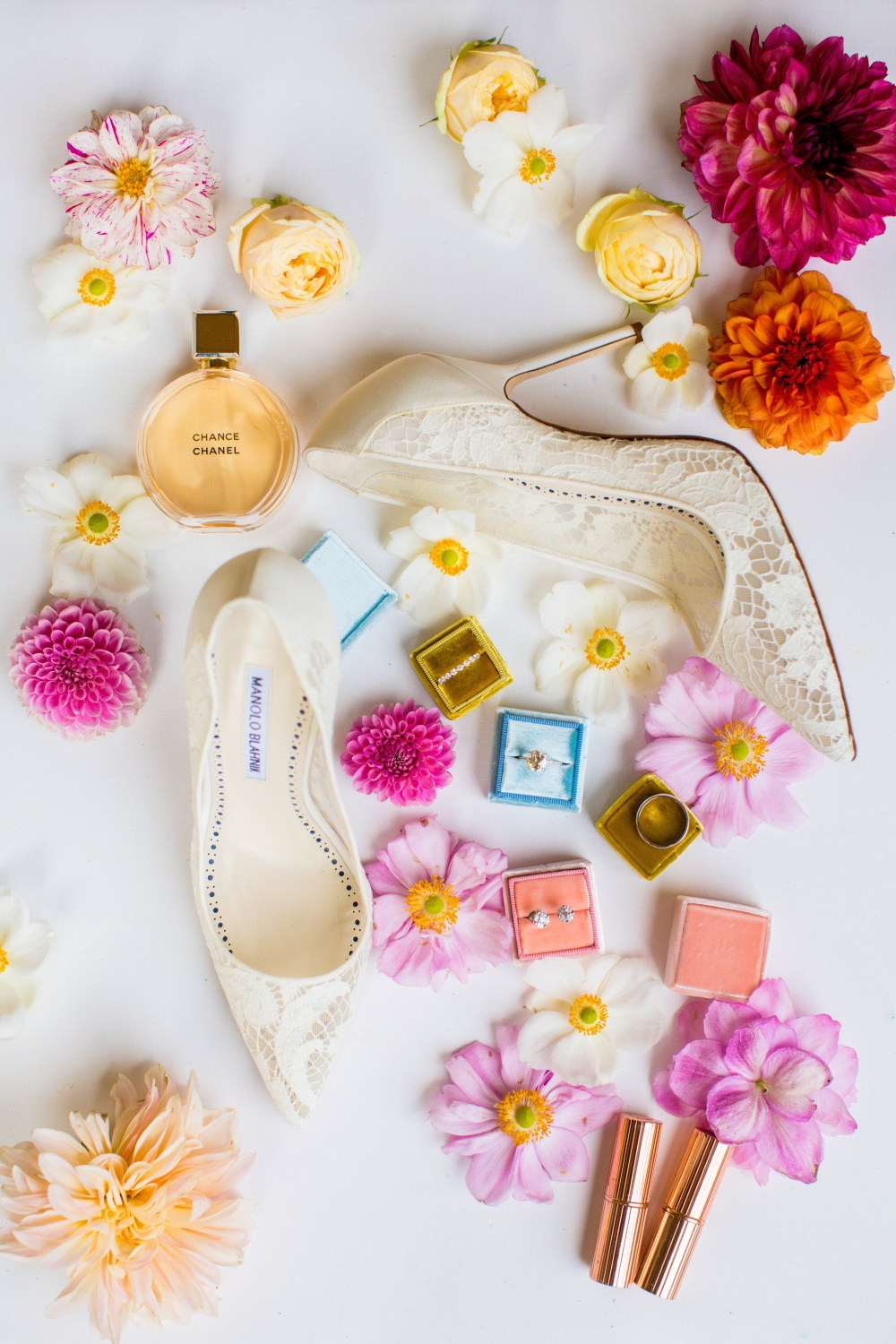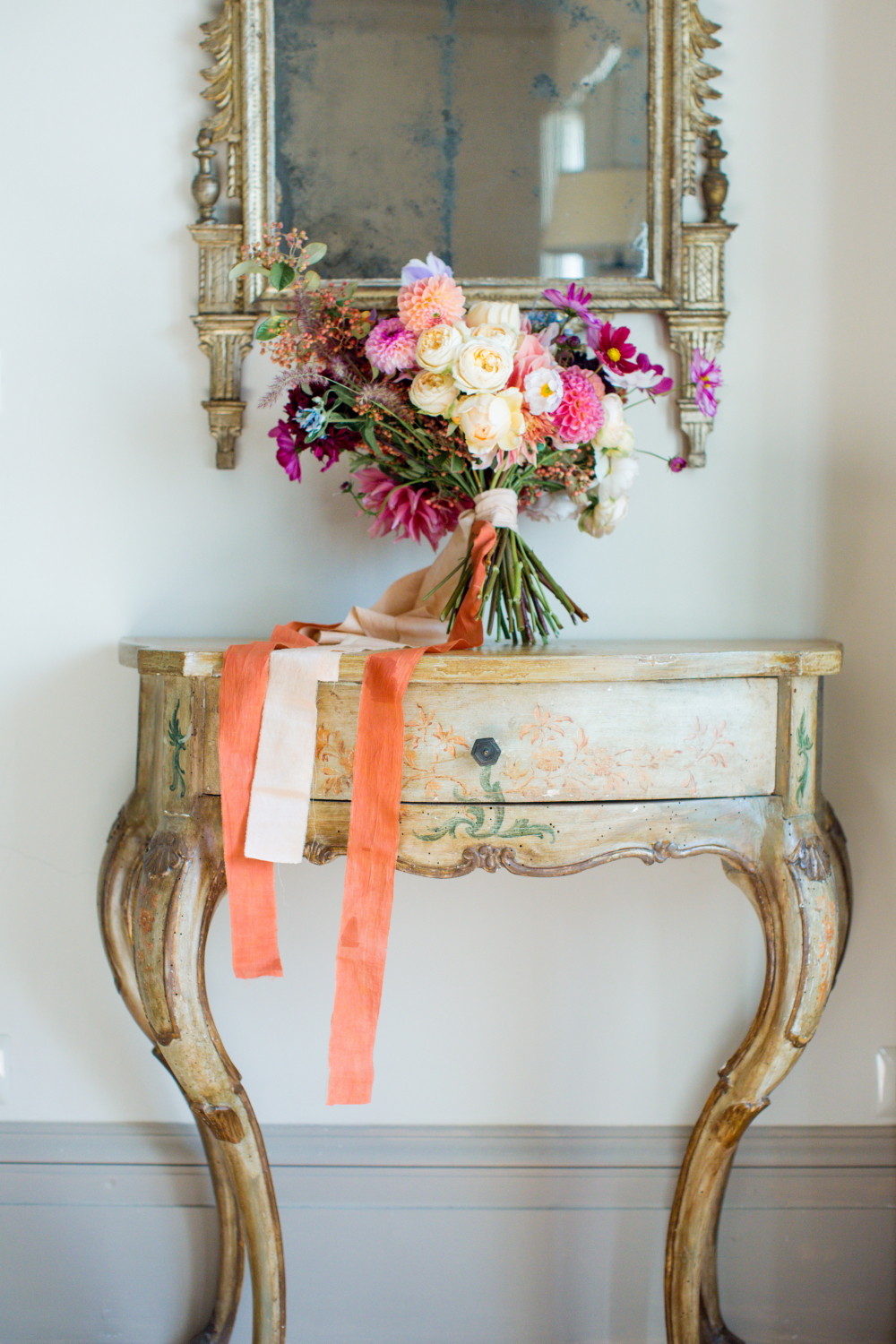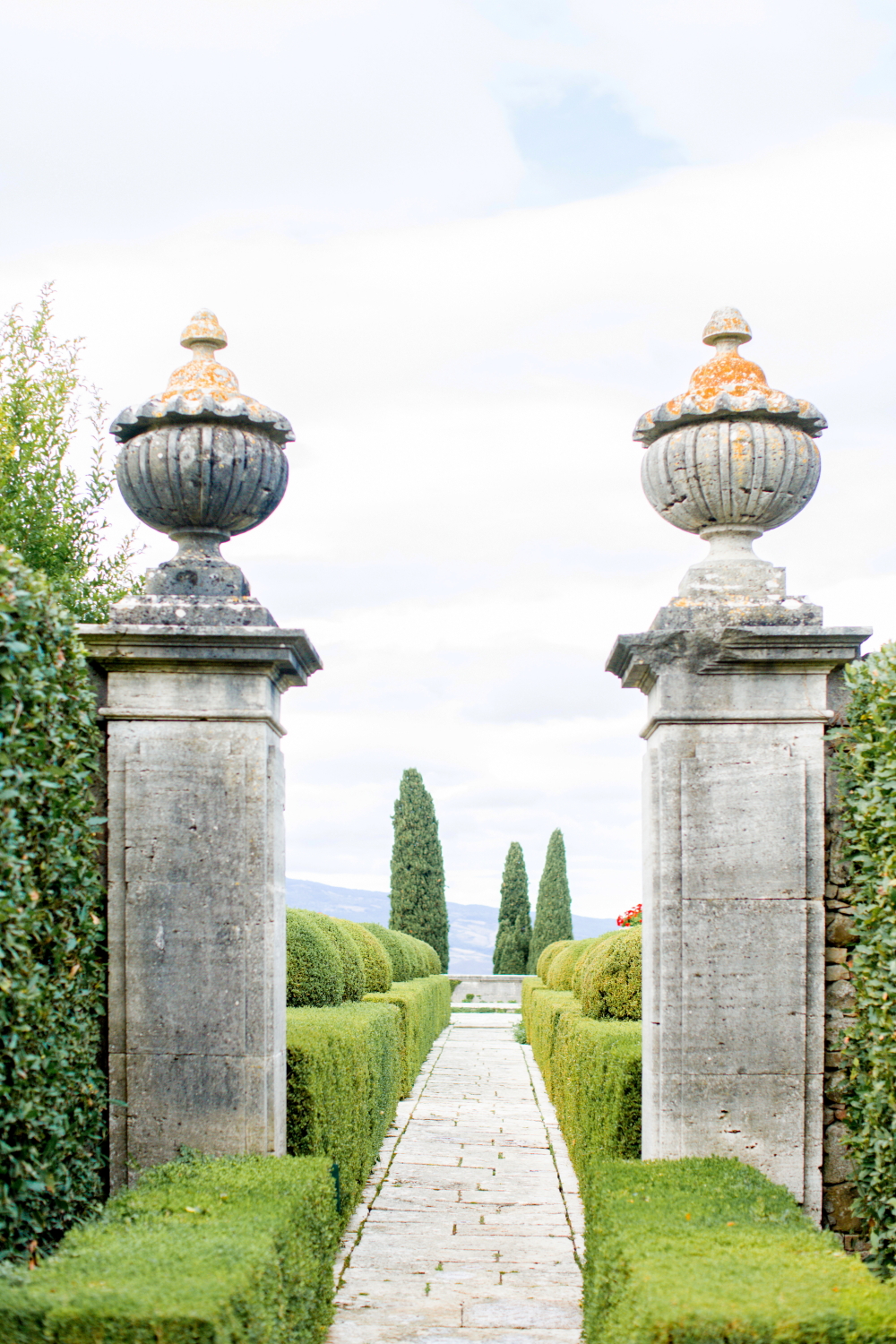 MOST MEMORABLE MOMENT? Walking down the aisle with as husband and wife to the violinist playing Bittersweet Symphony, it was a surreal and magical moment.
WHAT ASPECT OF THE WEDDING WAS THE MOST IMPORTANT TO YOU BOTH? With such an elegant venue we both didn't want it to feel stuffy and uptight. We are pretty relaxed people and like to have fun and we wanted our family and friends to also have fun.
TELL US A LITTLE ABOUT YOUR HONEYMOON: We went to Sicily afterwards, but for more of a relaxed post wedding week sort of thing. We like to travel a lot, so I think we will plan something fun for summer 2023.
IS THERE ANYTHING YOU WOULD CHANGE OR DO DIFFERENTLY? Nothing, it was just the best week and night we will remember and cherish it forever.
Tuscany wedding planner WEDDINGS IN TUSCANY works with couples from all over the world to design and plan their dream wedding. Inspired by her appreciation of different cultures and travelling Chiara and her team pay great attention to detail to ensure an impeccable personalised service. Their goal is to surpass all expectations while creating an extraordinary event which overflows with elegance, refinement, and sophistication. Make sure you check out this Stunningly elegant elopement ideas from Tuscany.