Just like many couples who had to navigate through the wedding planning process through the pandemic, Esther and Daniel had to change their plans several times leading up to their wedding day. The original idea was to invite their family from near and far, but with the restrictions in place, they had to cut down their guest list to one-third of the original. Nonetheless, it was still a family affair, and they were able to celebrate with their closest loved ones whilst streaming the ceremony and part of the reception to those who cannot be there in person to celebrate with them. Washington DC wedding photographer FEATHER & FAWN PHOTOGRAPHY was there to capture the celebrations.
Their wedding day was a perfect day in October - the sky was clear with a light breeze, and the temperature was just right to have an outdoor wedding and THE INN AT VINT HILL in Warrenton, Virginia provided the perfect setting. Esther tells us, "The Inn owners were so welcoming and put us to ease right away – we knew we would be in good hands. We also liked the historic charm of the Inn facilities and that it had both indoor and outdoor settings to accommodate for different weather possibilities. This became crucial once we decided to hold the event all outdoors because of Covid-19 guidelines."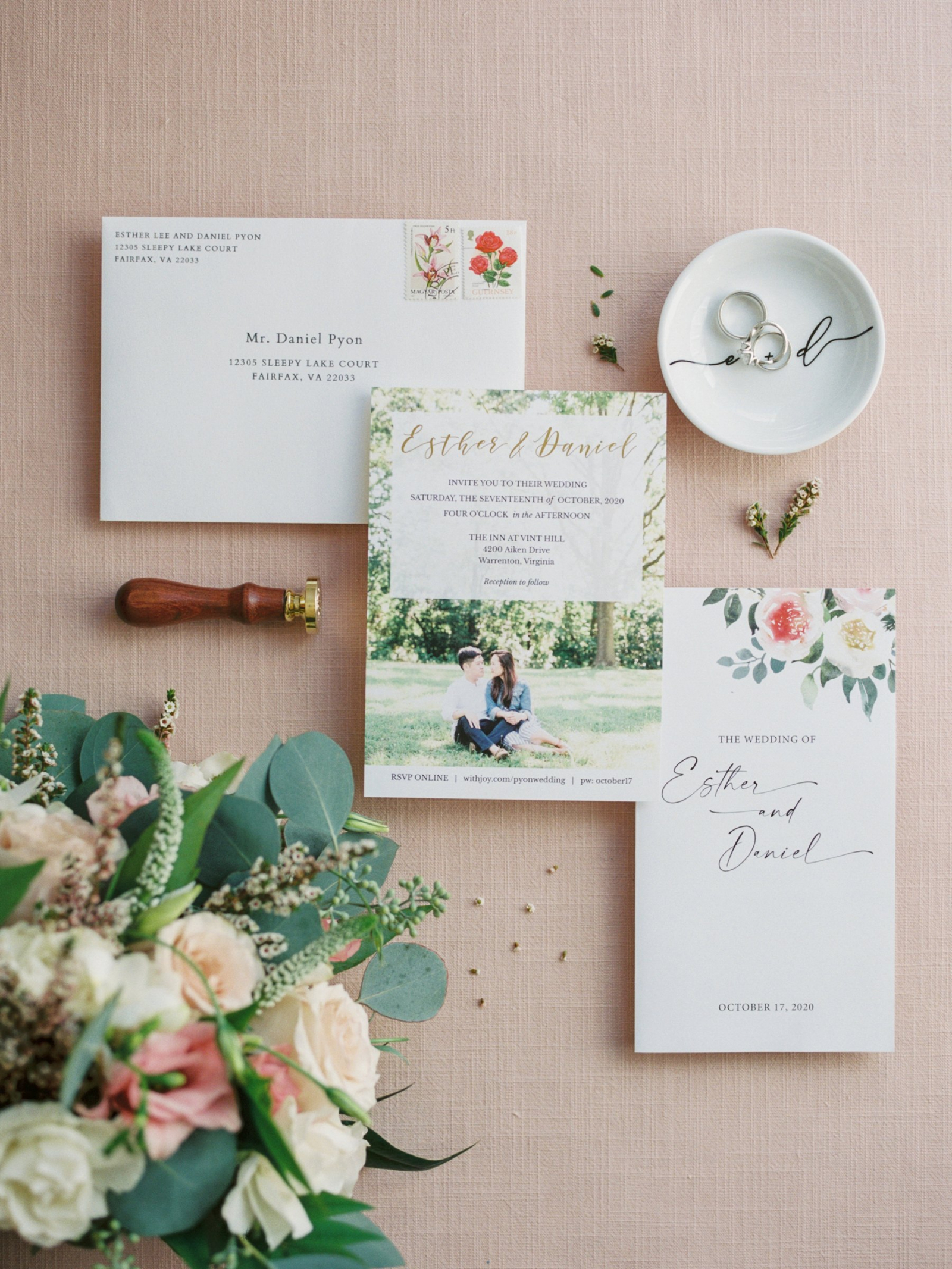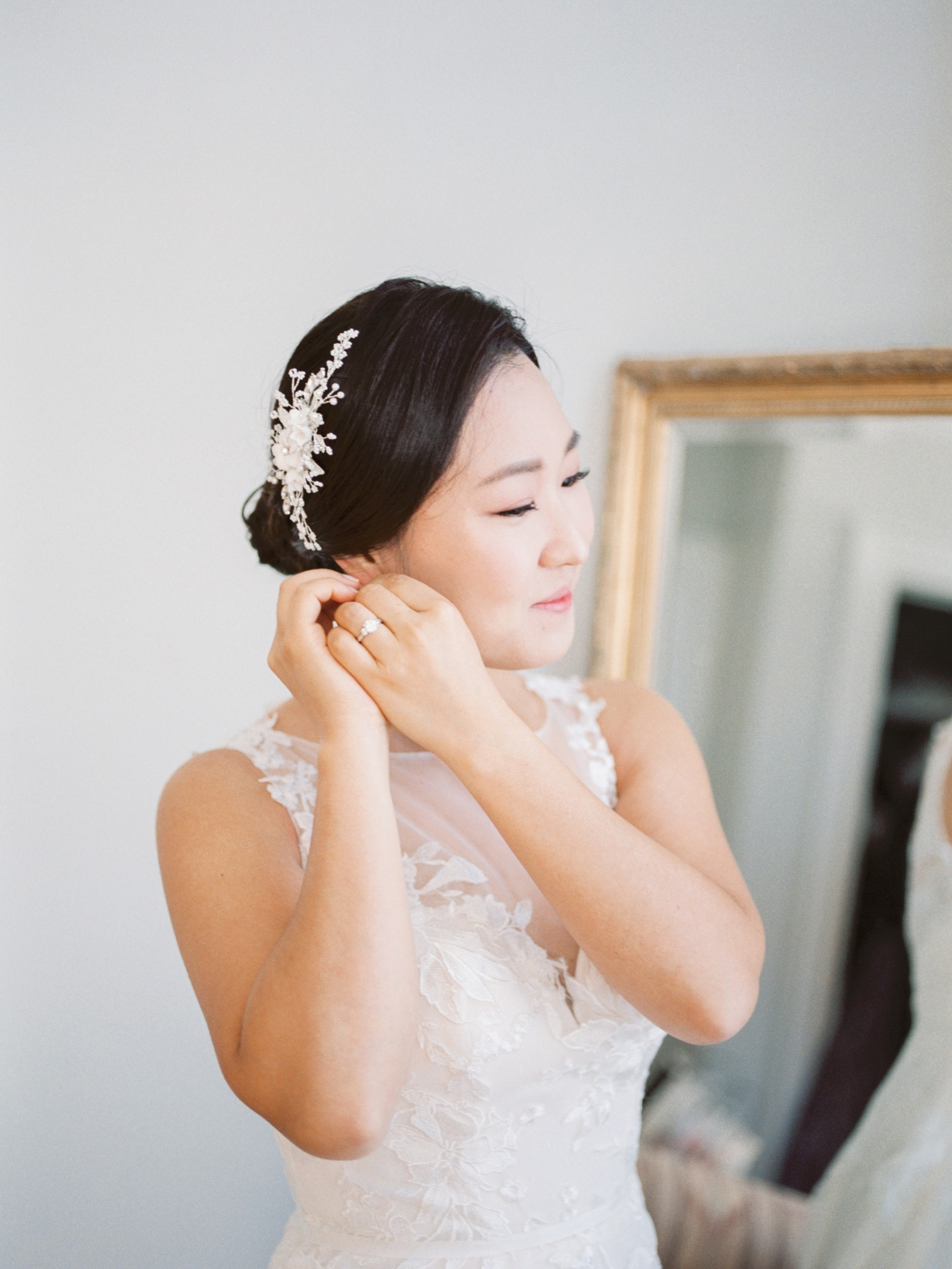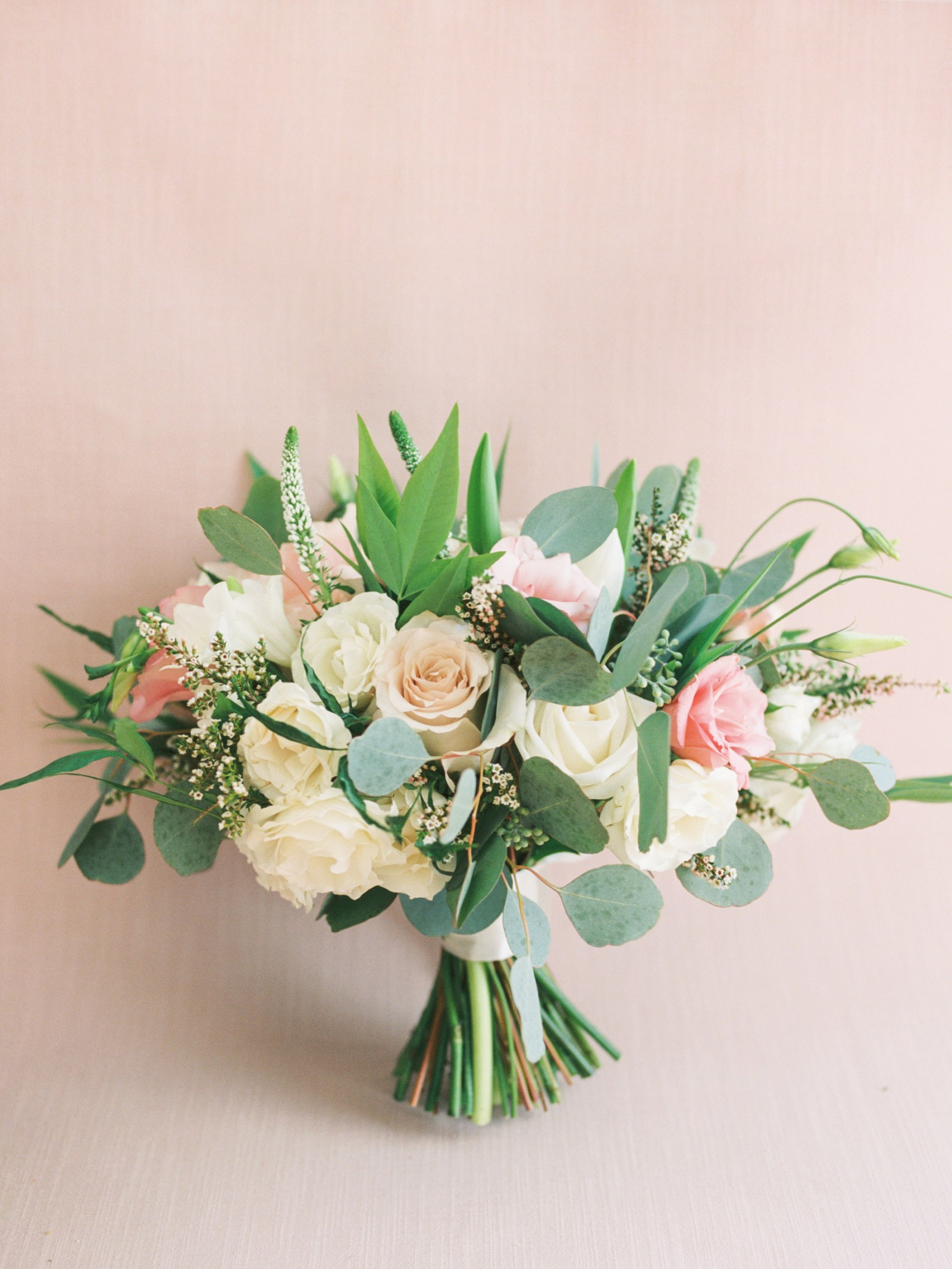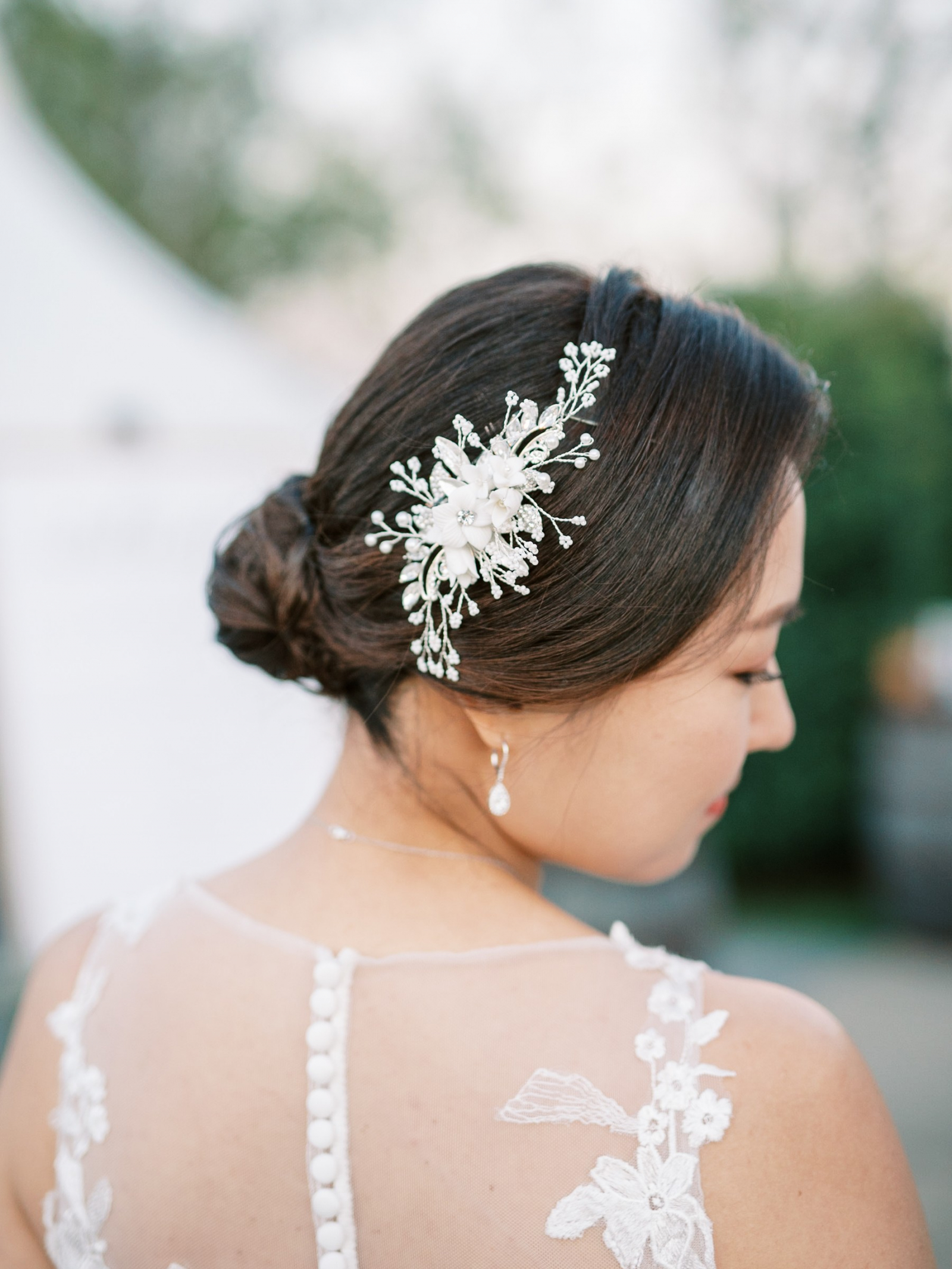 HOW DID YOU MEET? We met at a mutual friend's going away party. We happened to sit at the same table and immediately hit it off. We'd both say it was interest at first sight.
TELL US ABOUT YOUR PROPOSAL: Esther's two best friends visited Washington, D.C. to meet me (Daniel) in the first week of March 2020 – the week before everything in the United States shut down. We spent the day together visiting an art museum, eating baked goods and drinking coffee, and driving around to various tourist spots in D.C. The whole time, everyone but Esther was in on the impending proposal. Before dinner, I drove Esther and her friends to Meridian Hill/Malcolm X Park which has a lovely view overlooking D.C. I made up some lame excuse for her friends to take pictures of us in front of a fountain, and got down on one knee.
TELL US ABOUT FINDING YOUR WEDDING DRESS: I (Esther) had been looking around at different styles online and knew I wanted an A-line dress with a long train. I also knew that I wanted a dress that looked elegant but not too ornate. When my bridesmaids flew into town, I had them come with me to BHLDN in Washington, D.C., where I ultimately found the perfect dress for me. I loved the design and the fit of the dress. And with some expert tailoring from The Tailor Shop in Vienna, VA, I felt beautiful and comfortable on the big day.
DESCRIBE YOUR WEDDING FLOWERS: Our colour palette of sage, ivory, and blush gave us a number of options. We told our florist that we wanted something in between traditional and bohemian, and she delivered some beautiful seasonal bouquets and aisle arrangements that later served as centerpieces during the reception.

FAVOURITE DETAIL OF THE DAY: Hands down, the live music. We are both amateur musicians with a shared love for good music. We knew we had to have a live band at our wedding, and 10/10 would do it again. Huge shoutout to The DC Transit Band who brought the party and energy to help us celebrate with our friends and family. The band even learned a Korean song to accompany Esther's parents, who sang a lovely duet during the reception.
WHAT ADVICE WOULD YOU GIVE OUT TO A COUPLE PLANNING THEIR WEDDING? Try to do it only once. Try not to do it during a global pandemic. Let the professionals do their jobs and don't sweat the minute details.
MOST MEMORABLE MOMENT? Reading our personal vows aloud to one another. I (Daniel) was initially hesitant to disclose such personal thoughts in front of our guests, but in hindsight, it was the right thing to do for us. All day, it feels like you're being pulled in one direction or another by your multiple (capable) handlers, but this moment was just about us.
WHAT ASPECT OF THE WEDDING WAS THE MOST IMPORTANT TO YOU BOTH? Because of covid, we really struggled with the decision to move forward with the ceremony and reception or not. In the end, we decided to proceed with the utmost caution (mandatory masks, temperature checks, everything held outside, physical distancing, etc.) because statewide regulations were loosening at the time. The most important part for us was to make sure our guests felt safe, comfortable, and welcome the entire time, because we knew it was going to be the first major social event that many would take part in that year. In the end, it was worth it – no one got sick, and everyone told us how glad they were that we decided to move forward with it.
ANY OTHER DETAILS THAT HELP TELL THE STORY OF YOUR DAY? We couldn't do it without the help of our friends, family, and wedding vendors. In particular, Esther really wanted to include her friends who live out of town. Since many of them could not travel to be with us in person, we decided to live-stream the whole ceremony and parts of the reception using the Event Live app. This also allowed us to open up the guest list to virtually invite many more people than would have been possible in a normal circumstance. Whether they were with us in person, or participating from halfway around the world through a screen, we felt the love with every kind word and gesture. We are truly grateful.
TELL US A LITTLE ABOUT YOUR HONEYMOON: Because of covid, we decided to stay domestic and travel to a few spots along the Pacific Coast Highway in California. We split our time between Los Angeles, a resort in Big Sur, and San Francisco – mostly eating delicious sushi and taking in the gorgeous views. It was quite the necessary respite from the busyness and stress of planning.
IS THERE ANYTHING YOU WOULD CHANGE OR DO DIFFERENTLY? Doing everything outdoors in mid-October made an extended reception unrealistic. If we had to do it over again, we'd shorten the reception, or move the ceremony up a few hours in the day so that we could finish the reception before the sun went down (and it got cold).
A huge thank you to Washington DC wedding photographer FEATHER & FAWN PHOTOGRAPHY for sharing this beautiful wedding with us. Owner Angel loves capturing moments of love and joy, especially on a wedding day. "Wedding photography is so dear to my heart because I love seeing families and friends get together to celebrate the couple as they embark on a new journey together as newlyweds, to turn a new chapter of their lives together with love, and to vow a lifelong commitment to each other in front of their loved ones." Head over to her portfolio to see more.