Angella and Daniel's intimate garden nuptials at OXON HILL MANOR in Maryland was the fairytale wedding of their dreams. Inspired by a love of old-world elegance and Parisian charm, the couple worked closely with KEYLA ALANES EVENTS to create a wedding day filled with whimsy and romance. Featuring a rich palette of blush, creams, oranges, and mauves, their carefully-curated wedding details included a gilded invitation suite, a rose-gold engraved monogrammed Mrs. Box, custom handmade vow books, and jaw-dropping florals by FLOWER PALETTE. The bride dazzled in her AVA LAURENNE gown and blush BELLA BELLE shoes. As did the mother-of-the-bride, elegantly attired in a beautiful lavender and cream Korean hanbok. It was all beautifully captured by MOLLY LICHTEN PHOTOGRAPHY.
When a hail storm rolled in just 10 minutes before the ceremony was scheduled to begin in the garden, Angella and Daniel's garden ceremony was quickly moved into OXON HILL MANOR'S ornate French blue parlour. The picture-perfect sunset and romantic candlelit reception that followed provided the perfect conclusion to this intimate, Parisian-inspired fête!
WHY DID YOU CHOOSE THIS LOCATION? We absolutely loved the greenery of the gardens and the layout of the whole venue. The venue could hold up to large weddings but the layout was perfect for our small wedding (50 people) and the space did not feel overwhelming.
HOW DID YOU MEET? We met while working at a Korean barbecue restaurant. I was a hostess and he was a server.
TELL US ABOUT YOUR PROPOSAL: He knew I wanted a proposal that was simple, but meaningful, and that the words he says matters the most. He took me to the spot where we would always park our car late at night after work and just talk until the sun came up. This was a special place because all of the deep conversations here led us to really be vulnerable and connect with each other.
TELL US ABOUT FINDING YOUR WEDDING DRESS: I found my dress at AVA LAURENNE. It was my second dress shopping appointment and the first dress I tried on. Me and my friends were looking throughout the store and knowing that I am picky, we were quite worried. There was nothing that was catching my eye but as soon as I walked past my dress the beautiful 3D embroidery details caught my attention but I felt that it would be out of my budget. My instincts were right but I still tried the dress on. Luckily it wasn't too over the budget and when I tried it on, my friends and I knew this was the one.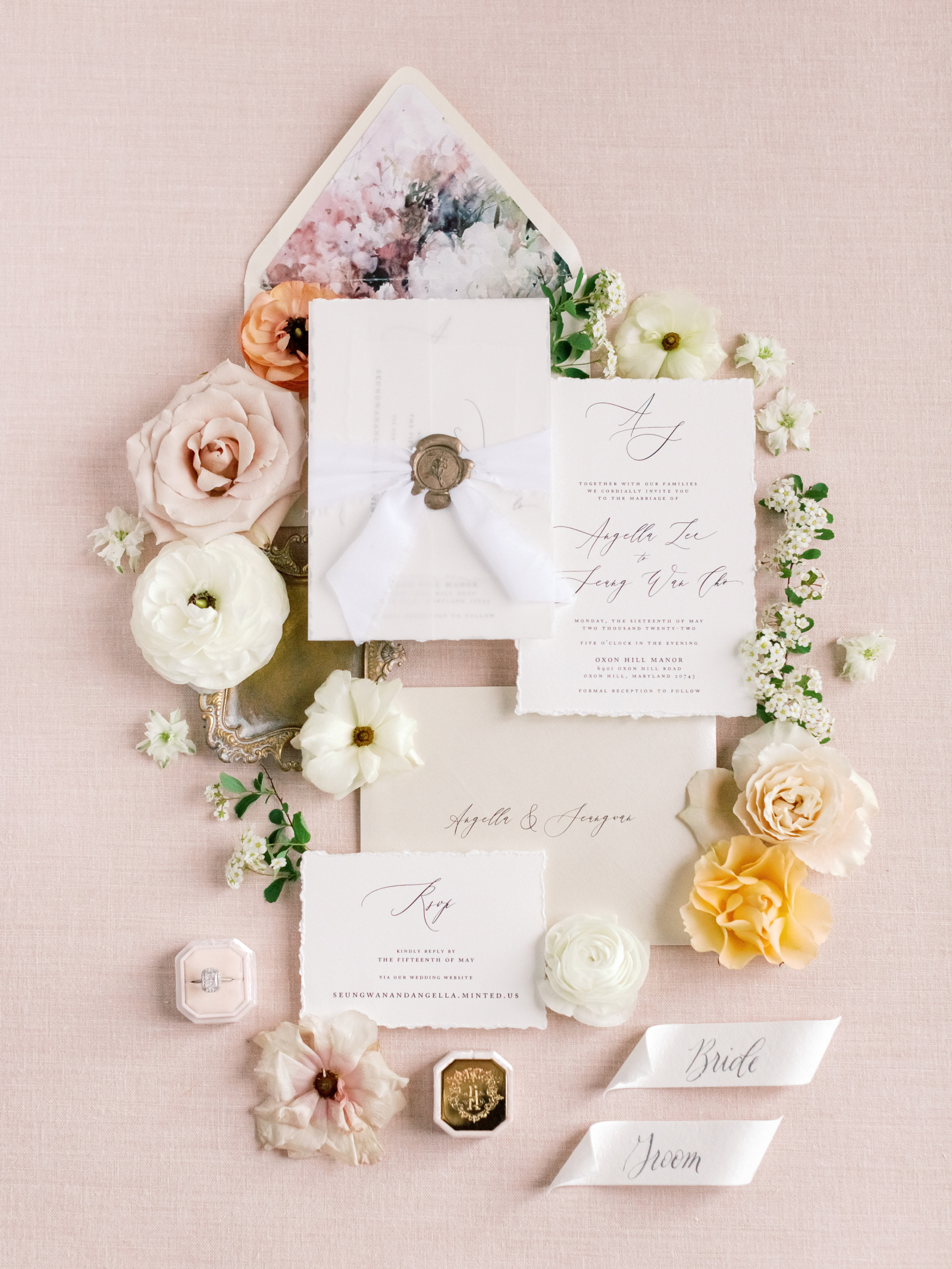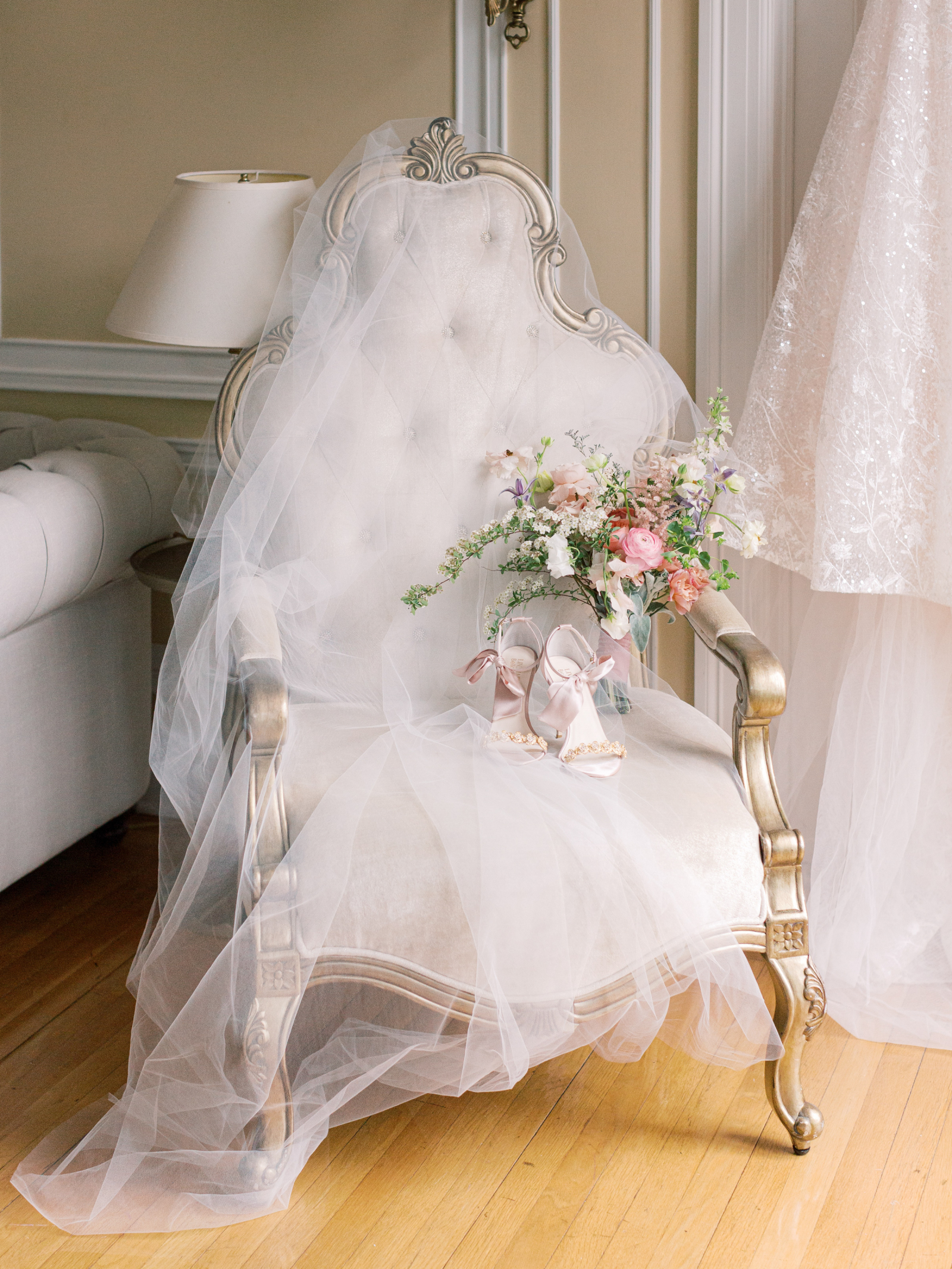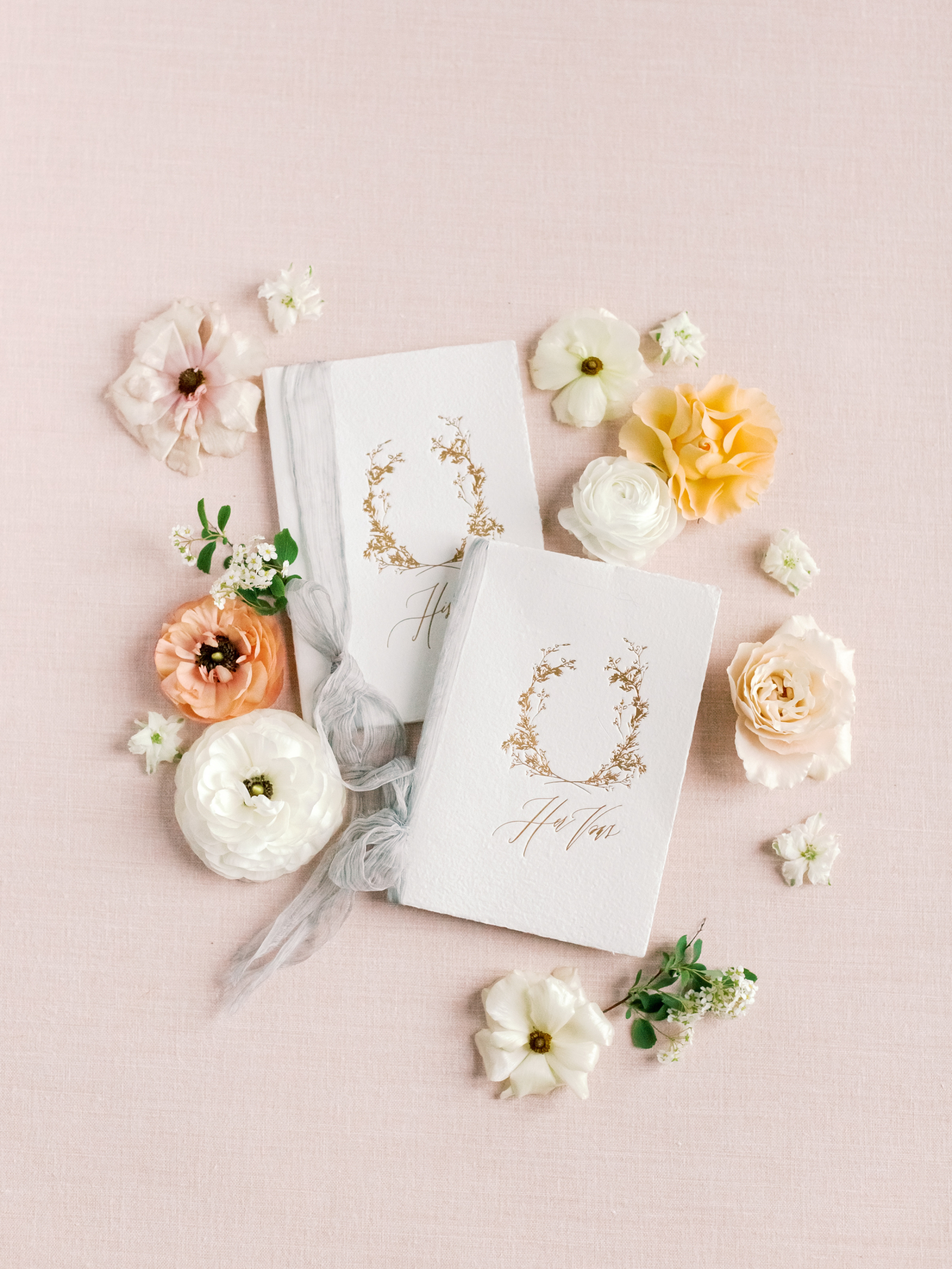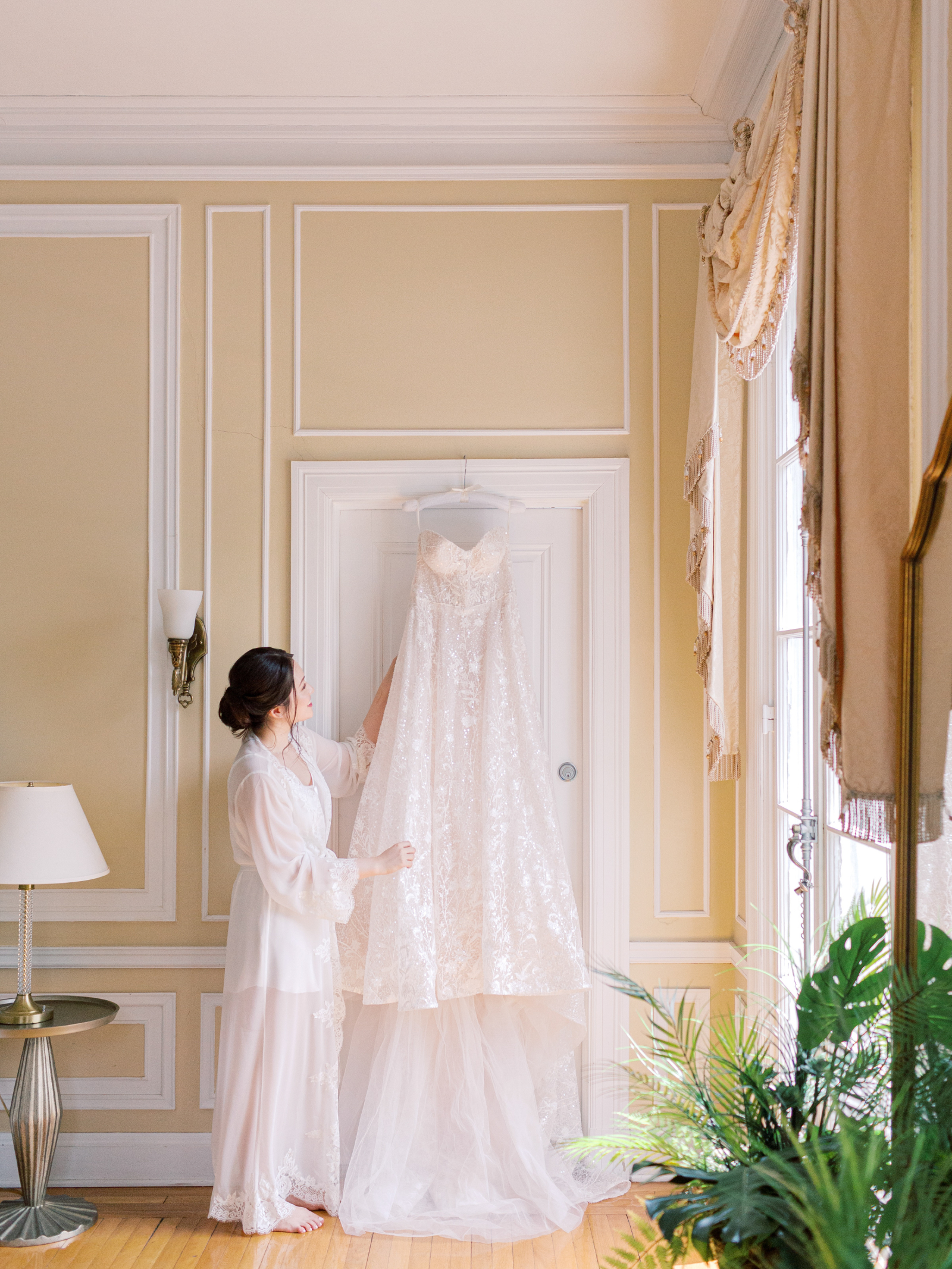 DID YOU HAVE ANY DIY ELEMENTS? So for my invitations, the designer I ordered from did not have a envelope insert design that I liked so I found an online printable envelope insert myself on Etsy. I cut out each one and glued it to the envelope to complete the final look. I loved how it turned out!
DESCRIBE YOUR WEDDING FLOWERS: For my flowers I know I wanted a lot of texture and pink is my favourite colour, so I wanted to have that as the hero in the colour palette. I wanted hints of other colours as well and my florist did a phenomenal job incorporating that! I kept the ceremony flowers, very simple with an ombre, asymmetrical floral arch. The colours were absolutely beautiful in the turquoise ceremony room. for the reception, we moved the arch to the sweetheart table. The reception table flowers were delicate yet had a lot of texture making the tables look fuller. Lastly, for my bouquet I went with full on colour and for the bridesmaids a neutral/white based bouquet. Many people do the opposite where the bride is holding the neutral bouquet but I wanted to do that differently.

FAVOURITE DETAIL OF THE DAY: I selected the tablecloth and for the reception myself, and I loved how richer it made the table look because of the texture. I had a budget for the reception flowers, so I was worried it would look a little empty, but definitely the texture of the tablecloth balanced out perfectly. I personally researched hours, looking for the perfect table cloth and I am so happy with her it turned out.
WHAT ADVICE WOULD YOU GIVE OUT TO A COUPLE PLANNING THEIR WEDDING? For people who are picky and very detailed it's okay because it is your wedding so don't be afraid to speak up. I think this was my biggest struggle because I am a big person on design/details myself but felt bad speaking up at times thinking I would give others a difficult time. But truly, I do think I was able to achieve my dream wedding by speaking up and letting others know if there was something I wanted differently or if I had different opinions. Also, as the bride and someone who's big in design I led the process in putting together the look, researching each piece, and choosing the colours. I highly recommend those who are like me as well to take charge!
MOST MEMORABLE MOMENT? The first look and vows was the most memorable moment. Writing cards has always been so special to us, because it is a chance to reflect, express, and remember our love for one another. Reading the vows to each other was such an intimate moment and a time of confirmation again that this person is "the one" for me.
WHAT ASPECT OF THE WEDDING WAS THE MOST IMPORTANT TO YOU BOTH? We understood that wedding days are naturally very busy for the couples themselves, but wanted to make sure that we are present in the moment and most importantly with each other by having moments to ourselves.
TELL US A LITTLE ABOUT YOUR HONEYMOON: We went to Maui in Hawaii and it was the best trip of our lives! The colour of the skies were so beautiful and the clouds were surreal. The beaches were beautiful as well. We were just in awe of nature the whole trip and it was very relaxing!
IS THERE ANYTHING YOU WOULD CHANGE OR DO DIFFERENTLY? This may be an unpopular opinion, but I would not do the first dance. I am someone with a lot of social anxiety, and so originally did not want to do this dance. People kept encouraging me though, saying it'll be different when you're there and in the moment. But for me, the nervousness and social anxiety took over in that moment, so I would choose not to do that. Even though people give you advice with the best intentions, still trust your instincts!