Like many present day couples, Stephanie and Dave met online. On OK-Cupid, in fact. Following in her sisters' footsteps (one sister met her husband on e-Harmony and the other was introduced to her fiance on Tinder), Stephanie decided to join the sisterhood of online dating and quickly found the love of her life. Stephanie and Dave turned to Cayleigh Hopkins from SAGE INNOVATIONS when it came to planning their dream wedding. Being out of state in New York, having someone on the ground meant they could leave it in her capable hands. As a fashion photographer Stephanie has a great eye for style and design, so Cayleigh knew it was a wedding she wanted to be a part of.
Stephanie wanted to get married in a city that really carried meaning for her. As a child she vacationed in Kiawah Island each summer so Charleston soon entered the picture. After spending a weekend visiting a variety of venues, they settled on LEGARE WARING which offered them the perfect combination of an old gorgeous house with the most beautiful grounds. She says, "The 'aisle of oaks' is what really sold us on the place. It was so easy to picture ourselves there making the most important promises of our lives." Thanks to SEAN MONEY & ELIZABETH FAY for these beautiful images of a special day.
Cayleigh tells us, "Stephanie's vision for her wedding was to have long tables where they could serve their guests family style with a formal yet backyard dining feel. We accomplished that with zig-zagging cafe lights overhead and long, community style tables adorned with greenery garlands and pops of florals in between. To add to the ambiance of intimacy, SYG DESIGNS added varying sized taper candles that lit the happy guests throughout the evening. Stephanie did not want to overwhelm the reception with too many coloUrs and to instead, play into the beautiful colours of the natural surrounding. To produce this vision, we picked out a grey linen in which the greens of the garland, the pinks and whites of the flowers, and the gold accents did all of the talking. Although rain threatened the outdoor experience all afternoon, Mother Nature eventually pulled through with some sunshine in time for the actual wedding!
For the ceremony, Stephanie and Dave wanted to incorporate both of their religions and beliefs into the nuptials. In order to do so, they made a make-shift chuppah that their wedding party held over head during the Jewish portion of the ceremony to accommodate Dave's religious upbringing. To play into Stephanie's Greek heritage, they had a crowning ceremony where one of Stephanie's sisters held floral crowns over their heads. It was a personal addition to the ceremony that made it that much more special!"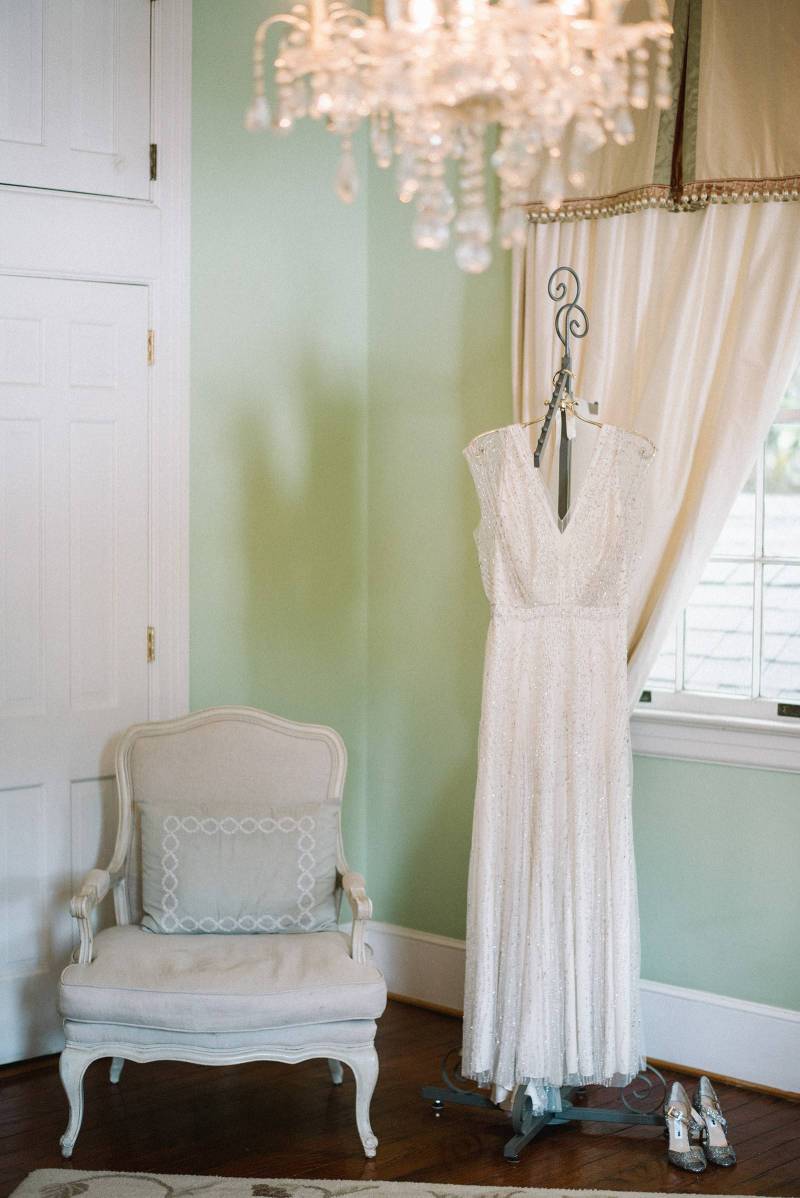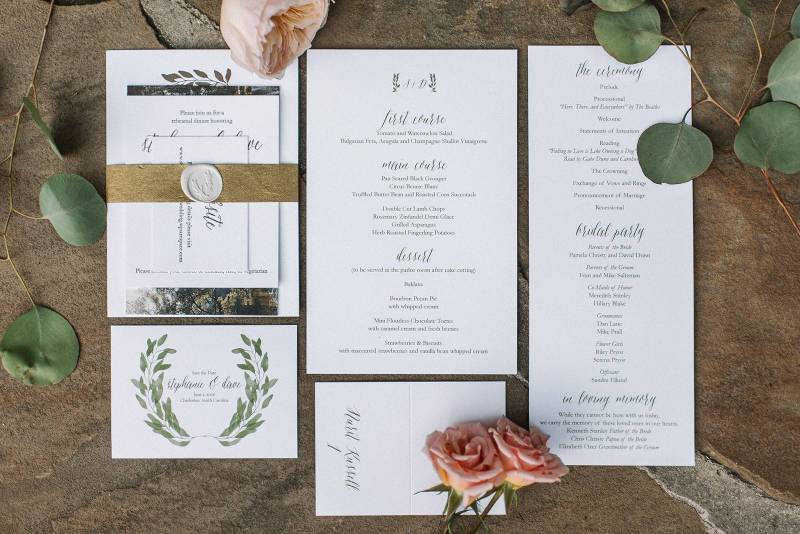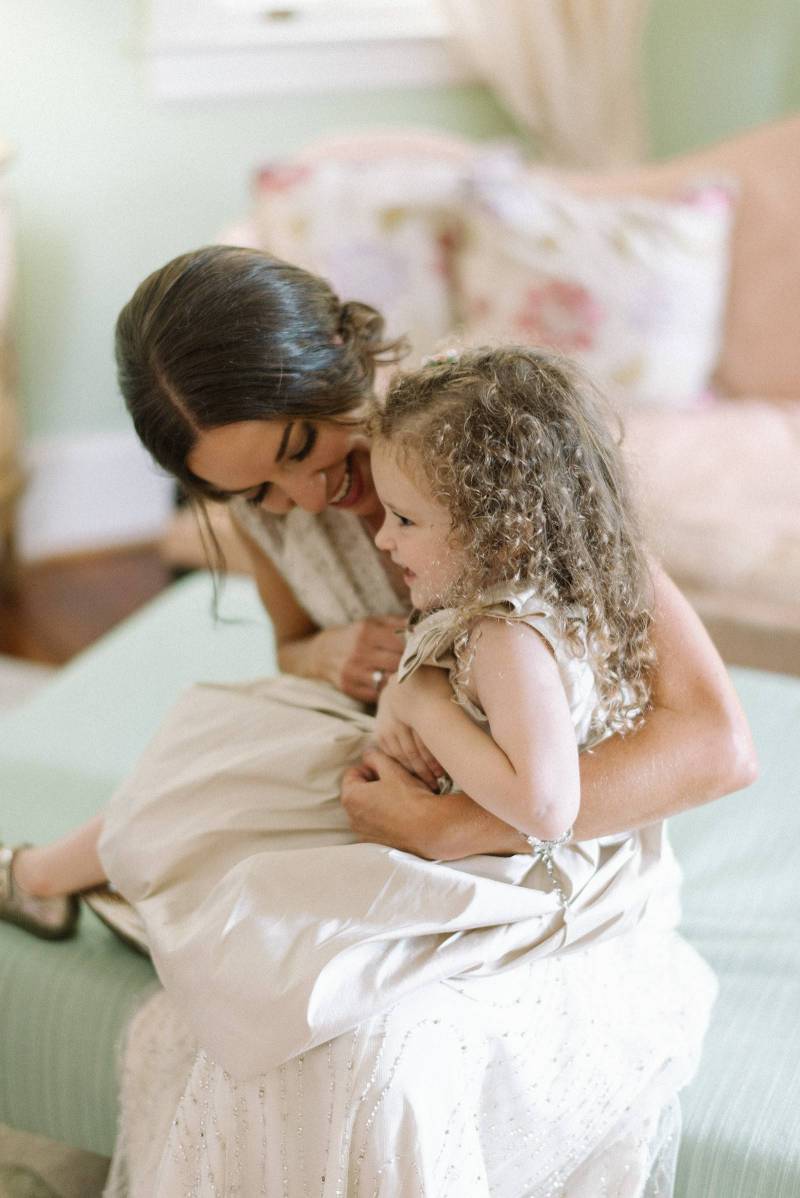 HOW DID YOU MEET? Dave and I met on OKCupid. He was my very first date from the site! I sent him the first message and after a couple of emails back and forth, I suggested that we meet for drinks. Dave picked the place - a tiny cocktail bar in Clinton Hill, Brooklyn. Like any first online date, I was first relieved that he was indeed as good looking as his profile pics made him out to be and once we sat down, cocktails in hand, he was just as clever, kind, and warm-hearted as he presented himself in his writing.
TELL US ABOUT YOUR PROPOSAL: Dave suggested that we go upstate to the Catskills for the weekend to go hiking and leaf peeping. We arrived at our little Airbnb on Friday evening with our dog, Ophelia. The next morning we woke up early and headed out for our hike. After hiking along the main trail for a few hours, we veered off to a more challenging course that was a steep uphill hike. I still hadn't invested in proper hiking boots, so I was in my running shoes and after an hour or so, I was hangry and annoyed that I wasn't given the heads up that it might be a good idea to spring for some actual hiking gear so that I didn't injure myself during this thing. Dave insisted that it would be well worth journey. We got to the top of the mountain and (to his credit), the view was breathtaking. It was the most grand view of the Hudson Valley that I had ever seen. The sky was a deep blue and leaves filled the landscape of vibrant shades of red, orange, yellow, and pink. We sat down and had a picnic and afterwards Dave asked me to stand with him and soak in the view together. He started talking about a journey and the next thing I knew, he was on one knee asking me to marry him. I laughed and cried and even though I should have fully expected it in that moment, he was still able to surprise me. We hugged Ophelia who was just standing there wagging her tail and then we hiked our way down. It was a seven hour hike in total and was worth every sore muscle the next day.
TELL US ABOUT FINDING YOUR WEDDING DRESS: I was one of those weird people who LOVED shopping for wedding dresses. I tried on probably 50 wedding dresses and could not decide. It was going to be the most expensive piece of clothing that I would ever buy and by far the most photographed, so I wanted it to feel perfect. I couldn't decide what kind of bride that I wanted to be - the classic bride? The bohemian bride? Maybe the vintage bride? I loved them all. It got down to the week that I needed to make a decision and Jenny Packham announced a sample sale for that week. I went by myself, got in the first round at 8am, and grabbed five dresses. Unlike all of the formal wedding dress shops, at a sample sale there is no champagne, no one to help you get into the dresses and no one to clip you in to give you an idea of what the gown would actually look like once it was tailored just right. My dress was the second one that I tried on and even under florescent lights and good five sizes too big, I knew it was the one.
ANY DIY ELEMENTS? Yes! For our paper goods, I made the belly-band and wax seal that wrapped our invitations together. I also added the same wax seal to each place setting. Our other DIY element was our Chuppah. Dave and I had an interfaith ceremony - part Greek Orthodox for my side and part Judaism for his side. We wanted the chuppah for an important part of the ceremony, but not the entire time so we made a hand held one. The top cloth came from Dave's grandmother (a tablecloth that she had taken with her when escaping from Germany). My three best friends from college (who just happen to be the most crafty ladies that I know!) then added flowers to each corner the morning of our wedding. I had no idea what the final project looked like until my sisters and Dave's two best men held it over our heads during the ceremony. It was absolutely beautiful and meant so much to have such rich history and love put into the creation.
DESCRIBE YOUR WEDDING FLOWERS: One of the first details that I was absolutely sure about was having extra long tables for our dinner with green leaves down the centre. Our florist placed Silver Dollar Eucalyptus down the centre of the tables. My bouquet was a gorgeous, whimsical design of lush, white Peonies, white and coral Ranunculus with Silver Dollar Eucalyptus sprinkled in. My husband's boutonniere was a sweet little airplant.
FAVOURITE DETAIL OF THE DAY: I'm sure every bride says this, but it's so difficult to choose just one! I think that my very favourite is our table settings. We had two long tables and served the dinner family style. It felt like a truly elegant holiday meal surrounded by all of my favourite people in the entire world. The tables were gorgeous! We had grey table cloths, green eucalyptus down the centre with white pillar candles in gold stands. A good friend of mine is a graphic designer and she designed the most gorgeous menus that were placed on each plate.
WHAT ADVICE WOULD YOU GIVE OUT TO A COUPLE PLANNING THEIR WEDDING? First get a wedding planner. If you can't afford the whole package, then at the very least get a day of coordinator. Give yourself and your mom (and your aunts and your sisters and BFF's) the gift of relaxing and enjoying the day right along side you. The second piece of advice (if I may squeeze in one more :) is to have your wedding on a Friday night (assuming it works with the bride/groom and the majority of the guest's religion). I loved that almost all of our guests made a mini-holiday out of the trip and that no one had to deal with the Sunday blues the day after our wedding. Instead, everyone enjoyed their Saturday in Charleston - we all grabbed a casual dinner and drinks later on. By the end of the weekend, I could honestly say that I had spent quality time with every single person that I was hoping to and that made it all even more special.
IS THERE ANYTHING YOU WOULD CHANGE OR DO DIFFERENTLY? I honestly can't think of anything that I would do differently. I got to marry my best friend, spent almost a week in a giant love bubble with my most favourite people on this planet, ate amazing food, drank wine, danced, ate pizza at 2am...what more could a girl ask for?
MOST MEMORABLE MOMENT? I think that my most memorable moment was right after our ceremony. I'm a photographer in NYC and have photographed this moment a number of times and had always wondered what it really felt like. The moment is more of a feeling really. It's a moment of pure joy that we were officially married. It was complete relief that the part of standing in front of almost 100 people and trying to remember what to say and not trip on my dress or sink into the mud was done, and all at the same time really relishing in fact that I had just declared my love to my husband in the most personal and sincere way and that words would allow in front of our family and friends.
ANY OTHER DETAILS THAT HELP TELL THE STORY OF YO1UR DAY? Before our ceremony, I tied in the Southern tradition of doing cake pulls in a separate cake. Usually this is done at the reception, but I wanted a moment before all of the craziness began to honour and give thanks to the most important women in life - The women who had really gotten me to that day by loving, supporting, and challenging me throughout my life. I ordered the most amazing chocolate cake and got Prosecco to kick things off. Instead of traditional cake pulls, I chose earrings from one of my favourite NYC jewellery designers, Erica Weiner (a total steal from her sample sale!). I had a feeling my crowd may just use these more than charms later on and they do! I've spotted them on my friends and my sisters over the last six months!