We're switching things up a bit today with this vibrant jewel-toned farm wedding by JUICE BEATS PHOTOGRAPHY. Alison & Junsup chose to get married near the bride's hometown in East Tennessee, but being that they lived in Alabama at the time, they faced a few destination challenges. Luckily her mum could go and scout locations for them, and even luckier still, she narrowed it down to just the one option - MARBLEGATE FARM - which the couple instantly fell in love with when they did finally visit. "Everything about the property is absolutely gorgeous! From the farmhouse, where we got ready in the morning, to our ceremony location by the pond. Not to mention their stunning lakeside view and reception hall. I couldn't have dreamed up a better place to get married! WINDSOR & WILLOW planned their celebration and also created the gorgeous vibrant florals.
WHAT WAS THE INSPIRATION BEHIND YOUR WEDDING STYLE? While we were early on in the wedding planning process, I remember looking back through some old family photos of weddings that happened long before we were around. We had a great time musing at the baby blue and white tuxedos that were all the rage as well as the over-the-top puffy sleeves on the wedding dresses…It was then we knew we didn't want to choose anything too trendy or off the wall that we would look back on in 20-30 years and laugh at…We wanted our wedding to be elegant, classic, and romantic with just a little bit of a rustic touch.
HOW DID YOU MEET? Junsup and I met while we were both dental students at the University of Tennessee. With a small class of 90 people spending many hours of every day together, we wanted to make sure we were making the right decision before getting too serious. We started dating at the end of our first year and never looked back. We truly do complete each other and I'm so lucky to get to spend the rest of my life with him!
TELL US ABOUT YOUR PROPOSAL: It happened on Thanksgiving of 2018. Junsup was (allegedly) celebrating Thanksgiving with his parents in Alabama, while I was at home with my family in Tennessee. I was hopeful that a proposal would be coming soon, but I had no idea that it was going to happen on Thanksgiving, especially since he was away with his family. My parents and his parents were the only ones who knew about the proposal; the rest of my family had no idea. My parents have a really nice pond that we've taken family photos at before, so no one thought it was strange when my mom ushered us all outside to take a family photo before dinner. Little did we know that Junsup and his parents had been hiding there waiting for the big surprise! As soon as I saw Junsup pop out from behind the bushes, I knew that he had got me good. It's hard to surprise me, but he sure did! He popped the question, we popped some champagne, and both of our families were able to celebrate Thanksgiving together! It was an incredible day!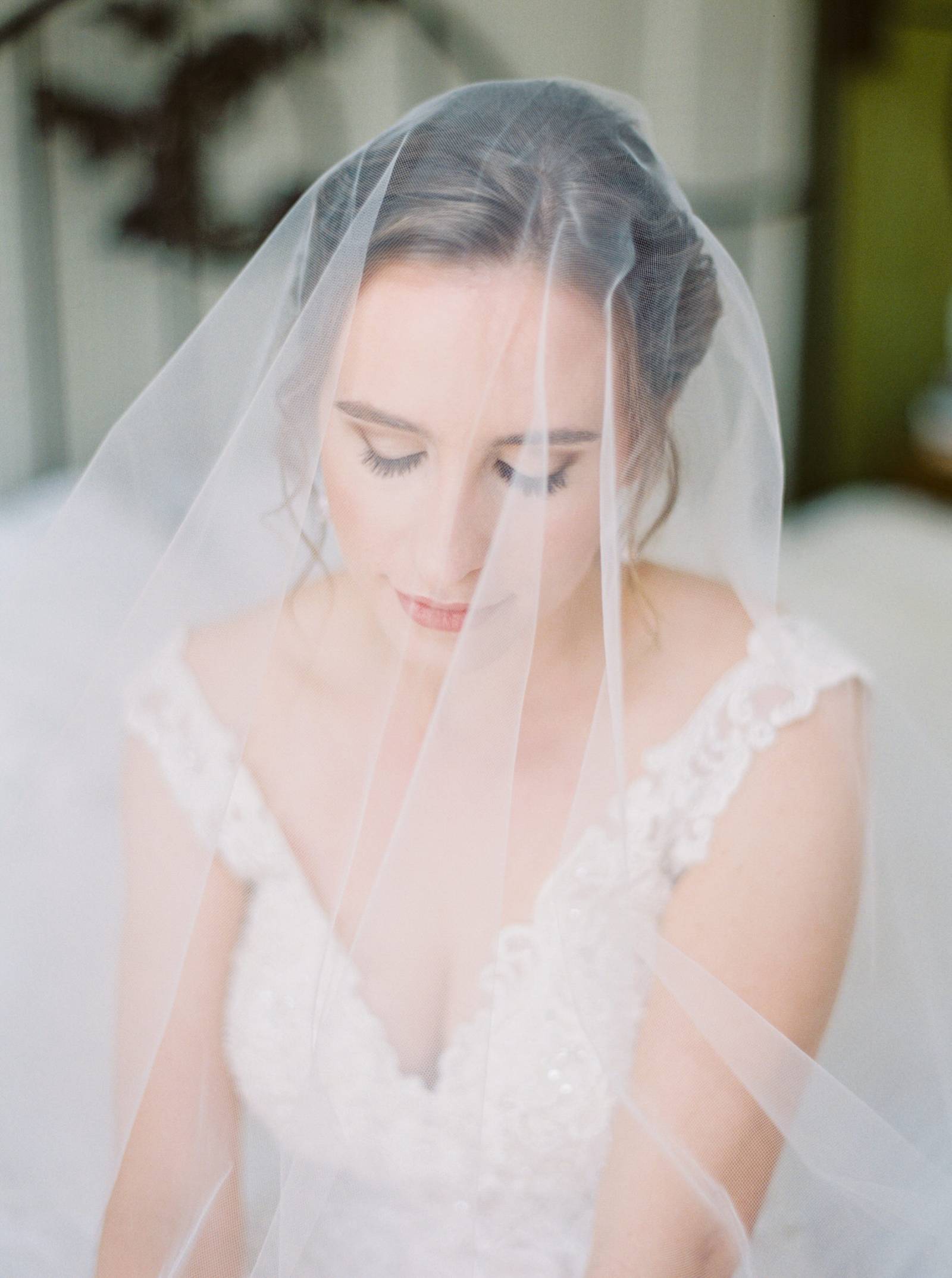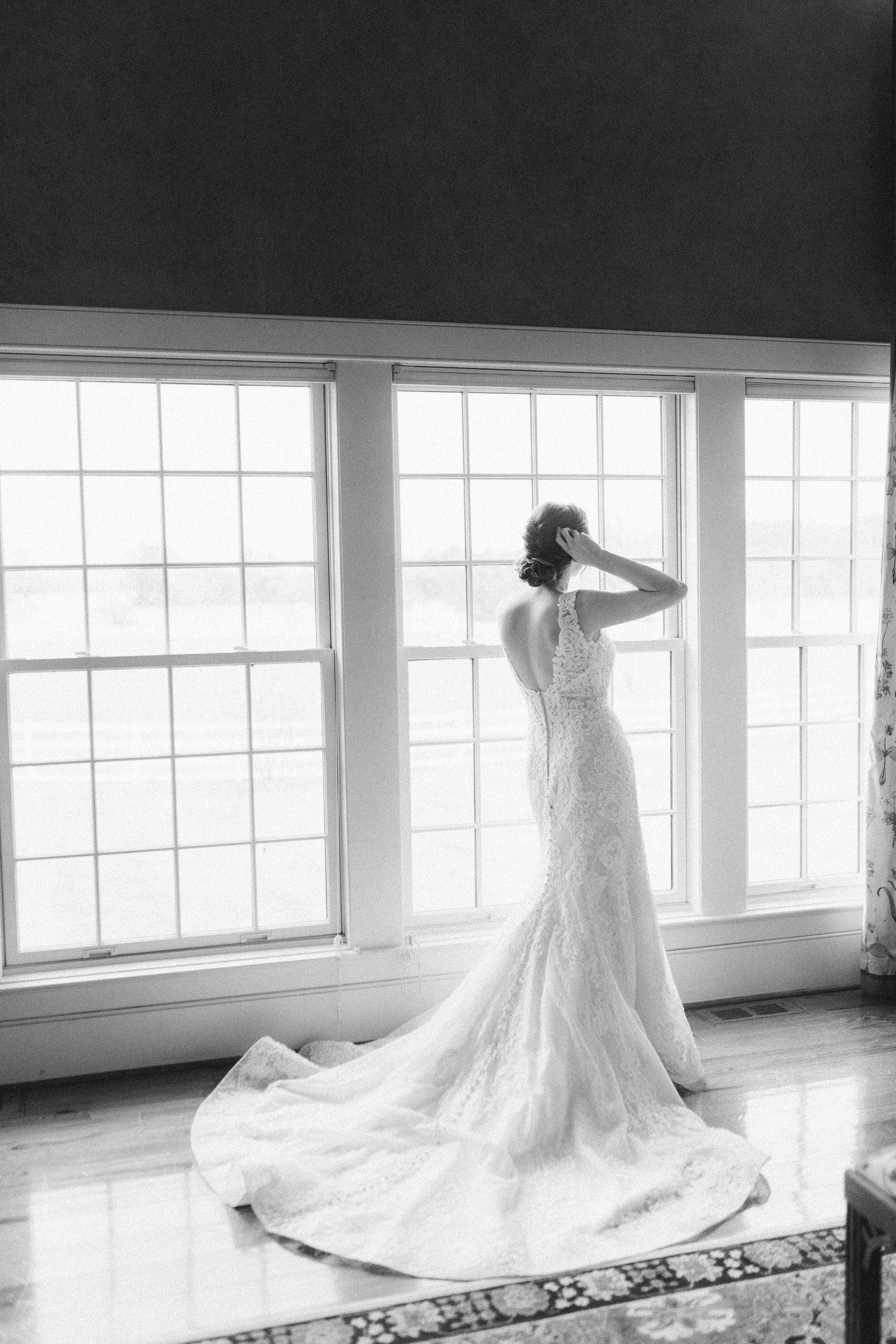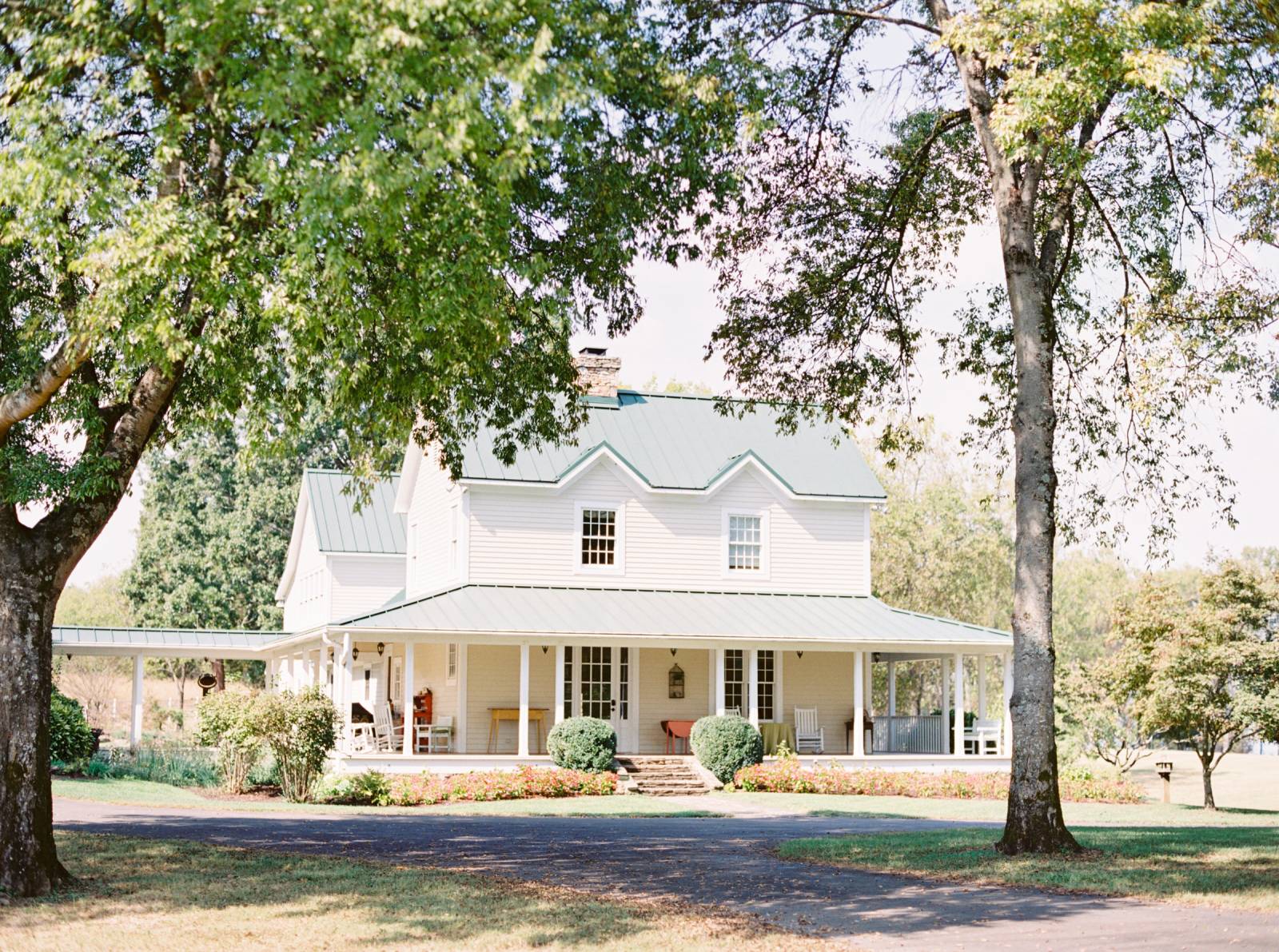 TELL US ABOUT FINDING YOUR WEDDING DRESS: I grew up watching the show "Say Yes to the Dress" and always dreamed about Randy helping me find my perfect dress from Kleinfeld. But as soon as "Say Yes to the Dress – Atlanta" aired, I decided that finding my dress there would be much more practical since Atlanta is so much closer to home. As I would watch the show, I would daydream about Lori and Monte helping me find my perfect dress…which is exactly what happened! I knew I wanted a lace dress that was elegant and not too over the top, but still had a little bit of a wow factor… I found just that at Bridals by Lori and got to meet Monte and Lori along the way, it was a dream come true! I could not have found a more perfect dress for our perfect day!
DID YOU HAVE ANY DIY ELEMENTS? I'm not the best with DIY things, as I'm not very artsy, but my best friend from college sure is! My friend Sarah has an industrial laser cutter and some amazing design skills! After Junsup and I got engaged, she offered to help out with whatever we needed and she ended up designing and making our wedding cake topper! Since Junsup and I are both dentists, she laser cut some wood into the shape of a tooth with our names inside of it. She even added in some gold leafing to the top of the tooth for a little flair. It looked amazing and it's now something that we can keep forever! While I'm not good with things that are DIY, I'm grateful to have friends who are!
DESCRIBE YOUR WEDDING FLOWERS: Romantic, luscious and absolutely divine! Our wedding planners doubled as our florists, and our flowers could not have been more gorgeous! It worked out really well that they did our flowers because they had already helped with the colour palette and design of the space, so the flowers that they did really pulled everything together. My favourite part of the florals was what Windsor & Willow did with our Arbor. We had a circular Arbor as the backdrop of our wedding ceremony and they covered it with the most beautiful drippy flowers and pampas grass. It was absolutely stunning!

FAVOURITE DETAIL OF THE DAY: Since our wedding venue was on the lake, our send-off was by boat! It was so fun getting onto the boat at the end of the night with a bottle of champagne waiting for us in the backseat. After we went down the river a ways, our captain turned off the boat and we just floated under the stars for a bit, soaking the whole night in.
WHAT ADVICE WOULD YOU GIVE OUT TO A COUPLE PLANNING THEIR WEDDING? Do whatever makes you and your fiancé the happiest! Wedding planning involves a lot of tough decisions and sometimes I felt like we got a little overwhelmed with trying to make sure our family and guests were happy with all the details of our wedding, but at the end of the day, our wedding was our day. We made a decision early on in the planning process to choose the things that made us the happiest. After all, it's your day and you only get to do it once, make it yours!
MOST MEMORABLE MOMENT? This is hard, because there were so many incredible moments that happened that day. It was like sensory overload! I guess if I had to pick just one, I would pick floating on the send-off boat at the end of the night underneath the stars, soaking it all in. It was so peaceful. The whole day was a whirlwind and it seemed to fly by, but as we floated on the boat in the darkness with just the light from the venue downstream and the faint sound of our guests leaving, it was as if time stood still.
WHAT ASPECT OF THE WEDDING WAS THE MOST IMPORTANT TO YOU AND YOUR HUSBAND? The vows. Its hard to describe the emotions that we felt when committing ourselves to each other for the rest of our lives, especially in front of the family and friends that mean the most to us. It was a very powerful and emotional part of the day.
ANY OTHER DETAILS THAT HELP TELL THE STORY OF YOUR DAY? We didn't have a wedding party and we were so happy we decided not to! We wanted our main focus of the day to be on each other and we felt like a wedding party would take away from that. It definitely took a lot of the stress off of us on our big day.
TELL US A LITTLE ABOUT YOUR HONEYMOON: Planning both a wedding and honeymoon at the same time seemed way too overwhelming to me, so we decided to delay our real honeymoon and take a "Mini-moon" instead. We stayed in a cabin in the mountains for a couple of days and didn't make any plans beforehand. It was absolutely what we needed in order to recover from the chaos of our wedding week. We're actually leaving for our real honeymoon in a few days! We're going to New Zealand for two weeks and we could not be more excited! I'm so happy that we decided to delay the honeymoon by a couple of months so we could take the time to plan the trip of our dreams!