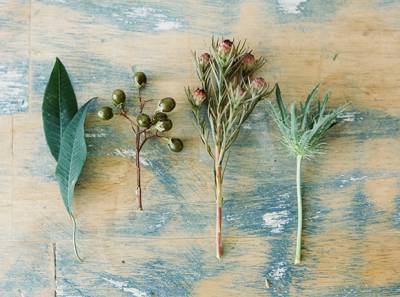 EARTHY BOUTONNIERE RECIPE
We don't often feature DIY's here on Magnolia Rouge but when we get one so beautifully photographed like this one from GIANNY CAMPOS, then how can we resist!! ANTHOLOGY CO. have put together a easy peasy how-to for you to create your own gorgeous boutonnieres. Gather a fun mix of flower buds, foraged leaves, and small pods and start creating!
You will also need: Bindwire, Floral clippers, and pins
1) Select the background leaves
2) Add some interesting, textural pods
3) Continue to add your focal flower bud at your preferred height
4) Secure your little gathering of goodies with your preferred colour of oasis bindwire,
twist until you feel it is secure
5) Now that everything's secured, cut the excess stems to your liking.
Make sure to use two head pins for each boutonniere when pinning them to the lapels. Preferably forming a cross at the back.
Flowers used on the photo of the four boutonnieres: Thistle, Leucadendron, Euphorbia, Privet, Seeded Eucalyptus, Plumosum