After researching venues extensively gorgeous bride Rachel realised that she wanted a large and architecturally grand building for her wedding to Josh. The fact that both the ceremony & reception venues were in Santa Barbara was a big plus since the location surroundings were a deciding factor. "I even considered the drive that most of my guests would be making out to Santa Barbara, which would be relatively short and along the ocean. During my research, I also realised that public buildings like courthouses and city halls often boast remarkable architecture and history, but generally charge little for weddings. I even took into account photography potential when I chose this location. Not only were the interior, exterior, and gardens of the courthouse spectacular, but the possibilities in the surrounding city were endless. Within a five minute drive, we could shoot by the ocean, several old Spanish churches, and secluded, beautifully landscaped courtyards. The Santa Barbara Courthouse also has several locations where you can get married on the property. We chose the Mural Room specifically because it was unusual and intimate." EMILY MICHELSON captured their beautiful day.
HOW DID YOU MEET? Josh and I first met at a summer camp when we were kids and then met again in college.
TELL US ABOUT YOUR PROPOSAL: Josh proposed in a hot air balloon. It was a beautiful, misty morning as we flew over wine country, and, just as the sunrise, Josh asked me to marry him.
WHAT WAS THE INSPIRATION BEHIND YOUR WEDDING STYLE? The Spanish heritage and romantic coastal atmosphere of Santa Barbara, often called "The American Riviera." inspired our wedding. The Mural Room, where we had our ceremony, inspired the mood of the day with its old world and fine art details. We tried to keep the decorations simple and allow the stunning simplicity of our venue's Spanish revival architecture to shine. We left our space very bare in attempts to not overdo decorative additions, which often end up compromising the authenticity of the area. We chose just a few simple things to invoke the Spanish history of our setting. Our guitarist, Tavi Jinaru, played romantic Spanish guitar softly throughout the entire ceremony, even during the vows. The richly coloured murals adorning the walls reached back into Californian history, as they depict essential scenes from Santa Barbara's past. The long beams of light shining through the tall windows also reminded me of the hazy light in Vermeer's luminescent paintings. As artistic scenes of drama surrounded us, it only fitting that the scene we created ourselves would be "painting" like. Because my husband was in uniform, I was also inspired to compliment the bold colours of his uniform and the walls with a simple white silhouette in my dress and veil. The fact that our military wedding was in an actual, functioning courthouse reminded me of hurried vintage weddings during world wars, so I tried to limit some of the more modern traditions I never really liked anyway. We wanted our reception to feel like a big family dinner party!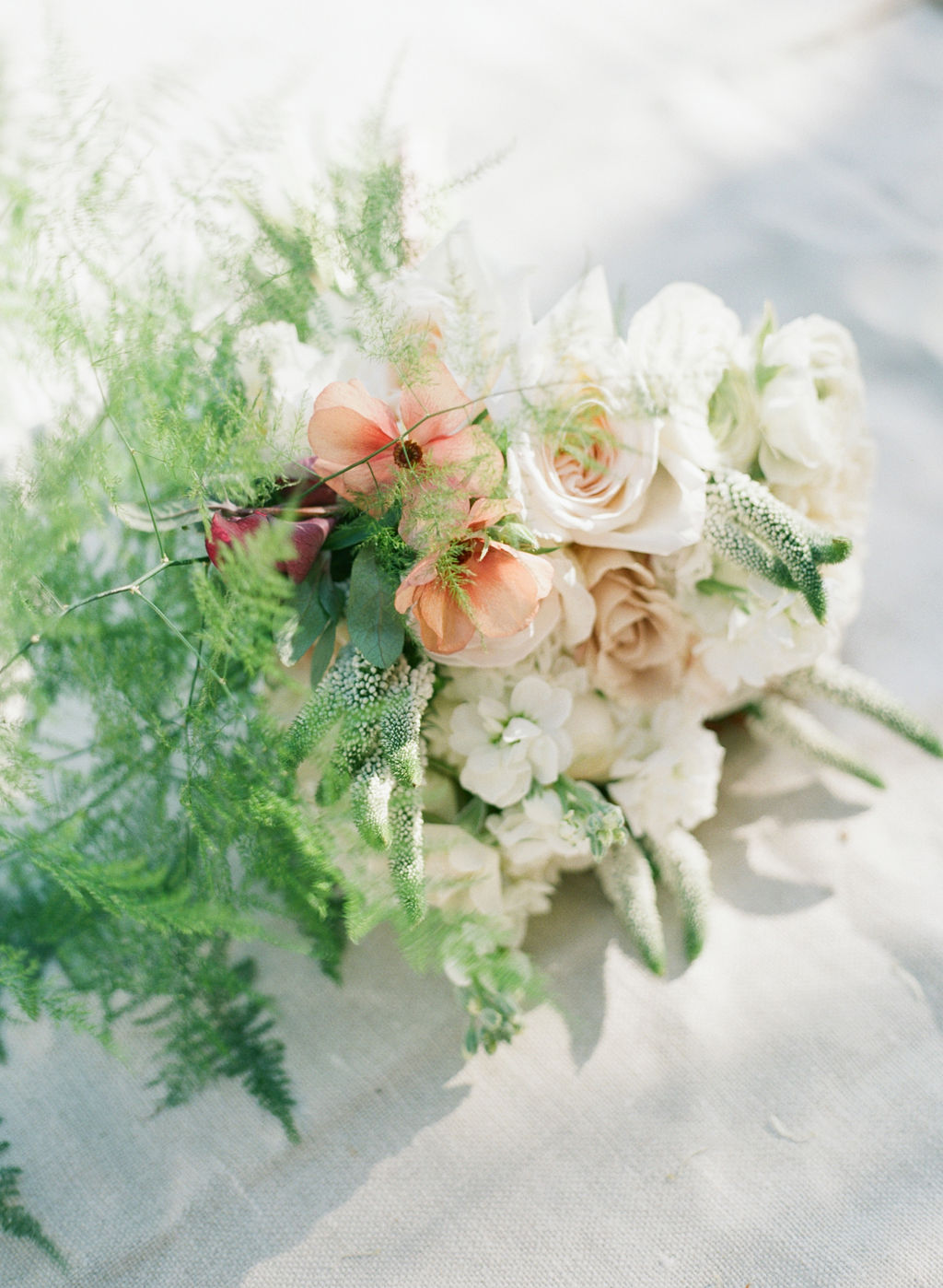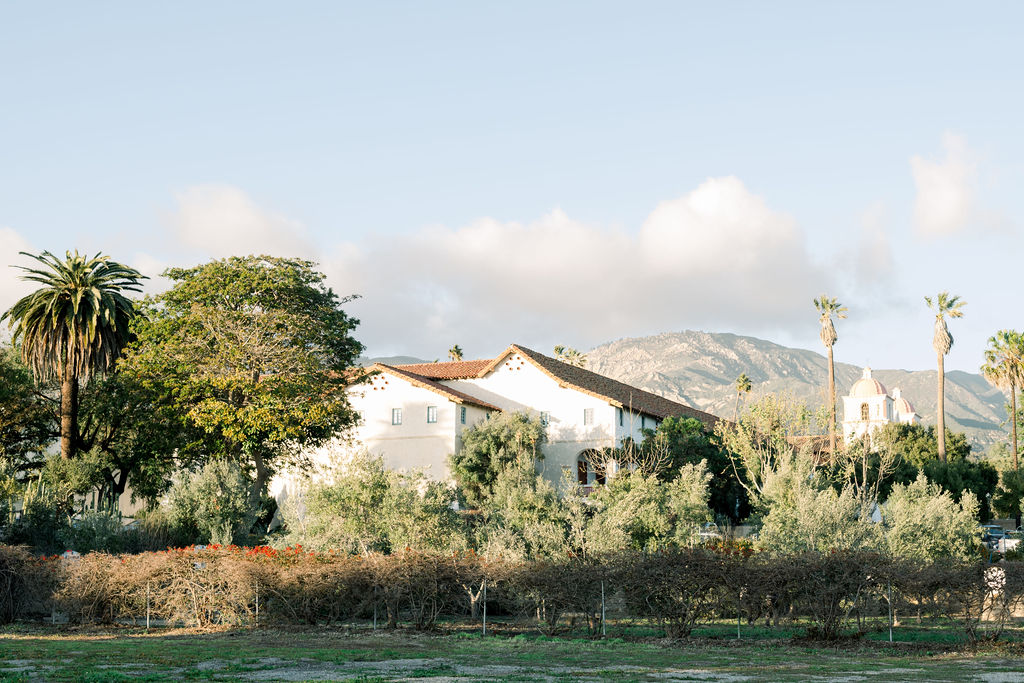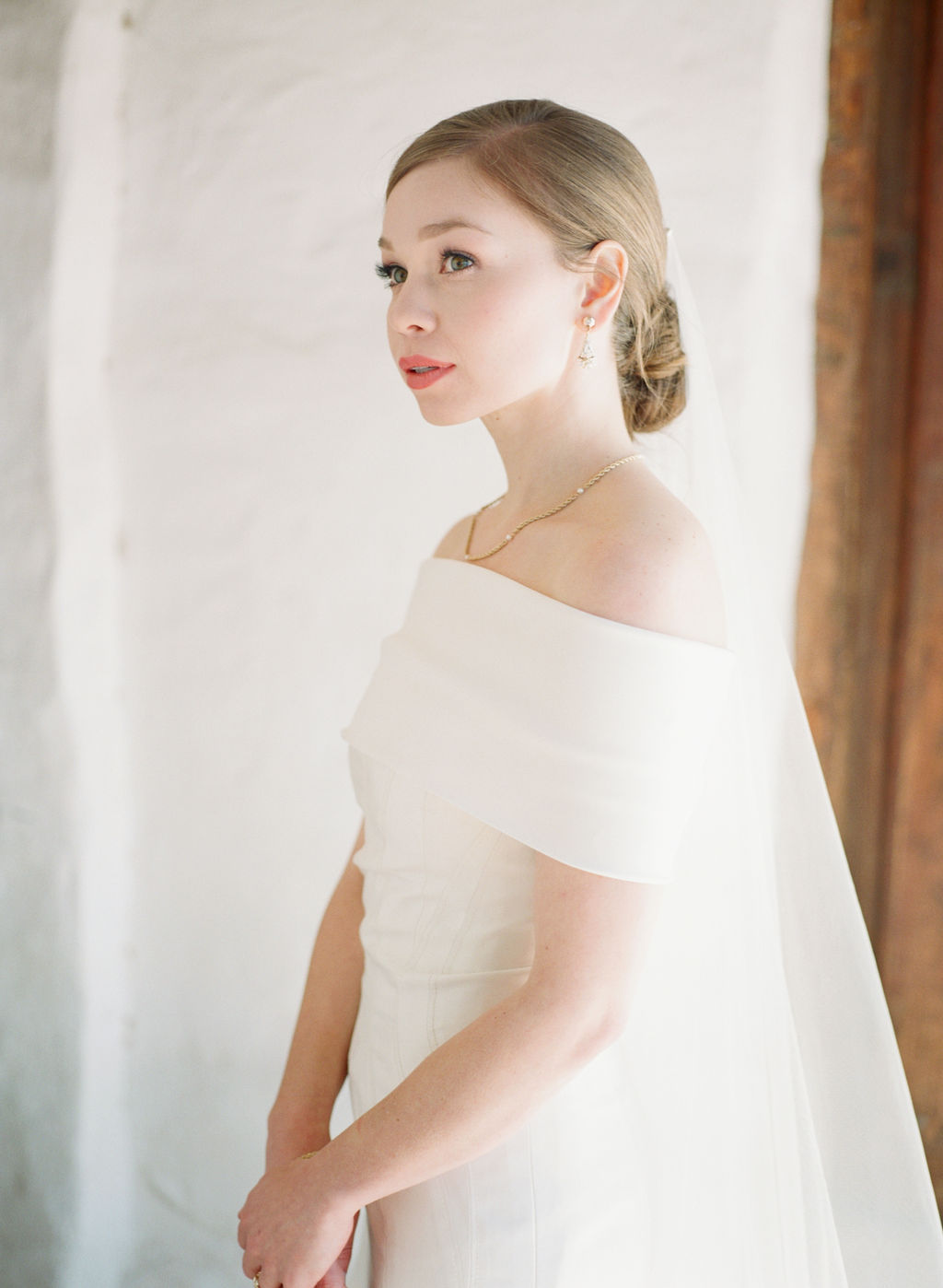 TELL US ABOUT FINDING YOUR WEDDING DRESS: I had visited dozens of wedding boutiques, including the Vera Wang, Monique Lhuillier, Oscar de la Renta, and Carolina Hererra stores in LA. Fabric and cut were essential to me. I wanted something simple and elegant, and Carolina Hererra always delivered. After trying on lots of dresses, I narrowed my taste. I knew I wanted a trumpet dress with no beading or lace, and preferably a silk mikado fabric. After lots of research and shopping in person, I explored websites such as still white, tradesy, nearly newlywed, and PreOwned wedding dresses. There are so many amazing dresses out there that have been worn only been worn for a couple of hours! I bought a Carolina Hererra dress online second hand. It fit me like a glove and had the most beautiful silk fabric I had ever seen. It was my dream dress.
DID YOU HAVE ANY DIY ELEMENTS? Our whole wedding was DIY! My mom cooked all of the food for our reception. She made three kinds of pasta, three types of soup, several salads, tri-tip, and twelve homemade cheesecakes! Everything was made from scratch and fabulous! I made our table numbers out of pieces from antique leaded glass windows. I printed our name cards and seating chart using a free online program. I had a vendor on Etsy design our invitations, and then I wrote them myself. The aisle was bordered with olive branches from a tree in our front yard. We found a dozen handmade Tuscan pots at a yard sale, which became our centerpieces. My dad performed the ceremony. I made wedding playlists on Spotify to sidestep the whole DJ thing. I did not hire a wedding planner. I did my makeup!
DESCRIBE YOUR WEDDING FLOWERS: Our flowers were designed by the fantastic Joy Chua (@suprisedbyjoyflorals). My bouquet had a soft golden palette and a subtle mix of textures. It included Garden Roses, Stock, Butterfly Ranunculus, Astilbe, Veronica, purple Hellebore, and Plumosa Fern. It was ethereal, organic, and graceful.
FAVOURITE DETAIL OF THE DAY: All of my wedding jewellery had special meaning. My antique diamond earrings were a gift from my husband on our first Christmas as a couple. The gold necklace and bracelet are also antiques and a present from my mom for our wedding. On the bouquet, I attached an antique cameo that my mother had worn on her wedding day. My engagement ring is from the 1800s and is by far the most extraordinary thing I own. I love antique or vintage pieces that have history.
WHAT ADVICE WOULD YOU GIVE OUT TO A COUPLE PLANNING THEIR WEDDING? Do what you want. Do not follow trends to impress other people. Be careful to make your wedding look and be about you and your spouse. Sometimes if you hire everything out or do an all-inclusive package, a wedding can start to look like an event you are attending. Spend less if you can and don't fall victim to the wedding craze! You can create a beautiful, unique day with so much less than you think you can. Do lots of research and be creative when it comes to saving money. Skip traditions and details you don't love! You will be thankful after the day is over that you did not get into debt or empty the pockets of your family. You have a whole marriage ahead of you! If you pick a beautiful space, you will not have to spend so much time and money on "decorating." If you are going to splurge on something, make it photography! That is what you keep at the end of the day, and that is how your memories are preserved. Things will go wrong, and that is ok! Just remember, at the end of the day, you are taking home the love of your life!
MOST MEMORABLE MOMENT? My husband and I did not see each other for a month and a half before our wedding because he was doing military training across the country. So the moment when we did our first look was extra sweet and intimate. Another thing I will never forget is singing the Doxology with all of our family and friends during the ceremony.
WHAT ASPECT OF THE WEDDING WAS THE MOST IMPORTANT TO YOU AND YOUR HUSBAND? The ceremony was the most important aspect for us. We hoped to create a reverent, romantic, and dreamy setting. It honestly felt like a royal wedding five hundred years ago at a castle in Europe! The whole aesthetic had incredible mystique.
ANY OTHER DETAILS THAT HELP TELL THE STORY OF YOUR DAY? So much of what made our day beautiful was all of the people who loved us coming together and blessing us with their talents, so often offering their efforts for a lot less or even free. My mom cooked dinner for one hundred and fifty people. My dad wrote the most moving ceremony I have ever heard. One of my best friends, a talented videographer, offered to film our wedding. My professor from college did my flowers. Tavi Jinaru, an old student of my dad's and now one of the finest guitarists in the world set the perfect mood for our ceremony. My identical twin nieces were my flower girls, and were so cute they almost stole the show! Our friends and families worked themselves silly to make our day beautiful and unique. All of these people came together for our wedding because they cared for us. Because of this, I was so thankful I didn't have a "purchased" wedding. Ours was homemade down to the last detail, and we have never felt more loved.
TELL US A LITTLE ABOUT YOUR HONEYMOON: Because my husband is an Army Officer, we had to move to Virginia two days after our wedding! That didn't leave us with much time for honeymooning. Before the wedding, I was not only planning our big day, but I was also making all the preparations I needed to move! Our "getaway" car was filled with big suitcases! Even though we didn't have much time, we still had a wonderful mini honeymoon in Santa Barbara. We stayed in an amazing Airbnb hosted by the interior design store Garde in Summerville. Honestly, even though it was only a one day honeymoon, it was perfect, and I will never forget it. We hope to go on a long trip to Thailand for our first anniversary!