We are suckers for a classic garden wedding and Christina & CJ's celebration at LOS ALTOS HISTORY MUSEUM captured by Northern California wedding photographer ALICE CHE does not disappoint. Working with planner EVENTS BY SATRA the couple wanted to have a classic and romantic wedding. They tell us, "As we were making decisions about our wedding design, we thought about whether we would be happy with the choices we made years from now. We selected a soft blue and ivory colour palette - colours that felt very timeless to us. We also were inspired by our venue and wanted to accentuate the beautiful flowers and garden-like feel of the venue.
WHY DID YOU CHOOSE THIS LOCATION? We knew that we wanted to get married on the Peninsula in the San Francisco Bay Area, as we live here and our families are both close by. We explored a number of venues, and when we toured the Los Altos History Museum, we knew it was the perfect place for us. It felt incredibly intimate and warm to us. As someone who works in education, I also loved the idea of getting married at a museum; it felt very fitting. We were able to open up the historical house on the property during the cocktail hour for guests to tour, which was so fun.
HOW DID YOU MEET? We met through a dating app, and as we first started dating, we learned that we had a couple of mutual friends. We had never crossed paths, though, so we are thankful that the app brought us together. Our first date took us to a delicious pizza restaurant and to a movie in the square in Redwood City, California where we watched Beauty and the Beast.
TELL US ABOUT YOUR PROPOSAL: C.J. originally planned to propose on a sunset cruise during a trip to Hawaii. With COVID-19, we had to cancel our trip planned for July 2020, and C.J. decided instead to create a thoughtful proposal at home. He set up a scavenger hunt around the apartment with sweet clues. The final clue took me to a needlepoint canvas - my favourite quarantine hobby! The canvas featured a ring and said, "I Do," and when I turned around, I saw C.J. on one knee and very happily said, "Yes!"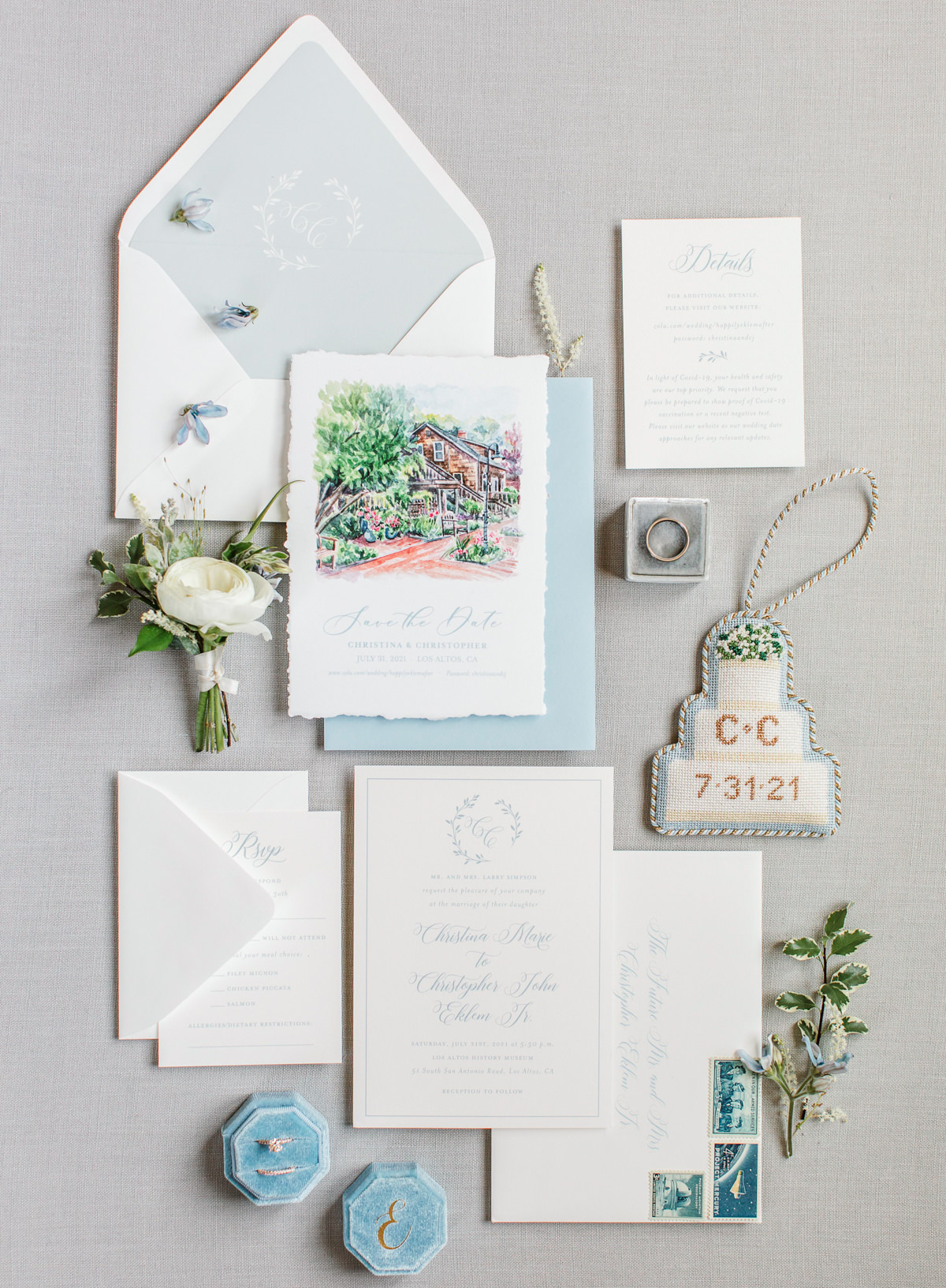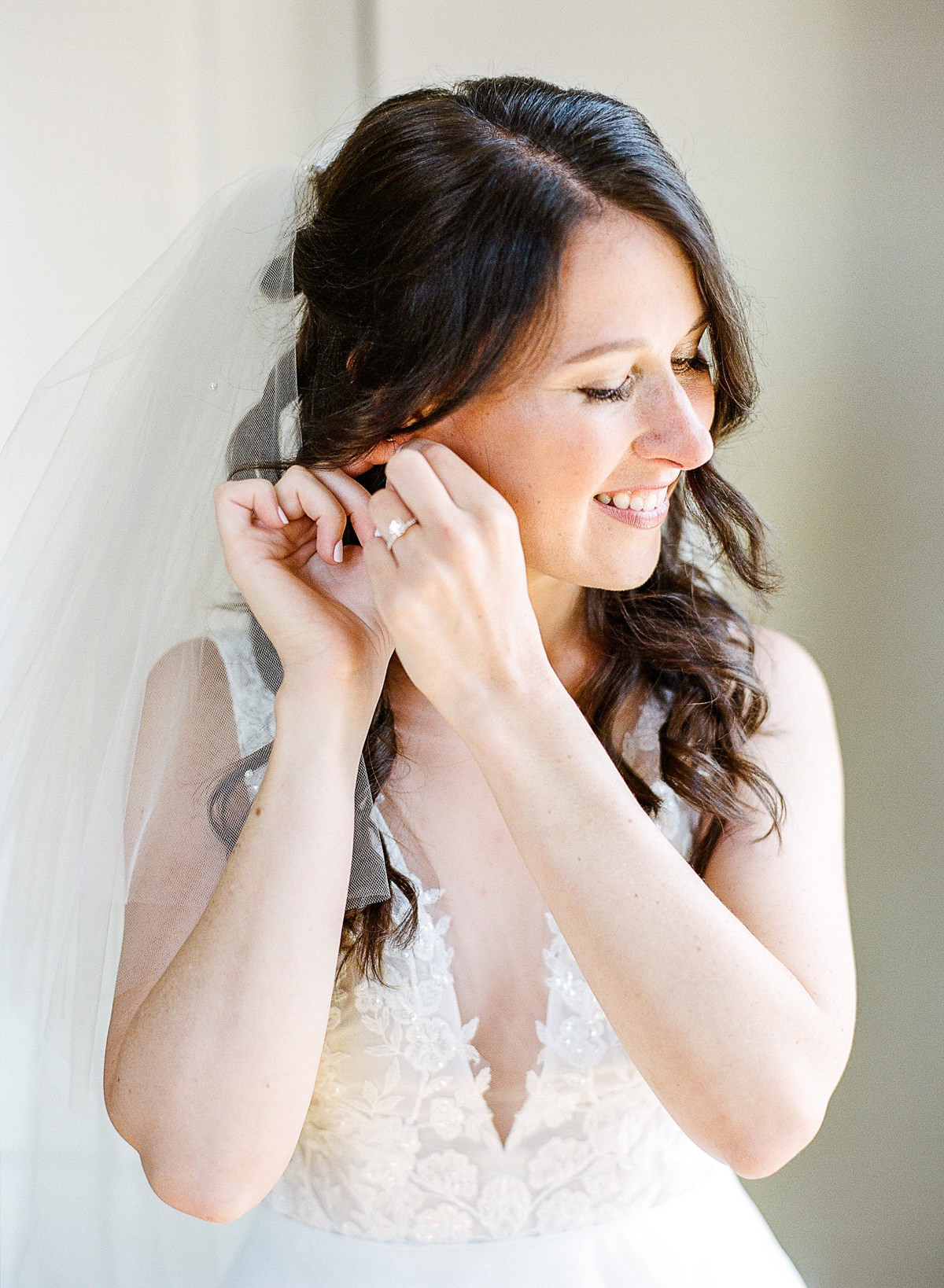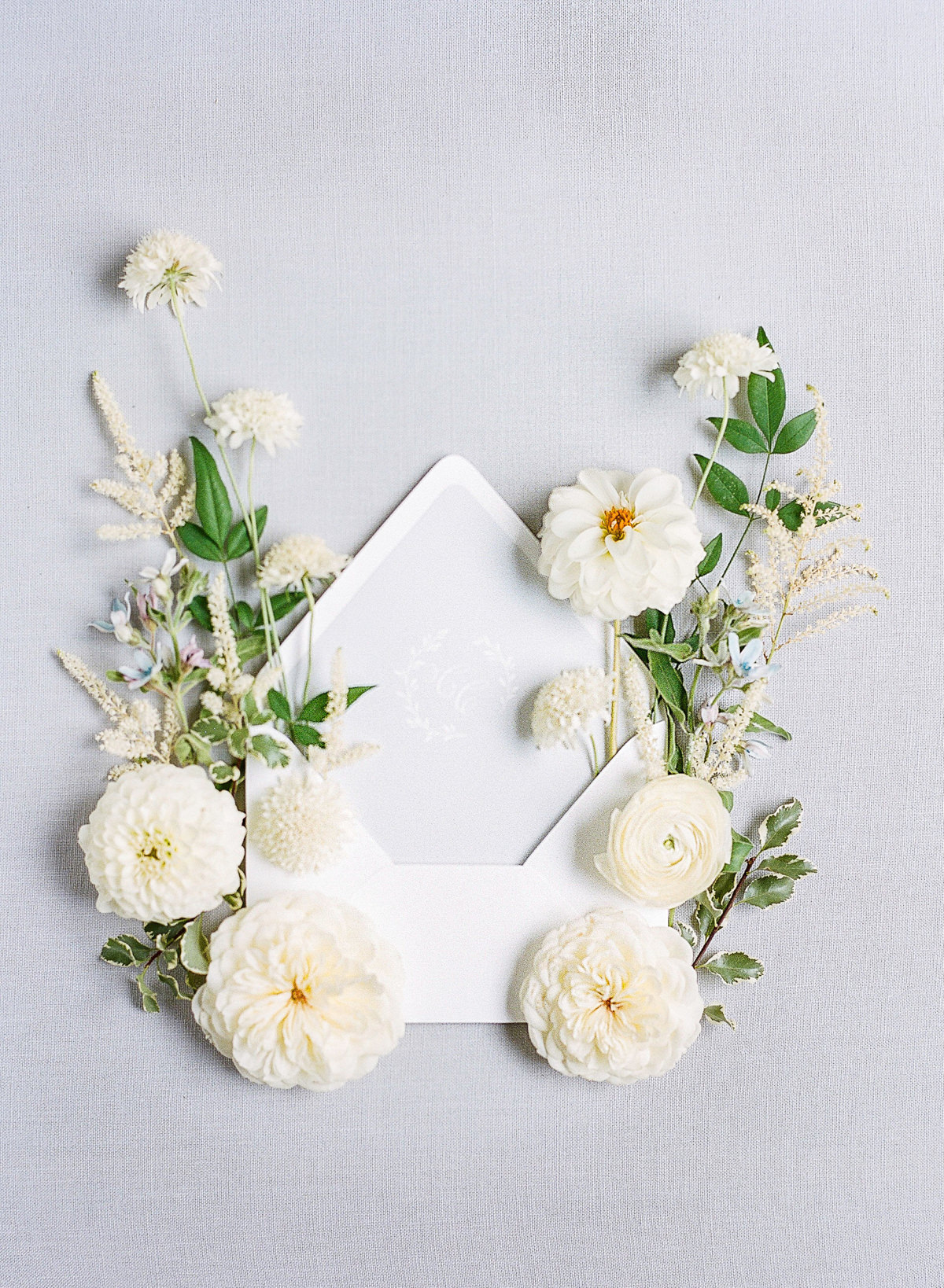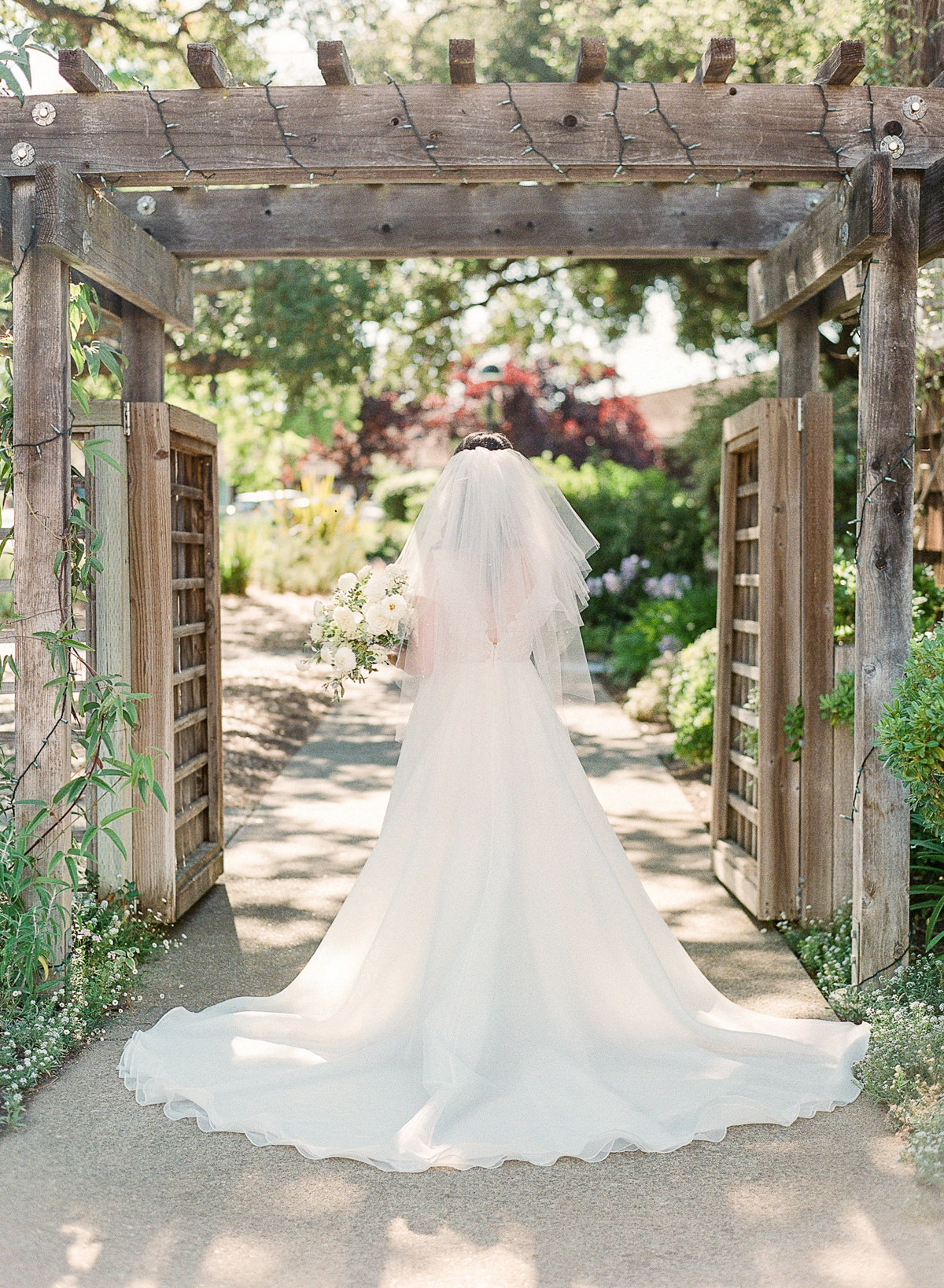 TELL US ABOUT FINDING YOUR WEDDING DRESS/ATTIRE: As I was researching wedding dresses, I realised that I kept favoriting Jenny Yoo dresses. I loved how classic, romantic, and feminine they were. At the time, Jenny Yoo had started a way to try on dresses at home; you picked your two favourites, and they were mailed to you from their showroom. I thought it would be a good way to start the wedding dress process but figured I'd still need to try on more. The first one I tried on was not exactly what I was envisioning, but then I put on the second one and knew it was perfect for me. I loved the floral lace at the top and that it would match our venue beautifully and the full ball skirt, too. The most special element of my wedding day attire was my veil. My grandmother first wore it to her wedding, and my mother wore it to her wedding, too.
DID YOU HAVE ANY DIY ELEMENTS? While I love crafting, I decided to trust the professionals with almost all of our wedding day details - beyond creating our favours. I'm an avid needlepointer so the only other thing that I did make for our wedding was a special wedding cake ornament that we got to include in our detail shots. It was stitched in our wedding colours with our initials and wedding date, and I love that it is something that we will have on our Christmas tree for many years to come.
DESCRIBE YOUR WEDDING FLOWERS: Our wedding flowers were everything I dreamed of and more thanks to Allie of Bloomwell & Co. I envisioned almost all white flowers, lots of greenery, and some small pops of blue. Allie and her team did the most amazing job; the flowers were just gorgeous and felt lush and organic. Our ceremony took place under an arch at our venue that had some greenery, and we had a floral installation added to the arch. I adore hydrangeas, and the installation featured beautiful soft blue hydrangeas. I also loved that there was a touch of blue with the tweedia in my bridal bouquet for my "something blue."
FAVOURITE DETAIL OF THE DAY: It's so difficult to pick, but I was so thrilled with our decision to hire "Bruno," a vintage mobile bar, through Bubbles and Brews SF Bay. "Bruno" was set up near where our guests entered at the beginning of the wedding and where we would hold the cocktail hour, and so many guests came up to me during the wedding to share how much they loved the bar! We customised the panels on "Bruno" to include our names, wedding date, and our wedding hashtag. It turned out so cute!
WHAT ADVICE WOULD YOU GIVE OUT TO A COUPLE PLANNING THEIR WEDDING? I like to consider myself organized and detail-oriented; wedding planning certainly puts those skills to the test. There are so many details to keep track of, and it sounds so simple, but I'm so glad I created a Google Drive folder with different folders for each of our vendors. It made planning so much easier to have everything in one place and to know exactly where to look as we were figuring things out. It also can feel overwhelming when you begin looking for vendors, and I'm so glad I trusted the recommendations that I was given by our wonderful month-of planner, Satra of Events by Satra, and our fantastic photographer, Alice of Alice Che Photography. They know the industry so well and led me to great vendors, and I'm grateful for that.
MOST MEMORABLE MOMENT? Our first dance was a memorable moment from our wedding. We got a moment to talk and reflect a little on the day so far as we spun around to a favorite song. We did our first dance in the center of our reception space, and it also felt so special to be surrounded by our family and friends. We were able to reflect on how lucky we felt to share this moment with those we love and to feel their support. One of the reasons we selected our venue was because of the lights above the courtyard, and I loved seeing the venue lit up during our dance, too.
WHAT ASPECT OF THE WEDDING WAS THE MOST IMPORTANT TO YOU BOTH? The ceremony was very important to us both because it's truly what the day is all about - our marriage and the life we will get to build together. Our officiant was very meticulous in planning the ceremony, and we were really happy with how it turned out and how well it captured our relationship. Despite all the public speaking I do each day as a teacher, I was a little nervous about the idea of sharing our own vows during our ceremony; it ended up being one of the many things I'm so happy we did.
ANY OTHER DETAILS THAT HELP TELL THE STORY OF YOUR DAY? Our families both have a connection to Ghirardelli Chocolate. My great-grandfather worked at Ghirardelli when the factory was still at Ghirardelli Square in San Francisco, and my now father-in-law is in leadership at Ghirardelli today. When I first met C.J.'s parents, it was one of the first things we talked about while enjoying Ghirardelli sundaes at the SF Giants' stadium, and over the years, we've enjoyed many more Ghirardelli treats. C.J.'s father was able to have the R&D department at Ghirardelli create special chocolates for our wedding day, which we used during our wedding ceremony.
TELL US A LITTLE ABOUT YOUR HONEYMOON: For our honeymoon, we went to Maui and stayed in Kaanapali. We had originally planned this trip for July of 2020 but cancelled it due to the COVID-19 pandemic. We felt so fortunate to be able to go a little over a year later for our honeymoon. My parents had honeymooned in Maui as well. Our honeymoon was relaxing and wonderful - filled with lots of time at the beach, fun cocktails by the pool, dolphin sightings, and snorkeling.
IS THERE ANYTHING YOU WOULD CHANGE OR DO DIFFERENTLY? I feel so grateful that our wedding turned out better than we could have imagined. I wouldn't change anything.
A huge thank you to Northern California wedding photographer ALICE CHE for sharing this beautiful wedding with us today. A born and raised Bay Area girl, Alice has always been a huge lover of fairytales and happily-ever-afters, so it didn't really surprise anyone that she ended up being a wedding photographer! "I love being surrounded by all the love, laughter and tears on a wedding day and am always so honoured that my couples trust me to document their special day. My favourite thing about weddings is my couples themselves and how they personalise their weddings to make them unique to their own love stories." You can see more in her portfolio here.