The beautiful CALAMIGOS RANCH in Malibu, California has such a gorgeous outdoor space with lots of greenery that there isn't a great need to decorate it more than it already is, and for bride Esther, she wanted her wedding to Allen to fit the style of the venue. It was the fairy lights hanging down from the branches that captivated the couple on their venue search. The fact that it would completely wow their guests travelling from Korea was also a big plus. To complement the surroundings they incorporated white and blush tones with light grey bridesmaids dresses. Southern California wedding photographer CHRISTINE DONEÉ captured these truly beautiful photos of their day.
HOW DID YOU MEET? We met on a dating app called Coffee Meets Bagel in Santa Barbara. Our first meeting place was over dinner and wine at a local pizzeria. We learned right away that we both loved food and wine! We talked for hours that night.
TELL US ABOUT YOUR PROPOSAL: Allen proposed to me at midnight on New Years Eve surrounded by our dearest friends.
TELL US ABOUT FINDING YOUR WEDDING DRESS: Finding the right wedding dress took several tries. I knew I wanted a dress that was timeless and simple but had a touch of modern to set it apart. I visited many vendors that had great dresses but none that I felt passionate about. Finally, I found Wedding Time in Los Angeles. They had a range of traditional dresses as well as more contemporary unique dresses. At first I leaned towards body-fitting mermaid skirts that were in style, but when I tried on a dress that had a traditional a-line skirt and an interesting corset I told my sister, "this is it. This is how a bride feels when they know it's the one." It's a cliche, but it's true! My dress had a classic design with a light satin lining at the bottom of the skirt and waistline, but what set it apart for me was the thin gap down the middle of the bodice; it wasn't too wide but thin enough to be elegant and modern. It was plainer than what was trendy in Korea, but it was very me and that was important to me.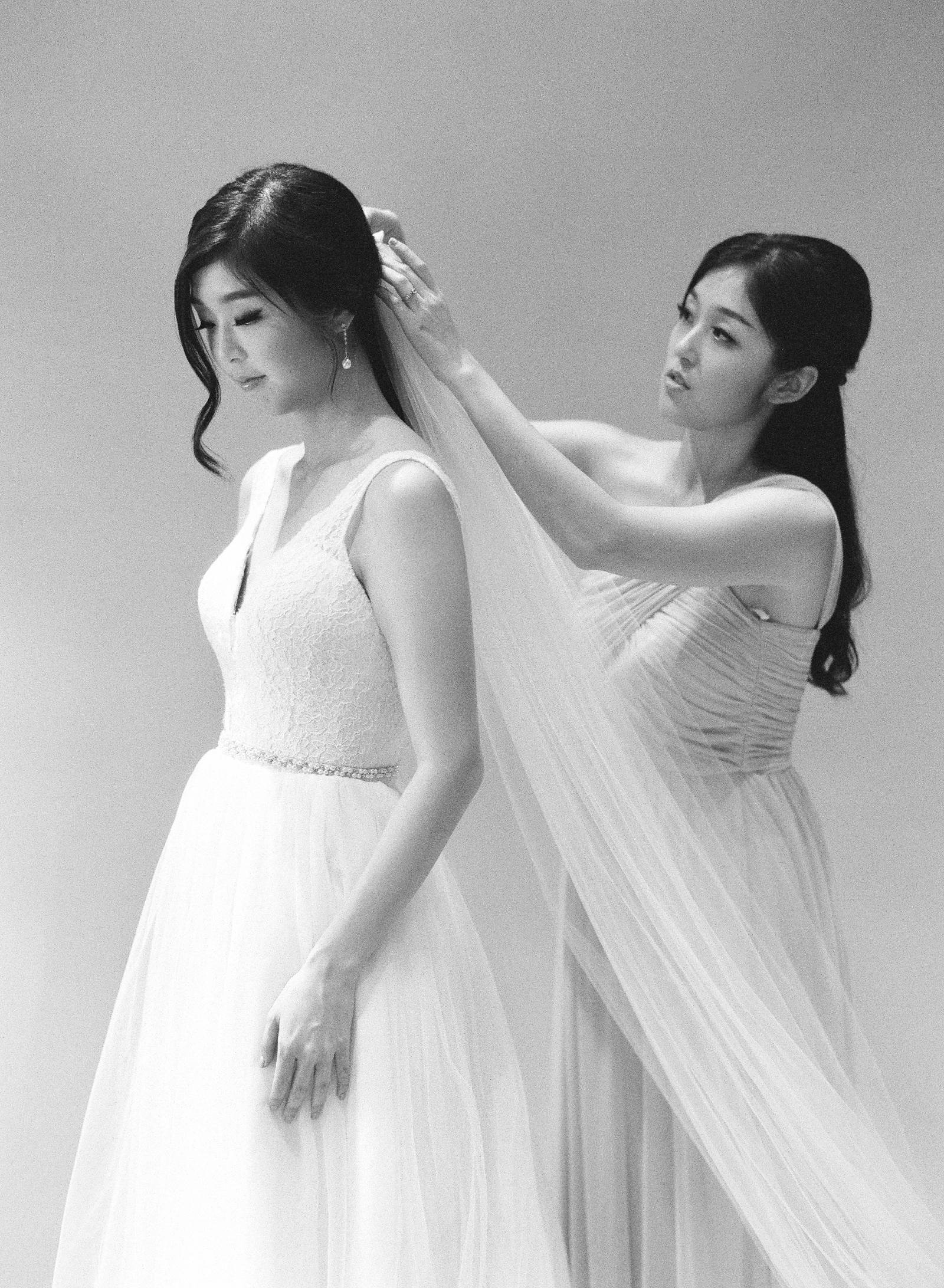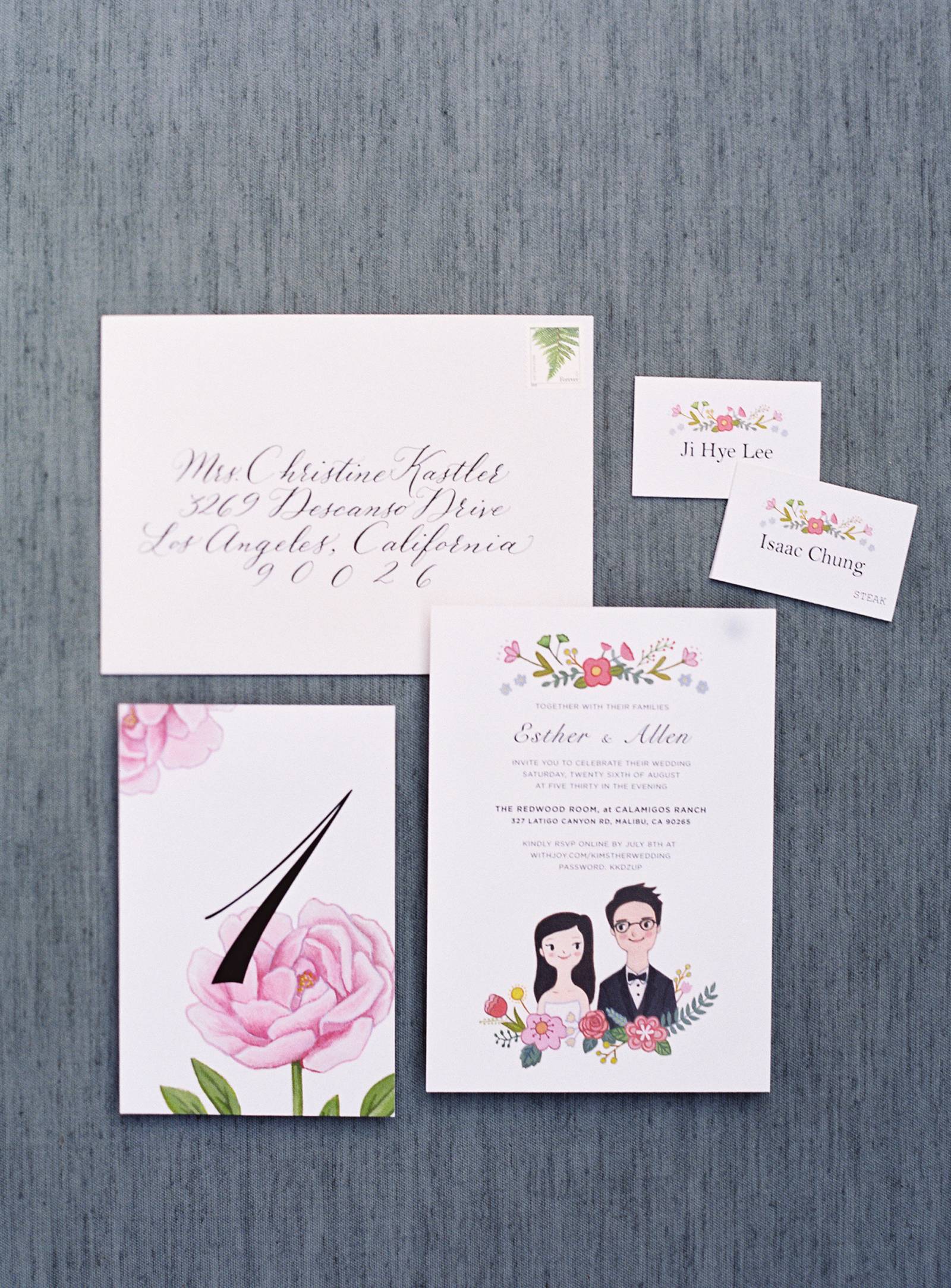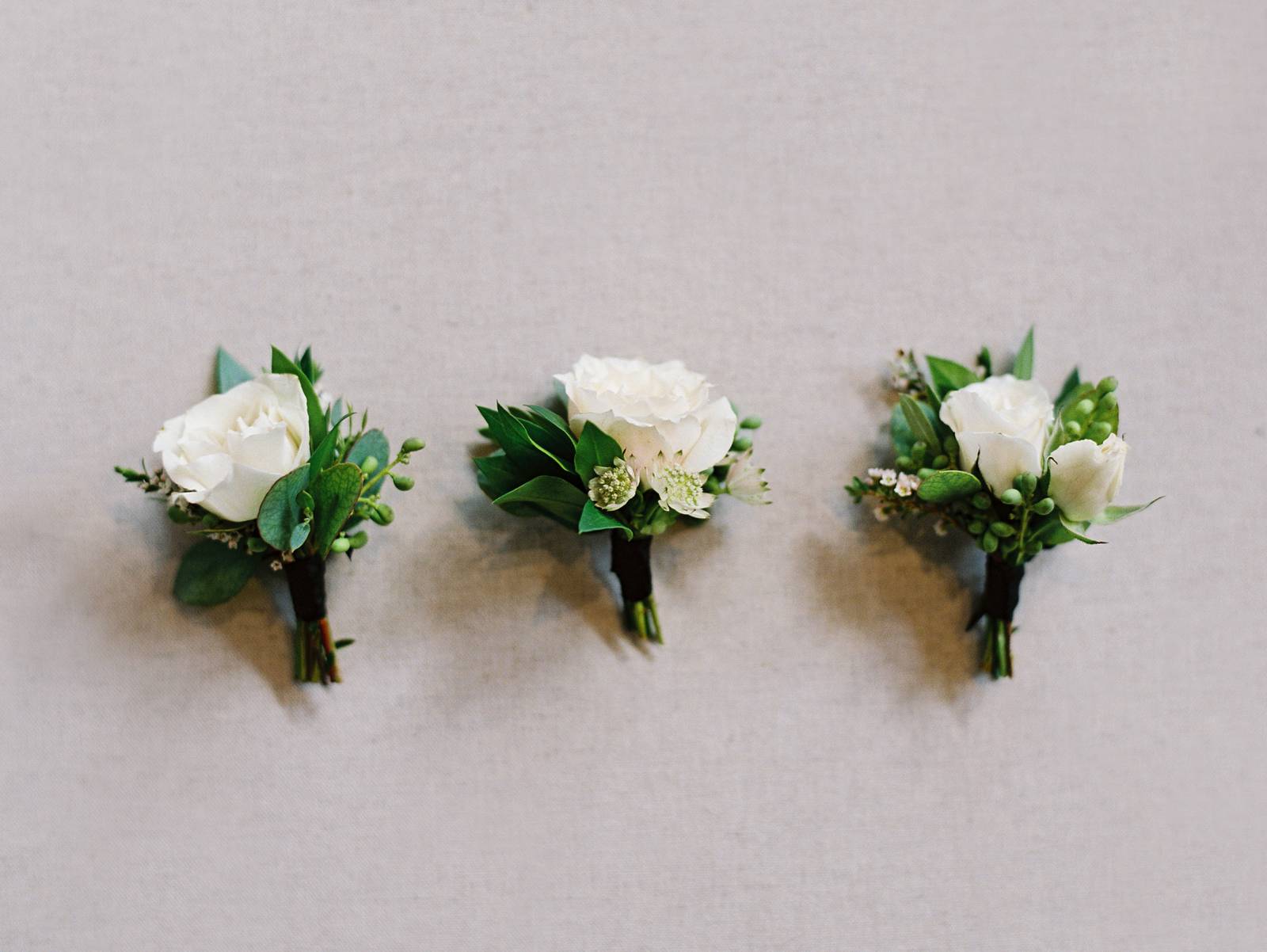 DID YOU HAVE ANY DIY ELEMENTS? All the paper goods in our wedding were designed and printed by my sister and matron of honour, Ruth Lee. My bridesmaid, Heidi Young, provided the beautiful calligraphy on our wedding signage. I also had the wonderful opportunity to design my own wedding shoes.
DESCRIBE YOUR WEDDING FLOWERS: Our wedding flowers were designed by the talented Christy Villasenor from Honeycomb Affair. She created beautiful flower arrangements in in classic white and greens with touches of blush tones that paired perfectly with the rustic setting.
WHAT ADVICE WOULD YOU GIVE OUT TO A COUPLE PLANNING THEIR WEDDING? I know it's hard with so many amazing Pinterest ideas out there, but my advice is- try not to get too hung up on little details. Get all the big stuff out of the way first like the venue, catering, flowers, and photographer. Then focus on how to make sure your guests are comfortable, which also took the longest to plan. We had many guests from out of town, including our own wedding party, so it took time to coordinate the hotels where they were going to be staying and rides from the airport. Also make sure you have good food and that your guests are well fed!
MOST MEMORABLE MOMENT? There were so many special moments throughout the day that Allen and I will cherish. One of my favourite moments was having my father walk me down the aisle. He was undergoing chemo treatments at the time and did not know if he would have the energy to walk me down. My father worked so hard to be there for me that day and looked amazing. A favourite of Allen's was our first look. We both started crying the moment we saw each other and were filled with joy and thankfulness. I will always remember how carefully Allen wiped his tears away to avoid ruining the foundation on his face. Our photographer, Christine Donee, did an incredible job beautifully capturing these moments and so much more.
TELL US A LITTLE ABOUT YOUR HONEYMOON: We spent our honeymoon in Tahiti and Moorea swimming with humpback whales and eating delicious seafood. It was wonderful to relax in such a idyllic setting after an intense month of wedding planning. Allen is also an expert at taking drone videos! He did an amazing job capturing the breathtaking beauty of the islands.
A huge thank you to Southern California wedding photographer CHRISTINE DONEÉ for sharing this gorgeous wedding with us. Christine is a fine art portrait and wedding photographer based in Los Angeles, California and a valued member of our vendor guide. With a fashion and studio art background she captures love with a purposeful eye and a strong passion for detail. She is inspired daily by the beauty around her and looks forward to bringing your joyful day to life through her elegant photography.
Be sure to check-out more of Christine Doneé's wedding photography work here... and especially this English Country Garden Wedding Inspiration.