Shannon & Hayden got married at the most darling little church in a hidden gem coastal town in Washington state. From streets lined with white picket fences to the chapel on a hill overlooking the water, Port Gamble is quaint, charming, and the perfect location for a classically elegant wedding as you can see in these beautiful images by Seattle wedding photographer JANET LIN.
Shannon is a classic, timeless bride if there ever was one. Her unique, regal sense of style is evident in her wardrobe choices, colour palette, and her dainty lily of the valley bridal bouquet. Their first look took place in the intimate courtyard outside the church overlooking the water. It was such a tender, true moment shared between them. As the rain steadily began to fall the two ran together for the steps of the church, Hayden helping Shannon with her dress along the way. Their ceremony was filled with nostalgia and deeply rooted love. With the original church pews occupied by their loved ones, and the mesmerising sound of the rain cascading off the 8 cathedral stained glass windows, Shannon & Hayden exchanged vows in a beautifully intimate ceremony.

After being pronounced husband and wife, they headed up to church steeple and rang the original church bell as their guests gleefully cheered outside. They were greeted by guests afterward with a fairytale-worthy rose petal send off. Shannon & Hayden departed the church in an old-fashioned horse drawn carriage, sharing a quiet, celebratory moment together as they rode through town, surrounded by quintessential autumn colours and the serene sound of the water nearby. At their reception, one beautifully unique detail was a towering Kransakeke in place of a traditional wedding cake, which they broke apart by hand and served lovingly to each of their guests in honour of Shannon's heritage.
WHAT WAS THE INSPIRATION BEHIND YOUR WEDDING STYLE? We wanted coastal, classic and elegant vibes. So we went with white as our main colour, navy as our secondary and silver for minor pops of colour.
WHY DID YOU CHOOSE THIS LOCATION? We both love spending time on and by the water and wanted a venue that had a chapel near the water. Port Gamble is an old logging town designed with New England style architecture to help the loggers from New England feel more at home. The town is still owned and managed by a company, so it is meticulously maintained and has a destination feel while still being accessible as a day trip for family and friends.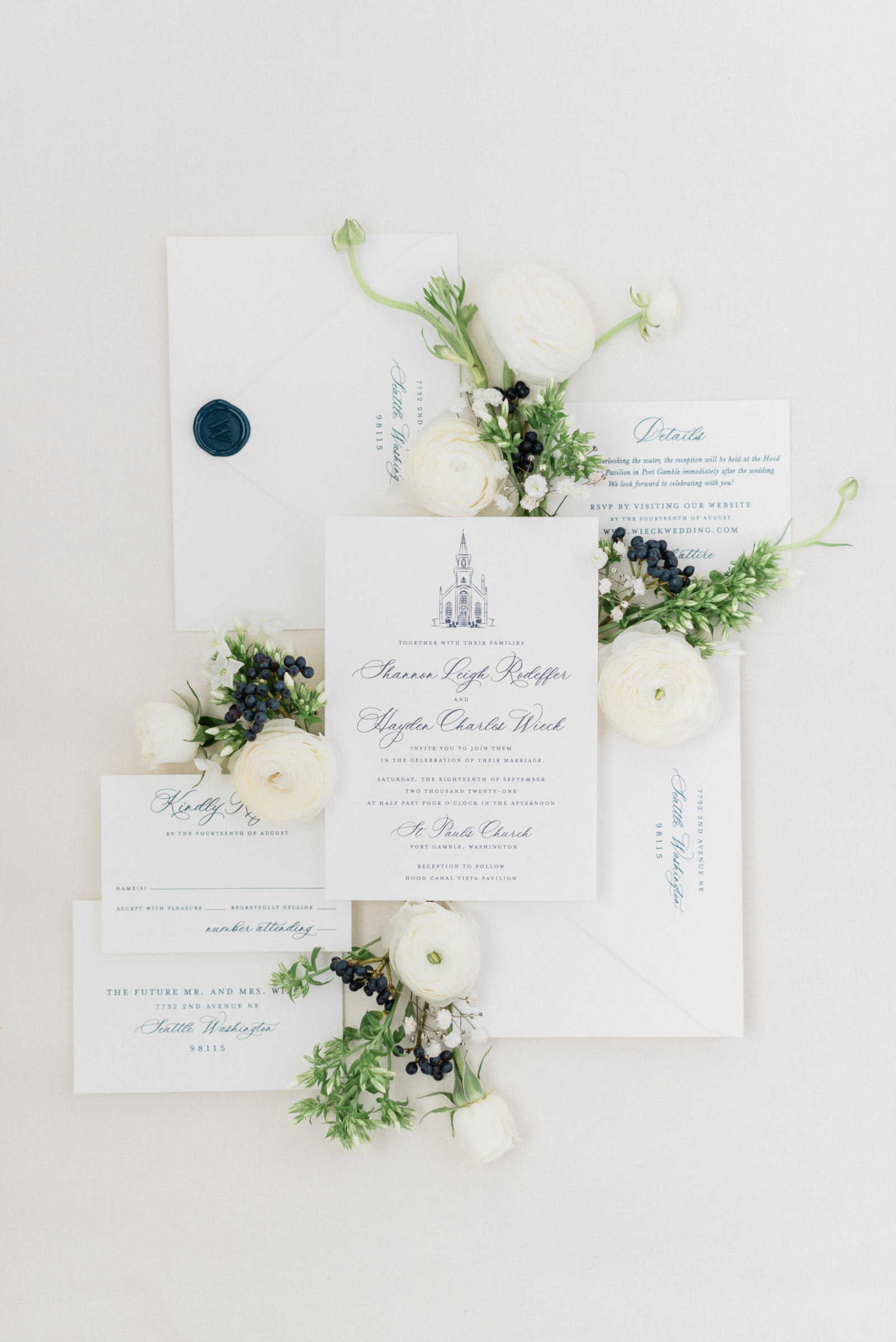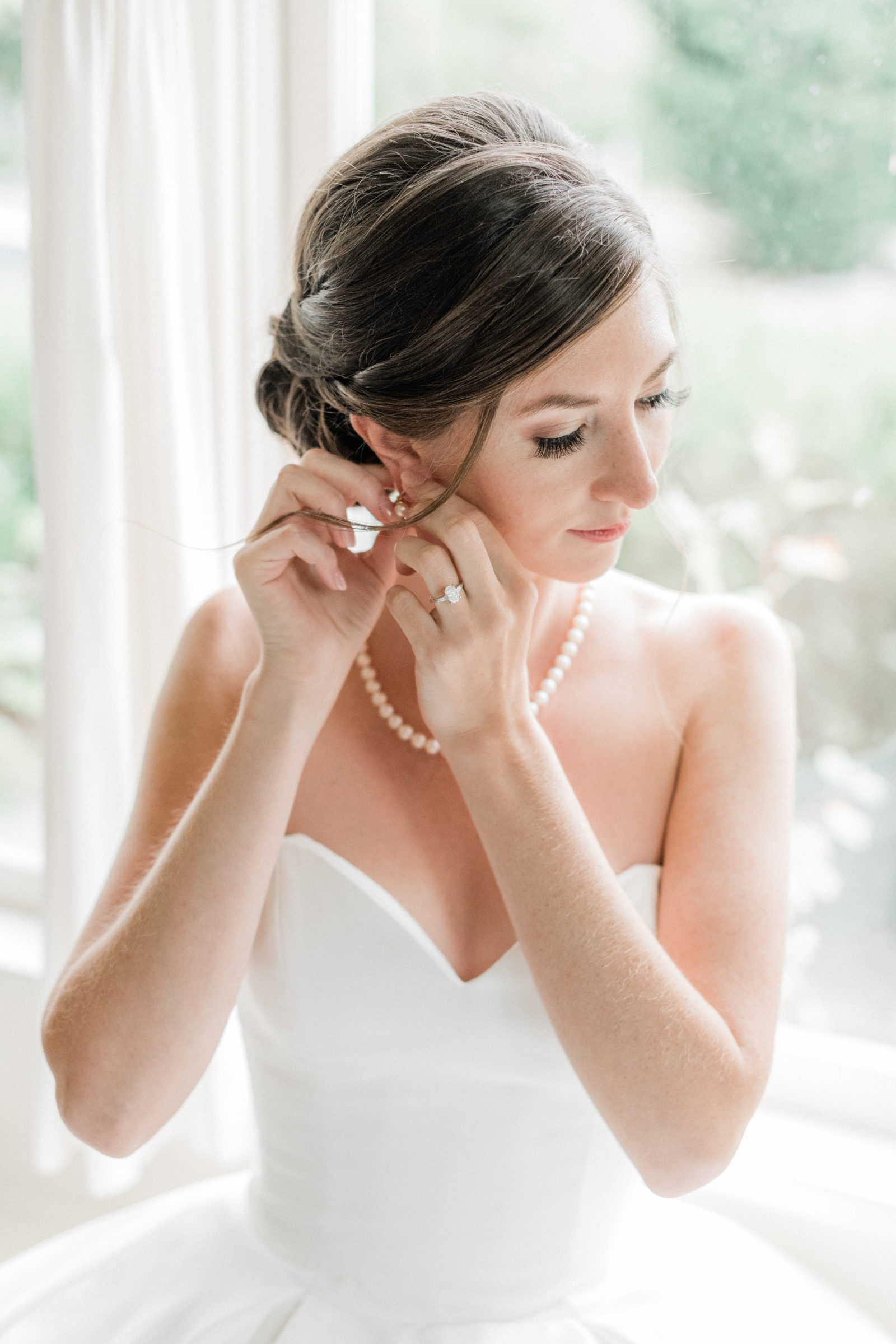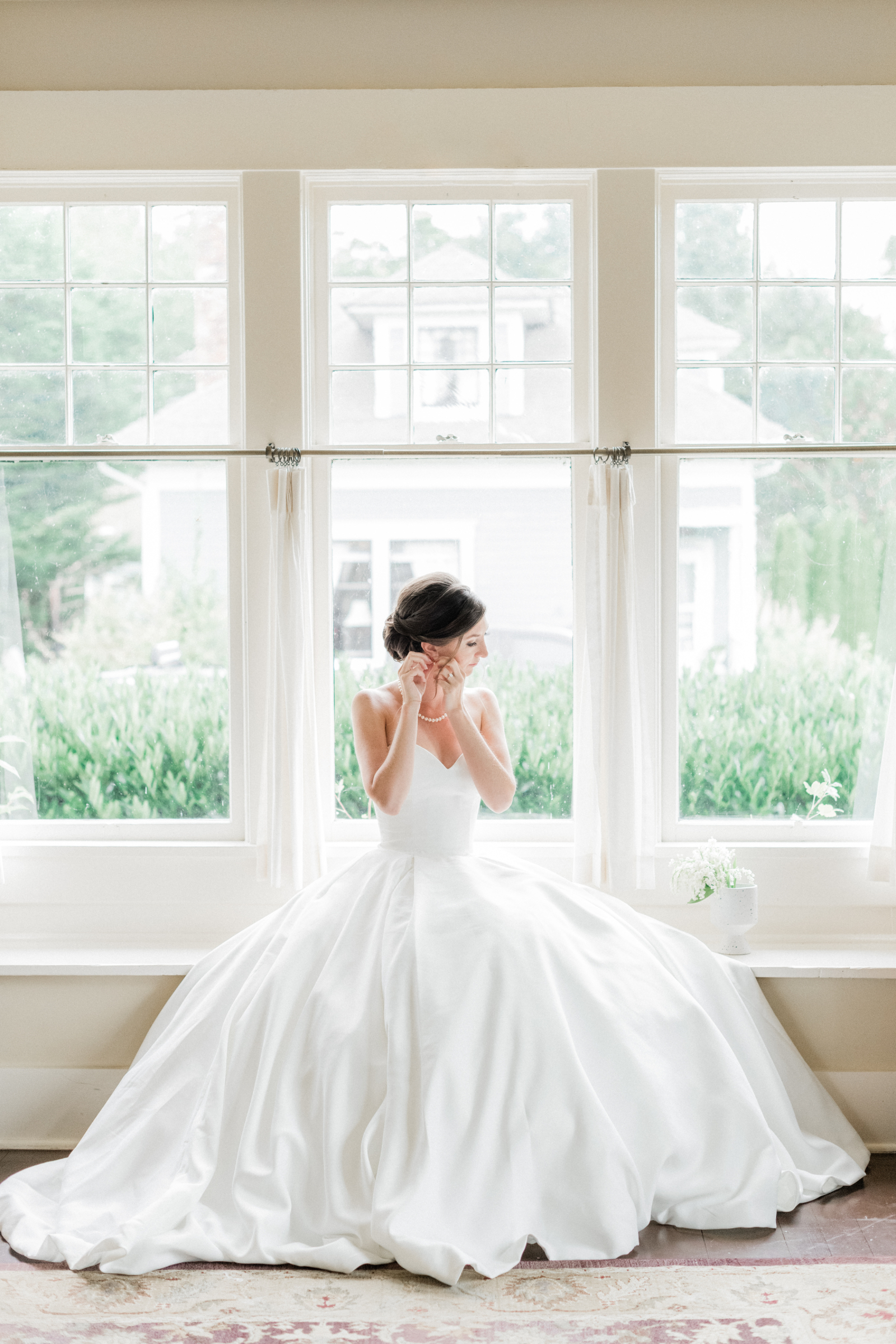 HOW DID YOU MEET? We were each others suggested match on the dating match Hinge. Our mutual connection was one of my childhood best friends who was friends with Hayden at Washington State University.
TELL US ABOUT YOUR PROPOSAL: Hayden told me we were going to go boating and then have dinner downtown. On the way to the boat, he told me that his uncle was still using it and wanted to stay out longer. He told me he had a solution though and I remember thinking, wow he really wants to go boating one more time this year (it was October). He knows that I love Chris-Craft wooden boats and arranged for us to take a boat ride around Lake Washington and Lake Union on the Woodmark Hotel's Chris-Craft. Hayden planned the route to stop in front of the beach club at his mom's house where we enjoy spending time and boating around regularly. Meanwhile he had a couple of friends following us in their boat using the iPhone feature 'find my friends' to sneak up and start snapping photos as the proposal began. We then popped the champagne Hayden had snuck onto the boat earlier that day, called family and friends, and ended with a wonderful evening at the Woodmark Hotel. It was a wonderful, thoughtful, and well planned out proposal. I couldn't have asked for anything better!
TELL US ABOUT FINDING YOUR WEDDING DRESS/ATTIRE: When I was young and would go into my mom's office in downtown Seattle on the weekends, I would always look up at the beautiful wedding dresses at CHRISTINNA'S BRIDAL. So naturally, my mom suggested we book an appointment there. I tried on very different styles just for the fun of it and came away with a completely opposite style to what I thought I wanted. My sister flew in from Chicago and went with me for my second appointment where I chose a simple and beautiful ball gown! I also had my dream pair of shoes, the classic white leather Hangisi Manolo Blahnik's. I love Manolo's because the founders have a beautiful dairy farm in Litchfield, CT and I spent my childhood on my family's dairy farm in Snohomish, WA, so the shoes were fashionable and sentimental. Hayden wore a navy tux with black accents to stand out as the groom, as well as to tie in with the navy bridesmaids' dresses.
DID YOU HAVE ANY DIY ELEMENTS? Our hashtag was #lightthewieck, so we made hand dipped wax pinecone fire starters to go with matchbooks we ordered that had our chapel and hashtag printed on them.
DESCRIBE YOUR WEDDING FLOWERS: I was inspired by traditional British royal wedding bouquets, so I asked for Lily of the Valley as my bouquet. I loved the idea of having a floral arch to add texture and depth to the inset arch built in behind the alter of our chapel. Our florist delivered with a very unique baby's breath, white rose and blue thistle broken arch. We were able to have my cousins move the arch from the chapel to the reception venue to be able to enjoy it longer. I really wanted the blue thistle to add a pop of colour into all the white we had and because I did a semester abroad in Scotland we thought it would be special to incorporate.
FAVOURITE DETAIL OF THE DAY: Getting to ring the chapel bell whilst everyone lined up for the flower petal send off and riding away in a horse and carriage. The moment went by so quickly, but I loved every second and every photo of it that our amazing photographer captured.
WHAT ADVICE WOULD YOU GIVE OUT TO A COUPLE PLANNING THEIR WEDDING? Hire a phenomenal photographer and day-of-coordinator. We had a few bumps during the day and it was such a relief to have other people taking charge whilst allowing us to bask in the day and love of each other and our guests.
MOST MEMORABLE MOMENT? Our church exit with the flower petals for sure! It brings me such joy to look through those photos!
WHAT ASPECT OF THE WEDDING WAS MOST IMPORTANT TO YOU BOTH? The most important aspects were for us to fulfill our vows before God and for all our guests to enjoy the reception. We had a lovely ceremony in an idyllic chapel and transitioned to a reception at the pavilion overlooking the water with a string quartet playing as all the guests arrived. That made for great ambiance. We also had personalised his and hers cocktails, my cocktail was an Empress Gin & Tonic and Hayden's was a Basil Hayden Old Fashioned.
ANY OTHER DETAILS THAT HELP TELL THE STORY OF YOUR DAY? We decided to forgo a traditional wedding cake and instead opted for a Scandinavian almond ring cake called a Kransekake. It was really fun to 'break' a ring instead of cut a cake, plus it was so flavourful and light. My family has Scandinavian heritage so it was fun to incorporate it in that way. Another detail or more of a moment I loved seeing captured was when the groomsmen went and played catch in their tuxes in the adjacent field. My husband is an avid baseball fan, so seeing the photos of the boys having fun as they got ready made me happy!
TELL US A LITTLE ABOUT YOUR HONEYMOON: We immediately left for Sicily the next day! We would highly recommend doing a honeymoon immediately. We wanted somewhere near beaches that would be safe to navigate in uncertain travelling times, romantic, and warm at the end of September - Sicily fit the bill! We spent two weeks there and stayed in three different towns. The food, country and weather were all perfect and we came away as granita connoisseurs!
IS THERE ANYTHING YOU WOULD CHANGE OR DO DIFFERENTLY? No, we loved how everything came together. We had amazing family helping and built a great team of vendors that helped execute our dream day!
A huge thank you to Seattle wedding photographer JANET LIN for sharing this beautiful coastal wedding with us. Janet is a fine-art wedding photographer based in Seattle, Washington and serving destinations worldwide. She grew up in the dark room of her father's photography studio, watching people's memories come to life in images through a seemingly magical process. With a passion for loving people, learning their stories, and documenting human connection, the decision to pursue photography was an easy one. Janet's goal is to capture the true essence and spirit of a moment, creating timeless wedding images that will serve as cherished artefacts of your marriage. On a wedding day she strives to balance a quiet documentary approach with an artistic and editorial perspective. You can see more of her work in her portfolio here.