Having your family own a beautiful vineyard in the Santa Ynez Valley is but a dream for most, but for Sophia and Andrew it's a reality and naturally the perfect - and only - option they considered for their special day. DEMETRIA ESTATE, owned by the bride's family, has become a very special gathering place for them. MEGAN SOREL captured these stunning images of their day.
Gorgeous bride Sophia tells us, "My father was born and raised in a small village in Greece at the base of Mount Olympus, where my grandfather grew grapes and raised horses for a living. Demetria-named after my cousin, Demi, and also the Greek goddess of the harvest-was started with this tradition of agriculture in mind. Family bias aside, it is one of the most beautiful vineyards in the Santa Ynez Valley and anyone who visits will immediately understand why. The drive to the heart of the property is a long winding one off of Foxen Canyon Road, which I was initially wary of when planning the transportation for our guests, but it gives you an incredible sense of the landscape-the rolling hills that make the wines from that area so great, that magic late summer light, the sheer expanse of the valley. You really feel like you've arrived at someplace special. September is especially beautiful because it marks the beginning of the harvest-the vines are brimming and hills are golden that time of year. Of course having a wedding on a vineyard has its perks-we served one of my favourite vintages of pinot noir, 2013 'Le Belier', and kept the bar stocked with the Estate's chardonnay and 2015 rosé."
With food being an anchoring point for this family, there is always a bit of a ceremony around shared meals so this became a driving force for the kind of wedding they wanted - more of a dinner party style in the service and presentation. The menu pulled from each of their heritages and showcased the very best of California's central coast.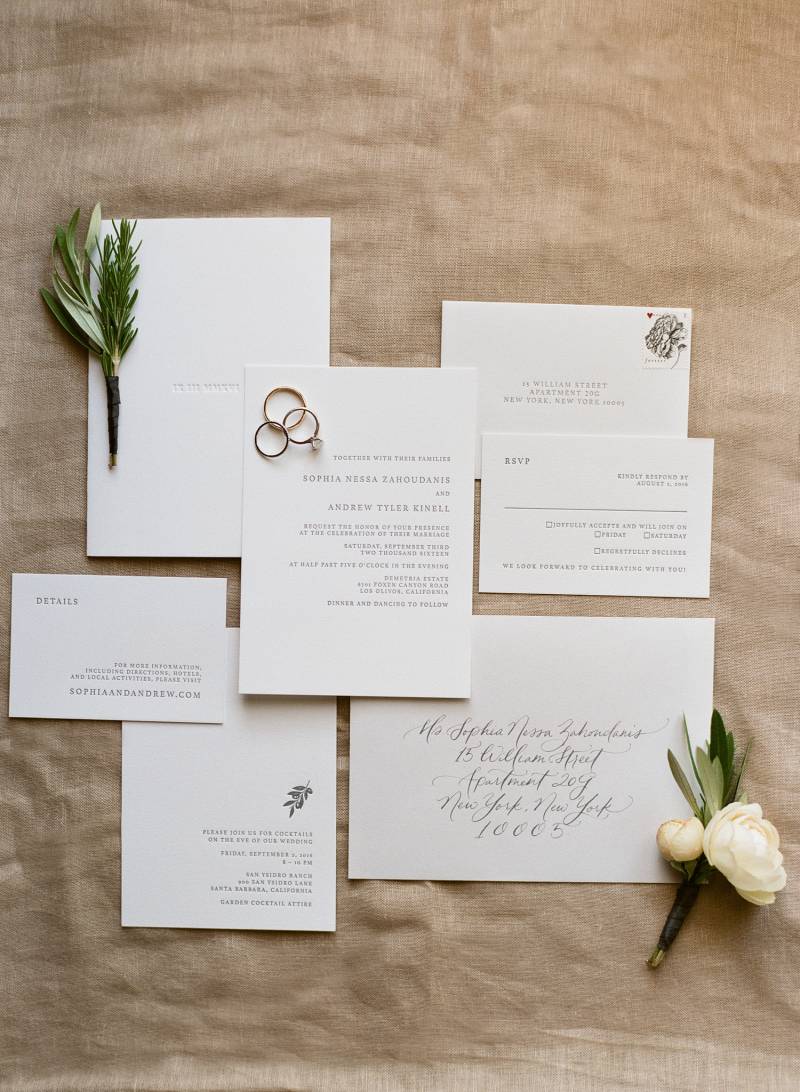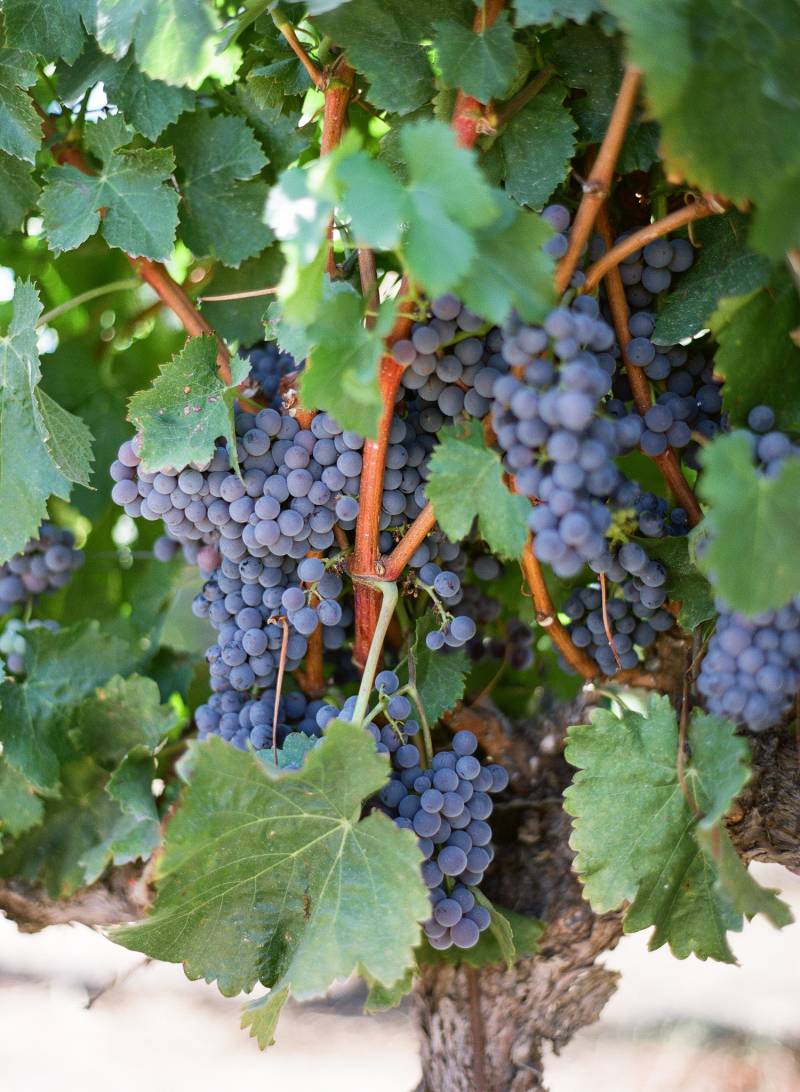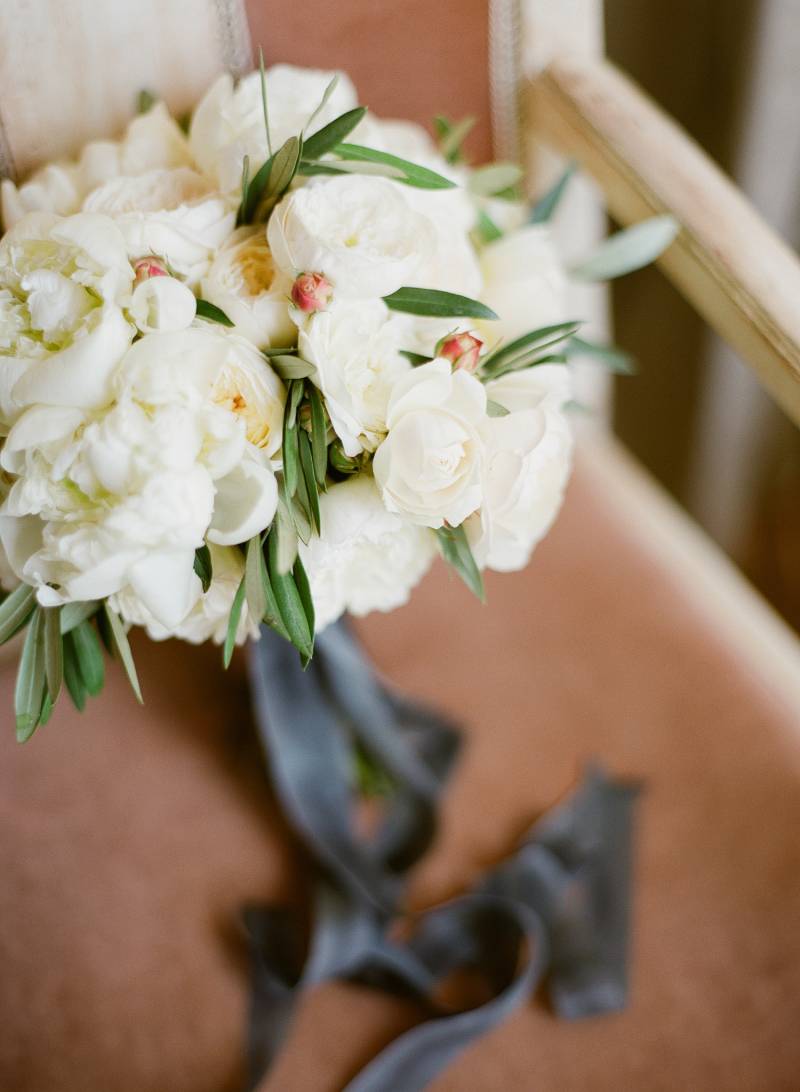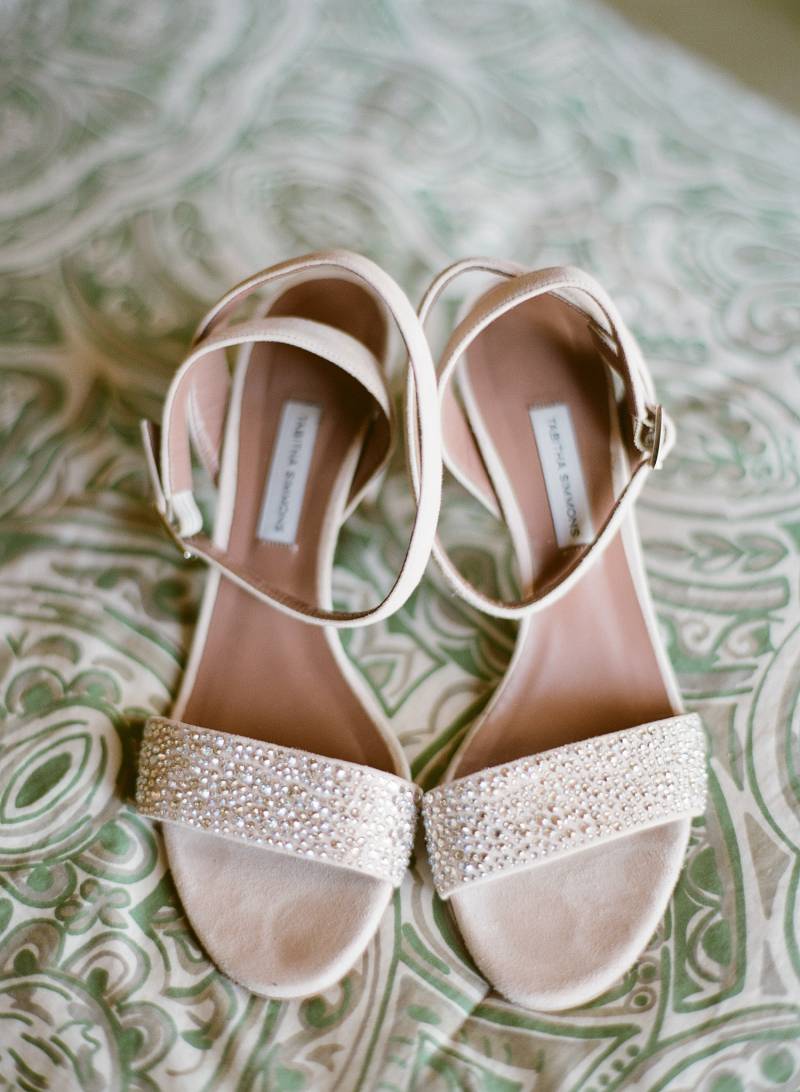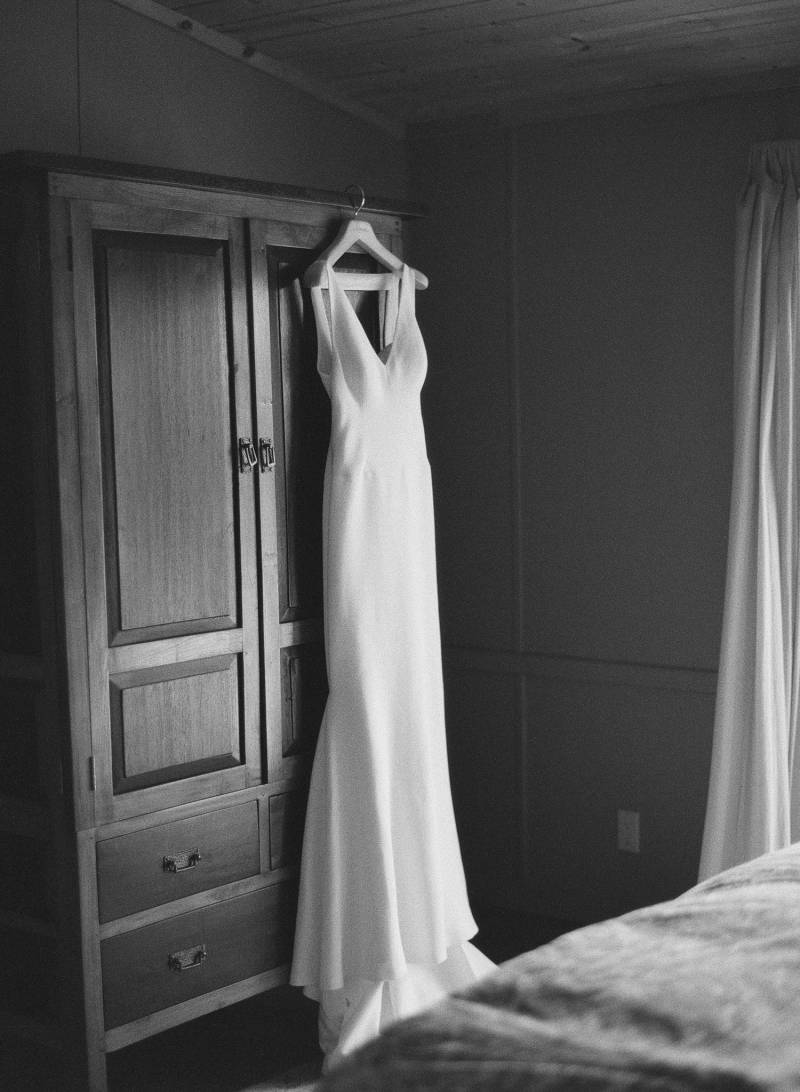 HOW DID YOU MEET? East Coast meets West Coast. Andrew and I were classmates at Bucknell University. Although we knew of each other throughout our years there, our story didn't really begin until the fall semester of our senior year when we were both enrolled in an art history class-Andrew was the only guy. I'd always sit in the same seat, strategically positioned directly across from him. We'd shoot glances at one another across the room and, leveraging the shared interest in art, I'd inevitability find something dorky to talk to him about after class-architecture school applications, the latest sculpture project, whatever! In early December of 2007, he asked me out on what would become our first date at Reba and Pancho's, a local BYOB restaurant in Lewisburg-in hindsight, a super civilized first date in the world of college romance.
After graduation, I started my career in the art world at Sotheby's in New York, and Andrew set out for graduate school in Michigan. We kept in touch during the year that followed, not knowing what the future would look like. The game changer was a casual invitation up to Andrew's grandfather's home in Maine. After a wonderful, classically New England weekend of lazy beach days and lobster dinners, a beautiful bouquet of flowers was delivered to my office on Monday morning with a note that read "I had the best weekend with you. Love, Andrew". He is, hands down, the most thoughtful person I know and we've had a magnetic connection since we first met.
TELL US ABOUT YOUR PROPOSAL: Andrew proposed while watching the sunset at Galley Beach on Nantucket Island in the summer of 2015. Nantucket has become a very special place for us-so through-and-through New England with a relaxed energy and vibe somehow reminiscent of California. As we were walking down the beach that evening, we sat down in the sand together to watch the sun make its final descent. Before I knew it, there was a ring in front of me and Andrew then swooped down on one knee. It is a super bright, clear diamond and I'll never forget the way it caught the light that evening. We celebrated with Moscow Mules.
TELL US ABOUT FINDING YOUR WEDDING DRESS: Finding my wedding dress was one of my favourite parts of the entire planning process-my mother came with me and we shopped around quite a bit together in New York following all of the fall 2016 trunk shows. I tried on a ton and loved the details of so many. In the end though, the unadorned, minimalist stunner by Vera Wang was the clear standout. I chose a long, simple chapel style veil to match. In many ways, this dress very much set the tone for the entire wedding-simple, elegant and unfussy. Everything else followed suit. My mother and my sister and Maid of Honor, Helene, went with Vera Wang dresses as well-my mother's a beautiful charcoal silk and my sister's an incredible layered lace (that I can't wait to borrow). I carried an ivory silk-satin wristlet clutch with horse hair tassels by The Row, and wore simple, block heel sandals by Tabitha Simmons.
ANY DIY ELEMENTS? The day before the wedding, my father and sister hand-picked sprigs of rosemary from our house in Montecito for each place setting. Custom match books with our names and wedding date, placed in vintage silver next to trays of cigars nestled in one of the vineyard's olive groves.
DESCRIBE YOUR WEDDING FLOWERS: The moment I met Kim I adored her. She had created an entire mock up for me in her Santa Barbara studio last fall and nailed my aesthetic. I wanted to keep the flowers simple and clean and true to the local landscape. We used everything native-olive, sage, eucalyptus, rosemary and bay, studded with white Majolica and polo roses. For the escort cards, Kim arranged small glass bud vases tied with a slate grey silk ribbon and each guest's name in hand written script. Each of our three long tables was adorned with a long, cascading, green and white garland.
FAVOURITE DETAIL OF THE DAY: The paper and print details were one of my favourite components of our wedding. My wonderful cousin Karla of Sky of Blue Cards did our entire paper suite-from the save the dates and invitations, to the menus, programs and wine bottle tags we included on each welcome bottle of Demetria wine waiting in each of our guest's hotel rooms upon arrival. We worked closely together throughout the entire process to pick the perfect paper, Pantone color and typeface. The calligraphy for our invitations, escort cards and place settings was done by Paperfinger.
WHAT ADVICE WOULD YOU GIVE OUT TO A COUPLE PLANNING THEIR WEDDING? Keep it simple.
MOST MEMORABLE MOMENT? The ceremony. My aunt, author and chef Donia Bijan, officiated our marriage. I often think of her as my twin soul. She led us so beautifully and I couldn't have imagined it happening any other way.
Andrew and I wrote and read our own vows aloud to one another, and his mother gave a beautiful reading. We closed the ceremony with a Persian tradition-an exchange of honey to signify a sweet life together.
We chose a few of our favorite classics to play during the ceremony and into the cocktail hour-Led Zeppelin's Going to California and Cat Stevens' The Wind played as I walked down the aisle with my Dad. Our incredible acoustic guitarist and local favorite, Ray Fortune, killed it.