When Jordan & Jared were scouting for venues for their wedding, nowhere felt more meaningful to them than SUPERSTITION MOUNTAIN GOLF & COUNTRY CLUB in Arizona did. As a very superstitious person this suited Jordan perfectly! They also knew it was a place that they would go back to in the coming years being that their family has regular outings there. "We wanted an 'outdoor everything' wedding with hints of our relationship throughout the day for us to share with our guests. For example, our signature drinks were margaritas and old fashioneds, we did a sand ceremony with sand from California beaches and Arizona locations that symbolized significant moments in our relationship - like the beach we were when we said "I Love You" for the first time." RACHEL SOLOMON was there to capture all the beautiful moments.
HOW DID YOU MEET? Jared: August 20, 2011. I was meeting a friend of mine at a local fancy-ish cocktail bar. He told me to grab a table, so I did. And then I sat there pathetic looking for an hour waiting for him to show up. I couldn't get up or else the table would be gone. By the time he got there, I was in no mood to be out at all. But about 30 minutes after he arrived, I saw Jordan and her friend walk into the bar. I noticed her immediately (her eyes, hair and smile) and signaled to my friend to "look at her" and he invited them to our table. I had a sinking feeling at first, thinking he was absolutely going to hit on Jordan, but for some reason, he started talking to the friend. We started talking, and it was clear to me almost immediately that she was as interesting as she was Hot. Midwestern, down to earth, not at all superficial or stereotypical L.A. She wasn't out getting wasted and didn't ask or so much as suggest that I buy her a drink. The conversation was real, easy, fun and interesting. I was hooked.
Jordan: I had been traveling for work for the past three weeks straight and had not been home. I arrived home late on Friday from a trip and slept straight until 2pm - I was exhausted. I woke up with an urge to see my girlfriends and go out for a cocktail, which wasn't common for me at that point in my life. I wasn't looking for anyone, was caught up in my own life (about to start GMAT studying) and wanted to see my girlfriends since I had been gone for so long. We went to Copa D'Oro in Santa Monica. It was crowded and one of my friends was not having it. She said "if we don't find a table in the next 5 minutes I'm going to cab home." I looked around for one but there was none to be seen. Then, Jared and his friend offered up their seats to us - such gentlemen! I wanted to decline but my friend whose feet hurt quickly said yes! After we sat down, two more seats opened behind us and Jared and his friend brought their chairs close to ours to chat. Luckily, Jared set his next to mine. I was drinking a Margarita and he an Old Fashioned. These drinks kicked off the conversation and our relationship. Every year, we treat ourselves to a Margarita and Old Fashioned on the day we met. I was immediately struck by how nice and attractive he was but also that he too was from the Midwest! I found the BEST Midwesterner and he was in Southern California with ME. I knew I liked him from the start especially because he showed such genuine interest in me. The conversation from the start especially because he showed such genuine interest in me. The conversation was just me and him. So much for catching up with my girlfriends that night! Before my friend signaled it was time to go, Jared got my number by asking when he could schedule a swim lesson with me since I told him I would teach him how to swim competitively. He called - to set up a date, not a swim lesson. I was so happy.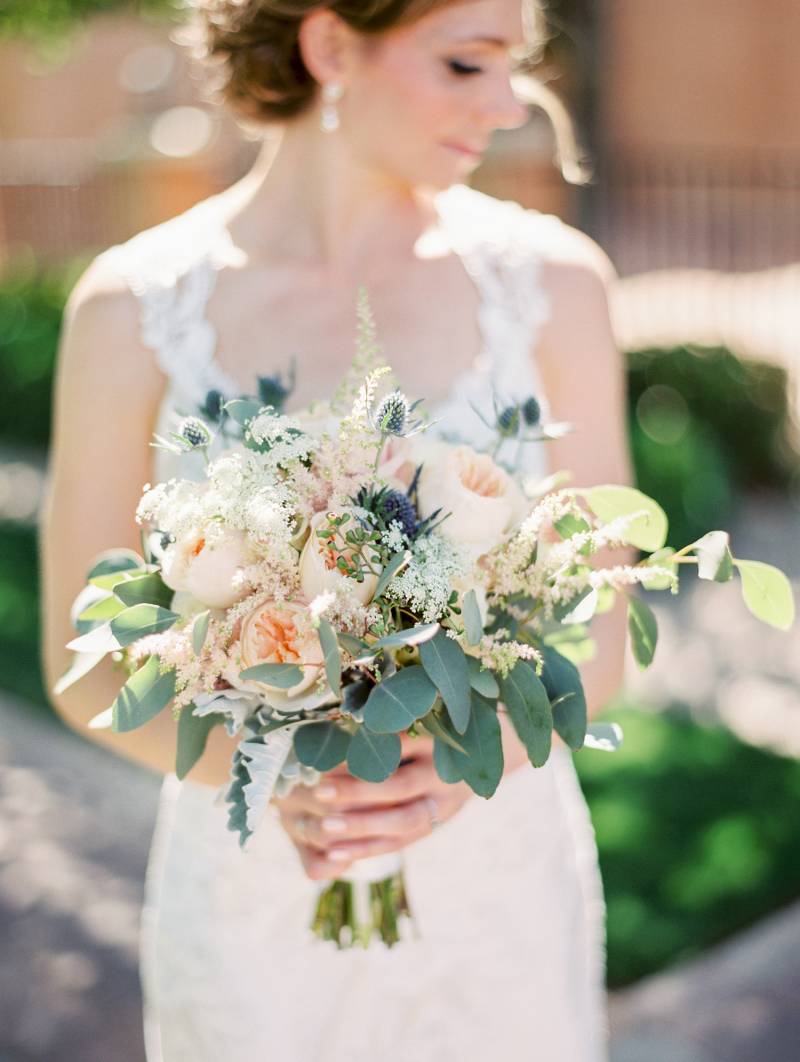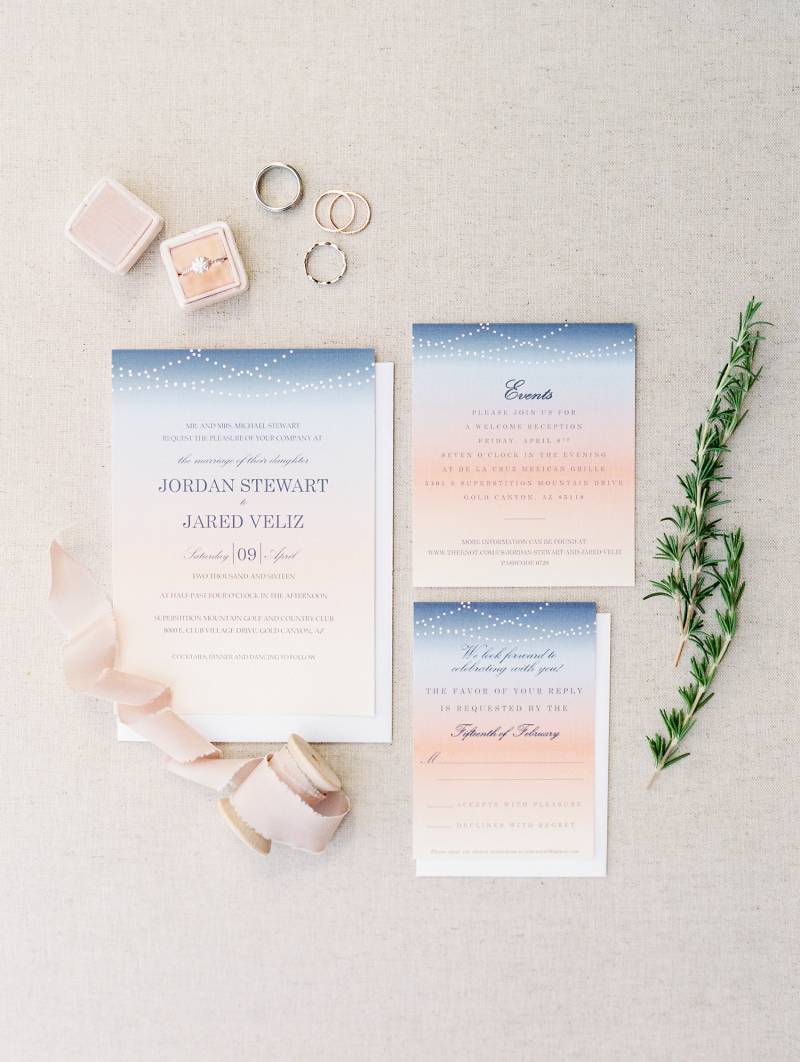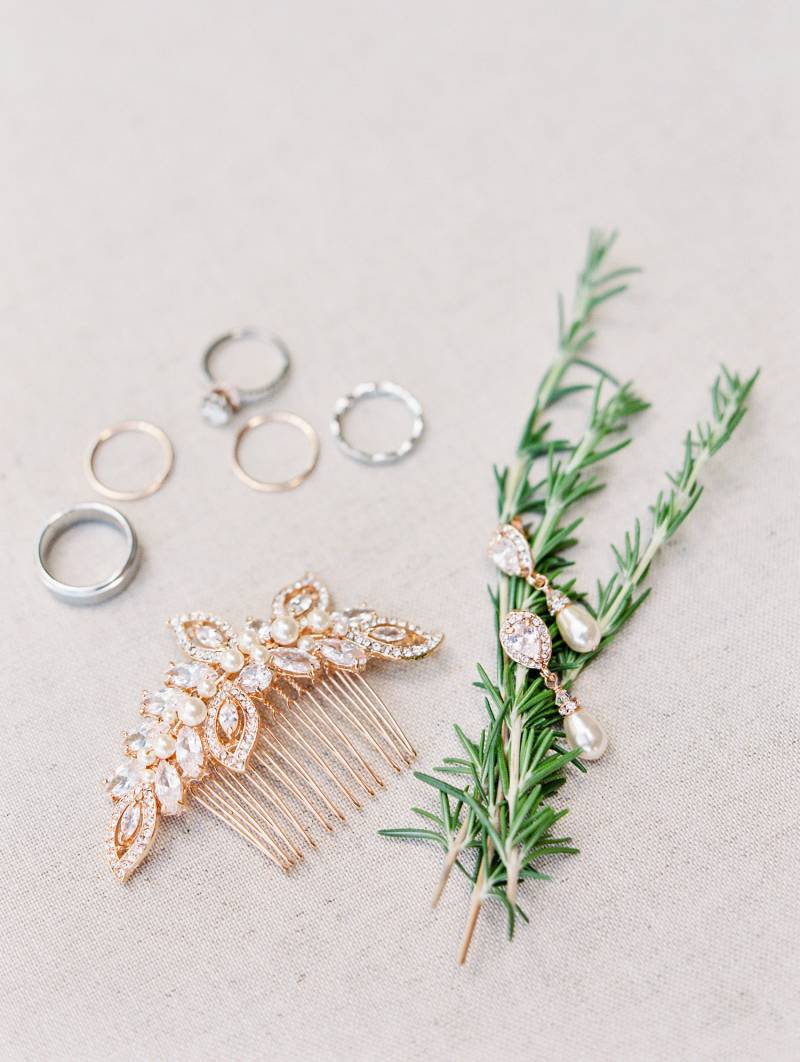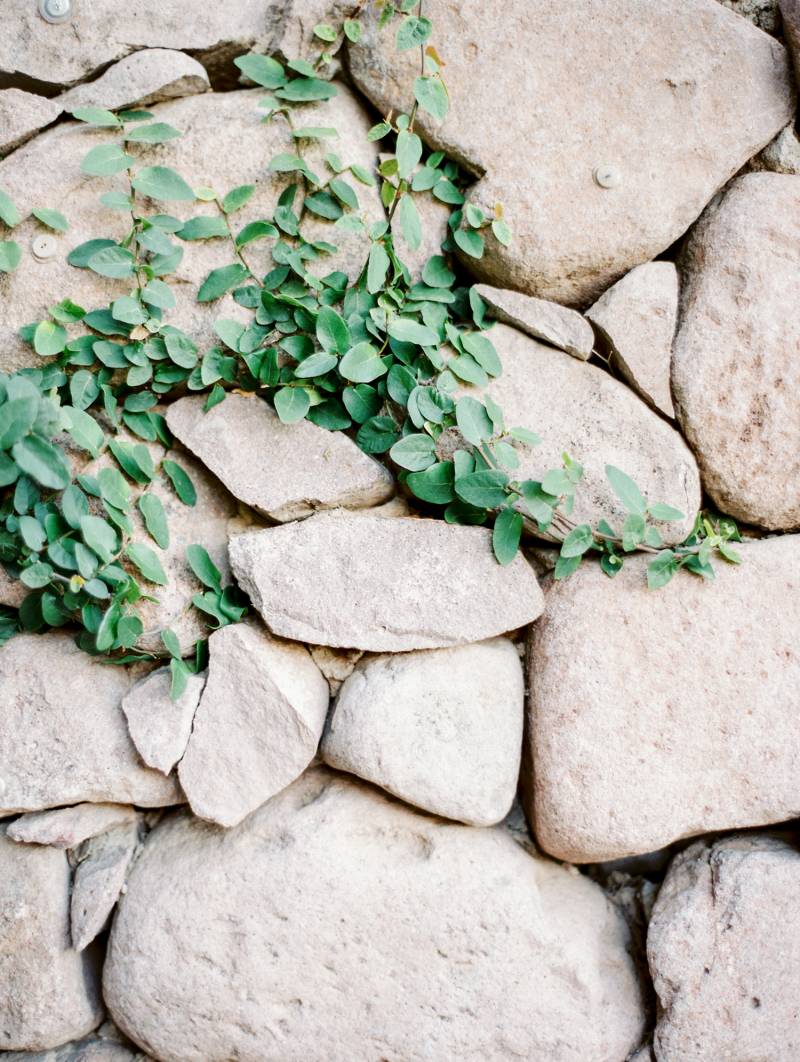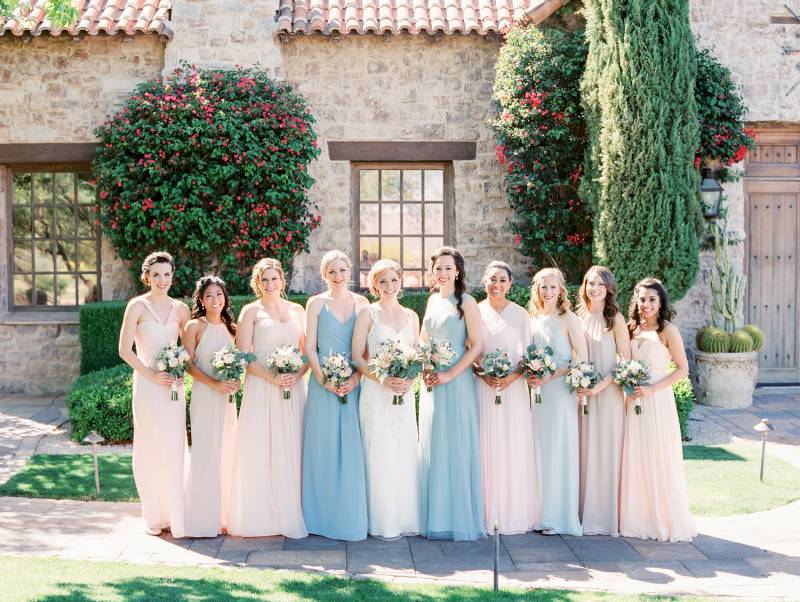 TELL US ABOUT FINDING YOUR WEDDING DRESS: I knew I wanted a backless dress but I didn't want anything that didn't fit the venue. When I tried on Claire Pettibone's Alma dress and saw two "J's" in the lace, I immediately imagined myself in that dress in our venue and knew it was the perfect fit. We chose Jared's suit to complement the colours throughout the day - a nice blue that would pop in pictures but fit with the overall feel for the day. Having not seen my dress next to his suit before the day, I was so happy with how my dress and his suit came together so perfectly - just like us!
ANY DIY ELEMENTS? I used our venue as inspiration to bring out the best in the décor, dress, ambiance and energy for the day. After having gone to Italy two years prior, Jared and I loved the Tuscan-style clubhouse and played into this with our décor. Our guests said it was like being at a wedding in Tuscany with a beautiful Arizona backdrop! Our colours were inspired by our love for watching sunsets at the beach. From our wedding invitations, to the bridesmaid dresses, to our wedding cake and to the sunset we got that evening, this love for pastel sunset colours were weaved throughout our day and accented the venue perfectly. One of our favourite foods is bread and olive oil. In fact, one of our favourite parts of going out to eat is enjoying bread before our meal. In an effort to share this favourite thing with our guests while also making our table décor and seating cards both beautiful and functional, we got mini olive oil bottles to complement the demi-baguettes we bought from Costco which were wrapped beautifully by my four aunts the morning of the wedding with dusty blue paper and fresh rosemary cut from my parents' neighbour's rosemary hedge. It was quite the DIY group effort.
ANY OTHER DETAILS THAT HELP TELL THE STORY OF YOUR DAY? When our day was over, Jared and I both said to us that we don't think we will ever go to a more perfect wedding than our own. Just like our love story, our own "celebration of love" will always be our favourite. The energy was unmatched and everything fit together perfectly. It would not have been so perfect had it not been for our family and friends helping us and our amazing team of vendors supporting the design and execution of our day - especially Sam Glascock with Imoni Events who went above and beyond to see my vision through and made it feel so seamless that we could actually enjoy our own wedding; Rachel Solomon, our photographer, whose style and talent fit our vibe and captured our day perfectly; our florist, Blume Events, who translated my vision beautifully into the florals; Dave Strickler, our DJ from Desert House Productions who set the perfect musical tone during the ceremony, cocktail hour and reception; the entire team at Superstition Mountain Golf and Country Club who worked with me to ensure everything went off without a hitch; and our videographer, Dan Nettles, an experienced NFL videographer but novice in the wedding industry who I fortuitously found on Thumbtack and beautifully captured our day.