Brianna & Kimberly were originally due to get married back in 2015 however sadly their planned venue cancelled a mere week prior to the day. Being it was an all inclusive service they lost everything that went with it so were left high and dry to say the very least. They took some time to recover from that before they began to think about other options. Kimberly tells us, "We have always been a bit more on the private side so after a much needed in depth talk, we both agreed that a intimate wedding felt more fitting for us. Also eager to be wife & wife we figured that a City Hall wedding would be the easiest to plan without all the extra fuss. We live about an hour away from San Francisco and after a visit to their city hall we knew it was more than perfect for us. I actually cried during the visit because i just knew we finally found our venue and we were that much closer to starting a new chapter in our lives." Northern California wedding photographer JESSICA KAY was there to capture their special day.
WHAT WAS THE INSPIRATION BEHIND YOUR WEDDING STYLE? In spite of it being our wedding, we really wanted to feel relaxed that day. Nothing over the top, no specific style to go by but of course we wanted to feel special. We didn't hire a wedding planner so we just went with what felt right and fit each of our personal taste.
HOW DID YOU MEET? We crossed paths at a graduation party in summer '05 but it wasn't until that following school year (Brianna was a junior and I was a senior in High school) a mutual friend of ours properly introduced us. A couple of months later, Brianna asked me to be her girlfriend and we haven't spent a day apart since.
TELL US ABOUT YOUR PROPOSAL: It was December 13th, 2011 Brianna took me on a over night trip to one of our favourite hotels in Monterey, Ca and while I was looking out at the bay through this floor to ceiling window in our suite, she tapped me on the shoulder and asked me if I'd spend the rest of my life with her. I had absolutely no idea she had plans to ask me that day.
TELL US ABOUT FINDING YOUR WEDDING DRESS: In 2015 i initially purchased a Vera Wang ball gown however at the time of our city hall wedding I had since then lost a large amount of weight and the dress was extremely big on me. Although the dress is absolutely stunning I knew I needed to find another dress (quick) and one that better suited my current style/situation. We started planning our city hall wedding 5 months before the actual date so I knew it was going to be a challenge. I felt so discouraged but It wasn't until I came across Thelastminutebride.com I was in luck! I purchased a sample THEIA COUTURE dress for less than half of the retail price. Once i received and opened the box I knew it was the one. Not sure how or why but I felt like the dress was made just for me and my body type. I did have the dress altered a bit and I added loose sleeves but really the dress was perfect from the start.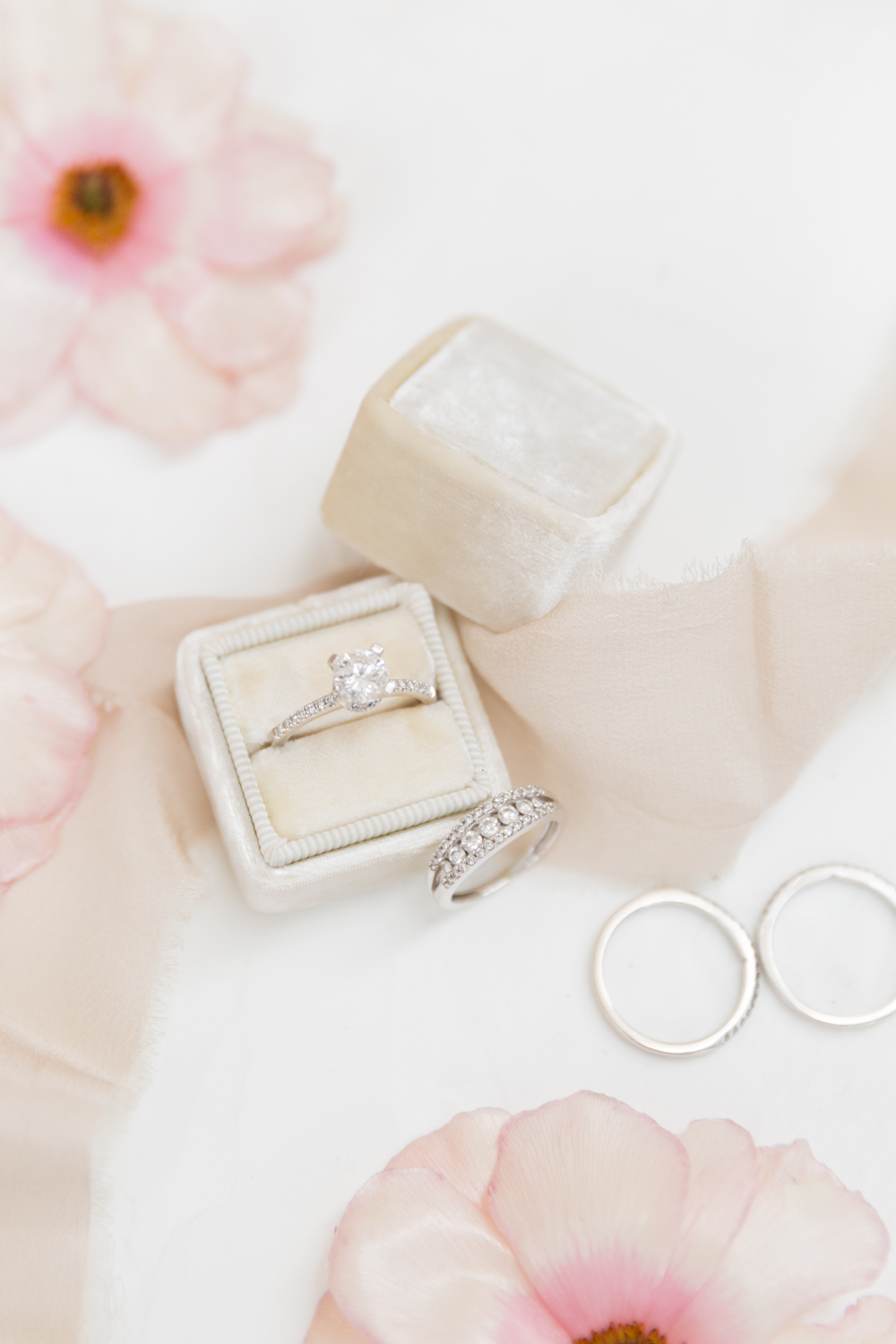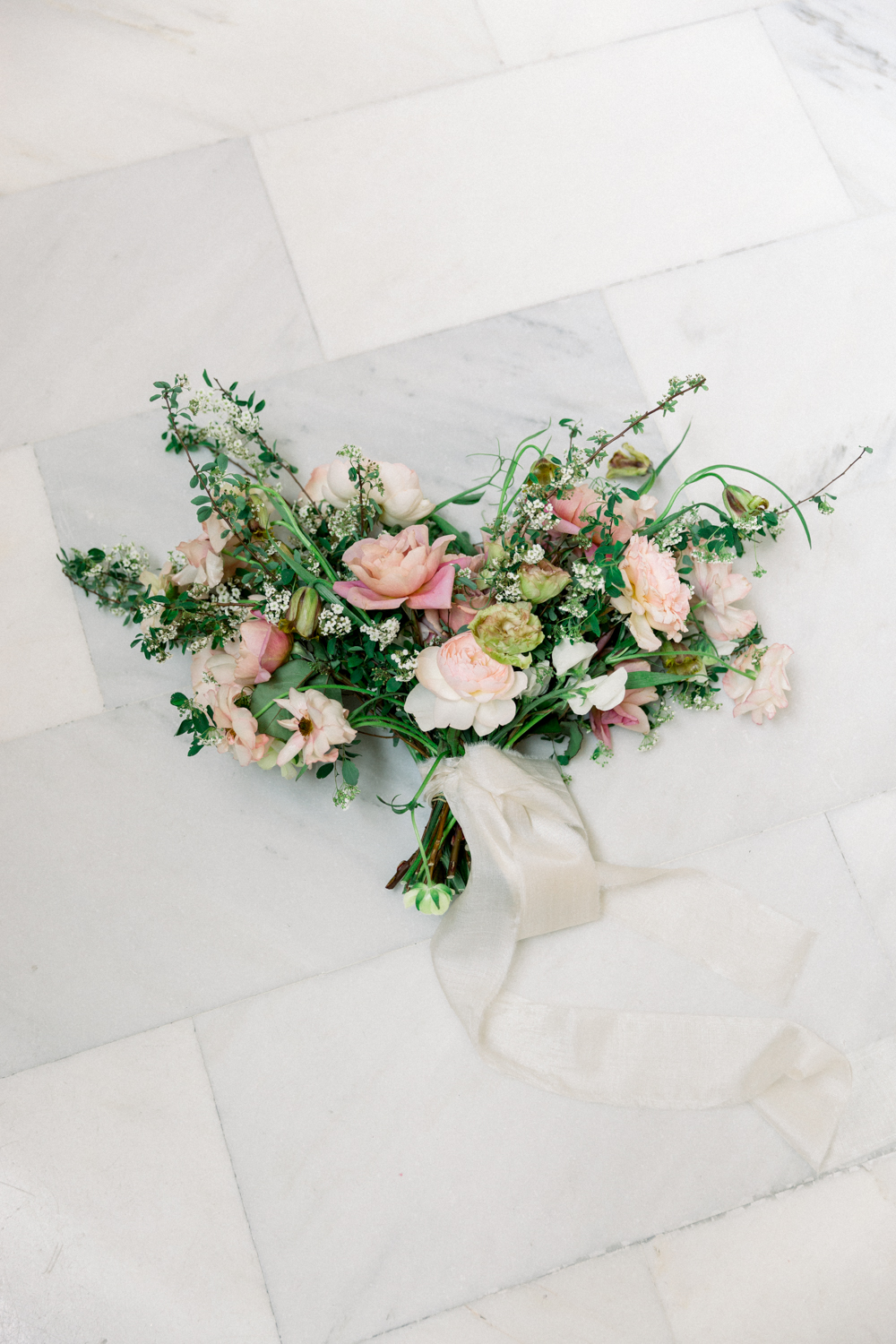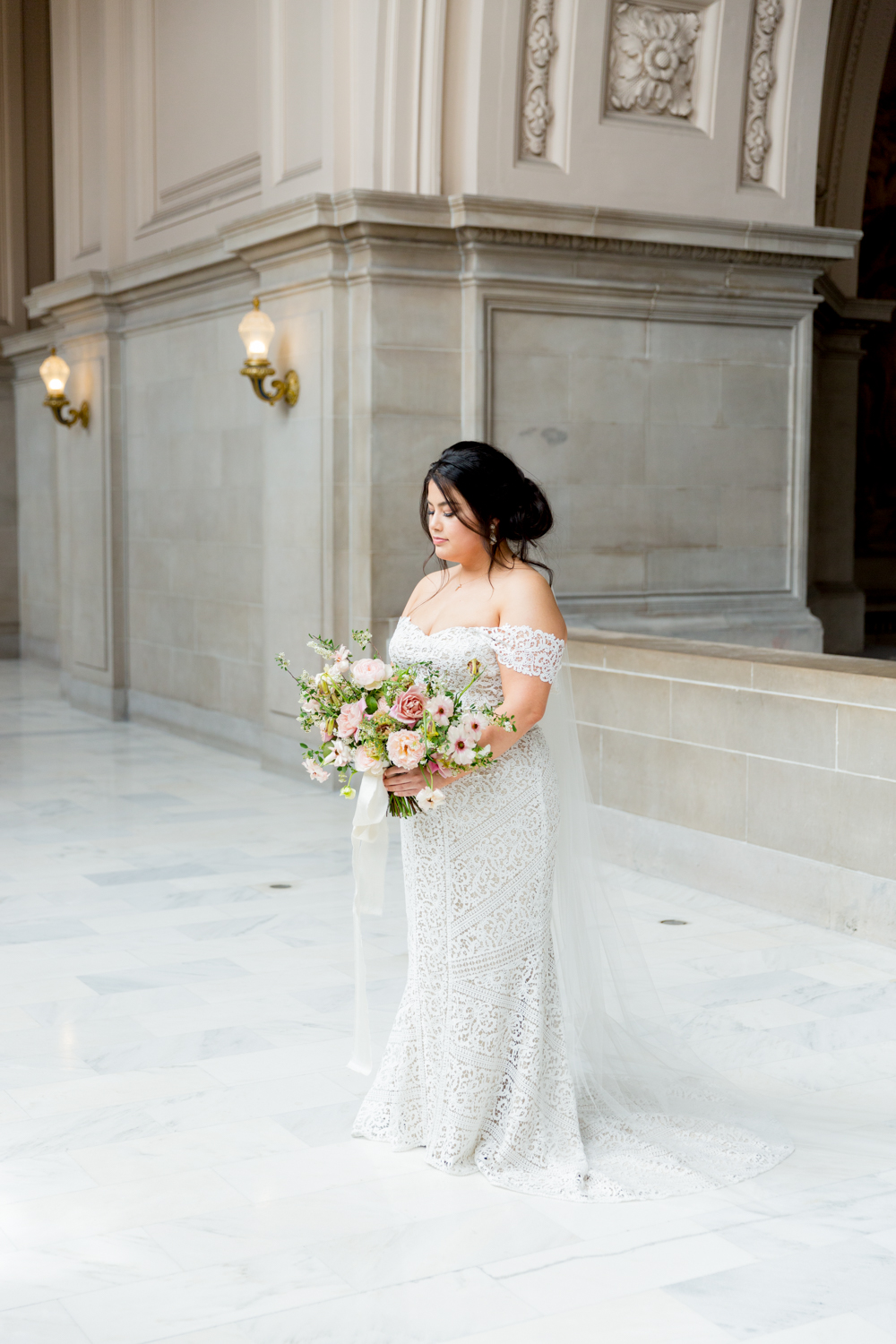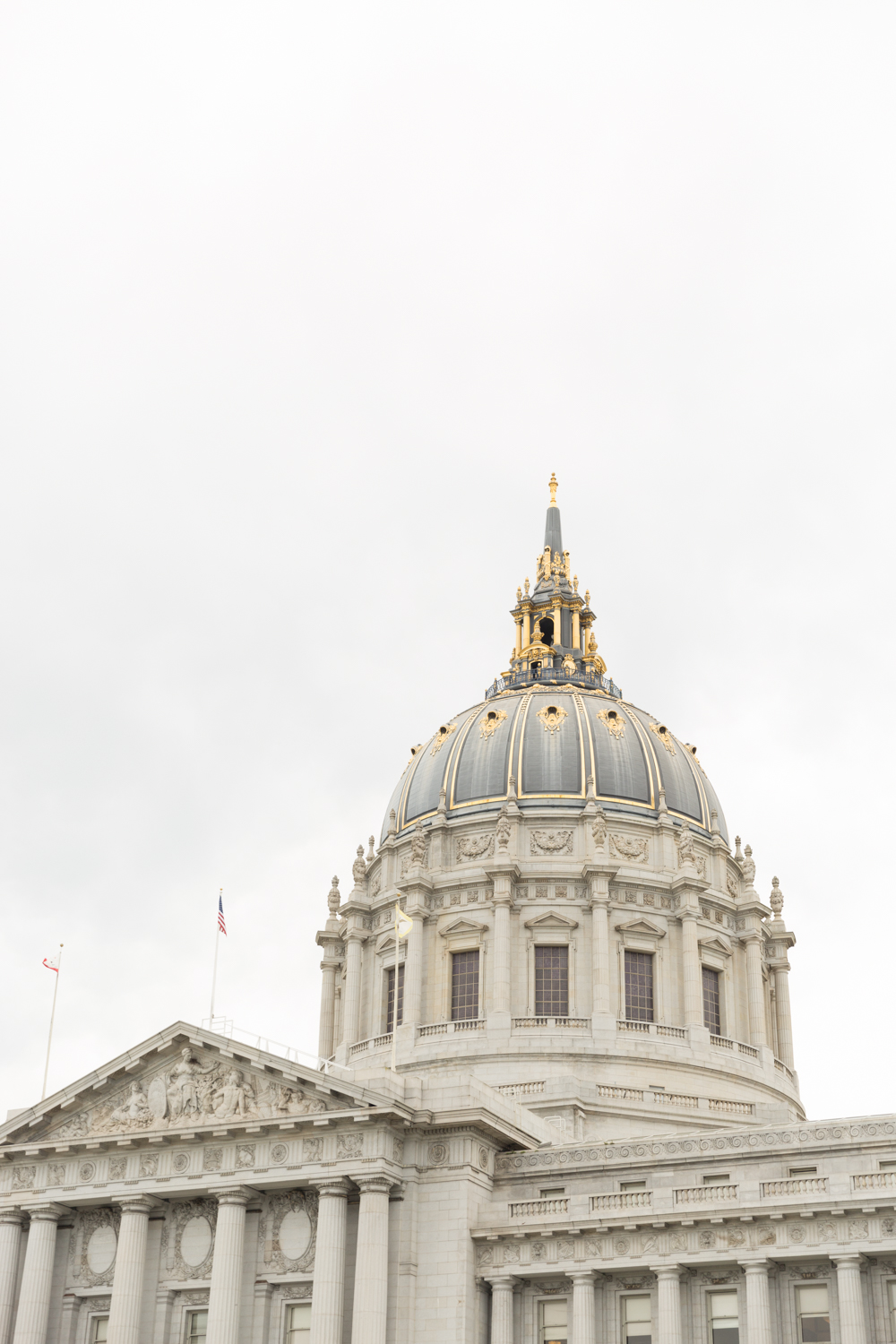 DID YOU HAVE ANY DIY ELEMENTS? Not sure if this is considered DIY but I didn't want the usual place card holders so I used our wedding favours as place card holders. I had a calligrapher make place cards, a shop made the boxed macaron favours and I purchased blush ribbon from Silk & Willow. We assembled them the day before the wedding. It was pretty awesome the way those worked out because we were able to use the same favours that we had planned to use for the first wedding for our actual wedding. When the shop learned of the venue cancelling our "first wedding" the owner said she'd still honour our moneys paid and would love to work with us at a later date. It was so generous of the shop owner to hold true to her word and make our favours years later.
DESCRIBE YOUR WEDDING FLOWERS: We wanted organic and whimsical style flowers. I adore all garden roses so that was the only flower I asked for. We gave Vanessa our colour palette, she pretty much did the rest.

FAVOURITE DETAIL OF THE DAY: We both agreed our favourite detail of the day was the dinner table at the restaurant. Vanessa did an amazing job with every detail. To sit and celebrate our union with our closest family in a room so beautifully designed was everything we wished for.
WHAT ADVICE WOULD YOU GIVE OUT TO A COUPLE PLANNING THEIR WEDDING? Try not to take the whole planning process so seriously! Believe it or not but all the months & days of planning leading up to your wedding are moments and memories in the making. You two will forever remember this time in your lives so make it a happy memory rather than a stressful time in your lives. Also, trust your instincts and go off of vibes when choosing vendors.
MOST MEMORABLE MOMENT? Brianna said her most memorable moment was watching me get dressed that morning and to watch me transform Into a real bride. My most memorable moment was Briannas vows. I would say Brianna is more reserved but literally the moment she looked at me and said her vows I felt every single word she said and every word she spoke had so much meaning to me.
ANY OTHER DETAILS THAT HELP TELL THE STORY OF YOUR DAY? We didn't want to rush or travel to SF the day of our wedding so we drove up the day before and stayed in a tower suite at the Fairmont hotel in SF. I'll never forget the way I felt waking up that morning to breakfast and exchanging wedding gifts with Brianna. The morning of the wedding we wanted it to be just her & I so we chose to get ready together and we are both so glad that we did it that way. Our family also stayed in SF the day before our wedding & the day of our wedding which made everything that much easier and more fun. We arranged for a private mini bus to shuttle us around that day. It made everything so much easier and I must admit it took away the stress that someone may get lost in the city. We had the bus pick up all of our family before picking us up last then headed over to city hall. When we walked outside to our family waiting for us, we felt a little like royalty lol our family cheered and gave hugs as we entered.
TELL US A LITTLE ABOUT YOUR HONEYMOON: We weren't able to travel too far because of our busy schedules however we were able to take a few days away and we stayed at the Timber cove resort in Jenner, CA which is about 3 hours away from the city we live in.
IS THERE ANYTHING YOU WOULD CHANGE OR DO DIFFERENTLY? Absolutely nothing. That day was perfect from start to finish. During the dinner my sister came up to me and she said she thinks everything happens for a reason and everything about the day was so "us".
A big thank you to Northern California wedding photographer JESSICA KAY for sharing this beautiful San Francisco City Hall wedding with us today. Based in San Francisco Jessica has a passion for capturing beautiful imagery and sweet, intimate moments. Working primarily with film she's inspired by the process and feel of both the film format and printed photographs. "There is beauty all around us everyday from a beautiful sky to a genuine laugh, these are the things that inspire me to create timeless portraits." You can see more of her work in her PORTFOLIO HERE and you should also check out this Refined & elegant San Francisco City Hall Elopement shoot.