Narrow streets, winding roads, houses sporadically positioned here and there, a little hamlet, a car, a tractor. Sounds like a dream right? But there's more... add to that the sides fields, sunflowers, hills, farming of wheat or vines, the typical cypress trees, a stable, a small bar or winery. Utter magic. Then there's the aroma, the feeling of being lost in time, the silence; the fields, sometimes in the shape of a valley, sometimes rippled gradually higher by gentle hills. This is Tuscany. And it was amidst this glorious setting that Alina & Andrew decided to hold their intimate destination wedding with friends and family joining them from around the world to celebrate under the Tuscan sun.
Planned and styled by Chiara from Tuscany wedding planner WEDDINGS IN TUSCANY, the ceremony took place in the garden of the villa that the couple hired with their families, facing the magnificent view. The ceremony was sweet and simple and all the guests noted how beautiful it had been. The reception setting was in the beautiful garden which became even more magical at night when festoon bulbs lit up over the table revealing the beauty of the flowers and the candles underneath. Together with their loved ones they enjoyed the most charming of evenings accompanied by the sounds of Tuscan nature.
WHAT WAS THE INSPIRATION BEHIND YOUR WEDDING STYLE? When we spoke with our wedding planner, CHIARA SERNESI, I said "we're not looking to reinvent the wheel here. We want the Italian ideal – the rustic home, cypress trees, olive groves, vineyard, and rolling hills in the background." A short time later, Chiara came back to us with exactly that we asked for.
We're also huge fans of the TV show "Succession" and would be lying if we didn't admit to being a little influenced by the Season 3 finale set at a wedding in Tuscany.
WHY DID YOU CHOOSE THIS LOCATION? Alina is Russian and her family now live in California, while I am Welsh and lived in Hong Kong before moving to New York in 2002. We now live outside Washington, DC. Consequently, we have family and friends all over the world. Finding a location that would work for everyone was always going to be a challenge, so we thought that we would try and find a destination that would be appealing to everyone. So, Italy it was.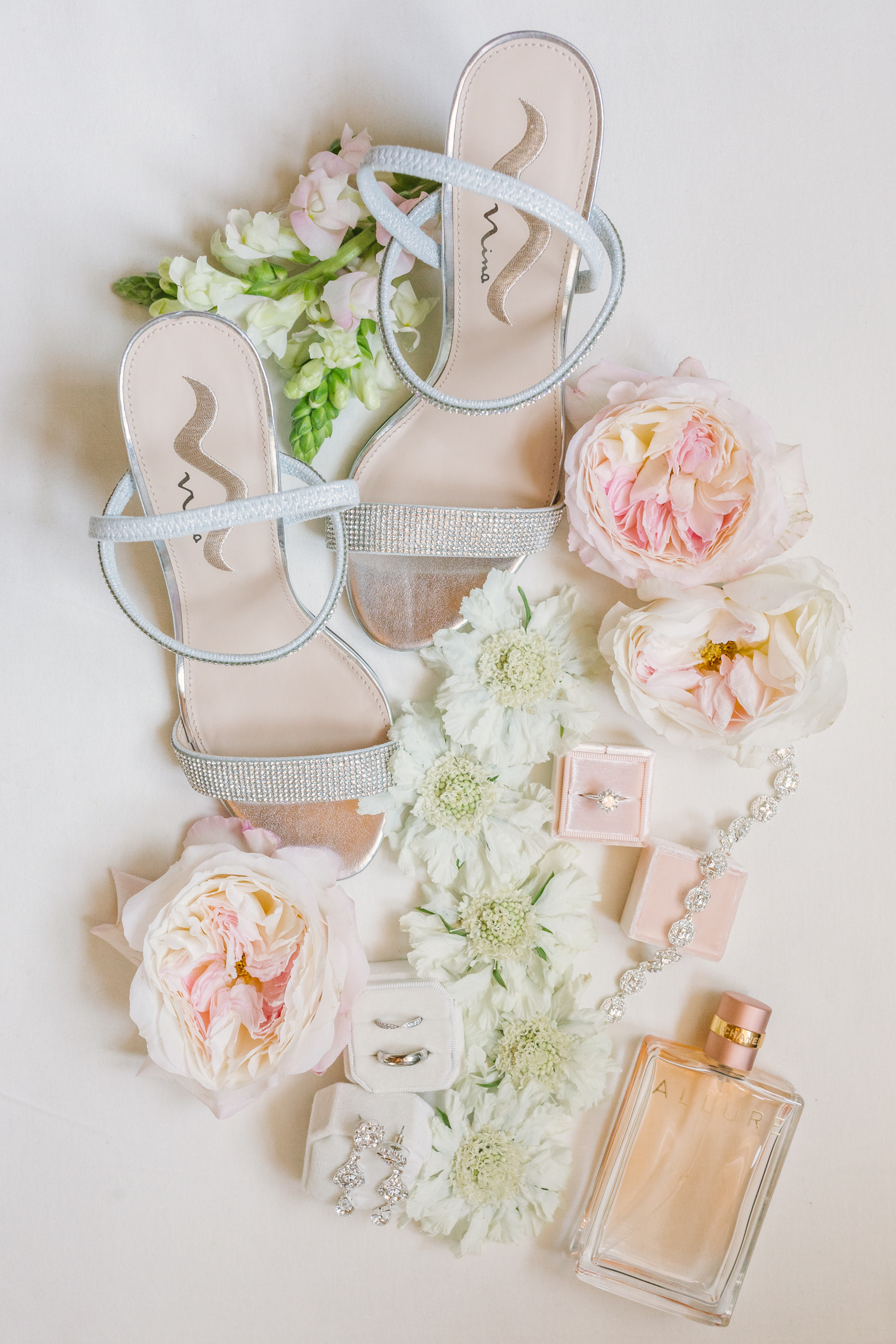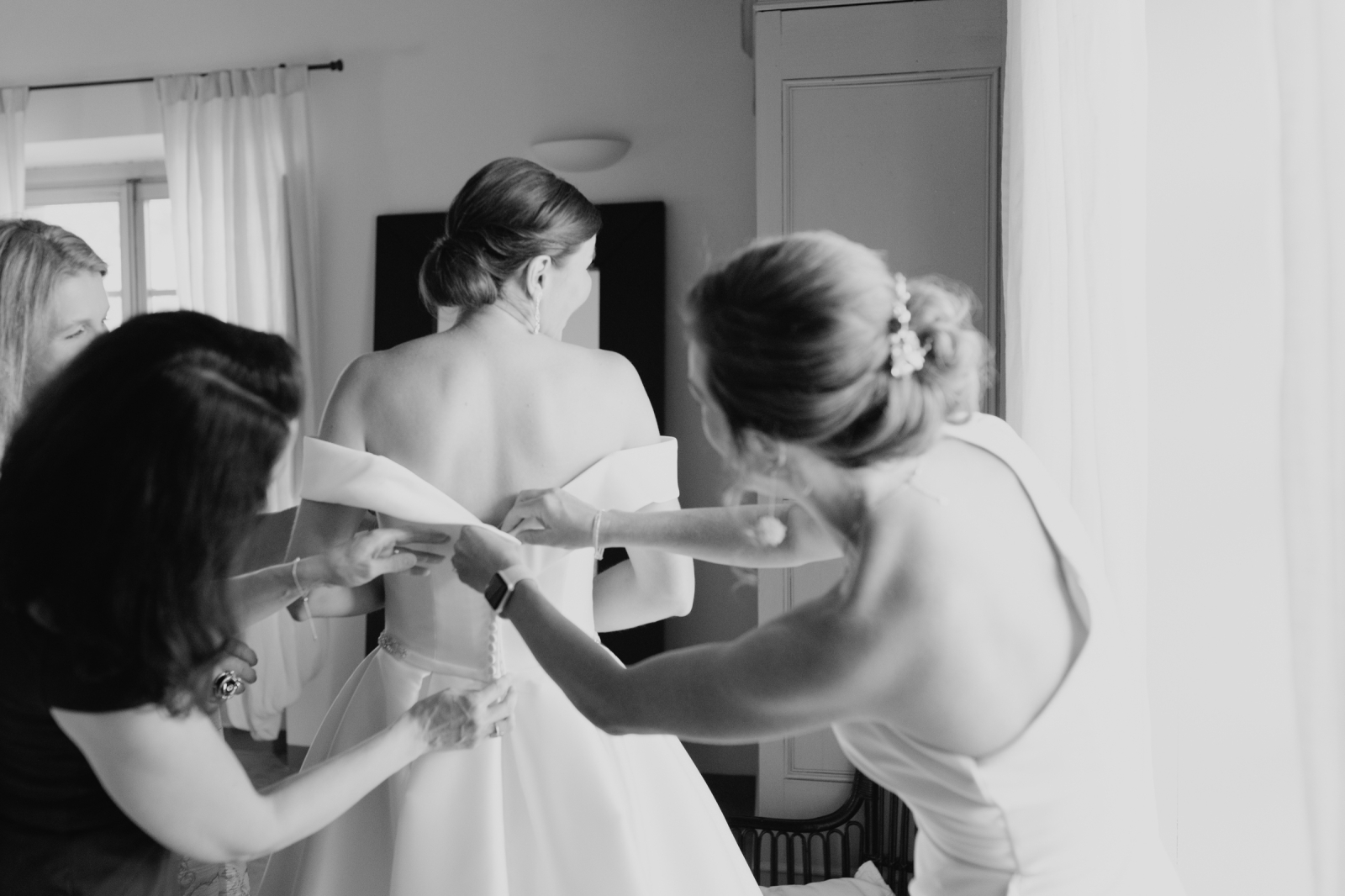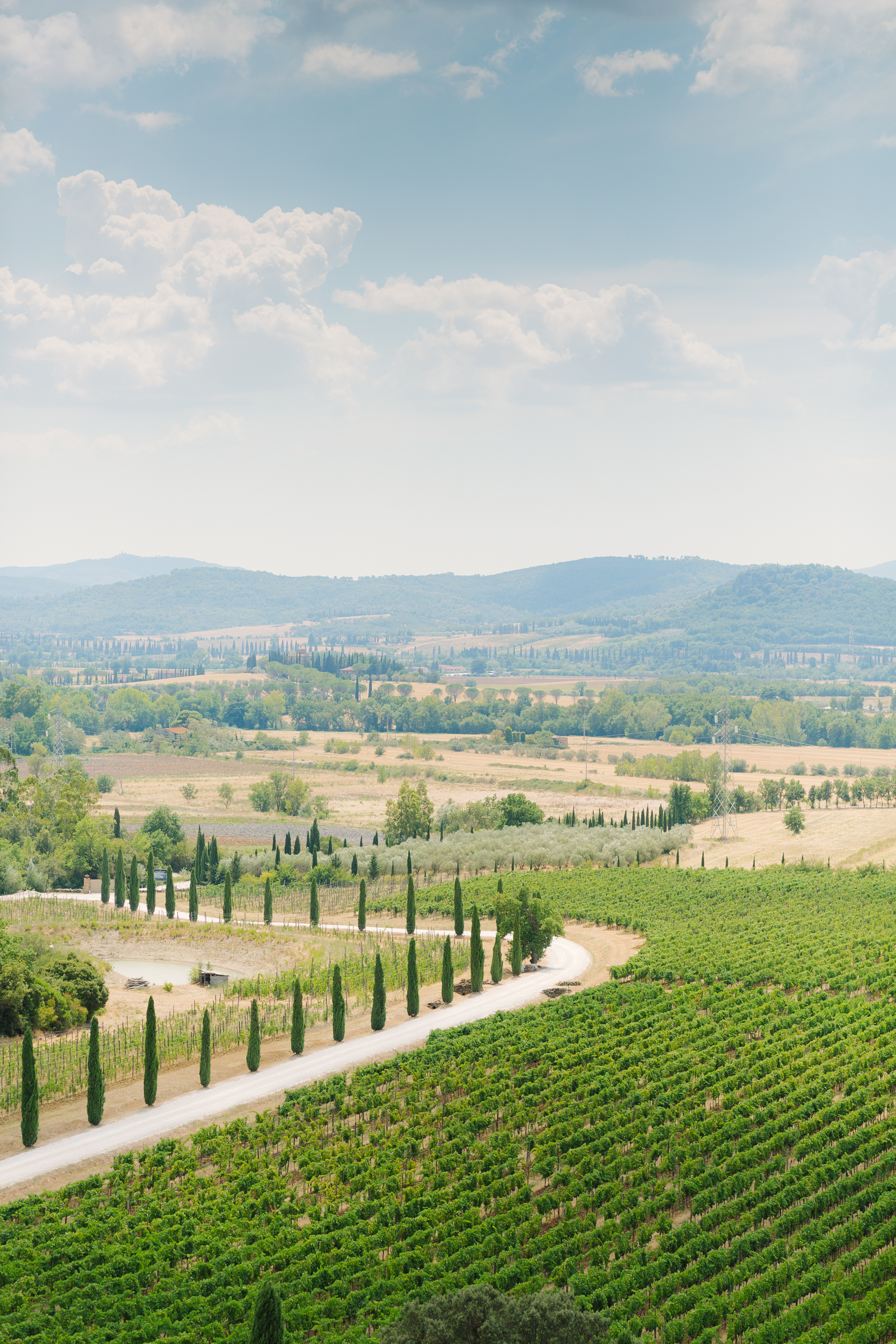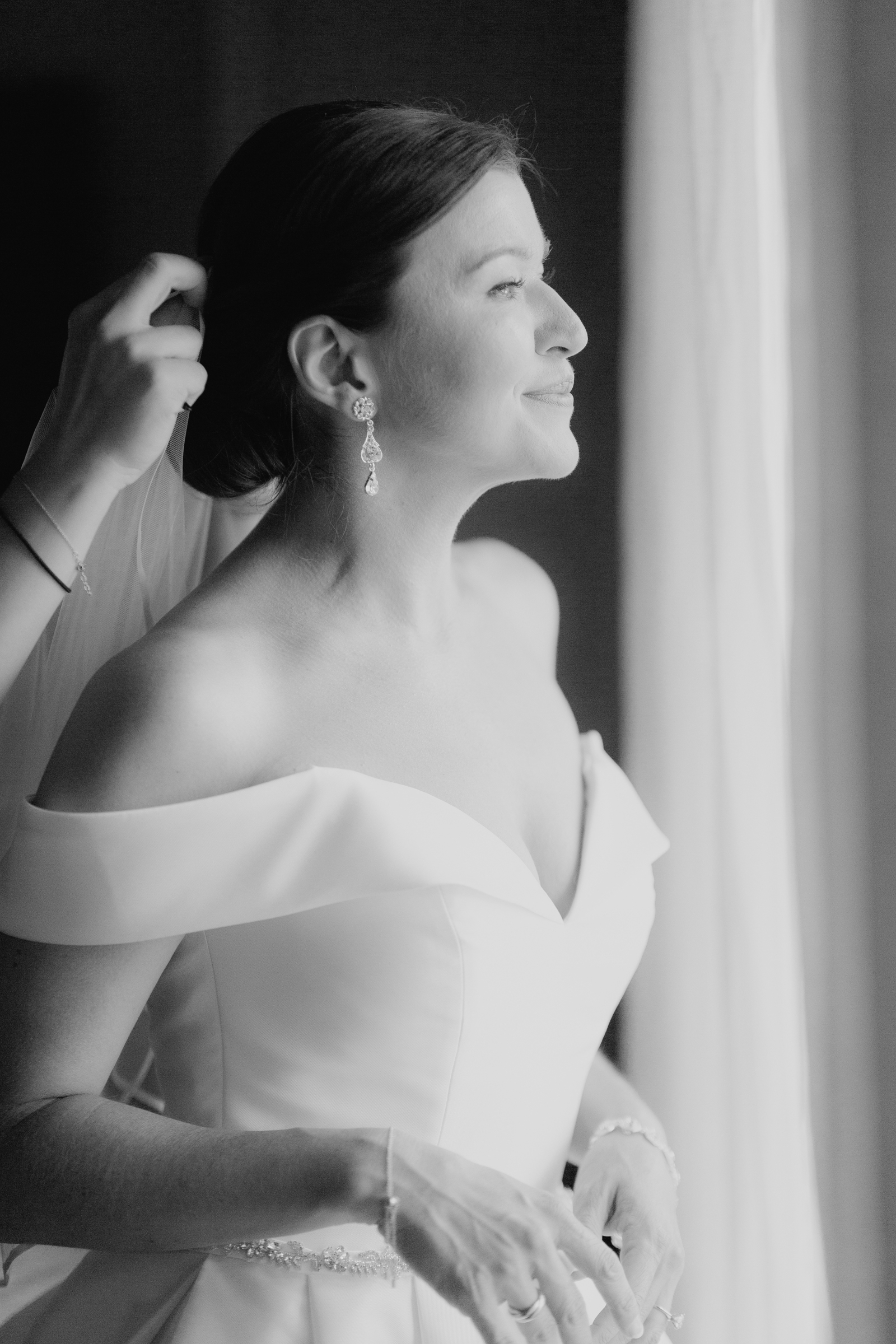 HOW DID YOU MEET? We met at a friend's birthday party in Washington, DC. I was standing at the bar telling someone about my dream of one day owning a winery in Sonoma, ending each day by looking out over my vineyard, sipping on a glass of pinot noir. At which point, a beautiful, young Russian interrupted me and asked "do you know what it means to run a winery, let alone a vineyard?" At that point I realised that I was speaking to someone who probably did (her family own a winery, Land of Promise, in Sonoma). And the rest is history.
TELL US ABOUT YOUR PROPOSAL: We were in California celebrating Christmas and New Year with Alina's family in 2021. After years of being together, I spontaneously decided that the time was right. I went to the Tiffany & Co. store in San Francisco, and after some searching through their database, they located a Siberian diamond which seemed perfect given Alina's heritage. With the ring burning a hole in my pocket, I waited for the right moment, which after a couple of false starts turned out to be New Year's Eve. We were at the new Silver Oak winery in Russian River, and I had called ahead to tell them of my plan. We were discussing vacation plans, and as I placed the ring in front of her, I casually asked if she would consider a honeymoon in Italy. I tried to go down on one knee, but never quite made it as Alina was hugging me and bouncing up and down. It was probably quite comical to those around us, who gave us a huge round of applause.
TELL US ABOUT FINDING YOUR WEDDING DRESS/ATTIRE: I have been a loyal customer of Canali for the past twenty years, so there was never any doubt as to which designer I would choose. Since we had opted not to have a black-tie wedding, I decided to choose a suit that was a little different and reflected the environment, so chose a beige slim-cut design. My Best Man wore a blue Zegna suit, while my groomsmen wore grey suits with matching Charvet ties.
My bride chose an off-the-shoulder gown from Australian designer, Sophia Tolli.
DID YOU HAVE ANY DIY ELEMENTS? We created the gift-bags for guests. We wanted to pull together something that reflected Italy and also our own heritage and interests. So, we chose a custom-made wine opener from an Italian producer together with a small canister of olive oil produced on the property by Conti Di San Bonifacio.
DESCRIBE YOUR WEDDING FLOWERS: There were a lot of them. You'd think that Tuscany was scenic enough, but you can apparently never have enough flowers. That said, every single person who has seen the photos has commented on how magnificent the flower displays were. They were incredible, as were the team of florists who spent hours constructing the arrangements leading up to the ceremony.
FAVOURITE DETAIL OF THE DAY: I don't want to confuse detail with moments. Our favourite detail, without a doubt, came down to our fantastic wedding planners / coordinators, Chiara and Francesco. Organising a wedding in another country, especially coming out of COVID, would have been practically impossible, but for the invaluable assistance that they provided. The table settings in particular were exquisite.
WHAT ADVICE WOULD YOU GIVE OUT TO A COUPLE PLANNING THEIR WEDDING? Don't overthink it, and don't prolong it any longer than necessary.
MOST MEMORABLE MOMENT? There were so many memorable moments, but the speeches were a highlight for most people, especially us. Our youngest daughter got up to make an impromptu speech, followed by her sister, our niece, and then our nephew. The speeches ended up over-running by at least an hour, though I think that most guests would have happily stayed seated for more.
ANY OTHER DETAILS THAT HELP TELL THE STORY OF YOUR DAY? We knew it was going to be a destination wedding for everyone, so we decided to make it a week-long affair that everyone could remember. We rented two large villas in the area for everyone to stay at over the week, and every night ended with a BBQ that lasted long into the night. After we returned home, one of the most gratifying outcomes of the wedding was how everyone there had bonded and become friends, whether in person or on social media (with plans to meet in the future).
TELL US A LITTLE ABOUT YOUR HONEYMOON: Given that we had my two daughters (from a previous marriage) with us, we decided to put the honeymoon off until 2023. We're still deciding where to go. The world is a big place.
IS THERE ANYTHING YOU WOULD CHANGE OR DO DIFFERENTLY? A small part of us regrets not hiring a videographer to film our special day. With that said, we're not convinced that we would have gotten the wonderful speeches, especially from the children, had the camera been running
A huge thank you to Tuscany wedding planner WEDDINGS IN TUSCANY for sharing this gorgeous wedding with us. Chiara works with couples from all over the world to design and plan their dream wedding. Inspired by her appreciation of different cultures and travelling Chiara and her team pay great attention to detail to ensure an impeccable personalised service. Their goal is to surpass all expectations while creating an extraordinary event which overflows with elegance, refinement, and sophistication. Make sure you check out this Stunningly elegant elopement ideas from Tuscany and be sure to see more work in their portfolio here.