For Denise & Drew, choosing the right venue was one of the most important aspects of their wedding planning. They wanted it to be outdoors, for it to exude romance and to be as naturally beautiful as possible! The couple tell us, "We drew inspiration from Pinterest, Instagram, and our wonderful photographer's photos, which led us to select soft florals – blush, green, and white to complement the already gorgeous surroundings. Aside from the beautiful scenery and details, we wanted to serve delicious food and for our guests to have fun!" Southern California wedding photographer AMY GOLDING captured their beautiful celebration at HARTLEY BOTANICA - a working nursery that hosts garden weddings - in Ventura County.
HOW DID YOU MEET? We first met at a school party in the fall of 2011 in Davis, CA. Drew was starting his fourth year at UC Davis and I was just beginning my first year of college after growing up in Davis. It wouldn't be until seven months later that our paths crossed again on a night out.

TELL US ABOUT YOUR PROPOSAL? Following Drew's brother's MBA graduation, Drew's mother wanted to take Christmas photos while the family was together. I know – Christmas pictures in June – only Drew's mom would do something like this, which made it the perfect cover! We all met at the golf club near Drew's childhood home and began taking photos by the beautiful pergola overlooking the hills. While everyone was snapping pictures of us under the pergola, my parents and friends all rushed out of the building. I was so surprised! Drew got down on one knee asking me to marry him and I was so caught up in the moment I don't think I even said "Yes!" It was the perfect proposal – I really wanted to be surprised even though we designed the ring together. I knew he had it but I had no idea when he was going to pop the question – or how! Also, speaking of the ring, it was my dream ring from Ring Concierge. I always knew I wanted a traditional round diamond, but I wanted something unique. I first came across an old European cut round diamond on Ring Concierge's Instagram. I love how they set an antique diamond in a very modern setting. We flew to New York to meet with them and the whole process was so easy.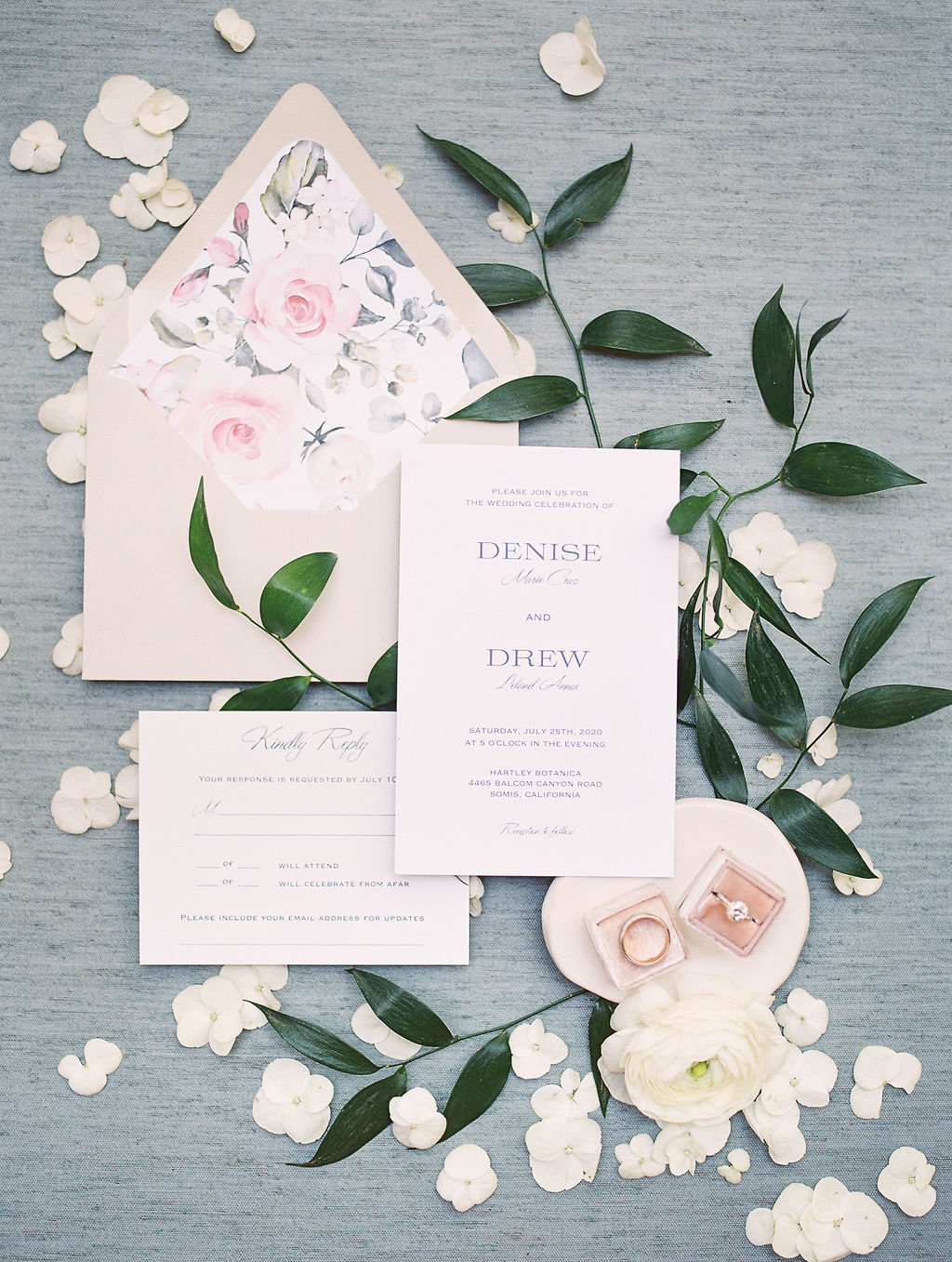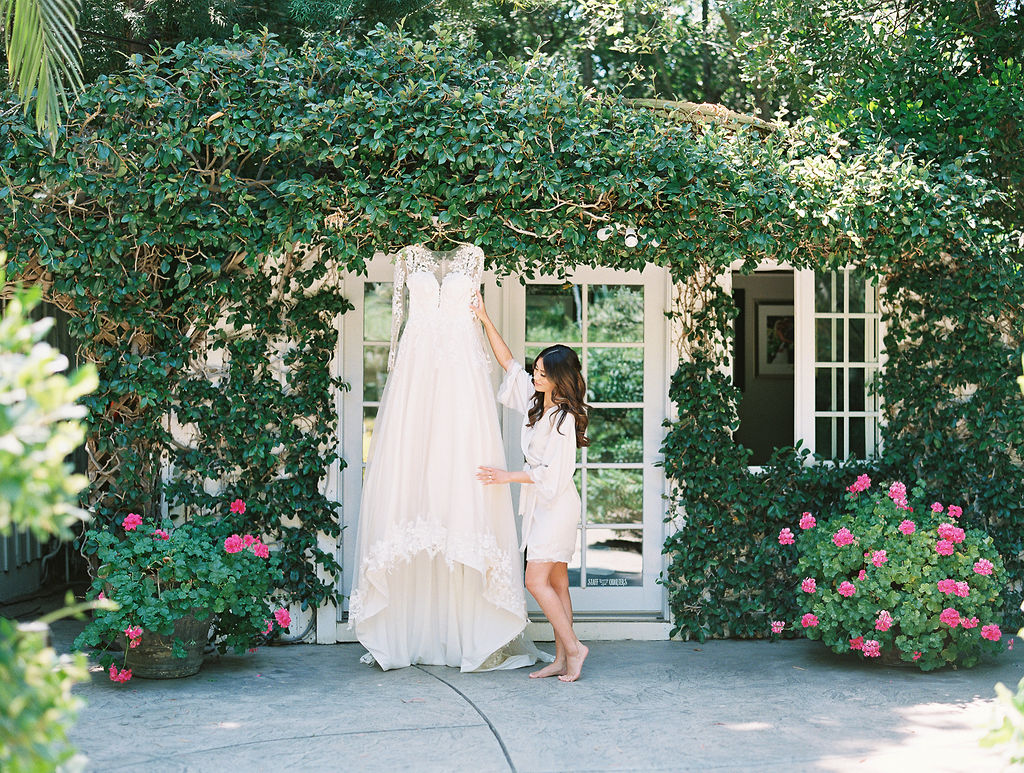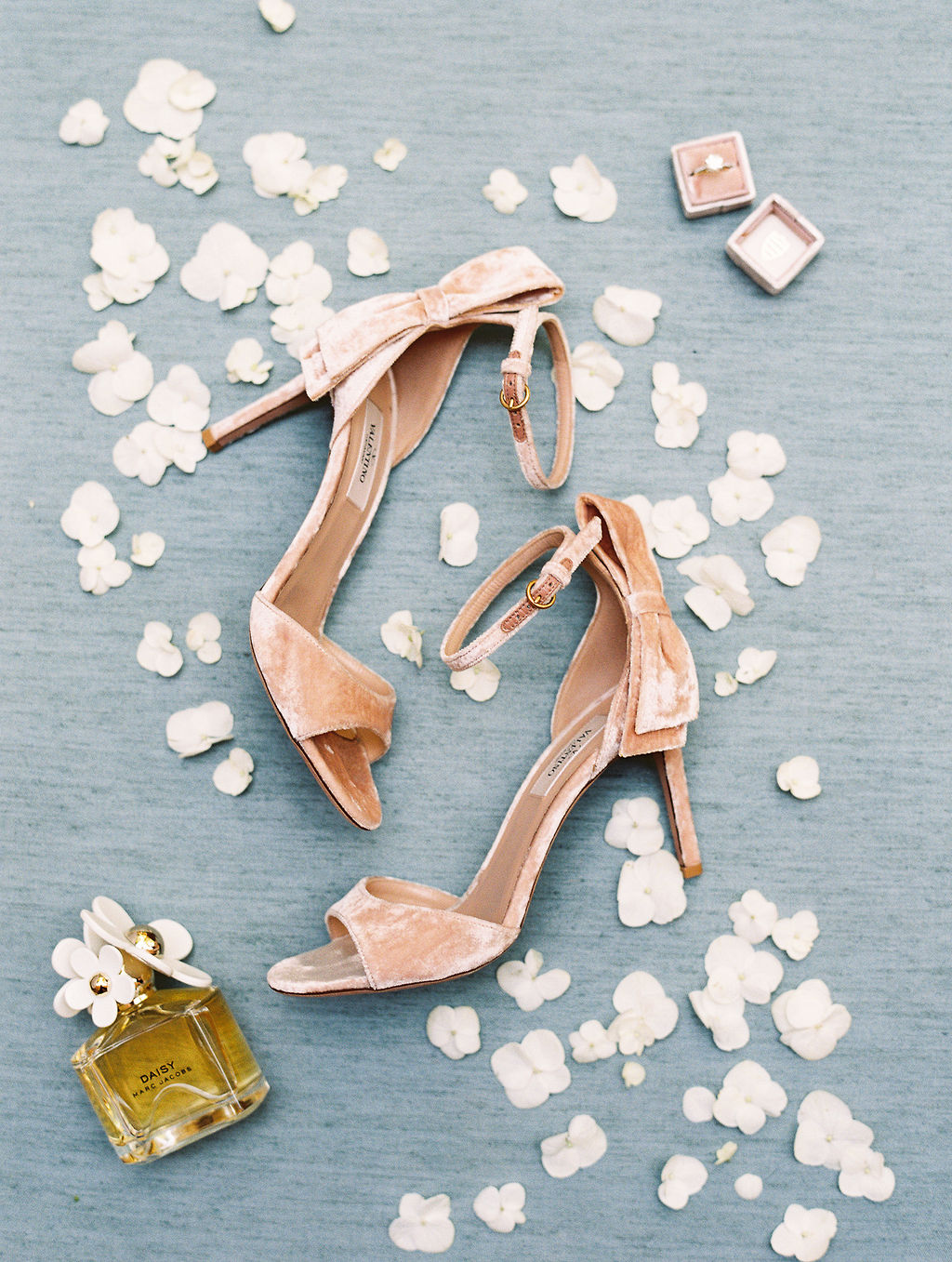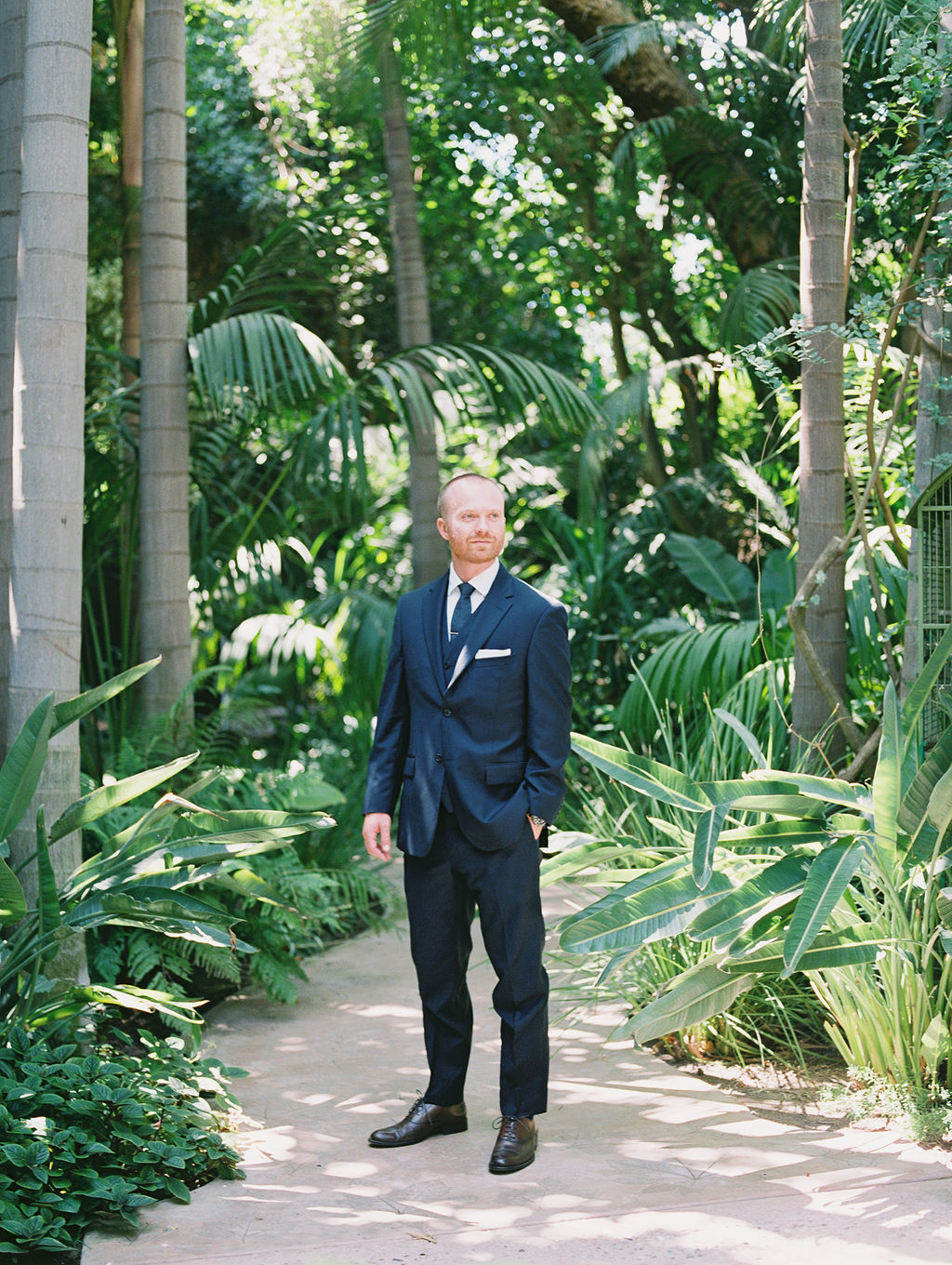 TELL US ABOUT FINDING YOUR WEDDING DRESS: I really didn't know what I wanted for my dress. I had photos saved of what I liked but these ranged from ball gowns to mermaid silhouettes. The one thing I did know was that I wanted two dresses – something more dramatic for the first dress and something simple and chic for the second dress. I had my maid of honour Mimi and my mom with me to help me look at dresses. We started off with picking out a wide range of styles, and I really didn't know what to expect. Some dresses that I thought would look great just did not flatter my body. The first dress my mom picked out, I didn't really care for but I tried it on anyways. I'm so glad I did because it ended up being beautiful on me and it was the dress I chose!
DID YOU HAVE ANY DIY ELEMENTS? I love DIY projects and I tried to do a lot of the décor myself/with the help of our families. Drew was also very involved with the wedding planning and DIY projects. We stained the wood signs and bought the "Welcome" decal and "ANNAS" wood sign from Etsy that we placed on the stained wood. We also put together the table numbers - we bought a set of used gold frames and found a great deal on these pre-made gold foil table numbers. We also made personalised pillow covers with our new last name. My dad even surprised us with a unique guest favour – personaliSed pens with an emblem of our first initials and our wedding date! My favourite DIY element was the acrylic seating chart. I LOVE how this turned out. We bought the acrylic, and actually got really lucky – it was the last one at the store! Acrylic/plexiglass was hard to find during COVID. I did buy a decal from Etsy for the "your seat awaits" wording at the top, but I designed the names and numbers and printed them on a huge paper. I think I have fairly good handwriting, so I wrote each name and table number on the board. We bought a black decorative easel to hold the sign and it turned out beautifully.
DESCRIBE YOUR WEDDING FLOWERS AND THE INSPIRATION BEHIND THEM? I loved how our wedding flowers came out. We wanted something soft and modern that didn't take away too much from the venue or from my bridesmaids and myself. I also wanted to keep the tables as romantic as possible by having the flowers surround floating candles.
FAVOURITE DETAIL OF THE DAY? Our absolute favourite detail of the day was our getaway white Rolls Royce car. I was never one to dream about specific details on my wedding day when I was younger, but the one thing I had always wanted was a car that said "Just Married." I told Drew about this only two weeks before the wedding and he called a handful of rental places in the area until he found Classy Chassis. I didn't think we would end up getting a car and we had so many other details to finish that I had forgotten about it. It was a week before the wedding and Drew said he had a surprise for me…he booked the getaway car. I was so happy! It was the perfect ending to our night.
WHAT ADVICE WOULD YOU GIVE OUT TO A COUPLE PLANNING THEIR WEDDING? My advice to couples planning their wedding would be to accept from the very beginning that your day is not going to go exactly as planned. Your dream vendor might be booked, the flowers might not be the perfect shade of blush, the rental company might bring the wrong silverware, but don't let any of that get to you. Your day will be beautiful and perfect, and these small details can't take away from you marrying your soulmate. I am so happy I started out with this mindset because COVID changed a lot of things for us, but our day was still perfect!
TELL US A LITTLE ABOUT YOUR HONEYMOON? Originally, we planned to go to Italy and Greece for our honeymoon. However, because of COVID, we couldn't go anywhere. We still wanted to have our mini-moon and enjoy the time together even if we couldn't fly anywhere. We took a short ferry ride to Catalina Island just off the coast of California and it was the perfect mini-moon getaway. The island somewhat resembles part of the Italian coast and I loved that we were greeted with water from Italy when we got to our hotel! Drew and I were able to relax every day and just enjoy our first week being married together. Because of COVID, all of the restaurants were only serving dinner outdoors right on the beach – it was beautiful.
A huge thanks to Southern California wedding photographer AMY GOLDING for sharing this beautiful wedding with us. Amy is passionate about documenting love in the most raw of forms and collecting beautiful moments. Authenticity and kindness are her jam. She chases posing that is authentic and connective, and deeply believes that every wedding deserves to be beautifully and elegantly captured. You can see more from this Southern California wedding photographer in our vendor guide and you should also check out this Malibu Engagement shoot in moody winter tones.