The story of Danielle & Scott's wedding is just about as 2020 as it gets!! Danielle is a geriatric physician, so naturally when the pandemic started her life basically got turned upside-down instantly! Their plan was to get married in Charleston in May of 2020, which then turned into November 2020, which then turned into April 2021, which now finally has landed on April 2022! With most of their families coming from all over the country and her work being incredibly vital, having the wedding of their dreams, just had to be put on the back burner. So with that, they decided to try and bring a little light into an extremely dark year by eloping at one of the most beautiful places in the Southeast, THE BILTMORE ESTATE! Everything was set, arrangements were made and it seemed like for a minute there, it was going according to plan! Then in true 2020 fashion, within days of them planning to leave for North Carolina, Danielle contracts COVID from one of her patients! Thankfully she and Scott recovered smoothly and three weeks later, they were all FINALLY able to meet at The Biltmore for an extremely emotional culmination of such a crazy year! So with that, a photographer - Charleston wedding photographer CLAY AUSTIN - a Rabbi, a Priest, 3 cell phones equipped with Zoom, and a verrrrry patient couple, all converged on a mountain overlooking a beautiful fall scene to celebrate love and as Clay himself puts it, "Man was it memorable!! I am so so honoured to have been there for these two and I hope you enjoy looking through the images of that magical day in the mountains!"
WHY DID YOU CHOOSE THIS LOCATION? We originally planned on getting married in Charleston SC at The Dewberry. Our wedding was a spring Saturday night black tie event. After postponing several times due to Covid, we decided to elope. We wanted the wedding to be equally beautiful but not feel like a copy of our Charleston dream. We happily settled on The Biltmore Estate - a Sunday wedding at 2pm.
HOW DID YOU MEET? We met in Boston. I was finishing my geriatrics fellowship at Massachusetts General Hospital and Scott was working as the beverage director of a restaurant while waiting for his new restaurant to open in Charlotte. We were both in Boston temporarily so we weren't looking for anything serious. I didn't know anyone so I wanted to go on a date for fun - next came bumble and a first date with Scott. It was the most fun date id been on and the rest is history.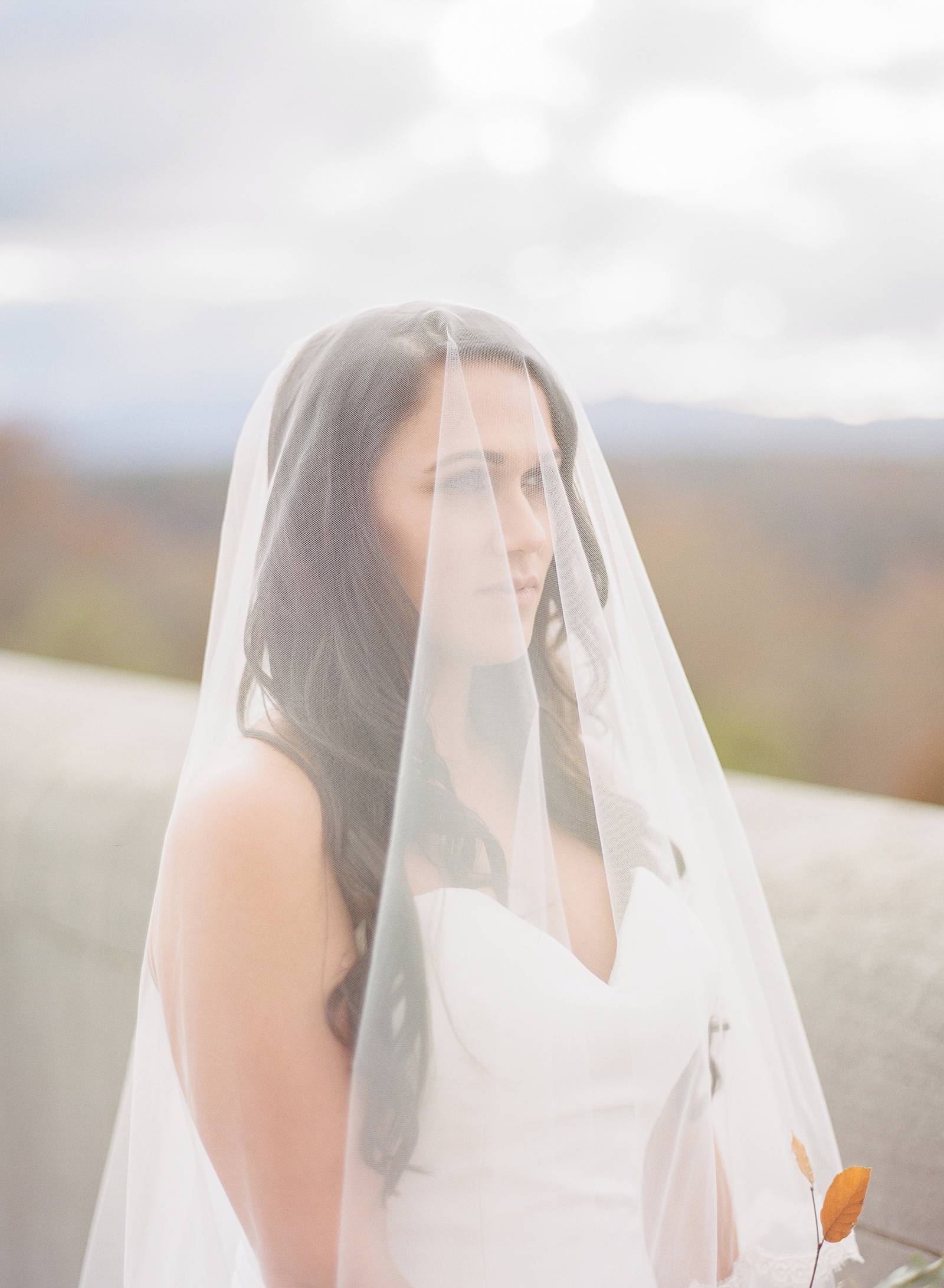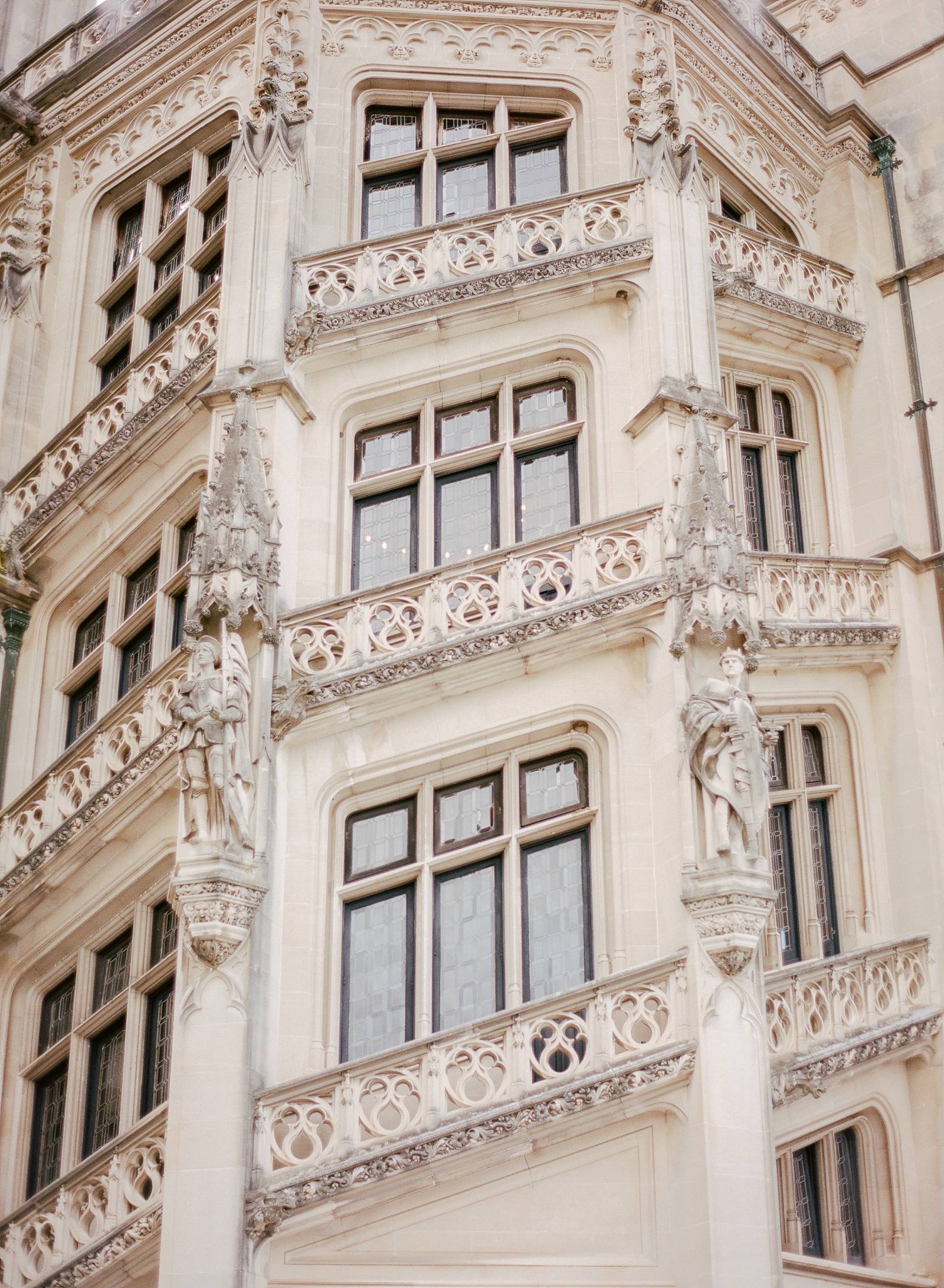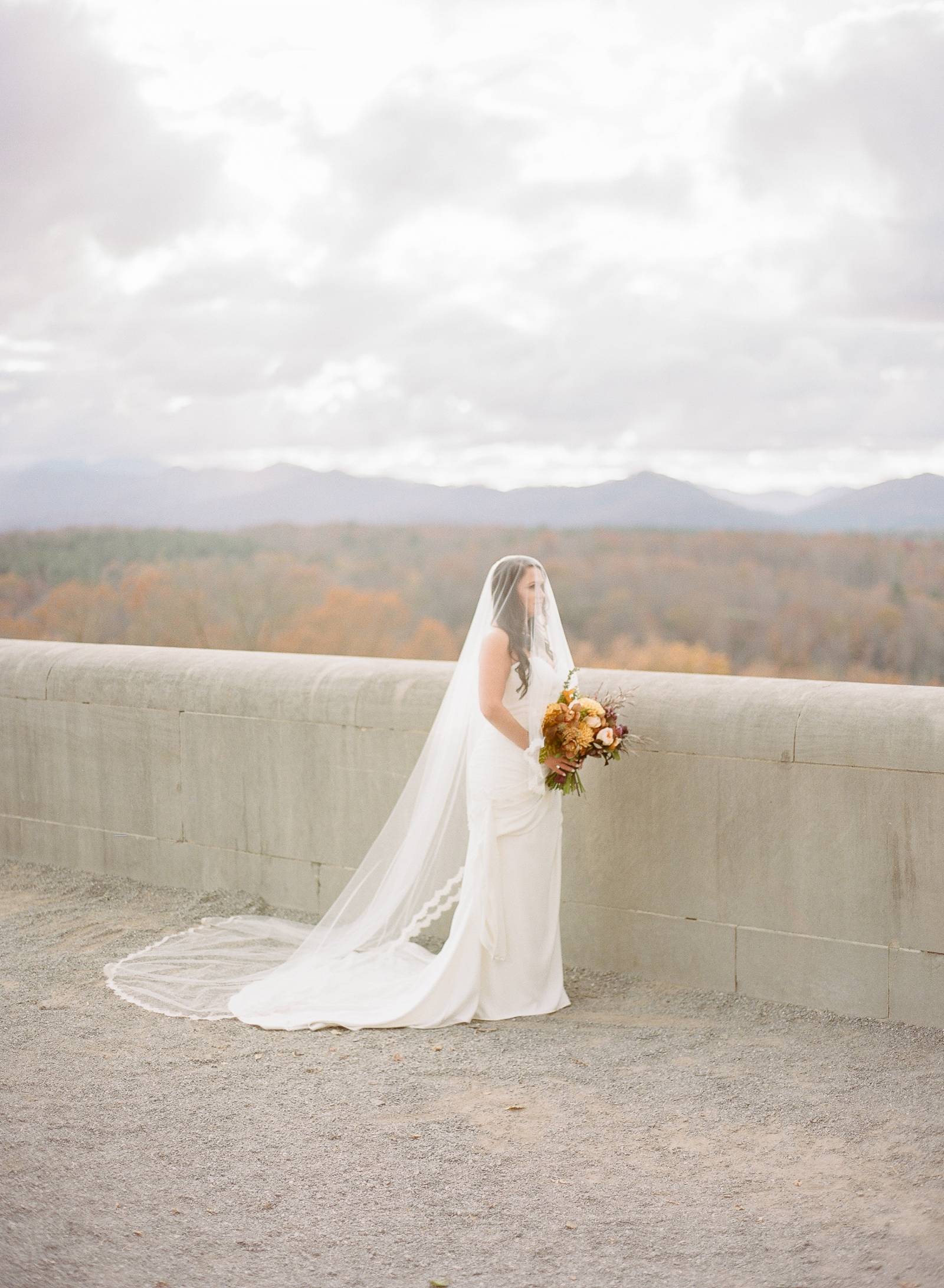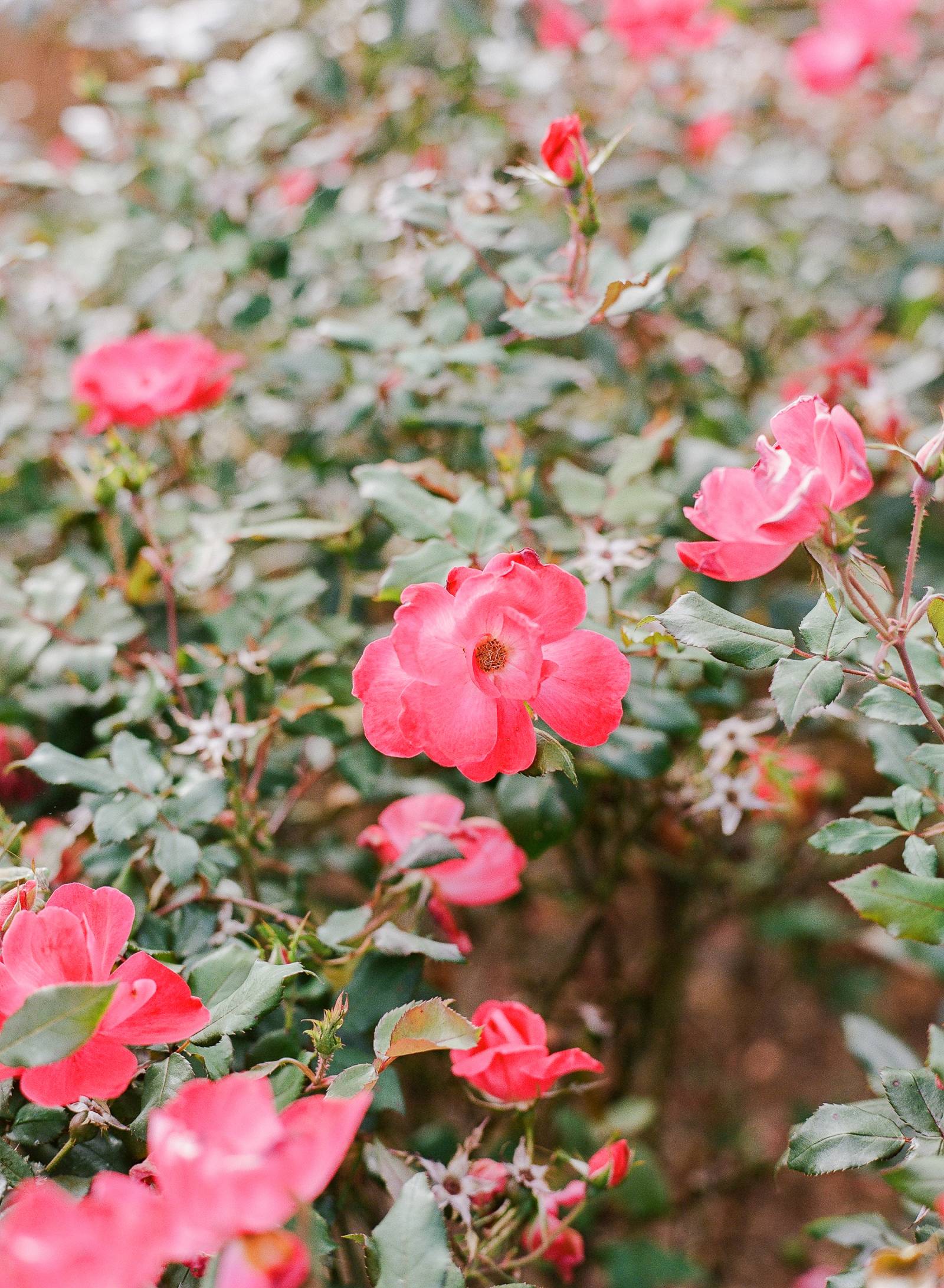 TELL US ABOUT YOUR PROPOSAL: We had our first kiss walking back from Cambridge to Back Bay halfway across the Harvard bridge. We were doing long distance at the time as Scott had already moved to Charlotte, but he had flown up to Boston for my birthday. We were walking across the bridge to go to one of our favourite restaurants when halfway across Scott bent down and proposed!
TELL US ABOUT FINDING YOUR WEDDING DRESS: I'm originally from New York, so I knew I wanted to look for dresses in the city. I went shopping with my mom, sister, and two best friends. I had seen my dress online and my best friend had sent it to me as well. It was the first dress I tried on and knew it was the one right away. I "said yes to the dress" at Kleinfelds.
DESCRIBE YOUR WEDDING FLOWERS: Perfectly fall. I wanted rich colours, something that would pop against my dress.
FAVOURITE DETAIL OF THE DAY: My beautiful veil. It was my "something borrowed" from a best friend.
WHAT ADVICE WOULD YOU GIVE OUT TO A COUPLE PLANNING THEIR WEDDING? Enjoy it. Our three day wedding weekend turned into an elopement - nothing was as planned except for our outfits and yet it felt just as special because we were able to get married to the person we love the most. Its easy to get caught up in the little details but just try to enjoy it.
MOST MEMORABLE MOMENT? Walking around the Biltmore Estate taking photos after the ceremony. Because we didn't have a reception to head over to we were able to do an amazing photoshoot. We trekked all over the mountains and Clay was able to capture the most beautiful moments.
WHAT ASPECT OF THE WEDDING WAS THE MOST IMPORTANT TO YOU BOTH? The food and music were the most important. While we didn't have to worry about the music we were able to share an amazing meal together.
ANY OTHER DETAILS THAT HELP TELL THE STORY OF YOUR DAY? We like to say we are bad at getting married. We postponed our wedding three times due to Covid. A week before our elopement I contracted Covid from a patient and kindly passed it to Scott as every good wife would and we had to postpone our elopement as well. This was our 6th wedding date, but we were making it happen. We used a company called "Wedfuly" to help with the technology aspect of our wedding. They made it possible for our family and friends to virtually attend our ceremony and our parents were able to give toasts at the end. It was a perfect fall day, one we will remember forever.
TELL US A LITTLE ABOUT YOUR HONEYMOON: Our honeymoon was supposed to be in Italy so we will have to get back to you on that one :)
A huge thank-you to Charleston wedding photographer CLAY AUSTIN for sharing this beautiful wedding with us today. Clay is a firm believer in true love, and documents it in its most raw and authentic form as these images attest to. "Shooting film allows me to be completely in the moment, patiently waiting for windows of honesty and those sparks that make each couple unique. It gives me overwhelming joy to provide my clients a way to relive such a meaningful occasion for the rest of their lives!"
You might also like to view this Classic & Chic wedding in South Carolina's lowcountry. And be sure to check-out more of Clay Austin's wedding photography work here.